Channing Tatum recently wished girlfriend Jessie J a happy birthday on Instagram. The couple has been a speculative item for some time now, but it looks like things are the real deal between them, since Tatum seems to have no problem publicizing their relationship. But how long have the two actually been dating?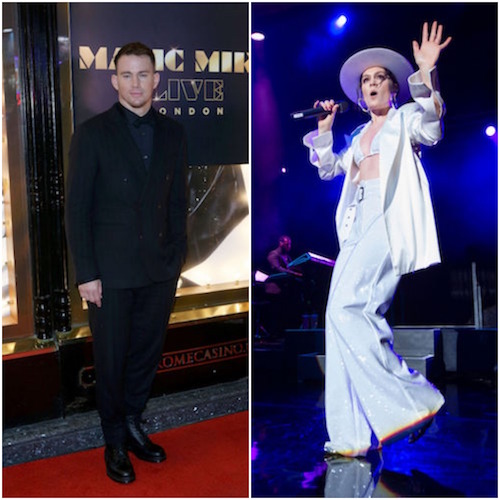 Tatum and former wife Jenna Dewan split in April 2018
People were shocked when the news broke last April that Tatum and Dewan were splitting up. The couple had been together for more than a decade, and they were one of those couples that remained pretty low key for most of their relationship. In other words, they were a duo that everyone thought would last. However, the romance died, but the two did appear to have a very amicable split. They wrote a loving message on Instagram, making fans certain that there was no bad blood between them. But it didn't take very long for both of them to move on.
By mid-October 2018, there were rumors that Tatum and Jessie J were an item
Tatum and Dewan split in April, but they didn't actually divorce until October. Consequently, the divorce filing came right after rumors hit that Tatum had started dating British singer Jessie J. The news broke after a Twitter user said they had seen Tatum and Jessie J on a date at the local mini golf spot. After that, people became very speculative that something was going on, and a source close to the couple said that things were still very new but that they appeared to like each other a lot. Around the same time, there were reports that Dewan had also been casually dating but hadn't found anything serious.
Jessie J attended his Magic Mike Live show in London in November 2018
Only about a month after the rumors first started, Jessie J's Instagram story caused even more speculation. She attended Tatum's Magic Mike Live show in London and tagged him in a story to congratulate him. At this point, people were certain there was something going on between the two. However, neither of them had come right out and said they were a couple. But Tatum had previously been seen leaving Jessie J's home, and he had also been spotted taking his daughter to one of her shows. All of this happened only seven months after he and Dewan split.
In March 2019, Tatum wished Jessie J a happy birthday on Instagram
https://www.instagram.com/p/BvhOIFvlfiH/
https://www.instagram.com/p/BvhOIFvlfiH/
View this post on Instagram
Wishing you the happiest day filled with all the love and all the light. You came into this world on this day and lit it on fire. You have blessed our eyes, our ears, our hearts and our lives. So thank you for just being you. You are so very special. Happy birthday Baby.
A post shared by Channing Tatum (@channingtatum) on
After November, there was a quiet spell. Hardly any news
broke about the two, and they hadn't really posted anything on social media about
one another. But on March 27, Tatum took to Instagram to wish his leading lady
a happy birthday, and fans went nuts. It was the first time he had truly
acknowledged them as a couple, and it confirmed what people had speculated for
months. It may be less than a year since he and Tatum split, but sometimes,
things fall into place at the most unexpected times. It's clear Tatum is happy
with his new woman.
Check out The
Cheat Sheet on
Facebook!
Source: Read Full Article