Save articles for later
Add articles to your saved list and come back to them any time.
All the 57 faces chosen as finalists in the 2023 Archibald Prize have a backstory, but few are as heartwarming as Daniel Kim's.
Kim is autistic, and one of the four finalists from Studio A, a Crows Nest based social enterprise that works with artists with intellectual disabilities. His entry this year is a self-portrait.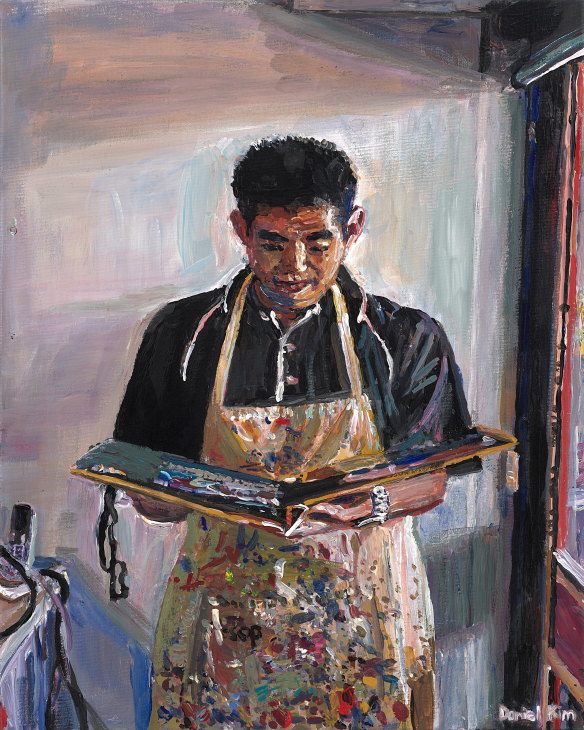 Archibald Prize 2023 finalist, Daniel Kim 'Self-portrait, holding memories, my mentor Greg Warburton.Credit: Jenni Carter
As his mother Joy Kim explains: "Daniel has limited communication, but he can speak with his art."
Since 2012, six-time Archibald finalist Greg Warburton has helped Kim find his voice on the canvas, as a mentor through an Arts NSW Creative Development Grant. The two worked together weekly and became firm friends.
Over that time Warburton has helped the 35-year-old artist work on a portrait of former NSW Treasurer Matt Kean, as well as private commissions from the top end of town: from former AMP CEO Craig Mellor, to former president of the NSW Legislative Council John Ajaka.
"They had a really strong connection," said Gabrielle Mordy, the CEO and artistic director of Studio A, which she formed on graduation from art school at UNSW. "They were the perfect mix."
But last year Warburton died of cancer at 60. Kim was devastated, so he created a scrapbook of newspaper clippings and photos of his friend. Kim's captivating self-portrait, titled Self portrait, holding memories, my mentor Greg Warburton, pays homage to his late mentor with the painter flicking through the memory book.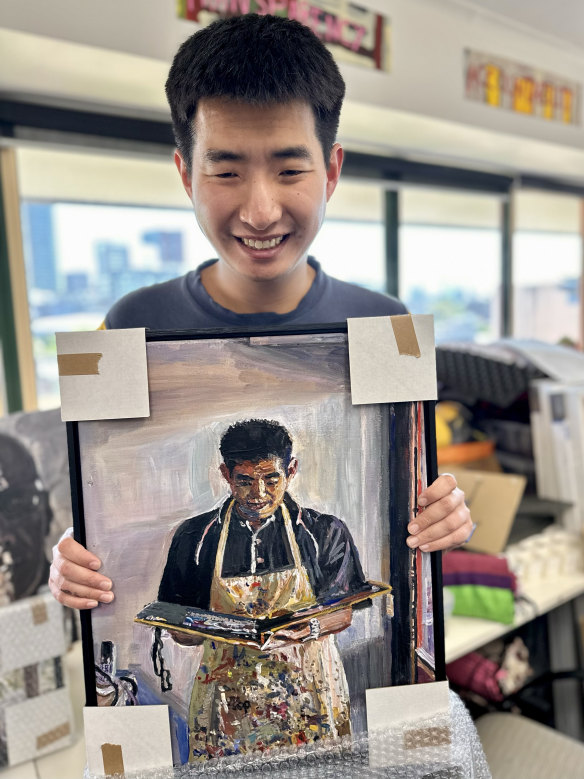 Daniel Kim and his portrait.
"I made an album of Greg to help me remember him. The album contains many photos of Greg and myself and all the artworks I made with Greg's support. I miss Greg very much," Kim said.
Warburton, a painter whose work is in the National Portrait Gallery, was also a disability support worker, whose face featured in the 2014 Archibald Prize, painted by his friend Paul Miller.
"Part of Greg's role was to have Daniel put more emotion in his paintings. The beauty of this painting is it has so much emotion about Greg's loss. You can feel his grief just by looking at it," Mordy said.
Another Studio A Archibald portrait with a heartbreaking backstory is finalist Catherine McGuiness' picture of chef Kylie Kwong, who she first met at the South Eveleigh Artist Markets in 2022. Kwong purchased one of McGuiness' artworks and a connection was formed.
Daniel Kim with his scrapbook of memories of greg Warburton.
For her Archibald submission, McGuiness drew inspiration from Kylie's restaurant Lucky Kwong, where the live sitting took place. The resulting portrait is called Lucky.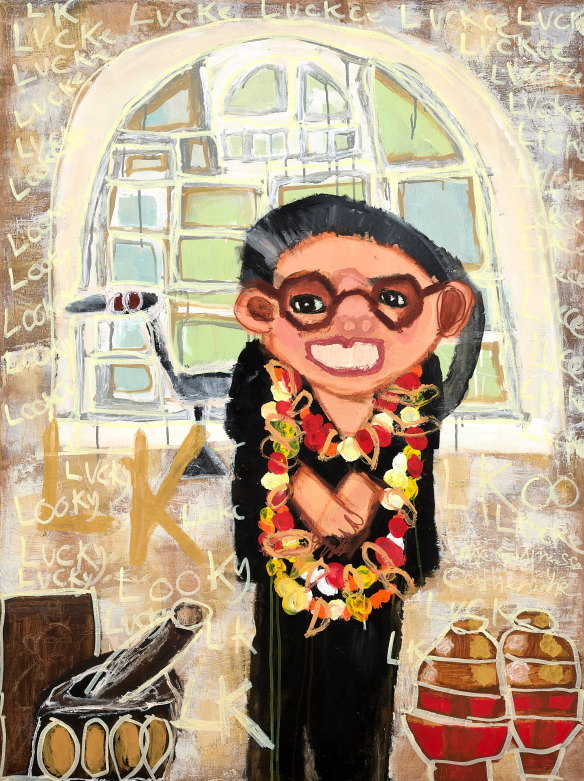 Archibald Prize 2023 finalist, Catherine McGuiness 'Lucky', a portrait of chef Kylie Kwong.
"I've painted Kylie wearing her favourite necklace and her round glasses. She always wears black. The words Lucky are written lots and lots to refer to Kylie's special restaurant and memory of her son, who her restaurant is named after. She's a lovely person," McGuiness said.
"Sitting for Catherine's Archibald portrait has been one of the most memorable and enriching experiences of my life-to-date," said Kwong.
"As I showed her around Lucky Kwong, I pointed to my wife Nell's suspended glass ghost installation and explained how Lucky was Nell's and my little baby boy who had 'turned into an angel' – I wanted to share my heart with Catherine as she has always shared her heart with me so the very first thing I did was tell her who Lucky Kwong was.
Artist Catherine McGuinness painting restaurateur Kylie Kwong.
"I not once mentioned that Lucky was sadly stillborn, yet she somehow organically 'tuned into' the celestial nature of the space and the resulting artwork is absolutely 'divine'. She certainly felt Lucky's spirit all-pervading and I am incredibly moved by this," Kwong said.
In the past four years Studio A artists have consistently been finalists in the nation's best known portrait prize. This year Studio A artists Emily Crockford with a portrait of queer champion Jeff McCann and Thom Roberts with architect Farhad Haidari have secured their place as Archibald finalists for a third time.
Chef Kylie Kwong with artist Catherine McGuiness.
Roberts' 2023 submission, titled In the future there might be new tall buildings built by Bert (Farhad Haidari), was the result of a residency the artist did at The Langston Epping, a residential development by Haidari, a principal at Archetectus.
Roberts was invited to the Architectus offices at 25 Martin Place, a building designed by Harry Seidler. The city skyline visible from the office windows provided a captivating backdrop for the portrait sitting.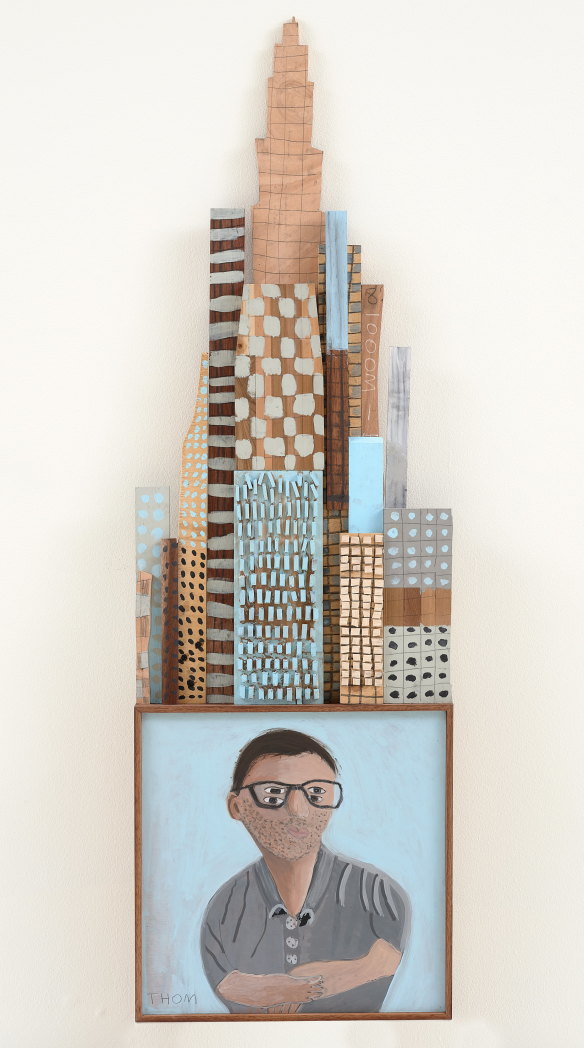 Archibald Prize 2023 finalist, Thom Roberts 'In the future there might be new tall buildings built by Bert (Farhad Haidari)'.Credit: Jenni Carter
In 2021, he was a finalist in the Archibald Prize and his portrait of Studio A Chairman Shane Simpson was selected to hang as the primary exhibition banner on the AGNSW facade.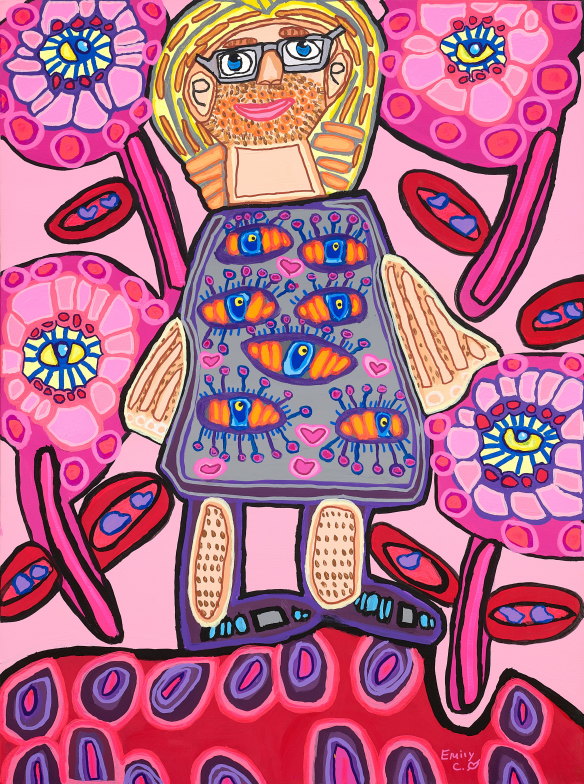 Archibald Prize 2023 finalist, Emily Crockford 'Jeff's pink daisy eyelash clash'.
"To have these artists as finalists feels incredibly validating for our artists, their families and their mentors and it shows the art world we are not one-trick ponies," Mordy said.
The Booklist is a weekly newsletter for book lovers from books editor Jason Steger. Get it delivered every Friday.
Most Viewed in Culture
From our partners
Source: Read Full Article