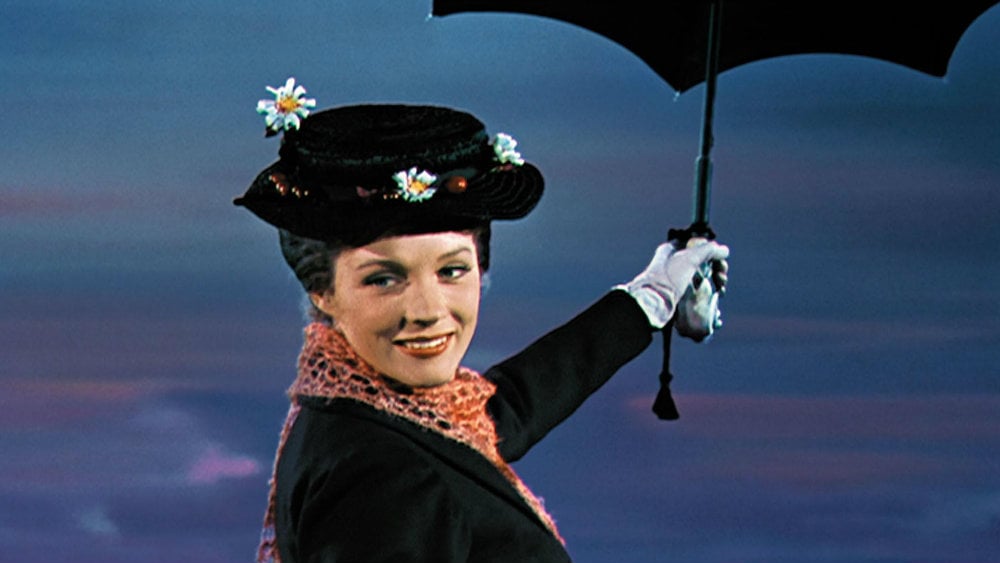 Julie Andrews in Mary Poppins | Disney
Julie Andrews is the most iconic star of pop culture past (and present). If you haven't seen her in The Sound of Music, then you're one of the few people who haven't. And if you've never seen her in Mary Poppins, you're missing out on one of the biggest parts of Disney history.
Even though Andrews has reinvented her entertainment career in recent years, she's still alive and thriving. How old is she now? You'll be amazed at her age, despite looking nowhere near the number.
Julie Andrews was a big child star in the U.K.
Many younger fans probably don't know that Andrews' first big start in show business came as a child singer in her native England. Born Julia Elizabeth Wells, this early success occurred on the English music hall stage. This was the result of her parents goading her into show business. Her mother was a pianist and her stepfather a singer.
She took her name Andrews from her stepfather, proving all great entertainers typically change their names to create a more distinctive brand.
If you've read Julie's autobiography, you likely know that her childhood wasn't a bed of roses. Part of this included living in poverty for a while, which surprised many of her newer fans.
Finding success on Broadway in America
By the 1950s, Andrews managed to land a plum musical role in NYC: The Boy Friend, written by Sandy Wilson. A British musical, Andrews landed the lead on Broadway in 1954.
Younger fans might not have much familiarity with this first musical. Within two years, Andrews was starring in her most famous Broadway role: Eliza Doolittle in My Fair Lady. A few years later, she took on another iconic Broadway performance in Camelot.
Mostly those on the east coast knew who she was then, despite a few performances on national TV shows (like Ed Sullivan).
Her movie debut in 'The Americanization of Emily' and 'Mary Poppins'
Did you know Andrews' first American movie wasn't Mary Poppins? Her first starring role in a film was with James Garner in The Americanization of Emily. Filmed in 1963 (and released the following year), it kicked off a three-year streak of starring in two of the greatest movies ever made.
After Walt Disney chose her to play Mary Poppins, she earned herself an Oscar (and Golden Globe) for the role. She said winning the Oscar was "ridiculous" during her acceptance speech, even though it was far from it.
Of course, her next film (The Sound of Music) is the most beloved musical film of all time next to Poppins.
Later film career
It was impossible to make any film topping Mary Poppins or The Sound of Music. Andrews' film career slowed down for a long time, despite keeping active (including a brief and well-received TV variety show during the 1972-73 season).
During this time, she was married to director Blake Edwards and taking on more adult roles. In 1982, Victor/Victoria became her next big screen triumph, winning her another Golden Globe. She took this to a Broadway performance in 1995 and (controversially) refused a Tony nomination.
After almost two years of performances, Andrews had to bow out due to vocal problems. After this point, she had to reinvent her career.
Becoming a voice actress
Andrews had to find new avenues as an iconic entertainer after losing her amazing singing voice 20 years ago (resulting in a lawsuit against her vocal surgeon). Outside of sporadic live-action projects (the almost legendary The Princess Diaries), she began doing voiceover work in animated movies like three Shrek sequels and two Despicable Me films.
Rather than appear in this year's Mary Poppins Returns (to avoid overshadowing Emily Blunt), she does brief voice work in Aquaman, playing Karathen, a mythical sea creature.
She's currently doing all this at a spry 83 years old. Andrews just turned this age on October 1.
How gratifying is it to see her continue to thrive in her entertainment career? Plus, she looks 20 years younger than her age, making us all wish she'd continue playing live-action parts if she so chooses.
Keep reading us at The Cheat Sheet to read up on your favorite celebrities past and present.
Source: Read Full Article