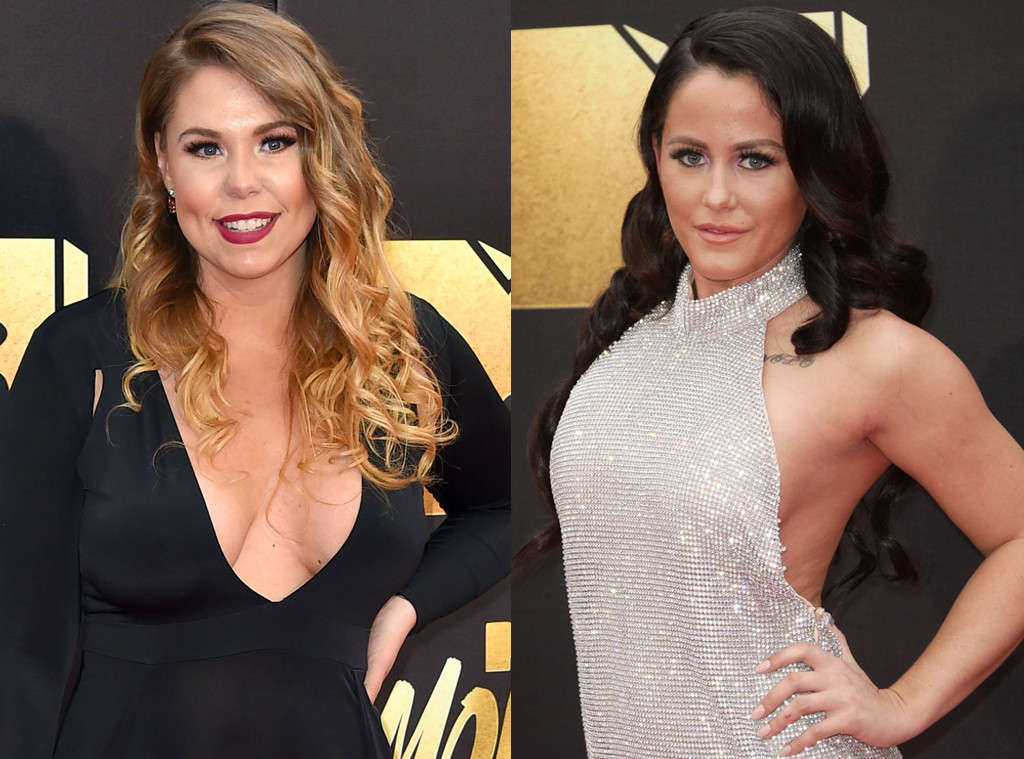 Jim Smeal/Jordan Strauss/Invision/AP/REX/Shutterstock
Kailyn Lowry is putting up a white flag as her Teen Mom 2 co-star Jenelle Evanscopes with some personal struggles.
On Sunday, Lowry came to Evans' defense days after her husband David Eason allegedly shot and killed their French bulldog Nugget. Lowry condemned Eason's alleged violent act and offered her support to Evans.
Lowry released a statement on her company Pothead Haircare's letterhead and shared the note on her personal social media pages.
"I have refrained from commenting on the disturbing situation involving David Eason and Jenelle Evans while I wrapped my head around the murder of Nugget. To say I am disgusted and appalled over David's actions doesn't begin to touch on my true feelings," she began.
The entrepreneur distanced herself from Eason and asserted that his alleged actions do not reflect her own or the rest of the Teen Mom 2 cast.
She continued, "I want to make it clear that neither myself or my company, Pothead Haircare, condone violence against animals. Being the owner of dogs myself, I am heartbroken and sickened by what happened to Nugget.
Lowry concluded, "I hope that Jenelle and her children are safe and take the necessary steps to get the help that is clearly needed."
Lowry's note may come as a surprise to many Teen Mom fans because the two have been known to have a rather fraught relationship. In January, Lowry stood behind her Teen Mom crew and said she "will not be attending any type of reunion on the same day or weekend as Jenelle & David" because some of the crew members were supposedly afraid of working with Eason.
Evans defended her husband and her Teen Mom filming and proceeded to make comments about Lowry on social media. "Then you got this dumb c–t tweeting about me again to make herself relevant…all you have to worry about is my babygirl," she said on her Instagram Story.
A few weeks later, Evans and her mom filmed a lengthy Instagram Live segment where, at one point, her mom Barbara joked about killing Lowry.
Barbara said at one point that they should "get lit and kill Kail," to which Evans replied, "You can't say that s–t."
Barbara apologized to Lowry and said, "Everybody took it out of perspective. That's not really what I meant. It was a joke."
She added later in the video, "I was being sarcastic and everyone freaks out like I want to go kill the girl. C'mon I've known the girl for 10 years. That's crazy s–t."
Upon hearing the news, Lowry tweeted, "I heard barb wants to kill me."
She said in another message, "Are drunk words sober thoughts?"
https://www.instagram.com/p/BxGKMKHgTmw/
View this post on Instagram
Myself and my company @potheadhaircare do not and never will condone animal cruelty.
A post shared by Kailyn Lowry (@kaillowry) on
Even Amber Portwood, another cast member with a rocky relationship with Evans, defended her. "Omg I can't even read anymore details about this horrible incident that happened to Janelles poor dog! ugh," she tweeted on Friday. "heartbroken seriously…I hope she makes the right decision."
Evans has been "distraught" after Nugget's death. Eason allegedly shot the puppy because "it snapped at" their daughter, Ensley. The mom of three revealed to E! News that she is "very much considering divorcing" her husband after the events that transpired on April 30.
"I have not gone back to my home yet because he is refusing to leave. I won't see him and don't want to talk to him," she told E! News one day after. "Thankfully the kids did not see him shoot the dog. They are still with me. I am very much considering pressing charges against him for this."
Eason broke his silence on the situation on May 1 and explained that he supposedly shot Nugget as a means of "protecting" his family.
View this post on Instagram
Nugget… I'm crying everyday. I love you so much and I'm so sorry. I'm speechless. You were my side kick and knew the moment I felt bad and would cuddle with me. You still had a lot to learn and a lot to grow from your lessons. Everyday I wake up you're not here, when I come home you're not here, when I go to bed… you're not here. You're gone forever and there's no coming back. #Heartbroken #Distraught ???
A post shared by Jenelle Eason (@j_evans1219) on
"I'm all about protecting my family, it is my lifes mission. Some people are worth killing or dying for and my family means that much to me," he said in a note on Instagram. "You can hate me all you want but this isnt the first time the dog bit Ensley aggressively. The only person that can judge weather or not a animal is a danger to MY CHILD is ME."
E! News has learned that Eason's alleged killing of Nugget has sparked an investigation by the Columbus County Sheriff's Office and Columbus County Animal Control. He could even face jail time if he is charged and convicted.
Source: Read Full Article