Yesterday, Us Weekly casually debuted a pot-stirring report from the hallowed #SponCon tents of Coachella: Kim Kardashian's best friend Larsa Pippen was seen getting "playful" with Kim's ex-husband Kris Humphries.
An "onlooker" told the outlet that the pair were "hanging out by the VIP drink area at Coachella with a group of people," (wow, same!), adding that "the two of them were talking and standing next to each other." Sounds…very bland—but wait, there's more! The source says that Kris was "touching her head and playing with her braids" and that the pair seemed seemed "playful" as Kris was "leaning down to talk to her since he's so much taller." Wow, two people talking, how scandalous!
Anyway, Perez Hilton went ahead and ran with the story, posting to Instagram "do we have another Jordyn Woods situation on our hands?" and Larsa was NOT having it. And yup…she hit the comments to set the record straight.
"The convo lasted all of 3 min," she wrote on Perez's Instagram post. "He told me he's known Scottie since he was 14 and he loves him and I said so do I."
FYI that "Scottie" is Scottie Pippen, who Larsa filed for divorce from in November 2018 after 21 years of marriage. "It is with deep sadness that Scottie and I announce that we are legally separating," she said in a statement. "We have both tried very hard for a long time to make our marriage work and have ultimately come to the conclusion that it is best that we live separate lives. We have so many amazing memories together, remain best of friends and love each other very much. Our four children have always been our priority and for their sake we ask for as much privacy as possible for our family during this sensitive time."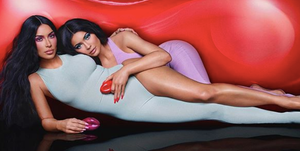 Source: Read Full Article