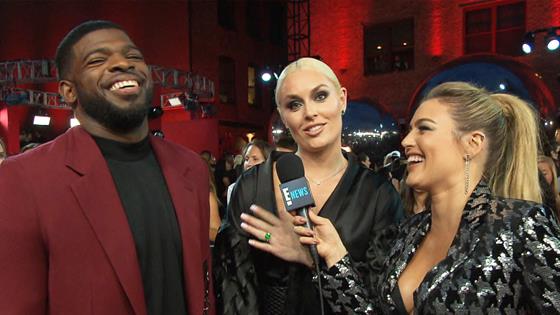 Winter sports have always agreed with Lindsey Vonn.
The Olympic champion called it a career in February, but there are still many chilly nights ahead for the most decorated woman skier ever—nights spent rinkside, watching her fiancé, P.K. Subban, play for the New Jersey Devils.
"Stuck with me forever! Jokes on you," Subban teased his bride-to-be in August, a little over a week after he popped the question with a massive emerald ring. The couple who love to laugh together also shared dueling videos from the same car ride, Subban improvising some lyrics to "Single Ladies" in both.
"It was difficult at the time and then I was kind of pondering over it for a couple weeks," the veteran NHL player, who was traded to the Devils this summer, told E! News at the MTV Video Music Awards, explaining how he picked out the ring. "And then I said, you know, I just gotta kind of keep it simple and go back to, 'where's the meaning coming from?' I know her favorite color is green, so I started there, and my birthstone's emerald, so I went with the emerald stone."
He quipped that he "gave her an opportunity to change it, swap it out, get something different or add on," but "she loved it."
Once she got over the shock, that is.
"I was like, 'Are you freaking kidding me?'" Vonn described how she felt when Subban proposed. "Like I thought he was joking, and then I saw the ring…"
The couple shared a laugh, remembering the profanity she actually uttered in the moment.
"And then I just broke down, I was crying the whole time," Vonn said. "[Saying] 'oh my god, this is not a joke—this is not a drill! This is real!' It was the full ugly cry."
"She looked beautiful," Subban added.
They didn't have a wedding date yet, but the vows were already writing themselves.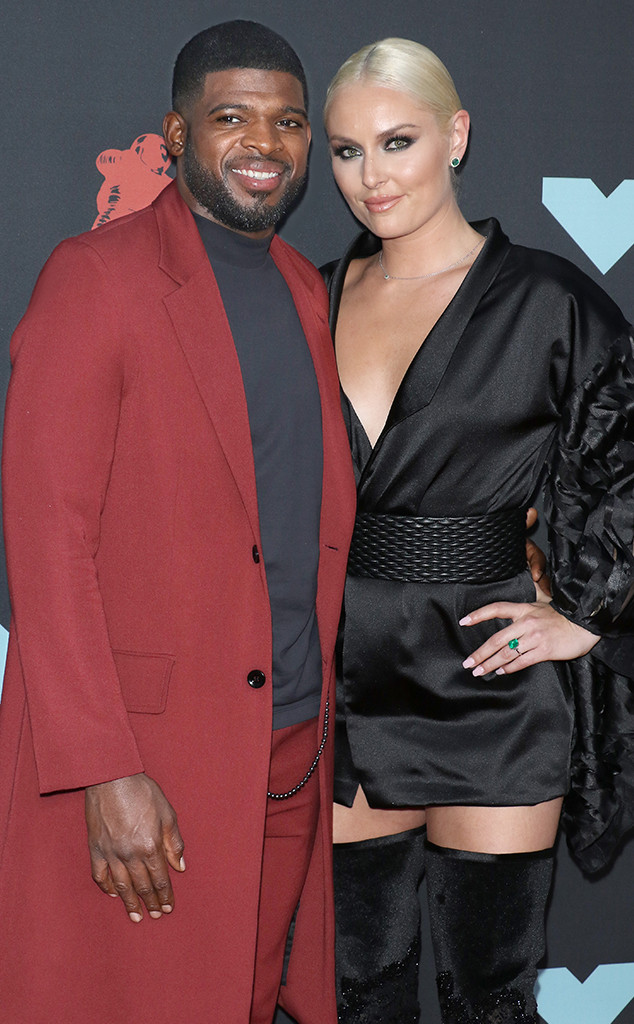 Jim Spellman/FilmMagic
While Vonn's road to finding lasting happiness with Subban was hardly without its bumps, once she started dating the Canadian hockey player last year, it was smooth… yes, skiing. Smooth, straightforward skiing.
But first, they had to meet.
"It's hotter outside than Lindsey Vonn looks today, which is pretty hot," Subban quipped to ESPN at the 2017 ESPYs, where they first met, on a balmy July evening in Los Angeles.
The skier was unquestionably a sight for sore eyes in Monique Lhuillier, and someone was crushing hard, but Vonn was at the show with her boyfriend, Kenan Smith, a former assistant coach for the LA Rams.
The next night, however, was the 2017 Nickelodeon Kids' Choice Sports Awards, held at UCLA's Pauley Pavlion, and Vonn and her sister, Karin Kildow, popped up in a video posted to Subban's Instagram, in which he congenially explained that he'd just lost to Karin and Lindsey, who teased him mercilessly.
It's unclear what Subban lost at, "but I got beat by a champion," he wrote.
And eventually, he won.
Vonn and Smith broke up later that year, and then it was time for Vonn to focus full-time on training for what she suspected might be her final Winter Olympics. Throughout the whirlwind of press leading to the Pyeongchang Games in February 2018, the talk remained primarily centered on her career. It was no time to play games (minus the actual Games).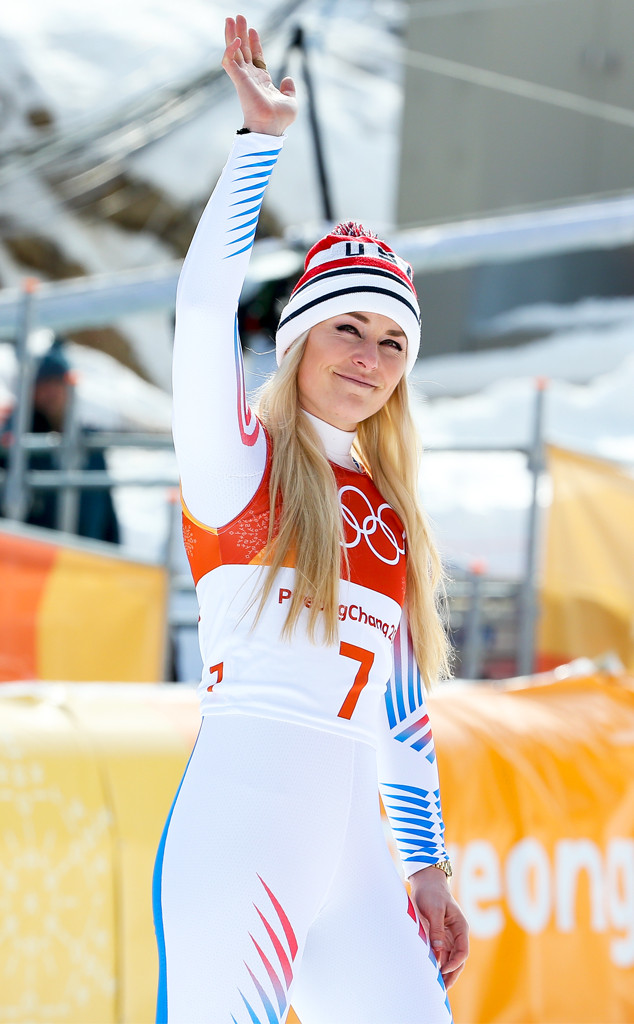 Jean Catuffe/Getty Images
"I've been waiting eight years for this," she said after her bronze race. "I'm super happy. I left it all on the hill. Hindsight is obviously 20-20, but I wouldn't change anything. I attacked. That's what happens. I would be more disappointed in myself if I came down slow and not pushing myself and skiing stiff. But I didn't."
She stayed all the way through and walked in the Closing Ceremony, when more than a few superstar athletes have already gone home.
After the Olympics, the all-time World Cup wins leader among female skiers announced that the 2018-19 season would be her last. She pressed on in hopes of overtaking Ingemar Stenmark's record 86 World Cup wins, but injuries put a damper on her farewell tour—so much so that she said she'd race again the following season so she could compete at Lake Louise one last time after missing it in 2018.
In the meantime, though, Vonn wasn't going through all these ups and downs alone.
Brian Babineau/NBAE via Getty Images
The Minnesota native, who was being spotted at hockey games, hadn't just all of a sudden become a Nashville Predators fan—she had started dating defenseman P.K. Subban, who played with the Tennessee team for three seasons.
"As soon as I was single, he was very persistent in his messages until we finally met up and, yeah," Vonn smiled, talking to Access Live in February. "He won me over." She further explained, "His agent is a really good friend of mine, so she connected us…" Cue the blushing.
Terez Owens was first to report that they'd been seeing each other since March 2018. The pair certainly weren't trying to hide anything at Game 7 of the Eastern Conference Finals in Boston that May, with a source telling Sports Gossip that Vonn had just brought Subban as her date to her cousin's wedding in Wisconsin days beforehand.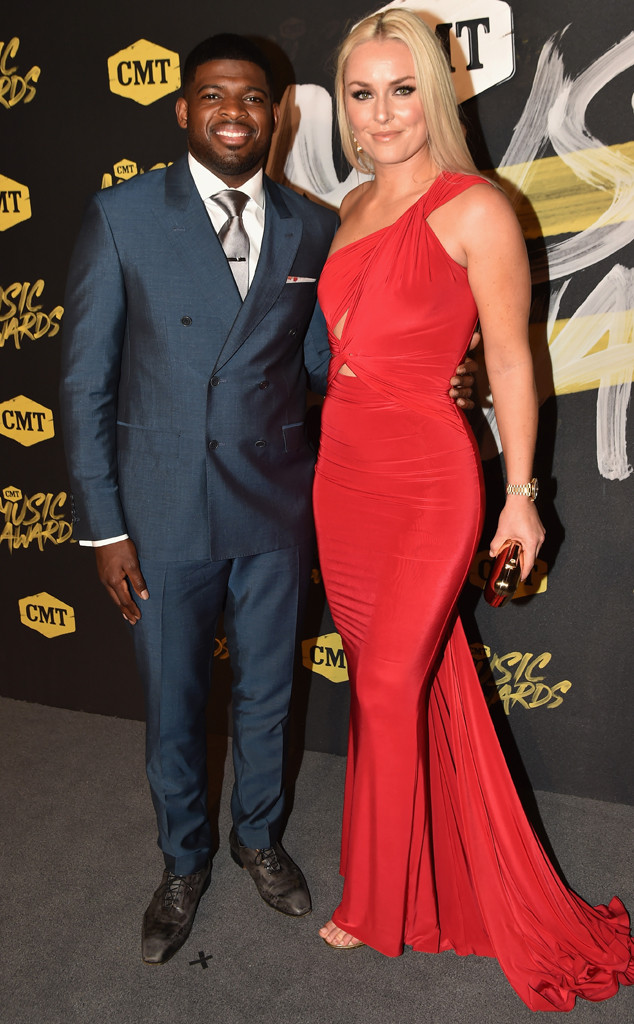 Jeff Kravitz/FilmMagic
Less than two weeks later, they made their red carpet debut at the 2018 CMT Music Awards on June 6.
"When you're a celebrity everyone's always trying to figure out who you're dating… Does anyone know who I'm dating?" Vonn teased onstage while introducing a certain boy band. "I'm going to come clean and confess who really has my heart and has had my heart since I was 10 years old… the Backstreet Boys!"
A few weeks later, she was Subban's date to the NHL Awards. And they've been as inseparable as professional athletes, even retired ones, can be ever since.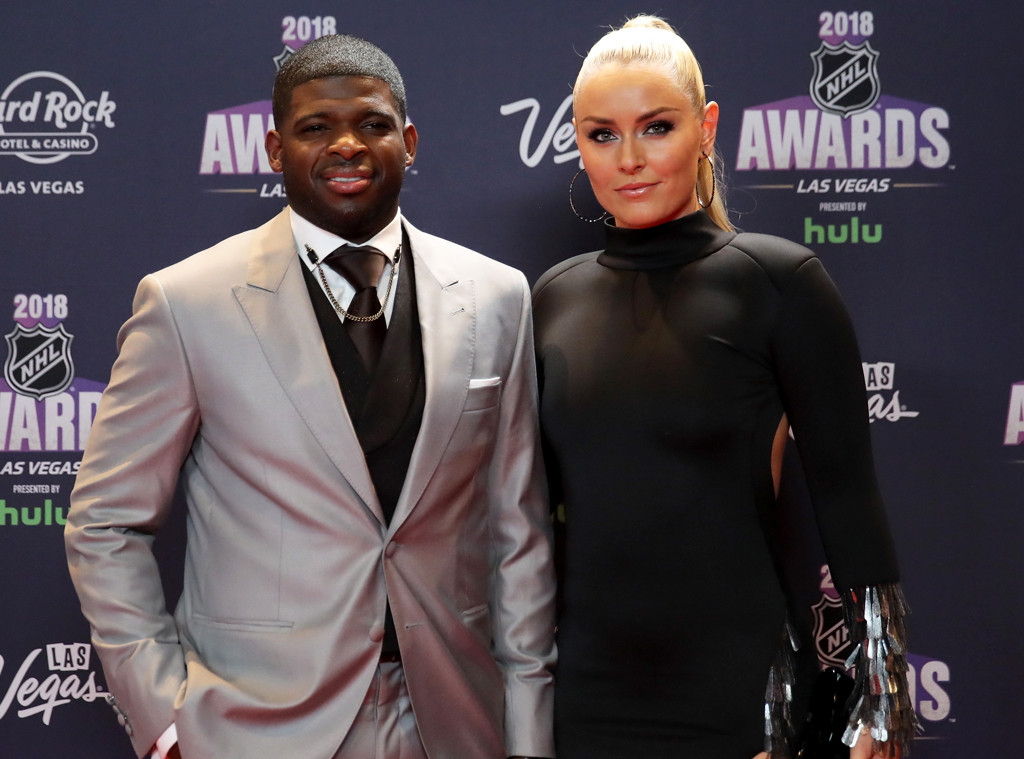 Bruce Bennett/Getty Images
"Let's count the last 5 days: LA > New Jersey > Switzerland > France > Switzerland > France > LA for 10 hours > red-eye to Toronto…my jetlag is off the charts but my Grandpa always said you can sleep when you're dead!" Vonn wrote, pausing for an Instagram update in July from a hotel suite.
Subban, who's only a few weeks into his 82-game regular-season schedule, can relate.
Their mutual competitive drive seems to be something they bonded over, as was their respective commitment to fitness and love of family—and, not to be dismissed, their mutual enjoyment of getting all dressed up to go out.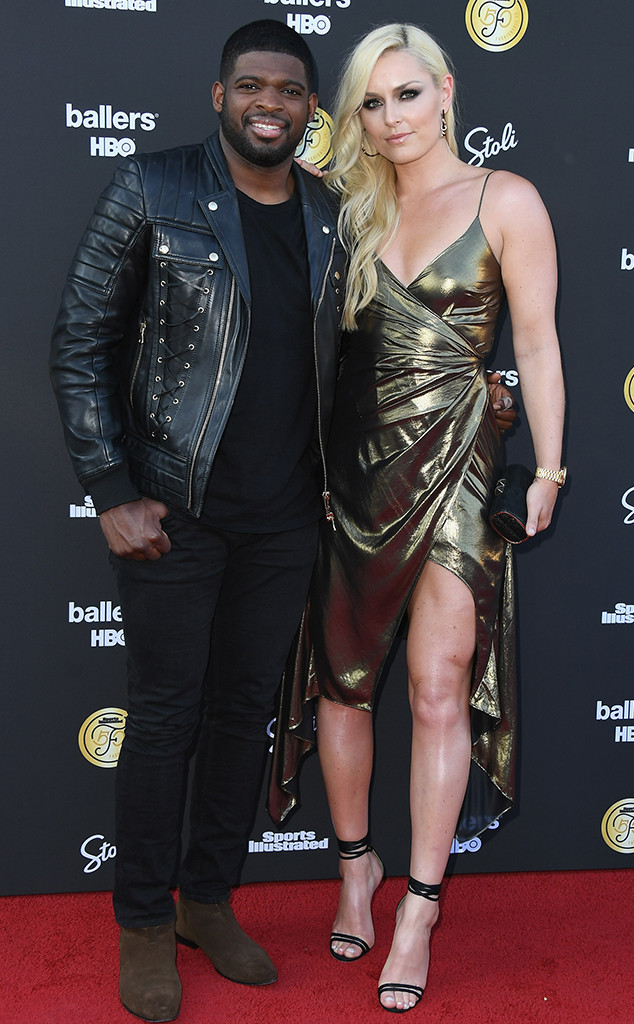 Jon Kopaloff/FilmMagic
And though they'd only been dating for a few months, apparently someone asked what the future held.
Vonn joked that it was "not a Bieber situation," referring to Justin Bieber having just tied the knot with Hailey Bieber after barely a month together. "We love each other very much," the once-divorced athlete added, "but there's no reason to jump ahead and get ahead of yourself. We have plenty of time to figure everything out, so we're just enjoying it."
They did have a couple nickname by Christmastime, however, and it has stuck.
Subban, who Vonn has astutely described as "very energetic" (as well as "crazy/kind/handsome/hyper/giving"), went all out for the "1st ever SuVonn Christmas," getting her a delicate gold necklace engraved with "Snuggy" (because she likes to snuggle), as well as a pair of diamond-encrusted earrings and a matching bracelet. She didn't exactly hold back, either, gifting him a very impressive-looking watch.
"Babe, come on. Are you serious?" he exclaimed. "Turn that camera off, we're getting naked."
Photos
The Cutest Athlete & Celebrity Couples
They also share a love of sports, indoor and outdoor apparently, that can't be tamed. Over the past year and a half they've been everywhere from the US Open (twice) and the French Open to the Monaco Grand Prix and multiple NBA playoff series, including this past June, where Subban's hometown Toronto Raptors won their first championship.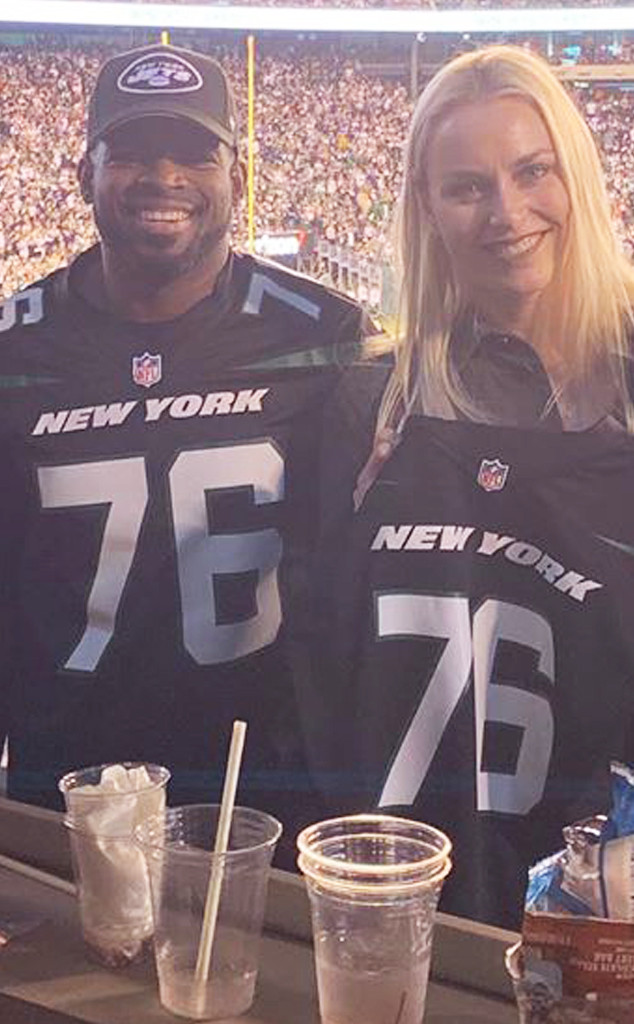 instagram
"Congrats @Raptors! Crazy series. Great job by both teams. Someone is pretty excited…@PKSubban1 #torontoboy," Vonn tweeted.
They sported custom jerseys featuring Darius James' 76 at the New York Jets game just last weekend and, of course, there have been more than a few hockey games, including a Predators game against the Minnesota Wild in March where Vonn did the honors of dropping the first puck.
If it seems as if their lives revolve around sports—watching, playing and preparing for them—you would be right. And Subban proved to be a great motivator right away, the jelly to Vonn's peanut butter.
"Sometimes when I get tired of my workouts, my energy gets really low, and it's hard for me," Vonn shared with reporters at the 2018 Kids' Choice Sports Awards. "I'd rather stay home and watch Law & Order and talk to zero people all day, everyday. But he pushes me to interact with people more and not sit on the couch. He always just uplifts me, he's always so positive…He makes me better."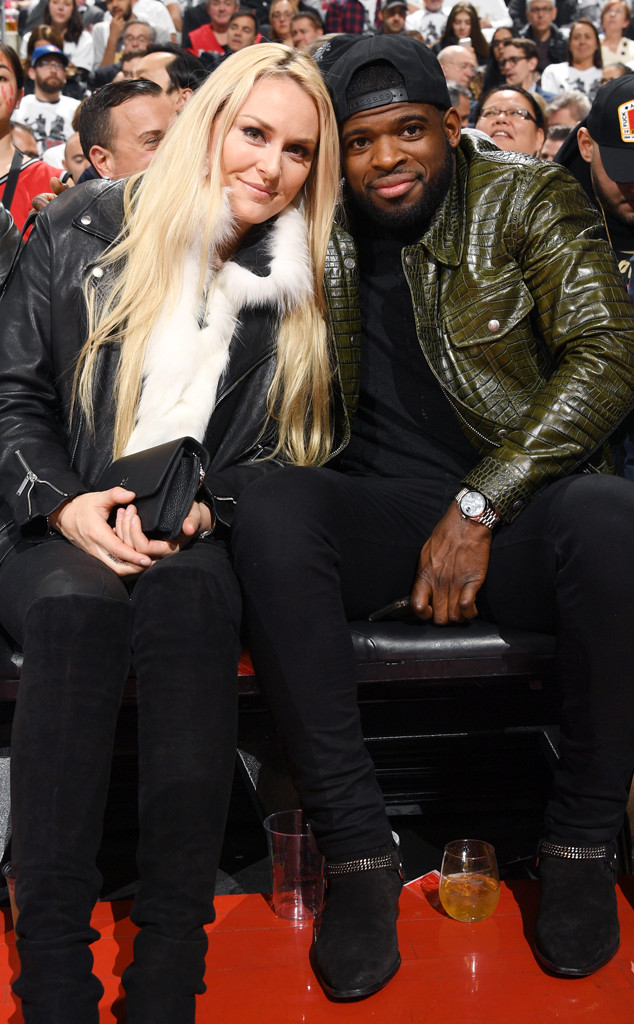 Ron Turenne/NBAE via Getty Images
When Vonn announced her retirement in February, Subban had a local bakery make a custom cake in the shape of a goat—as in she's the G.O.A.T.—wearing a gold medal around its neck, and there was a stuffed goat sitting on the bed in their house in Nashville, all waiting for her when she got home.
"That's epic," she said, examining the impressive confection, which took two days to make.
Subban is also, incidentally, a birthday guy—Vonn was presented with a cake topped with an edible figure of a skier for her 34th last October—and a Valentine's Day guy. For the ultra-romantic occasion, he led her blindfolded to a rose petal-strewn table where a private chef had prepared dinner, including a triple-chocolate bread pudding mixed with Vonn's favorite, Ben & Jerry's cookie dough ice cream.
View this post on Instagram
Back in the mix! ☝??
A post shared by P.K. Subban (@subbanator) on
"He's definitely the one," Vonn told Access Live after her boyfriend's impressive display of affection on Valentine's Day (and we can only imagine what he's got in store for her 35th birthday today, especially since he has the night off). "He's amazing and I'm very lucky to be with him. But," she added, addressing the inevitable wedding bells question, "I don't know, I've got to adapt to retired life first before we make any steps in that direction."
Vonn may no longer be competing but she's barely slowed down for a minute. She's always traveling and as an ambassador for Under Armour's Project Rock and other active-lifestyle brands, her training regimen remains formidable. Then there's Subban, who won the Norris Trophy in 2013 as the NHL's top defenseman, perennially lifting, running, climbing and pulling off various feats of strength.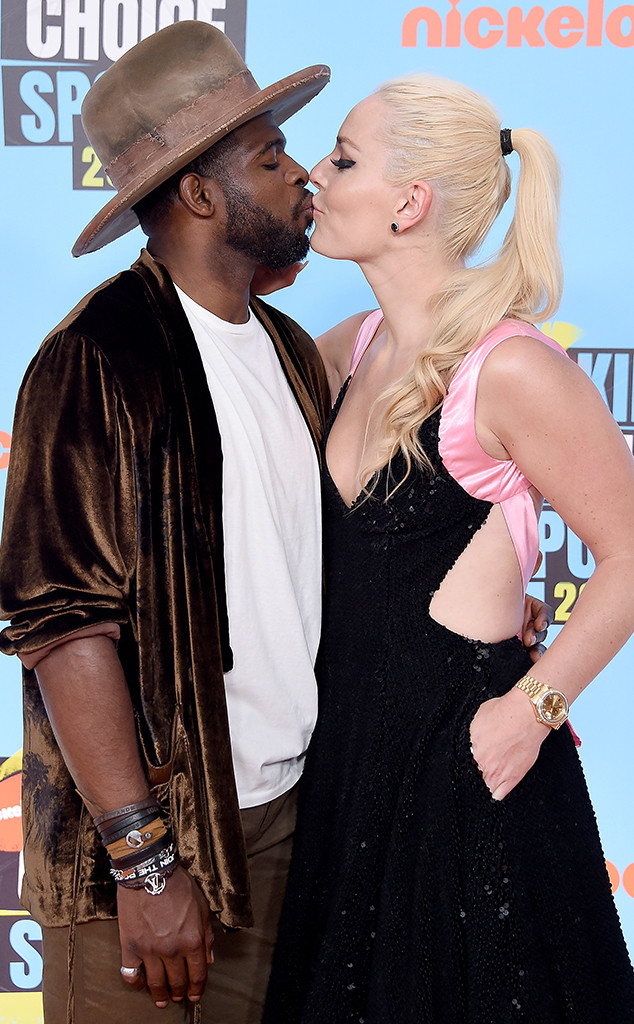 Gregg DeGuire/WireImage
In addition to all that impressive athleticism and being in ridiculous shape, Subban further fits the bill for Vonn—who was slammed in conservative circles going into the Olympics last year when she talked about being honored to compete for her country, if not its current president—as someone who speaks his mind and stands up for what he feels is right.
For instance, in 2018 when French Open officials announced that the full-body catsuit Serena Williams wore the previous year would no longer be allowed at the competition, deeming it "disrespectful," Subban posted on Instagram, "I had to think about this one for a while before I commented… As a man who's surrounded by strong women like my sisters, mother, and @lindseyvonn I was very disappointed by this news. @serenawilliams I got your back!!"
He's also involved with numerous charities, does spontaneously nice things like giving his practice stick to a kid wearing a Subban jersey at the arena, and last year he enrolled in a Harvard Business School Executive Education program—The Business of Entertainment, Media, and Sport.
So the founder of PKSS Management is obviously thinking about life after hockey, too.
View this post on Instagram
Thank you @njdevils for the warm welcome! It's been such a positive experience to come to a new city with this kind of excitement. You traded for @subbanator but you have two new fans in myself and Lucy! ❤️ #inthemix #jerseygirls
A post shared by L I N D S E Y • V O N N (@lindseyvonn) on
Together, they spend quality time with Vonn's nieces, and dote on her three rescue pups, Bear, Leo and Lucy the spaniel—who because she's more of a travel-friendly size got to go to the Prudential Center in Newark, N.J., on National Take Your Dog to Work Day in July.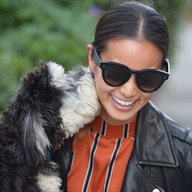 Photos
Stars Who Adopted Pets
Vonn also seems to appreciate Subban's wacky sense of humor, such as when they donned matching red, white and blue bathing suits for the Fourth of July last year. But those were just one-pieces. This year Subban went for the stars-and-stripes bikini, his outsize personality having made him a favorite around the league.
And just because the ever-stoic Vonn is more likely to tease or playfully roll her eyes at Subban, at least on social media, don't mistake that for an absence of warm fuzzies.
"Happy 30th birthday to the love of my life!!!" she paid tribute to her boyfriend in May. "Your energy and light has changed my world in so many ways and I can't express how thankful I am to have you. Here's to 30 and many, many more together, you old man!"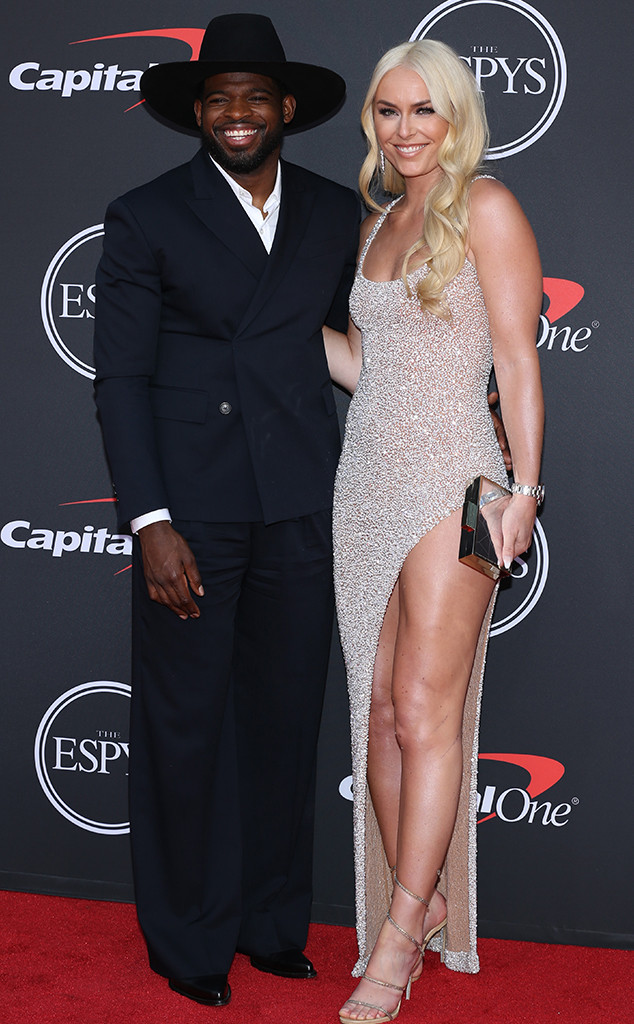 Phillip Faraone/FilmMagic
Naturally, two years after Subban was first hit by the thunderbolt, he was on Vonn's arm at the 2019 ESPYs, where she was honored along with fellow retirees Dwyane Wade and Rob Gronkowski with the Best Moment award for their farewell runs.
"I'm happy that I've at least broken more records than bones—just about," Vonn quipped. "I want to thank everyone who supported me, who taught me and helped me along the way, especially my family, my friends—and, of course, my incredible boyfriend, P.K."
Flash to her hat-wearing beau in the audience. "That's a shout-out right there—in the mix, in the mix," Vonn added, slipping in one of Subban's favorite phrases.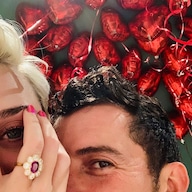 Photos
Stars' Engagement Rings
Then, on Aug. 14, Subban completely caught her off guard with the proposal, having gone to pick out the ring at XIV Carats all on his own.
He was still wearing his workout clothes, but he guessed that Vonn would want to look pulled together, so he chose a moment where she was dressed up for a business meeting. When she got home, he got down on one knee, with no one but their dogs as witnesses.
"He usually goes all out [with the public displays]," Vonn told E! News at the VMAs. "This time he just kept it really simple and private."
"Lindsey's the best thing that's ever happened to me," Subban told Vogue, which snapped some snazzy engagement pictures for the couple. "There are people in life that deserve to be with good people. They have that person who takes care of them and makes them smile, and she deserves to be with someone who loves her more than anything else in the world, and I do."
View this post on Instagram
Made it to Spain for the #princessasturiasawards. Miss this guy already. Whipped @subbanator
A post shared by L I N D S E Y • V O N N (@lindseyvonn) on
Meanwhile, hockey season just started. Vonn flew to Spain this week for the Princess of Asturias Awards, where she's being honored for her achievements in sports, and it was just announced that she's going to be inducted into the Colorado Sports Hall of Fame in April.
But at some point, there will be wedding planning.
"I want to wear something green, like my ring, for the after-party," she told Vogue. "Other than that, I honestly haven't spent a lot of time thinking about it. I'm mostly just excited for the future!"
Subban told E! at the VMAs, "I always delegate that to Lindsey because it's going to be on her comfort, when she's ready to do that, from a planning standpoint, you know. We want to plan it."
"He's got a season to play, a Stanley Cup to win," Vonn added, "and then we'll figure it out."
Don't let that nonchalance fool you. "Miss this guy already," she captioned a pic of herself and Subban, checking in from Spain on Wednesday. "Whipped."
Source: Read Full Article