Prince William and Prince Harry were rumored to have a falling out two years ago. Since then, the two brothers have remained distanced both emotionally and geographically. Now, according to a source who spoke with US Weekly, William and Harry have started to repair their fractured relationship.
"William and Harry's fallout was very real, very ugly and incredibly intense," the insider says. "They'd reached an impasse, there was so much mud under the bridge and a lot of people felt their feud was beyond repair."
RELATED: Prince Harry & Meghan Markle Say 'Love Wins' In Holiday Podcast
Harry, 36, stated that he and William, 38, were on "different paths" in 2019. Their bond was further strained when Harry and wife Meghan Markle announced their intention to step down from their senior royal duties in January 2020 and move to California with their 19-month-son, Archie.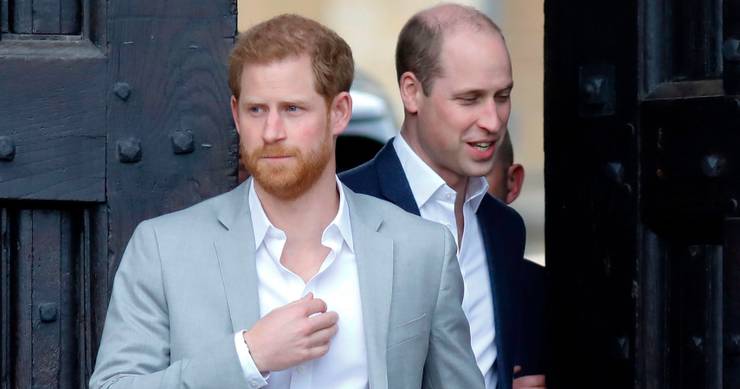 "It's certainly been a roller-coaster for everyone involved, especially the brothers, who are vowing not to let things get this out of hand in the future and have learned a lot from this difficult experience," the insider says, noting that the royal family has celebrated the news of the brothers' reconciliation.
William and Harry "are looking forward to spending time together in person the moment it's safe to travel," the insider adds. Although their first reunion is likely to be in the UK, William and Kate Middleton will reportedly visit Harry and Meghan in California this year.
Harry and Meghan, 39, recently moved to Montecito, near Santa Barbara, where they purchased a new home, which is currently under renovation. The couple is reportedly happy with their new location after facing several hardships last year, including a miscarriage in July 2020.
"2020 was a huge game-changer for Harry and Meghan and it came with its ups and downs — the stress of announcing their departure from the royal family, moving three times, dealing with the pandemic, making huge business decisions, setting up Archewell, coming to terms with the miscarriage," the insider said. "It's brought them closer together and made them a stronger couple."
Source: US Weekly
READ NEXT: Royal Family Wishes Prince Harry A Happy Birthday
Source: Read Full Article