Earlier this week, Isaiah Washington rehashed his drama with Grey's Anatomy co-star Katherine Heigl. Look back at their history and other famous celebrity feuds.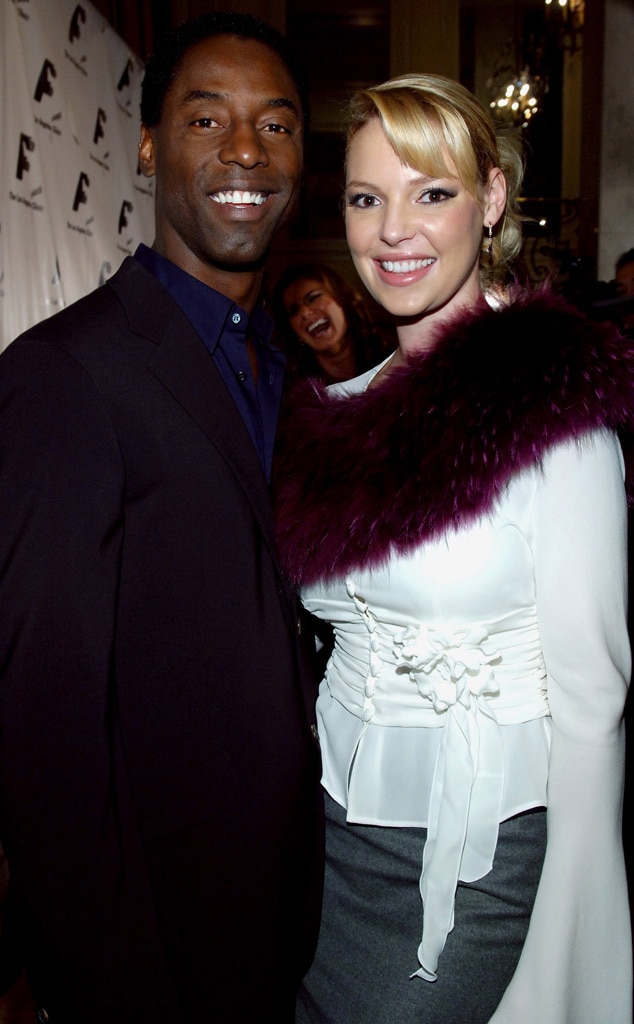 Their time on Grey's Anatomy may be long over, but Isaiah Washington and Katherine Heigl's drama is just resurfacing.
On Monday, Nov. 16, the 57-year-old actor took to Twitter with a message directed at the 41-year-old actress.
"This woman once proclaimed that I should 'never' be allowed to speak publicly again," he tweeted along with a photo of Heigl. "The world agreed with her proclamation back then and protested for my job and my head in 65 languages. I wish I was on Twitter in 2007, because I will NEVER stop exercising my free speech."
It's unclear what led Washington to share the post now. Although, it's no secret the two former co-stars have bad blood.
In 2007, Heigl called out Washington for allegedly using a homophobic slur towards fellow cast member T.R. Knight.
"Katherine stood up for her close friend twice when Isaiah publicly outed him and called him a f—-t. That's hate talk, not free speech," a source close to Heigl told E! News. "She is proud that she stood up for him. Katherine is and always will be an advocate and ally to the LGBTQ community."
According to People, Washington was asked about an alleged on-set incident between him and Knight in the Golden Globes press room that year. Washington reportedly told Access Hollywood he "did not call T.R. a f—-t" and that the alleged encounter "never happened."
"There is no way I could do anything so vile, and so horrible not only to a castmate, but to a fellow human being," he said, per the magazine.
Heigl, who called Knight her "best friend," then criticized Washington. "I'm going to be really honest right now, he needs to just not speak in public. Period," she told Access Hollywood's Shaun Robinson, per People. "I'm sorry, that did not need to be said. I'm not OK with it."
According to Entertainment Weekly, which published an interview with Washington days after fans learned he would not be returning to the show, the actor later issued an apology statement and filmed a P.S.A. for GLAAD that aired during a Grey's Anatomy rerun. When asked how he thought this would impact his career, Washington said he "can only apologize so many times" and "can only accept so much responsibility." He also said that "all the players involved have taken care of what we needed to take care of in-house" and that "the media took it in a different direction."
"I just hope people can understand in the industry and otherwise that it's a horrible misunderstanding what transpired with our show and it was blown out of proportion," he said at one point. "If the naysayers out there feel that some justice has been served and that they're happy with the outcome, so be it. It's incumbent on me to take what I do, do it well, grow from the experience, and move on."
Washington and Heigl's exchange isn't the first celebrity feud. To look back at other stars' disputes, see the gallery below.
Trending Stories
The Juiciest Reveals About Pete Davidson and Ariana Grande's Romance
Camilla Luddington Responds to Criticism of Grey's On Set Masks
Candace Cameron Bure Shares Note Lori Loughlin Sent Her
During an appearance Watch What Happens Live, the Happy Days actor was asked why he didn't get along with the Forrest Gump star on the set of the 1989 flick Turner & Hooch.
"I was directing that movie for 13 days and then I was called into [producer] Jeff Katzenberg's office and he said, 'You have everything with you? Go home,'" he said.
Winkler did, however, seem to get along with Hanks' four-legged co-star. "I got along great, great with that dog," he said. "Love that dog."
He also refused to admit if he's even seen the flick. 
"You know what you did!"
Fans of The Hills will remember that iconic line, delivered by Lauren Conrad on the season three premiere. Their feud began when Heidi Montag started dating her now-husband, Spencer Pratt. The feud hit its peak after rumors started flying that Conrad had made a sex tape with her ex, Jason Wahler, rumors which Conrad believed Pratt and Montag started.
The Fast and Furious co-stars had been involved in an ongoing feud, which reignited this past fall when Gibson publicly called out Johnson on Instagram after the Fast and Furious 9 release date was pushed. The film was originally scheduled for release in April 2019, but the date was later pushed back to April 2020. That same day, it was announced that a Fast and Furious spinoff starring Johnson and Jason Statham would hit theaters in 2019. The following month, Gibson threatened to quit Fast 9 if Johnson was in the movie.
In July, Gibson opened up about the feud, telling Van Lathan on The Red Pill podcast, "I have yet to talk to The Rock to this day, and we will have a conversation." Gibson shared that he did have a conversation with Johnson's producing partner, but not the actor himself.
"I found myself being the messenger on behalf of various people associated to the franchise, but stupid me was the only one who went public about those feelings, which is my own fault," Gibson said. "It's not professional, it's not cool."
No more bad blood here.
Taylor Swift and Katy Perry had been in a feud for years, even allegedly inspiring Swift's song "Bad Blood." The drama, which reportedly started over a backup dancer and competing tours, came to an end in May after Perry sent Swift a literal olive branch before her Reputation Tour kickoff.
"So I just got to my dressing room and found this actual olive branch," Swift said in an Instagram video. "This mean so much."
Swift captioned the video, "Thank you Katy."
Sex and the City co-stars Kim Cattrrall and Sarah Jessica Parker had dodged feud rumors for years. But those rumors were reignited last year after Cattrall decided not to return for a third movie and made comments about her co-star that raised eyebrows.
"What was your reaction to Kim Cattrall telling Piers Morgan that you were never friends just colleagues?" Andy Cohen asked Parker on a Sept. 2017 episode of Watch What Happens Live.
"Just…heartbroken," Parker told Cohen. "I mean that whole week, you and I spoke about it because I was just…I don't know I found it really upsetting because that's, you know, that's not the way I recall our experience."
"So…it's sad but I'm kind of…I don't know, I always think that what ties us together is this singular experience is the thing. It was a professional experience but it became personal because it was years and years of our lives. So I'm hoping that that sort of eclipses anything that's been recently spoken," she continued. "That many years spent doing something so special that people had a connection with is such a privileged."
The iconic singers have been feuding since 2004. While accepting the Classic Songwriter Award at the Q Awards that year, Elton John said to attendees, "Madonna, best f–king live act? F–k off! Since when has lip-syncing been live? Sorry about that, but I think everyone who lip-syncs in public on stage, when you pay like 75 quid to see them, should be shot."
Former Grey's Anatomy star Katherine Heigl sparked a feud with series creator Shonda Rhimes in 2008 when she removed her name from the Emmy Awards consideration. The actress stated that her reason for the move was because she wasn't "given the material to warrant a nomination."
Rhimes later opened up about Heigl's decision during an interview with Oprah Winfrey on Oprah's Next Chapter in 2012. "On some level it stung and on some level I was not surprised," Rhimes said. "When people show you who they are, believe them. I carry that [mantra] with me a lot. It has served me well."
It was the New York Fashion Week fight heard 'round the world. The rappers got into a heated altercation at the Harper's Bazaar Icon party in September. The following month, Cardi opened up about the catalyst for the fight with Nicki.
"For a while now she's been taking a lot of shots at me," Cardi said in W magazine's Art Issue. "I spoke to her twice before, and we came to an understanding. But she kept it going."
The real spark of the fight came when Cardi saw that Minaj had allegedly liked and then unliked a tweet about Cardi's parenting skills, which Minaj has denied. "I was going to make millions off my Bruno Mars tour, and I sacrificed that to stay with my daughter," Cardi continued. "I love my daughter. I'm a good-ass f–king mom. So for somebody that don't have a child to like that comment? So many people want to say that party wasn't the time or the place, but I'm not going to catch another artist in the grocery store or down the block."
Tension between Kanye West and Taylor Swift first started in 2009, when the "Stronger" rapper took the stage during Swift's acceptance speech at the MTV Video Music Awards. Years later, the two would make up and even become friends, but that came to an end after the release of West's song "Famous," in which he name-checks the "End Game" singer.
"I don't know her."
It's been over a decade since Mariah Carey and Jennifer Lopez's "feud" has been going on. It all started when Carey was asked to give her opinion on several singers during an interview. When asked her opinion on Lopez, Carey replied, "I don't know her."
Since that interview went viral, there's been an ongoing tension between the music icons.
Childhood BFFs Paris Hilton and Nicole Richie became pop culture sensations on their reality show, The Simple Life. Throughout the show's run, however, the two started to grow apart and sparked feud rumors for many years.
When Richie tied the knot with Joel Madden in 2010, Hilton was not invited to the wedding. But, Richie told Andy Cohen on Watch What Happens Live in 2014 that she still has a lot of love for her friend.
"The short answer is I haven't spoken to her in awhile, but we are very good friends and I love her and love her family and have a lot of respect for her," she shared.
While appearing on Megyn Kelly Today in Sept. 2017, Jane Fonda had little interest in talking to host Megyn Kelly about plastic surgery.
"You admit you've had work done, which I think is to your credit, but I think you look amazing," Kelly said. "Why did you say- I read that you said you felt you're not proud to admit that you've had work done. Why not?"
"We really want to talk about that now?" Fonda replied, to which Kelly told the actress, "Well, one of the things people think about when they look at you is how amazing you look."
"Well, thanks," Fonda responded. "Good attitude, good posture, I take care of myself. But let me tell you why I love this movie that we did, Our Souls at Night, rather than plastic surgery."
Source: Read Full Article