Prince Harry and Meghan, Duchess of Sussex decided to leave their royal duties behind and successfully made that move. Royal biographer Angela Levin thinks that Prince Harry and Meghan should now stop complaining about their past experience in the royal family because they continue to "grumble" about it publicly.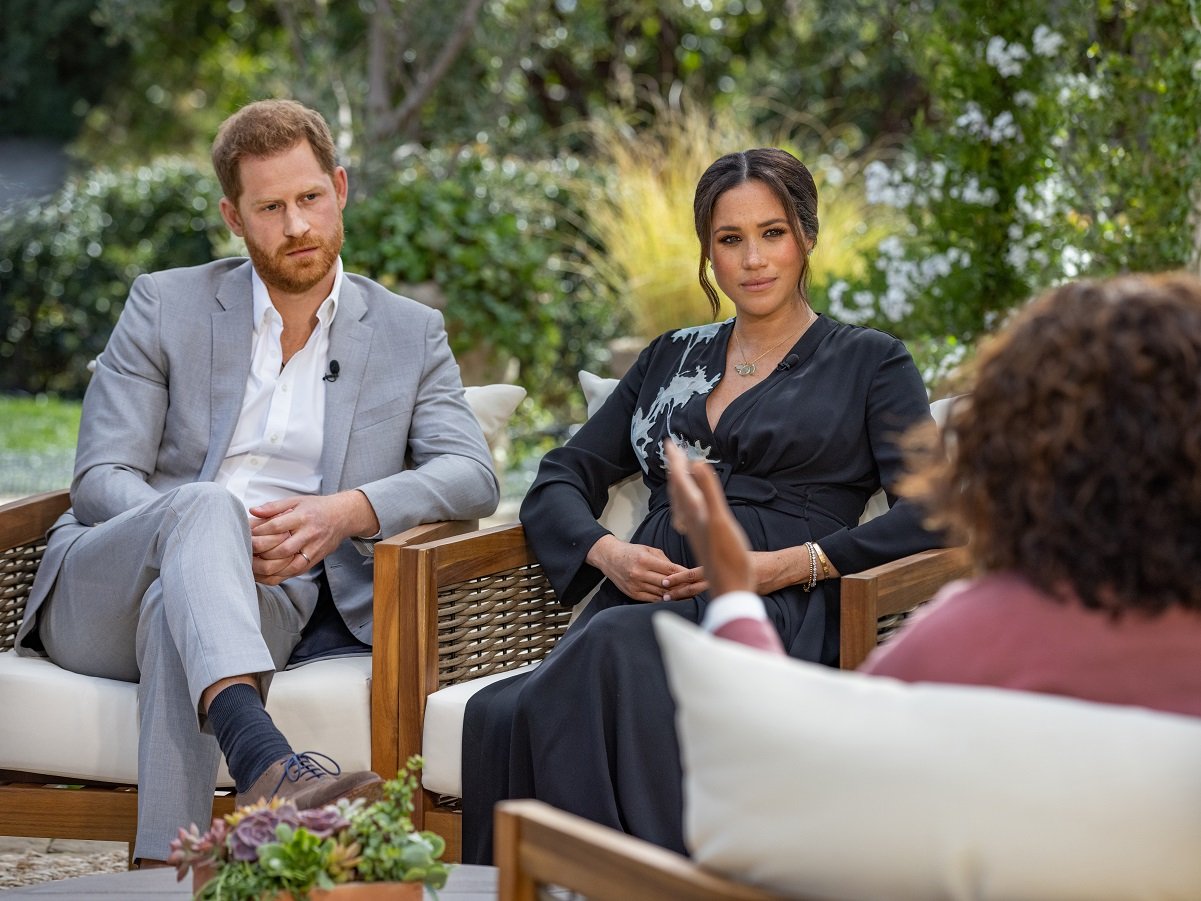 Prince Harry and Meghan Markle made their exit
Levin spoke with talkRADIO about Prince Harry and Meghan's exit, one year later, and said that the couple has made out pretty well following their move. She wondered why the Sussexes continue to complain about things, however, since they have a beautiful home and projects that will provide them with an income.
"They put up on their Instagram account that they were stepping back and they didn't want to be members of the royal family but they would like to occasionally pop in and carry on with the patronages, the charities they support," Levin explained. "And the queen said, 'Well you can't do this but let me give you a year' and was very grandmotherly queen."
She continued, explaining how the queen supported the Sussexes. "It was extraordinary that she would allow them to use their titles, but not HRH, for a year," Levin noted. "They always had the right to come back straight away if they wanted to, they were much loved. And although she'd been quite insulted, in my view, she behaved with her normal dignity."
Biographer thinks that Prince Harry and Meghan Markle should put things behind them
Levin's major critique of the couple is that, by all accounts, it appears that Prince Harry and Meghan have made a successful exit where they will thrive out of the royal spotlight.
"So here we have them both in a grand house with 16 bathrooms and apparently an avalanche of work to be done," she explained. "They've got Netflix, they've got Spotify, they've got books to write, they've got these two huge jobs that Harry's got and he seems to be going to rake in millions."
"Meghan seems to be moving towards a political career and so you'd think, in their terms, they were very happy, very successful," she continued. "And on a personal level, they had little Archie who is nearly two and another baby on the way."
"So why grumble, but they're still grousing," Levin added. "What they wanted was their freedom, was the ability to earn their own money, and privacy. Well they've ditched two and they've managed one but they're still complaining that Prince Charles isn't giving Harry any money, aged 36."
Have the Sussexes been using their 'royal privilege'
Further, Levin spoke of the Sussexes continuing to use their "royal privilege" to their advantage.
"They keep saying they don't want to be royals and they're not royals, but they're absolutely using every opportunity to take advantage of royal privilege," she explained.
"I wouldn't mind if they admitted it but instead of which they're moaning and groaning about their lives," Levin added.
Levin later addressed whether Prince Harry and Meghan should retain their Duke and Duchess titles. "Well I don't think so," she said.
"If you're so rude about this country and you're so rude about your family in public, I don't think you should take any advantage of it," Levin explained. "And this is obviously a very good way of earning lots of money and giving the companies lots of publicity."
Source: Read Full Article