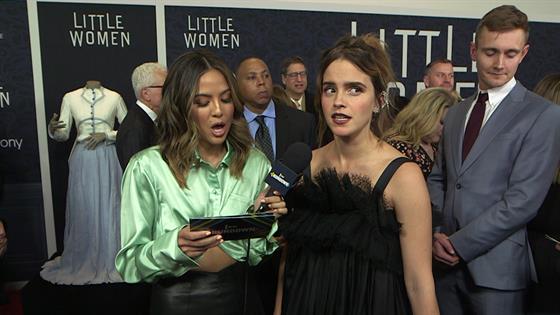 Prepare to be expelliarmed.
Emma Watson is celebrating her 30th birthday, and if that isn't some time trickery right there, we don't know what sort of dark arts are afoot.
The English actress, activist and style maven has expanded on her thespian skill set in recent years, but of course she remains best known for the iconic role of Hermione Granger in the Harry Potter movies—which kicked off with Harry Potter and the Sorcerer's Stone in November 2001, when Watson was only 11 and…
Well, count the things in the world that were different.
Simply enough, the lives of Watson and her fellow young costars would never be the same, that was for sure.
Asked in 2007 what she would one day tell people when they asked what making the Harry Potter films was like, after all was said and done, a teenage Watson told Scholastic that her response would be "what an amazing experience it was, how much it changed my life, and how much I learned from it."
Of course, once she grew up, balancing global fame and the expectations that come with people thinking they know you with having an actual life became a bit more complicated.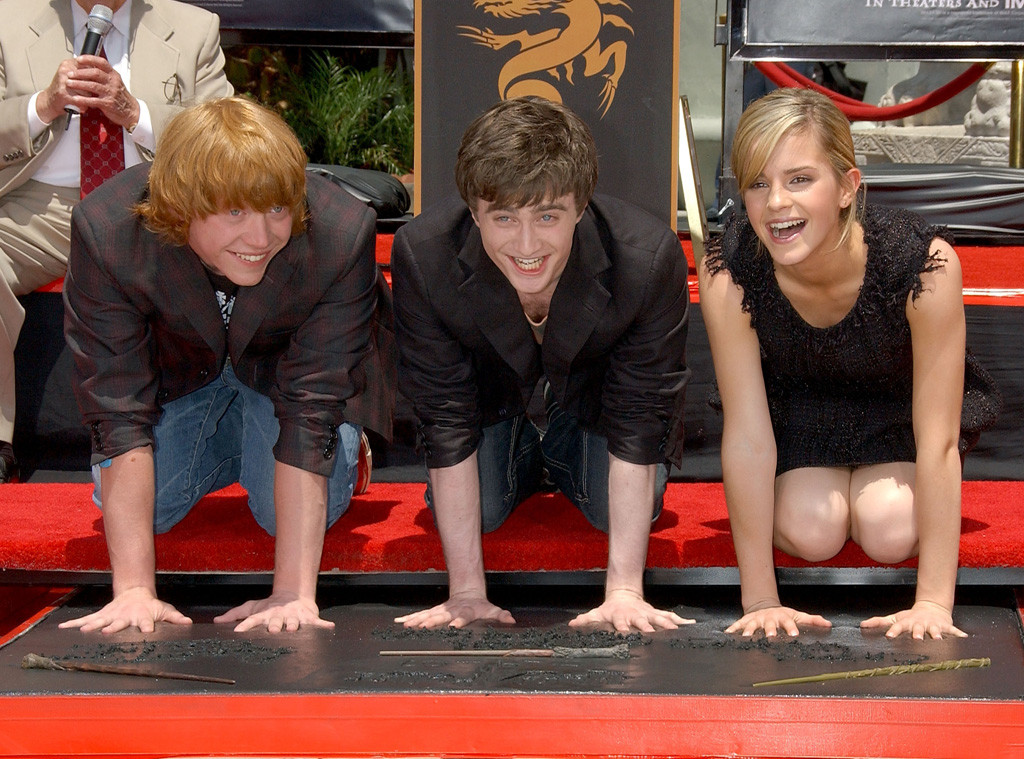 Gregg DeGuire/WireImage.com
"It's one of the things that I struggle with, because the three of us—Dan, Rupert and I—were kids when we got cast in this fairy-tale series, and what happened to us was kind of a fantasy story in itself," Watson told Jessica Chastain in a chat for Interview magazine in 2017 that apparently took place while Watson was in her bathtub. "Outside of the movies. So the story of my life has been of public interest, which is why I've been so passionate about having a private identity."
Watson would be first to say she's come a long way since bursting onto the scene as the most clever little wizard at Hogwarts, so in her honor we're shedding a little lumos on what Dan, Rupert and the rest of the tender-aged cast of the blockbuster series are up to now: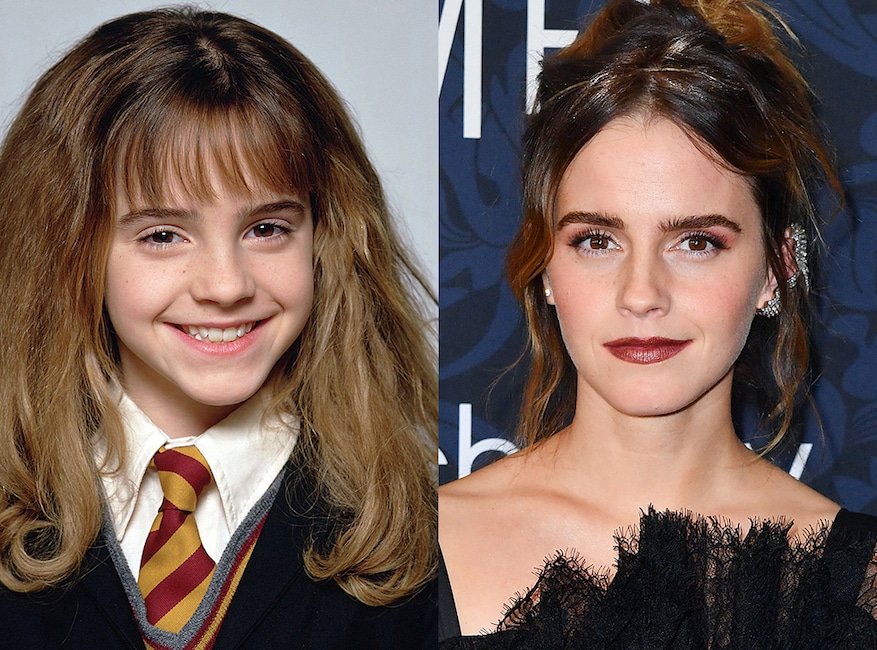 1492 Pictures/Entertainment Pictures via ZUMA Press, ANGELA WEISS/AFP via Getty Images
Emma Watson
The Paris-born and Oxfordshire-raised kid had no more than a few school plays on her resume when she was cast as Hermione Granger, her first professional acting job. After completing the seven films, Watson split her time between college at Brown University (she graduated in 2014 with a degree in English literature) and starring in indie movies such as The Perks of Being a Wallflower and The Bling Ring, in the latter breaking out of her rule-abiding Hermione shell as part of a band of privileged but maladjusted young thieves who start stealing clothes, jewelry and cash from celebrity homes.
While modeling for the likes of Burberry and Lancôme, Watson played Belle in the hit 2017 live-action remake of Beauty and the Beast and in 2019 was the more traditionally minded eldest March sister, Meg, in Greta Gerwig's Little Women. She has also become an activist focused on gender inequality, launching the HeForShe campaign as a UN Women Goodwill Ambassador in 2014 and remaining an outspoken advocate for parity in the film industry and beyond.
Past boyfriends have included Will Adamowicz, Matthew Janney and William "Mack" Knight, but she told British Vogue in November 2019 that she was happily single.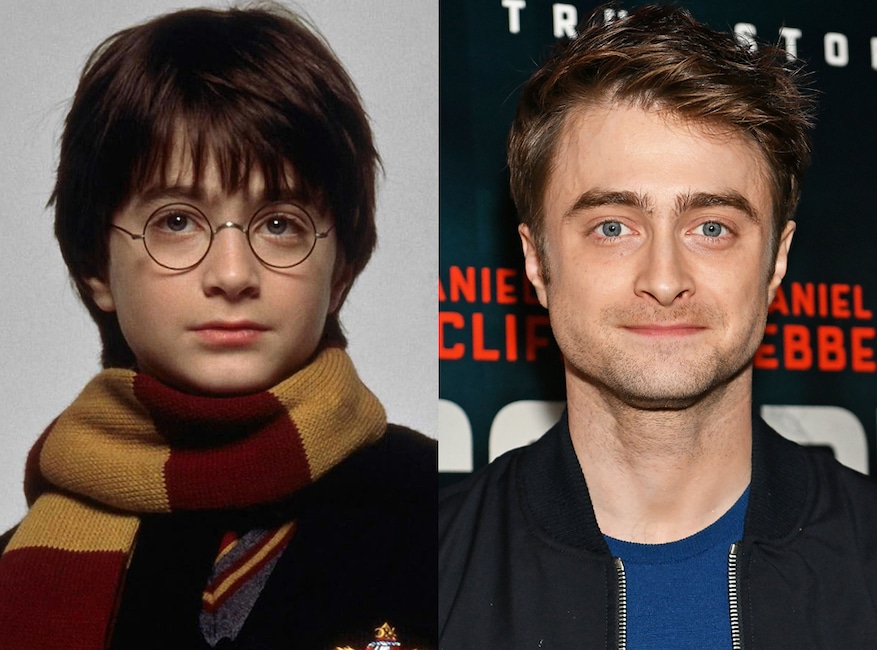 1492 Pictures/Entertainment Pictures via ZUMA Press, David M. Benett/Dave Benett/WireImage
Daniel Radcliffe
The boy who played Harry Potter is ever grateful for the role that knocked down all the doors for him, but he's also been busy scrubbing any child-star residue from his acting image, starting with his raw, nudity-requiring Broadway debut in Equus in 2007. He followed that up with the more chipper How to Succeed in Business Without Really Trying in 2011. For years he has alternated between theater (The Cripple of Inishmaan, Rosencrantz and Gildenstern Are Dead) and film (The Woman in Black, Victor Frankenstein, leaning heavily into the dramatic and/or the absurd.
To be sure, if there's some dark humor to be found, Radcliffe is into it, whether on TV playing a morphine-addicted physician in A Young Doctor's Notebook or a low-level angel trying to prevent God from ending the world in Miracle Workers—or playing a flatulent corpse in 2016's Swiss Army Man. He was starring in Samuel Beckett's Endgame at the Old Vic in London when live theater and and everything else was shut down due to the novel coronavirus pandemic.
Sober since 2010, Radcliffe has also been open about drinking to excess back when the Harry Potter franchise was nearing its finish and, already more famous than he ever dreamed, he was anxious about his next step in life.
"In my case, the quickest way to forget about the fact that you're being watched is to get very drunk," he said on Off Camera With Sam Jones in 2019.
"And then as you get very drunk, you become aware that 'Oh, people are watching more now because now I'm getting very drunk, so I should probably drink more to ignore that more."
Radcliffe has been in a relationship with actress Erin Darke since meeting her on the set of 2013's Kill Your Darlings, in which he played "Howl" poet Alan Ginsberg.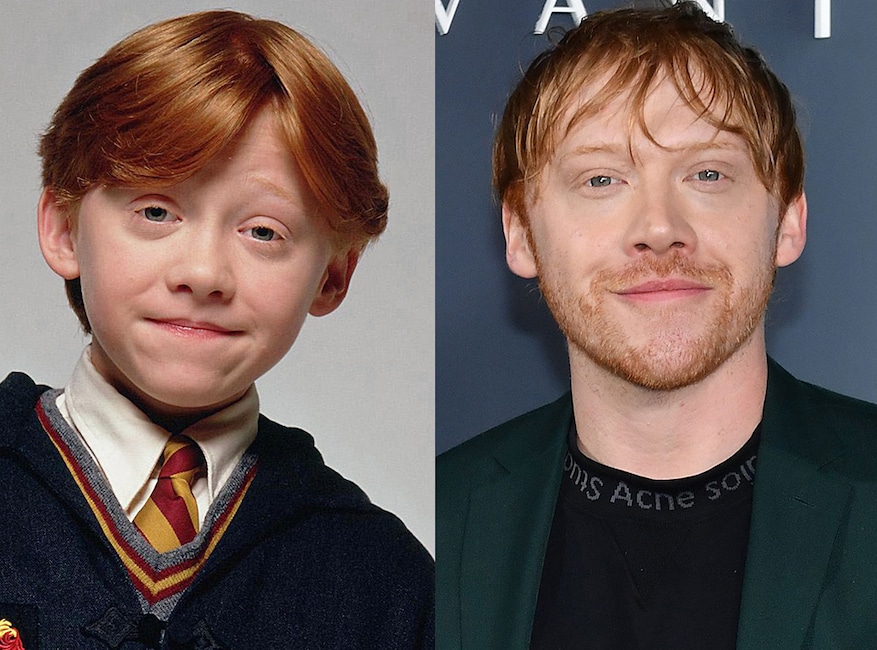 1492 Pictures/Entertainment Pictures via ZUMA Press, ANGELA WEISS/AFP via Getty Images
Rupert Grint
It was as if the redhead from Essex sprang from the earth ready to play Harry's best mate, Ron Weasley. Grint—whose first big post-Potter honor was being part of the Olympic Torch relay before the London Olympics in 2012, an "amazing" experience he said he'd cherish forever— has acted primarily in British productions, most notably The ABC Murders on BBC One, based on the Agatha Christie mystery, and the Sky One dark comedy Sick Note, playing an average Joe whose life perks up after he's given a false-alarm cancer diagnosis but decides to let everyone continue to believe he's still sick. (Lindsay Lohan was among his co-stars.) His movies have included CBGB, about the famed punk-rock club in New York, and the French comedy Moonwalkers. You can see him right now in Servant, M. Night Shyamalan's spooky new mystery series on Apple TV+.
"From the moment I got the part [of Ron], my life completely changed," Grint told Radio Times in 2018. "It was a weird time and it has taken me a long while to process. Just being invisible can still be difficult. Sometimes you just want to go to B&Q."
He also said, "After Potter I didn't really know what I wanted to do. I had this feeling that I had missed out on normal things. I lost touch with a lot of my friends from school. I wanted to have a bit of a life again, so I took a break.
"I've never really been super-ambitious. I think there's always been something in me, particularly when I finished Potter, that wants to prove myself, but I'm also naturally quite an insecure person anyway."
In April 2020, Grint confirmed that he and longtime girlfriend Georgia Groome were expecting their first child together.
Article continues below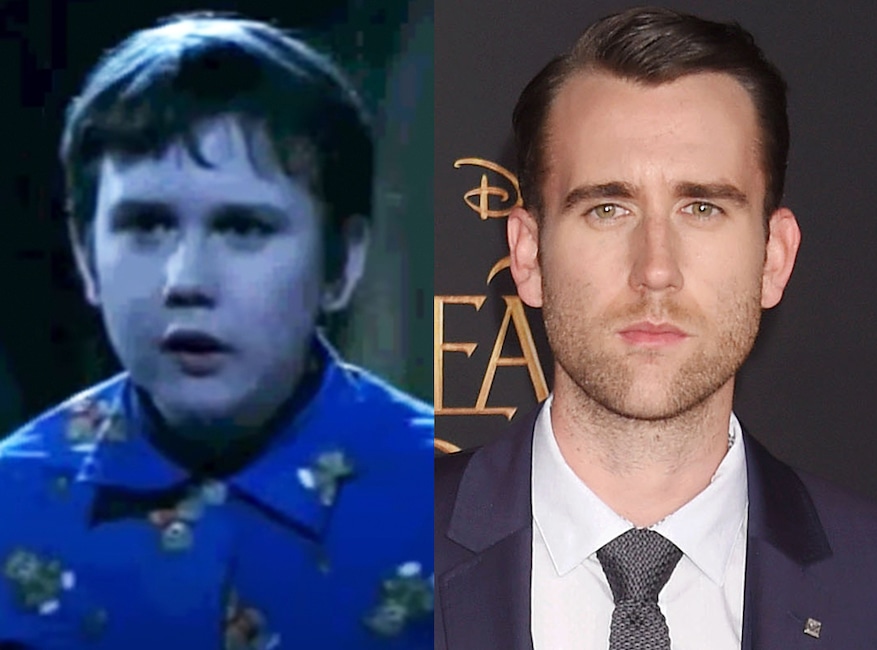 Warner Bros., Jeffrey Mayer/WireImage
Matthew Lewis
Without a doubt, the erstwhile child actor who played the awkward Neville Longbottom has made the biggest splash in the then-and-now department, as news of Lewis' grown-up hotness has since traversed the globe.
Lewis has primarily stayed close to home too, doing stage and screen work in his native England, including the BBC One miniseries The Syndicate and the 2016 tear-jerker Me Before You.
He married Angela Jones in 2018, so expecto children one day.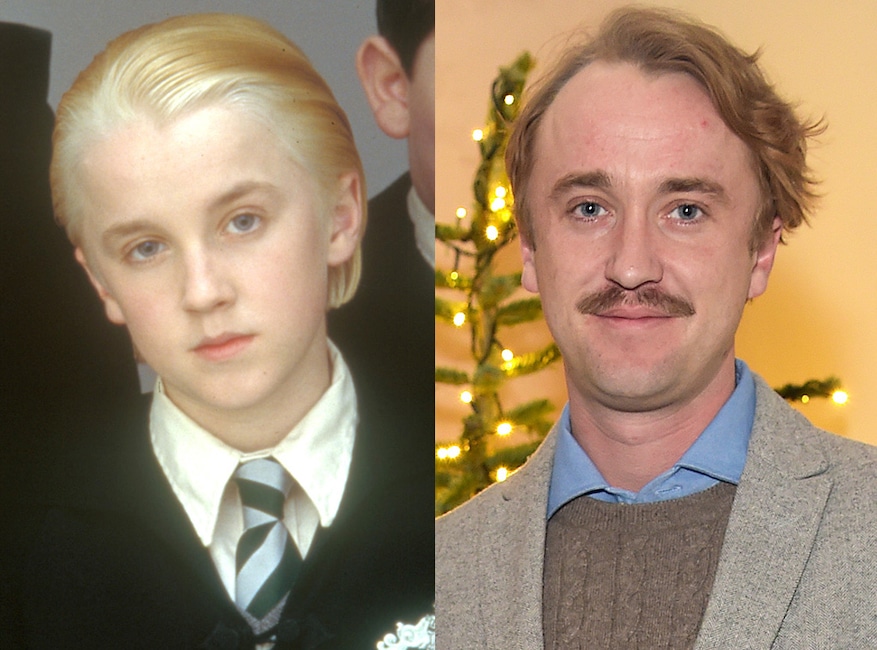 Fox/Entertainment Pictures/ZUMAPRESS.com, David M. Benett/Dave Benett/Getty Images for Gentleman's Journal
Tom Felton
The nefarious Draco Malfoy (two consecutive MTV Movie Awards for Best Villain) was really a platinum-haired doll with a heart of gold in real life. In the summer of 2011 he was in Rise of the Planet of the Apes, but has since been in less CGI-heavy films, most notably the period dramas Belle and A United Kingdom.
He blew fanboys-and-girls' minds showing up as Julian "Dr. Alchemy" Albert on the CW's The Flash in 2016. Most recently Felton starred on the YouTube Premium sci-fi drama Origin and the films Ophelia and Braking for Whales. Also a singer-songwriter, he has released several EPs over the years as well, and his Instagram, where he makes soup, plays guitar, hangs out with his dog and has the occasional Potter reunion, is one of the most joyful places on the Internet.
Felton dated actress Jade Olivia for years before their breakup in 2016.
Warner Bros.,Amanda Edwards/Getty Images
Bonnie Wright
The auburn-haired actress was barely 10 when she started playing Ginny Weasley, going from "Ron's little sister" to Harry Potter's soul mate over the course of the films. In 2011 Wright won the Most Edgy Look Award at the Rodial Beauty Awards and made her London Fashion Week debut walking the runway for London-based designer Katie Eary.
Wright graduated from London College of Communication and formed her own production company, BonBonLumière, in 2012. in addition to acting she has written and directed her own short films, including Separate We Come, Separate We Go, starring her former co-star David Thewlis (Remus Lupin); 2014's Know Thyself, with Christian Coulson, who played Tom Riddle; and Medusa's Ankles featuring Jason Isaacs, aka Lucius Malfoy.
"I want to the reveal emotions and beliefs which lie obscured by the barriers we put up, from fear of being judged or abandoned," Wright explains on the BonBonLumière website. "Exploring themes which resonate with me; landscape, love and loss, redemption and the process of realisation, perfect or partial."
Wright was previously engaged to Sweeney Todd star Jamie Campbell Bower, who played a young Gellert Grindelwald in Harry Potter and the Death Hallows Part 1, but they called it off in 2012. She then dated Simon Hammerstein for several years but appears to be single these days. In December Wright joined Emma Watson, Tom Felton, Matthew Lewis and Evanna Lynch for a reunion that, happily, someone thought to take a picture of. "Time turning," Wright captioned the pic, punctuating the sentiment with a lightning bolt.
Article continues below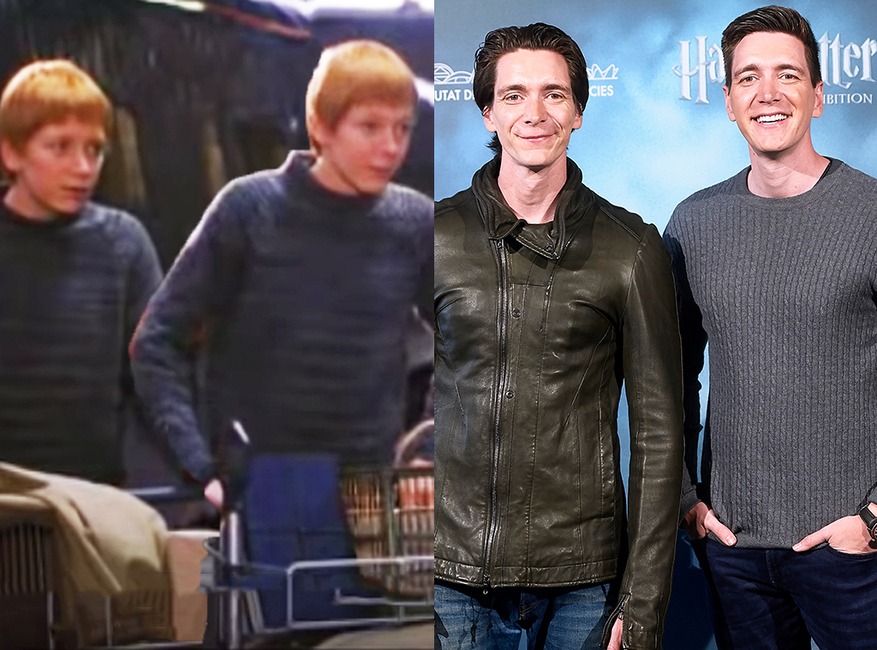 Warner Bros., Borja B. Hojas/COOLMedia/NurPhoto via Getty Images
James and Oliver Phelps
Not to take away Fred and George Weasleys' individuality or anything… but Ron's twin older brothers and Hogwarts' resident pranksters were indeed played by actual twins (Oliver is 13 minutes older and has a mole on the right side of his neck). They have since played twins in other films, including Our Own Worst Enemy and the upcoming Last Night in Soho, directed by Edgar Wright, while James has done more acting on his own.
Another way to tell them apart: Oliver has been married to Katie Humpage since 2015.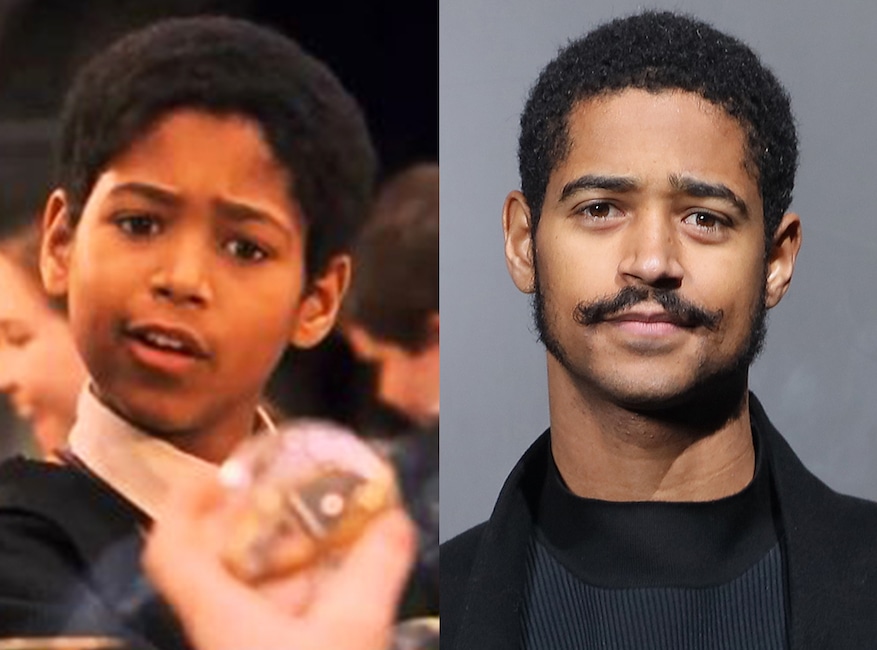 Warner Bros.,Victor Boyko/Getty Images
Alfred Enoch
The British actor started out in the Hogwarts student ensemble as fellow Gryffindor Dean Thomas and, after doing a slew of theater in England and popping up in the likes of Broadchurch and Sherlock, starred on four seasons of How to Get Away With Murder as the well-intentioned but inevitably morally compromised and doomed law student Wes—and has since been glimpsed on the final season as the ABC series roller-coasts its way to an inevitably mindboggling finale in 2020.
Enoch is also a graduate of The Queen's College, Oxford.
Warner Bros., Dia Dipasupil/WireImage
Christian Coulson
Chris Columbus was looking for a 15-to-17-year-old to play the specter of 16-year-old Tom Riddle in Harry Potter and the Chamber of Secrets, but the 23-year-old Coulson won the part anyway. He's been working in film and TV ever since, most notably playing Damien George on Nashville, Sebastian in the Golden Globe-winning Amazon Prime series Mozart in the Jungle and now Benjamin on High Fidelity, the new Hulu reboot of the book-turned-movie starring Zoë Kravitz as the lovelorn, list-making record store owner, now set in Brooklyn.
Article continues below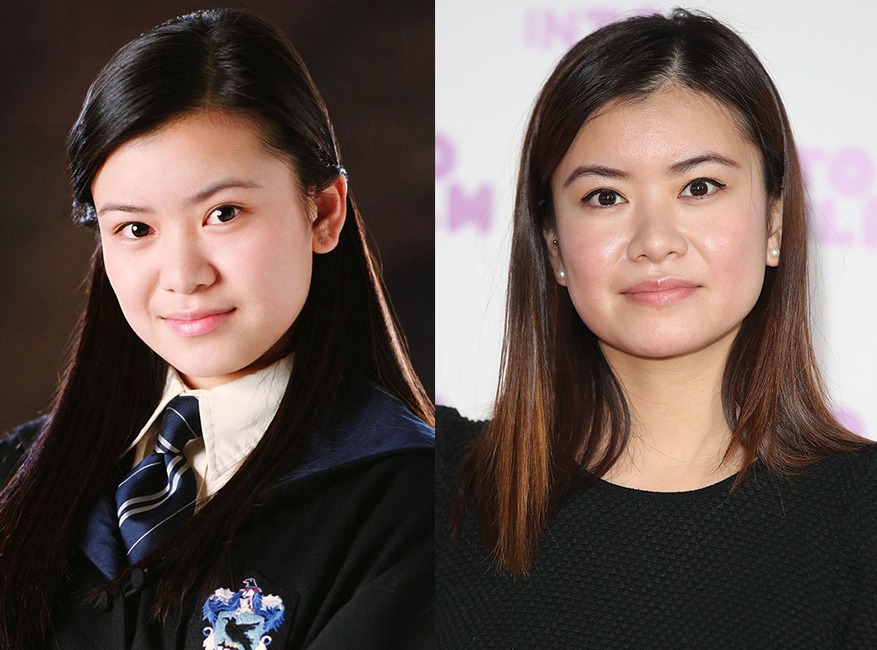 Warner Bros/Entertainment Pictures via ZUMA Press, Mike Marsland/Mike Marsland/WireImage
Katie Leung
After beating out roughly 3,000 other aspirants to play Harry's Goblet of Fire-era crush, Cho Chang, the classically trained Scottish actress did theater and TV on her side of the pond, including the series White Dragon and Chimerica. Most recently she appeared in the BBC One limited series The Nest. On the big screen, she played the daughter of Jackie Chan's character (whose death in a terrorist bombing he spends the movie avenging) in the 2017 action-thriller The Foreigner.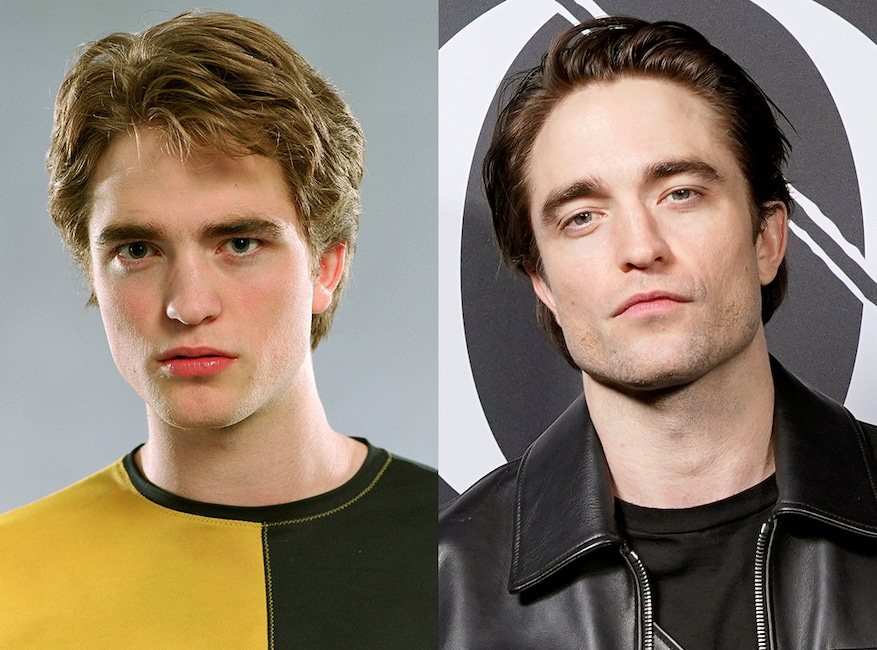 Warner Bros/Entertainment Pictures via ZUMA Press, Francois Durand for Dior/Getty Images
Robert Pattinson
Gosh, whatever happened to the lad who played ill-fated heartthrob Cedric Diggory in Harry Potter and the Goblet of Fire…
Oh, right: Pattinson landed the lead in the other major YA franchise roiling hearts and minds, The Twilight Saga, and played brooding vampire Edward Cullen in five films, dating co-star Kristen Stewart along the way.
Since then he has distinguished himself in the acting department with gritty turns in Maps to the Stars, Cosmopolis, The Rover, Good Time and The Lighthouse, and next up he'll try to distinguish himself in the cowl department as the titular DC superhero in The Batman.
He was previously engaged to FKA twigs but has now been been dating Suki Waterhouse for over a year.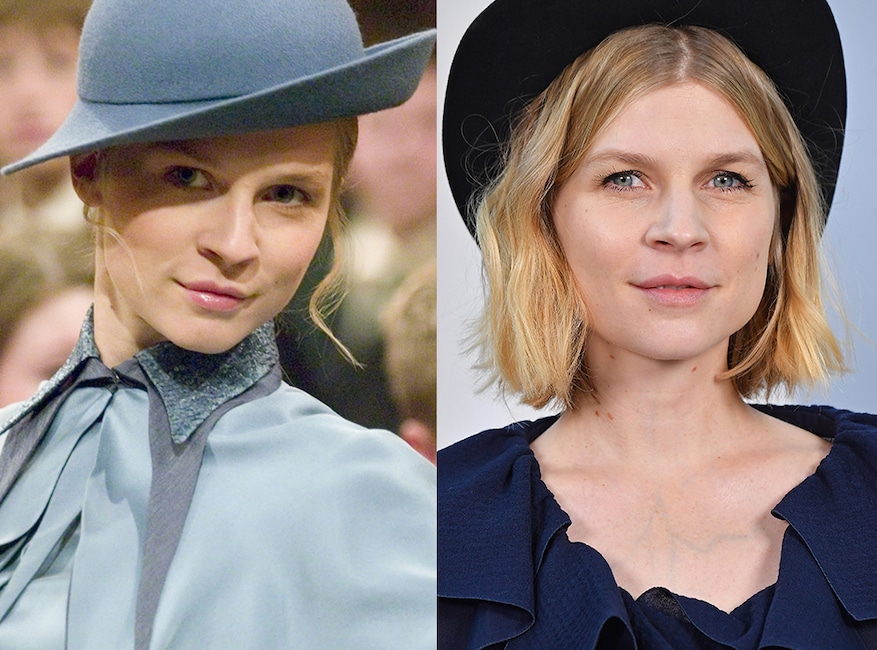 Warner Bros/Entertainment Pictures via ZUMA Press, Stephane Cardinale – Corbis/Corbis via Getty Images
Clémence Poésy
The statuesque Fleur Delacour from Beauxbatons Academy in France, chosen to represent her school in the Triwizard Tournament, eventually marries Ron's groovy big brother Bill.
Since then Poésy has worked steadily in film and TV, most prominently in the dark comedy In Bruges, the English and French crime series The Tunnel and in Genius: Picasso on National Geographic Channel. Most recently the French actress made the World War II-era film Resistance with Jesse Eisenberg and Ed Harris, and it was supposed to open in theaters in March 2020—but is now available on VOD instead due to the COVID-19 pandemic.
Poésy also has a son, Liam, who was born in 2017. "I was thinking today how much it's made me closer to women, somehow; closer to women in the centuries before, the whole clinical aspect of being pregnant and then becoming a mum and giving birth, it makes you think a lot," she told The Guardian at the time. "… It's made my admiration for women even stronger."
Article continues below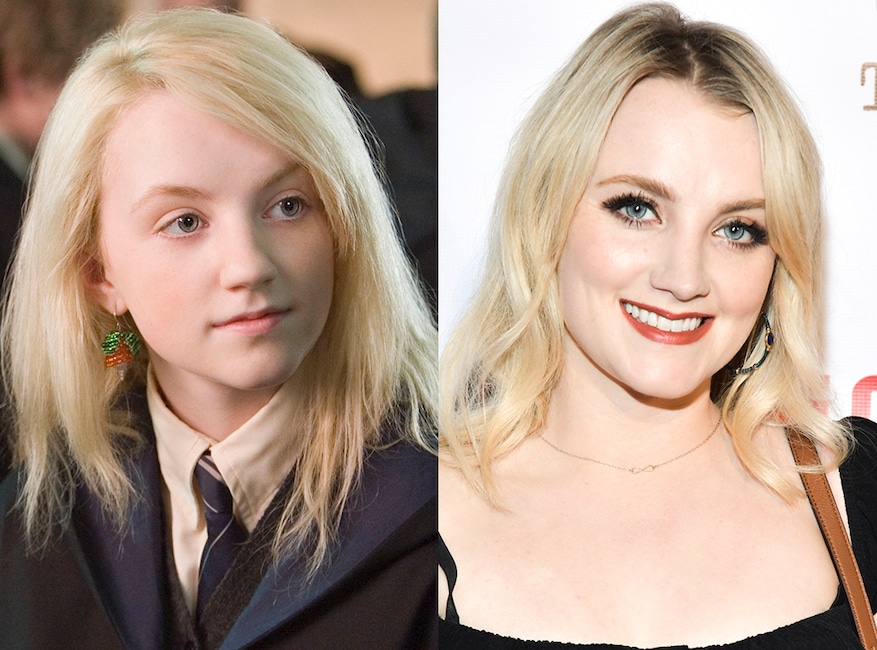 Warner Bros/Entertainment Pictures via ZUMA Press, Rodin Eckenroth/Getty Images
Evanna Lynch
The angelic-looking actress stole her scenes as the scatterbrained but heroic Luna Lovegood starting in Harry Potter and the Order of the Phoenix—but she admitted that she struggled to get acting work after being part of the iconic franchise.
"It was just weird because we were getting all this fan mail and all this attention," Lynch told Bustle in 2019. "But I found in the real world that wasn't reflected. And it was hard. I think for a while I really missed the validation of being in a giant film series where anything you did was just admired and gushed over.
A vegan herself since 2015, Lynch started a clean, cruelty-free beauty line, Kinder Beauty Box, in 2018 and co-hosts a podcast, Chickpeeps, with fellow actors and activists.
She told Bustle that she remained especially close to Katie Leung and Scarlett Byrne (Pansy Parkington)—they were planning to go to a New Year's Eve party together to ring in 2020—and saw a lot of her former co-stars at conventions. "I think a lot of us have bonded more since the films," Lynch said. "Just because we're older and we're adults now. Say, for example, I hung out with the twins this weekend, James and Oliver [Phelps]. And I didn't talk to them much on the films because when you're 14 and whatever, they're 18 or 19, it seems like such a giant age gap. When you're adults it doesn't seem that much."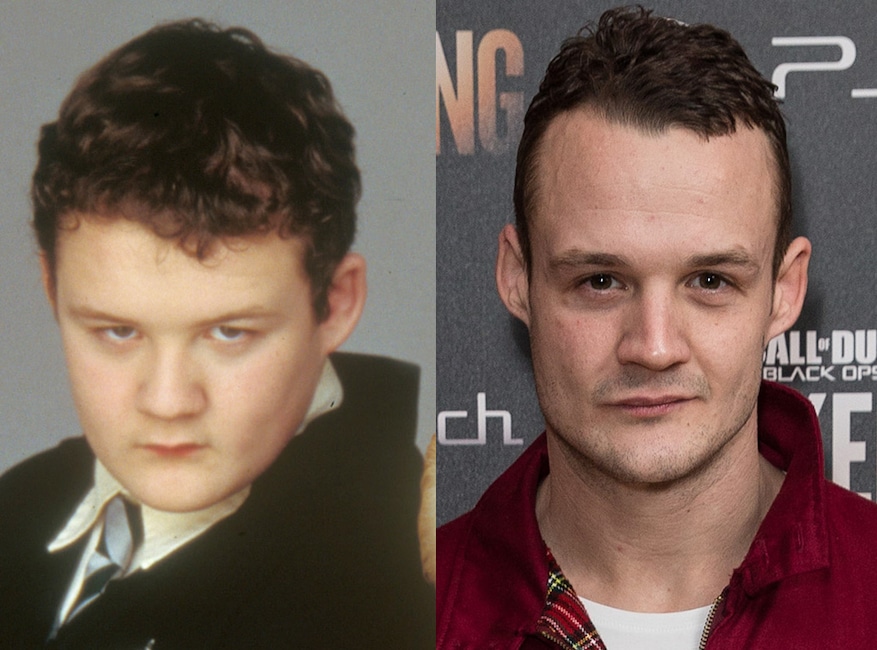 Fox/Entertainment Pictures/ZUMAPRESS.com, James Gourley/Shutterstock
Josh Herdman
Draco's henchman Goyle also cleaned up his act since his Slytherin days, most recently appearing in the British crime drama Marcella with Anna Friel and the 2018 big-screen update of Robin Hood.
Herdman is also dad to a son, Morgan, with longtime partner Jessica Worth.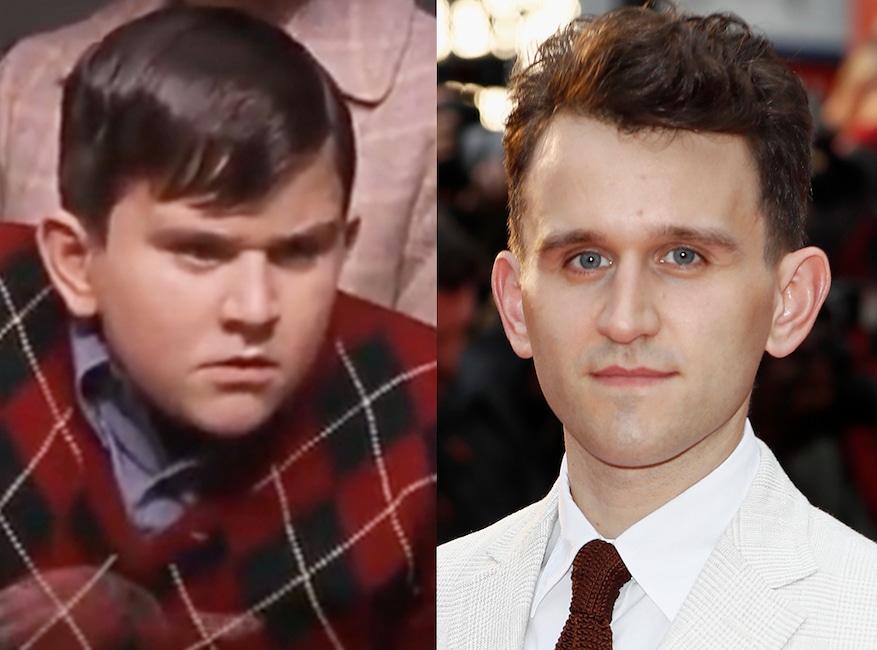 Warner Bros.,John Phillips/Getty Images for BFI
Harry Melling
Like most of the Harry Potter bullies, even Dudley Dursley was a perfectly nice bloke in real life. Mid-franchise, Melling started a workout regimen and got into such good shape he was almost recast before Deathly Hallows Part 1, but was able to stay on as Harry's portly spoiled cousin by wearing prosthetics. Though fairly unrecognizable from those days, Melling has worked consistently on stage and screen ever since, including roles in The Lost City of Z, the Coen brothers' The Ballad of Buster Scruggs and the HBO series His Dark Materials. Most recently he had reteamed with Joel Coen to play Malcolm in the director's upcoming take on Macbeth, but filming was postponed due to the COVID-19 pandemic.
In Buster Scruggs he played a character with no arms or legs (all digitally edited) and New Yorker critic Anthony Lane observed, "[The limbless man is beautifully played, with a little help from C.G.I., by Harry Melling, who was once the odious Dudley Dursley in the Harry Potter films. Funny how people grow up."
Article continues below
So, nine years after the final Harry Potter film came out, life has indeed gone on for the franchise's young actors. Some journeys have been more charmed than others, but all have fallen into their respective grooves.
Literally, at times.
"Steve Jobs has a great speech where he talks about how the wrong turns in his life truly set him on the path that he needed to be on," Emma Watson mused in her Interview sit-down. "Anyway, what do I do? I bake. I'm pretty competitive about my chocolate chip banana bread. I don't think anyone can believe how good it is. It's really on another level. And I hang out with my cat. I love to travel…I love to dance.
"I'm the girl who will get up and dance with zero alcohol in her system. You need give me no excuse. A great song comes on and I'm there; it's happening."
Source: Read Full Article