What to pack for a week, two weeks, or a month away is undoubtedly daunting—especially if you plan for a traditional wedding send-off with a next-day departure to the bucket list destination of your choice. Whether you are packing for a beach resort, a road trip, an arctic ski retreat, a far-flung adventure, or all of the above, these are the foolproof pieces to pack for any and every honeymoon.
We tapped newlywed, jet-setter, and Victoria's Secret model Shanina Shaik for our trip to Turks and Caicos' Amanyara to put our picks for the best in vacation dressing to the test. Spoiler Alert: we recommend you bring back-up, this is the trip of a lifetime—not the one you pack for in a carry-on.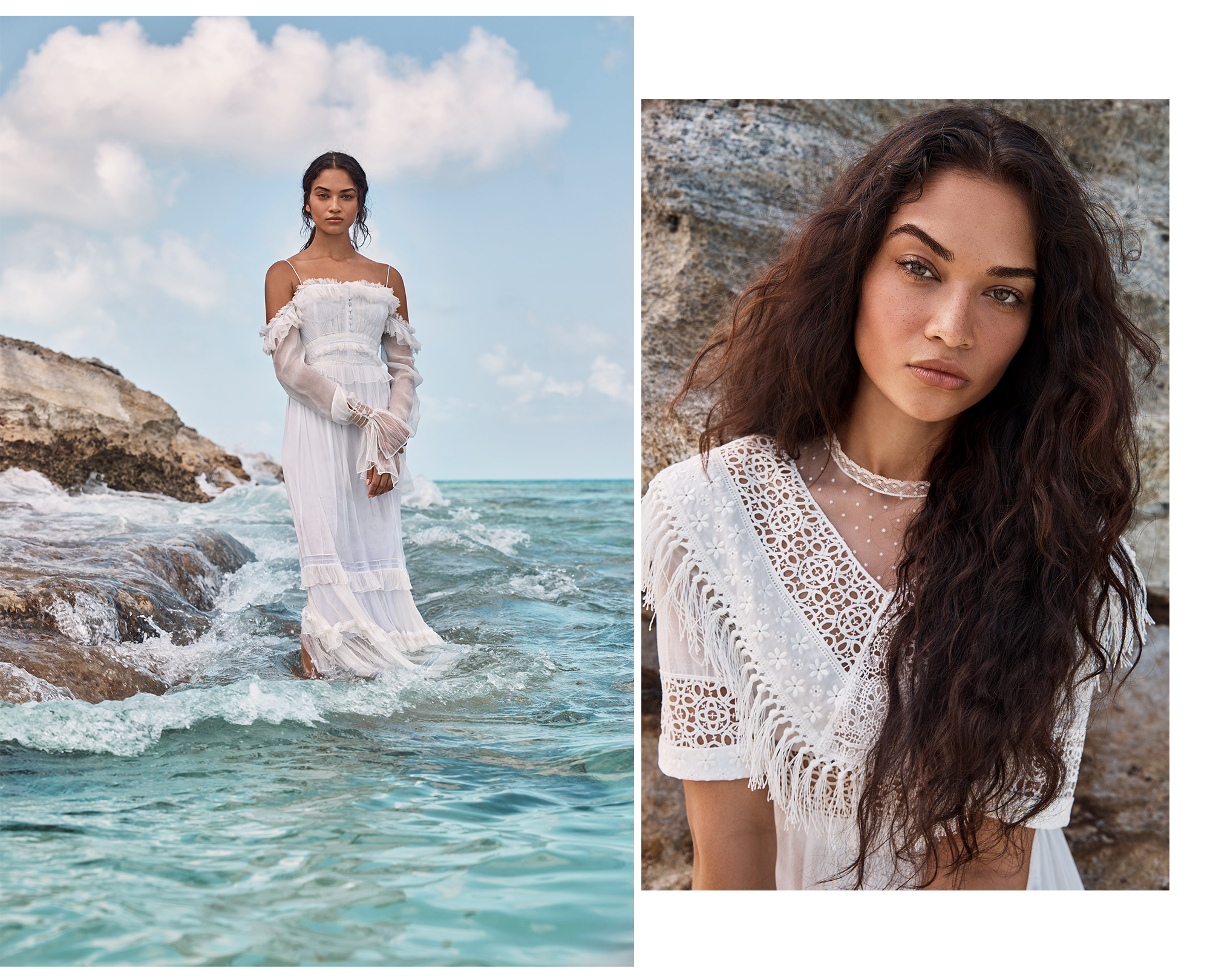 The drop-off post-wedding is real, and you'll find that on your honeymoon you'll still want to feel like a bride. Dress the part, and don't shy away from donning bridal whites on the beach, for day trips, or to newlywed nights out.
Left: Jonathan Simkhai dress, $1,195, SHOP NOW ; Right: Dior dress, price upon request, SHOP NOW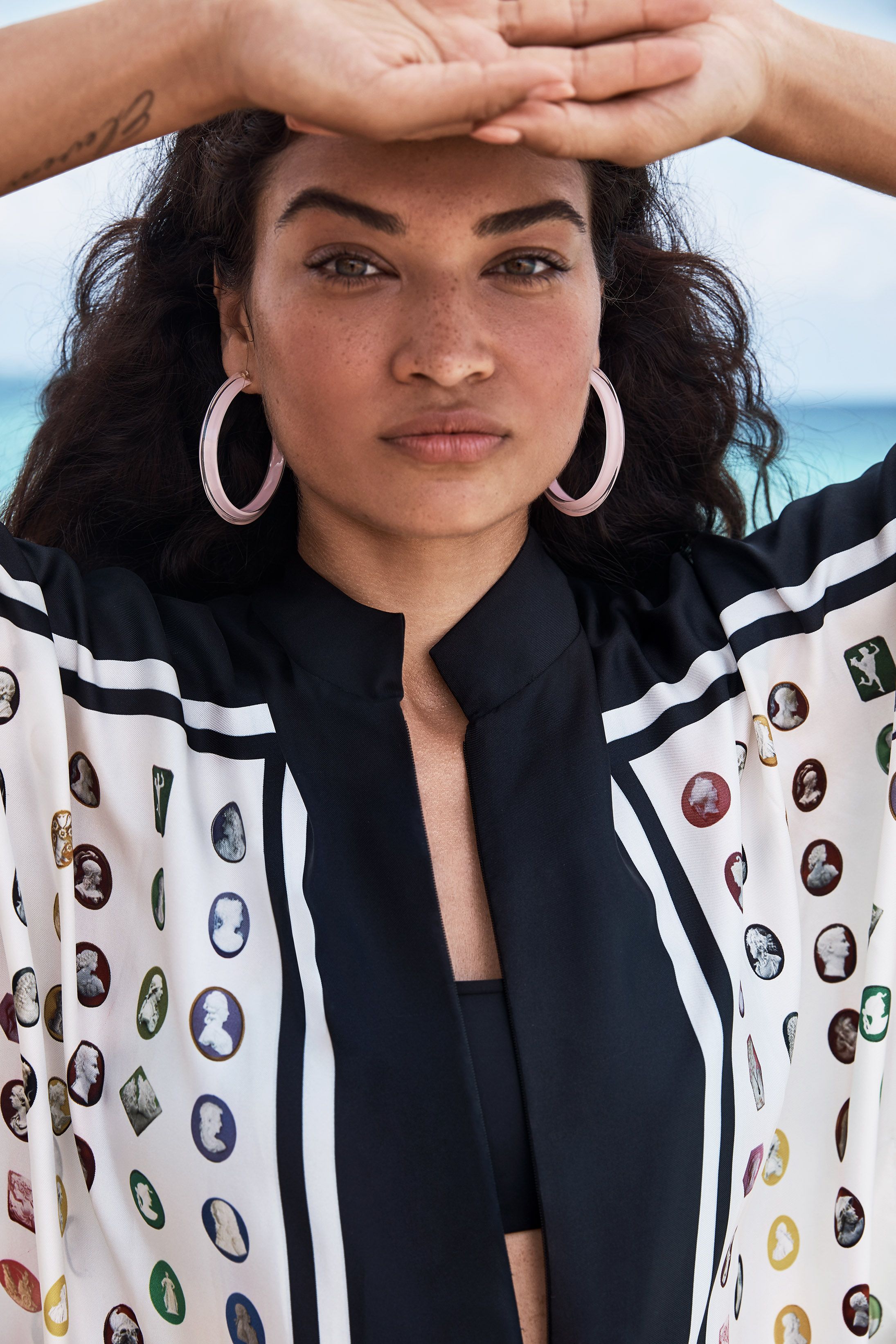 All-white, semi-sheer, and lace cover-ups aren't the only things you should be putting over a swimsuit on the beach. For a fashion-forward riff, opt for kimonos and kaftans; they're chic, sophisticated, and infinitely more modern.
Rosie Assoulin kaftan, $2,195, SHOP NOW; Alison Lou lucite hoops, $145, SHOP NOW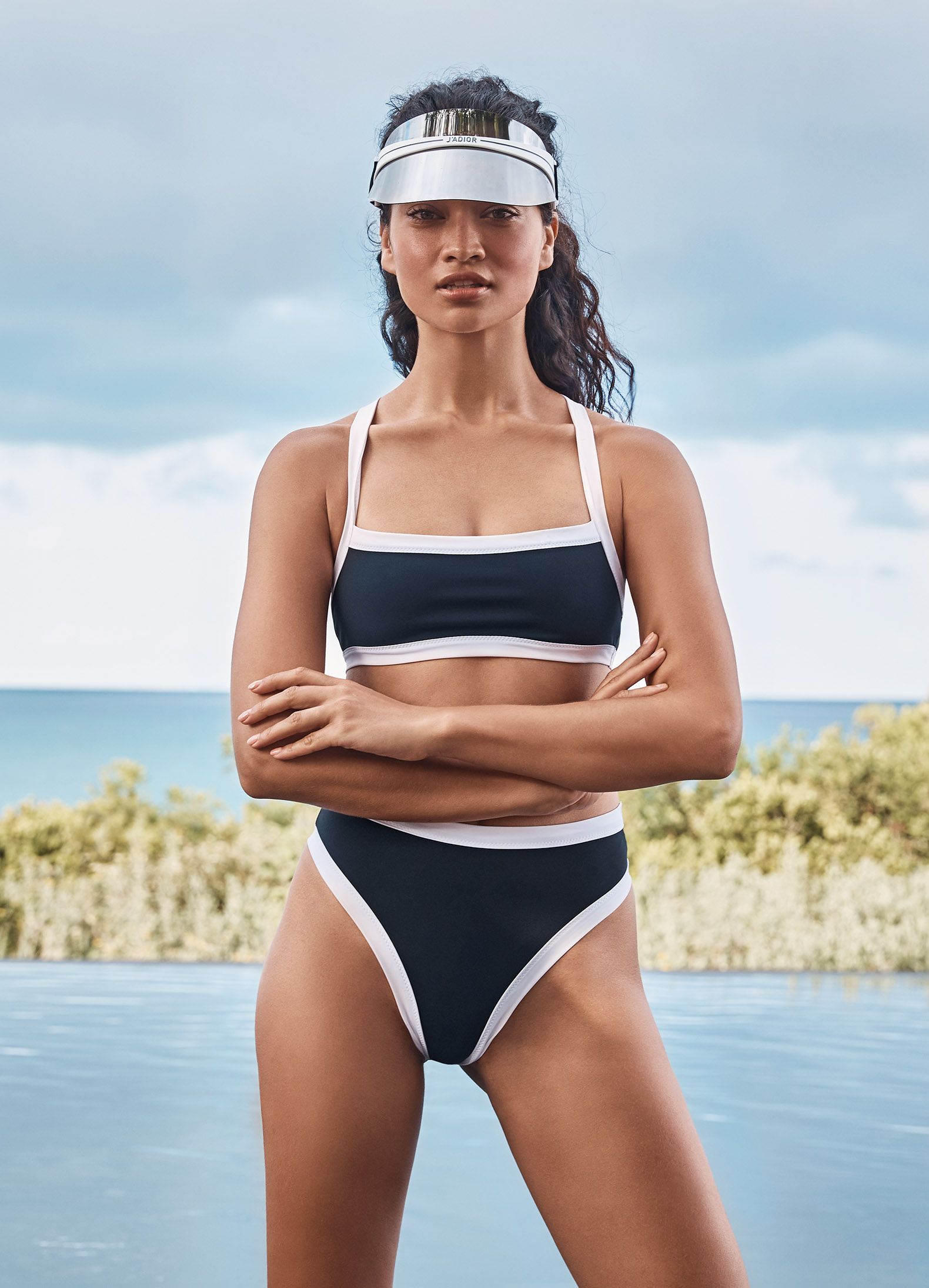 When you aren't opting for flirty, feminine, sexy suits, channel the reverse: confident, athletic, and sporty chic. Bikinis with clean lines pair well with your other separates, and layer easily under tops, bottoms, and dresses. Throw caution to the wind; you'll be prepared on days spent exploring when you come across a remote cove, idyllic stretch of beach, or a refreshing swimming hole.
Tropic of C "Volley" top, $75, SHOP NOW and "Volley" bottom, $75, SHOP NOW; Dior visor, $313, SHOP NOW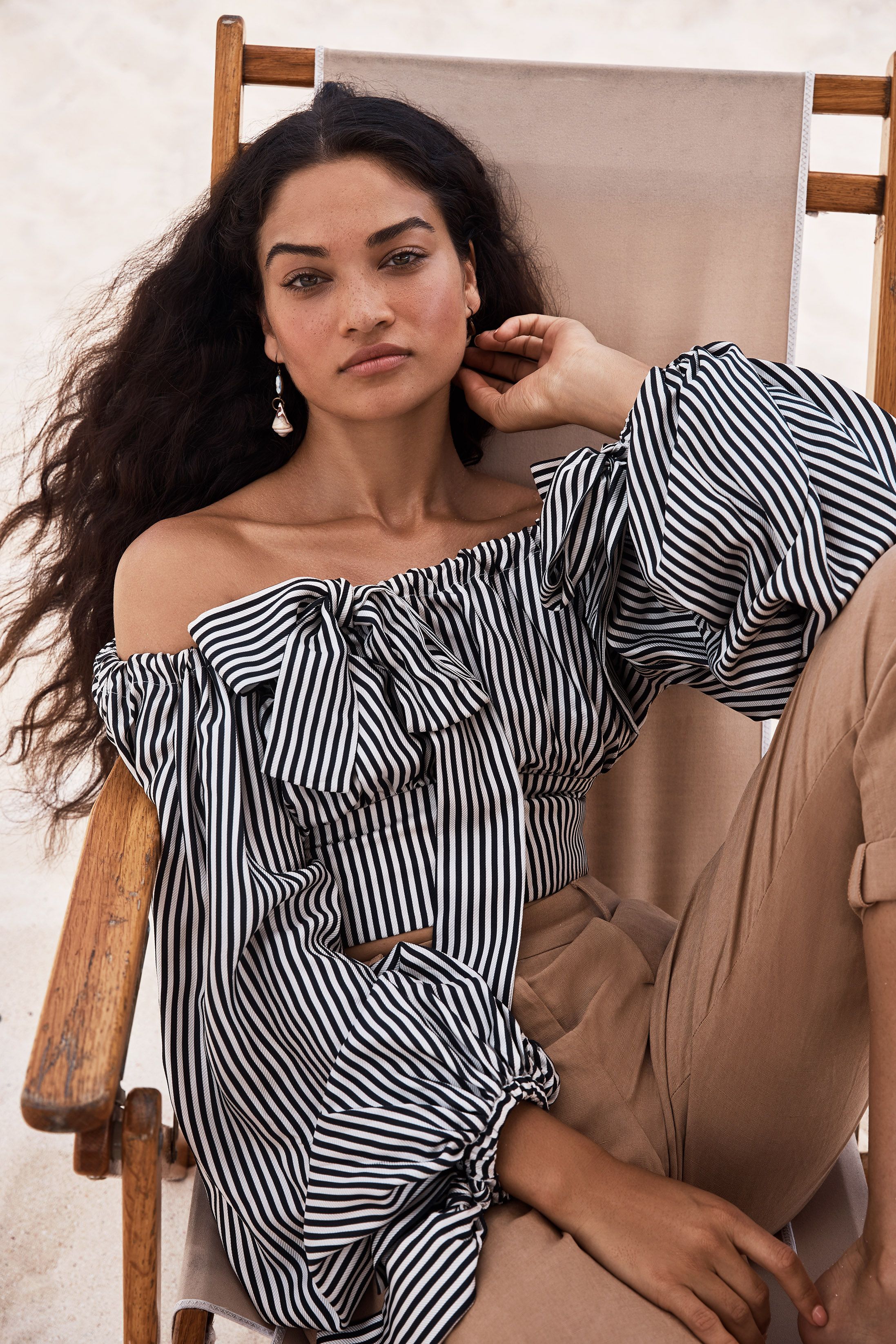 Stick to the look we know you'll love when debating just what blouses, tops, and tees to pack. Don't just stick to boho versions; some of the best cold-shoulder blouses cinch the waist, showcase dramatic sleeves, and bring in prints to infuse easy glamour.
Zimmermann blouse, $460, SHOP NOW; Mara Hoffman pant, $325, SHOP NOW; Rosie Assoulin shell earrings, price upon request, SHOP NOW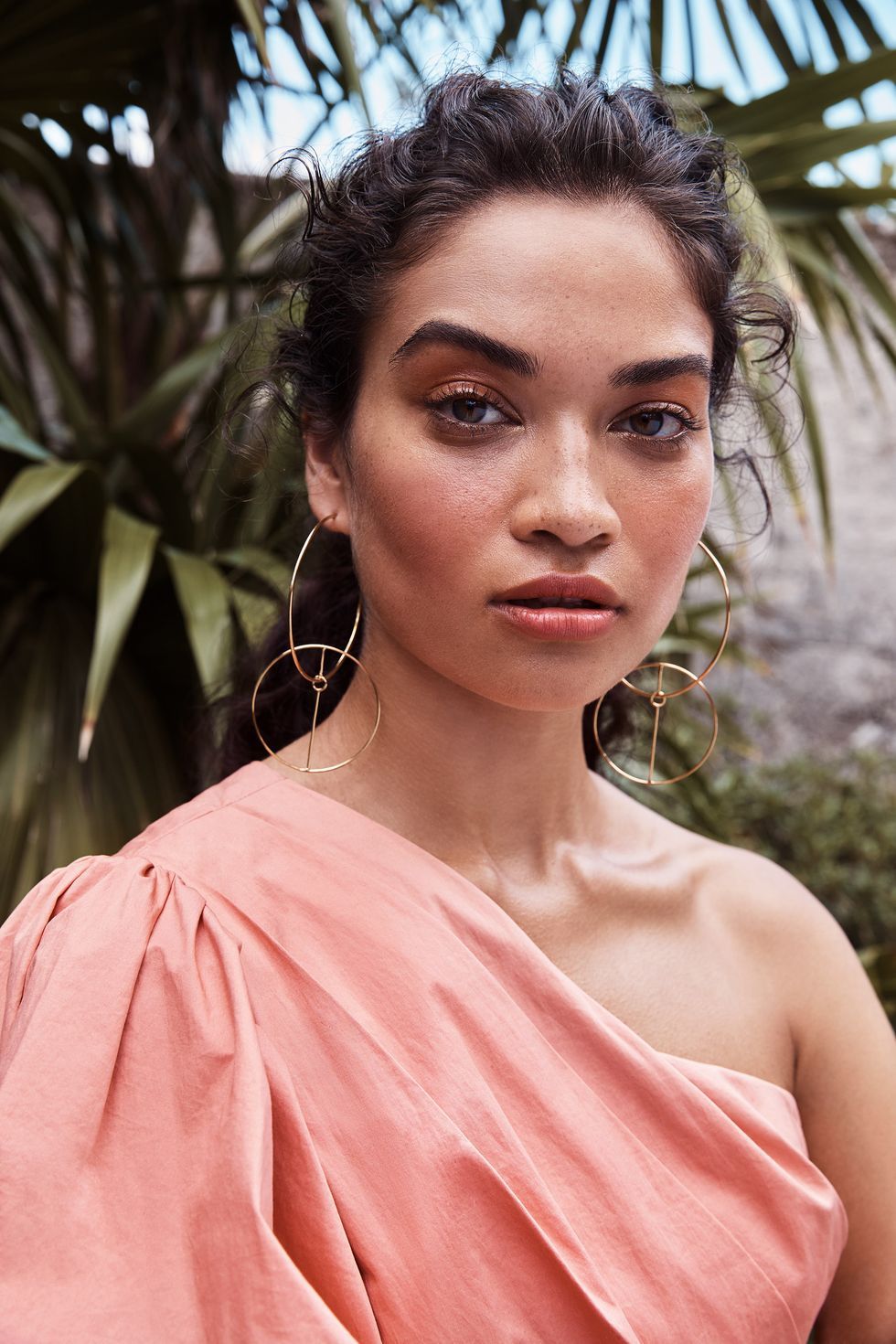 When it comes to accessories, pack light. Choose extras that seamlessly transition from look to look, and use them to elevate your casual pieces, and make your more formal moments feel effortless. Case in point: statement earrings that feel dressy by day and easy for night.
Johanna Ortiz top, $1,150, SHOP NOW; Mercedes Salazar earrings, $200, SHOP NOW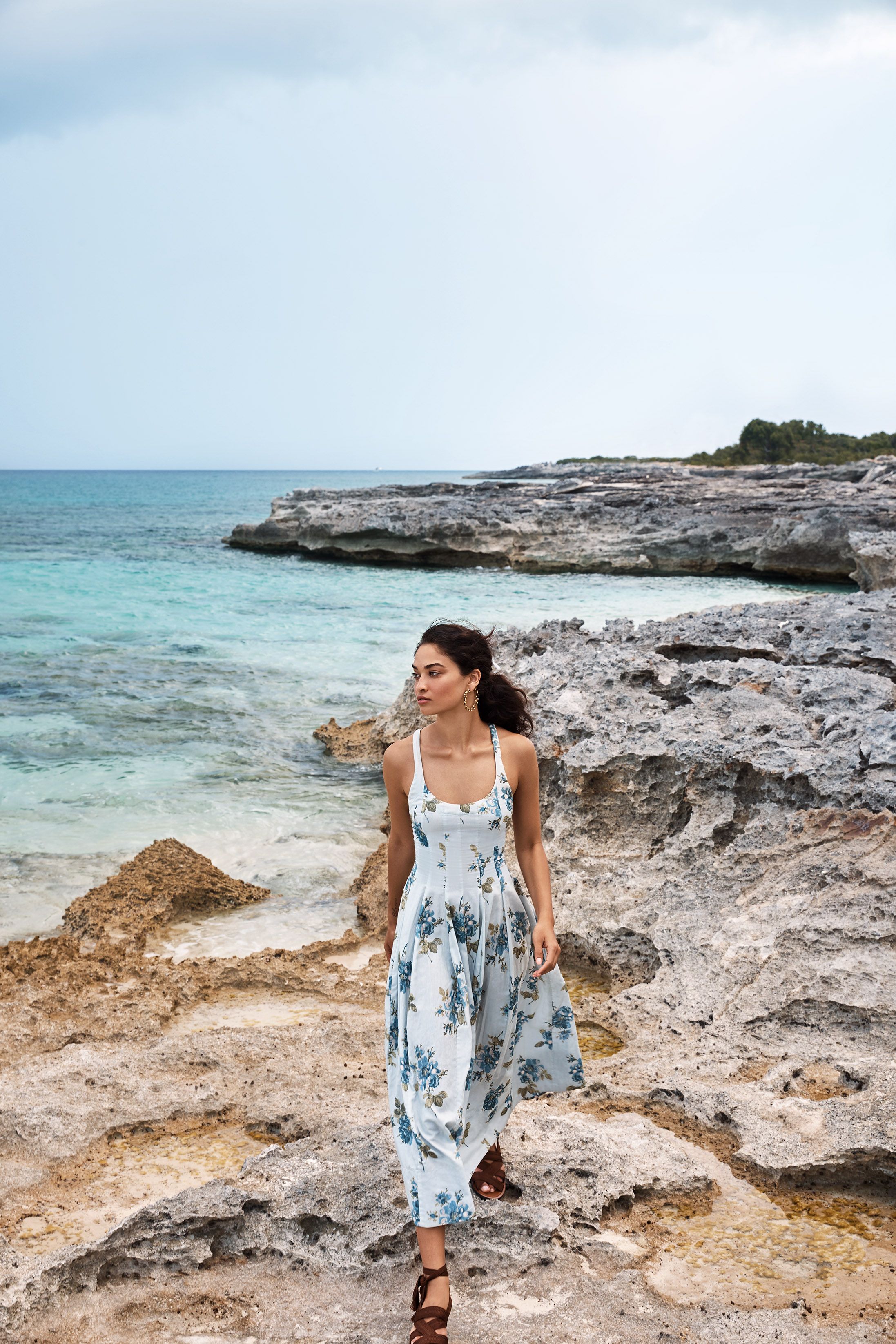 Floral prints exude femininity, whimsy, and a laissez-faire attitude towards dressing. They call upon one of our favorite trends of the season, the fashion fairy nymph, and don't always need to feel super-boho. Expert tip: opt for botanical motifs in a mix of shapes, from blouson day dresses to silhouettes with a bit of sleek polish.
Brock Collection dress, $1,990, SHOP NOW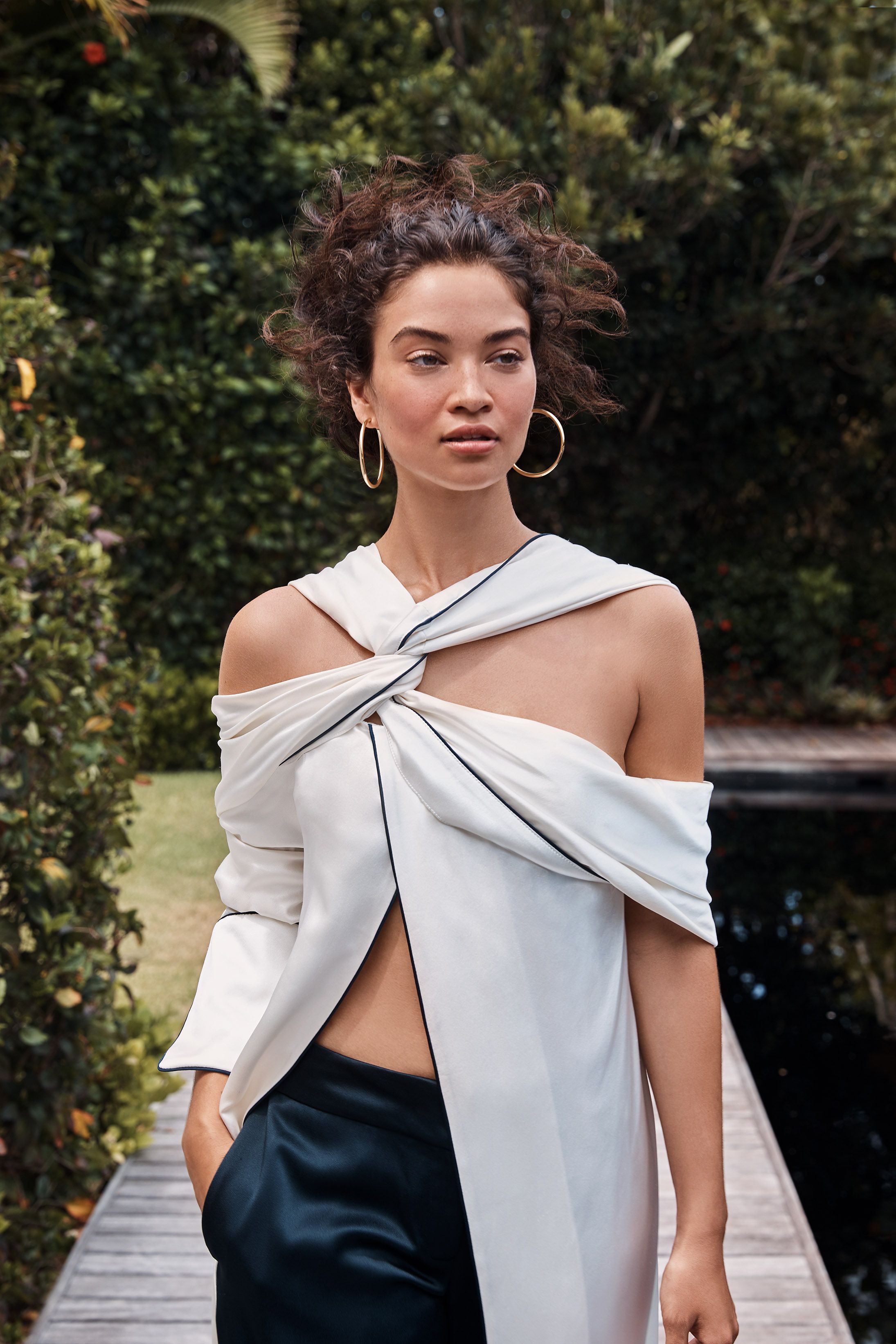 What's better than wearing your pajamas to breakfast, a stroll along the beach, or even to dinner? When your sleepwear is this chic, absolutely nothing. Choose easy fits, draped silks, and pair with mussed hair.
Monse top, $1,890, SHOP NOW and pant, $1,250, SHOP NOW; Jennifer Fisher earrings, $150, SHOP NOW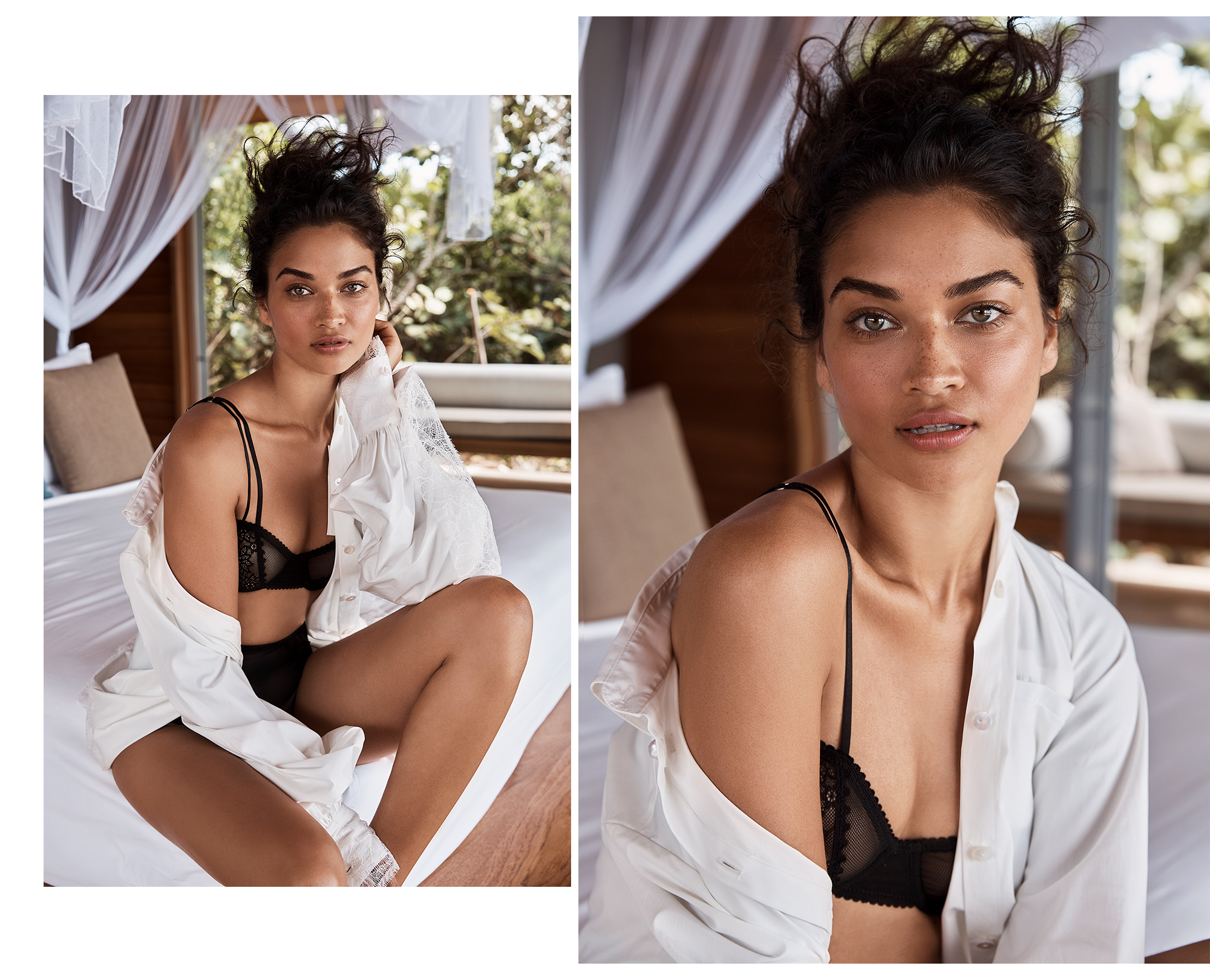 We suggested packing light on accessories—the reverse applies for lingerie and swimwear. Stock up on sexy sets for when you're feeling sultry, and sweeter camis and shorts for lounging around. This is the time to invest in pieces that you feel amazing in, and that you know you both will love.
Danielle Frankel shirtdress, $1,350, SHOP NOW; Lonely bra, $61.19, and brief, $40.79, SHOP NOW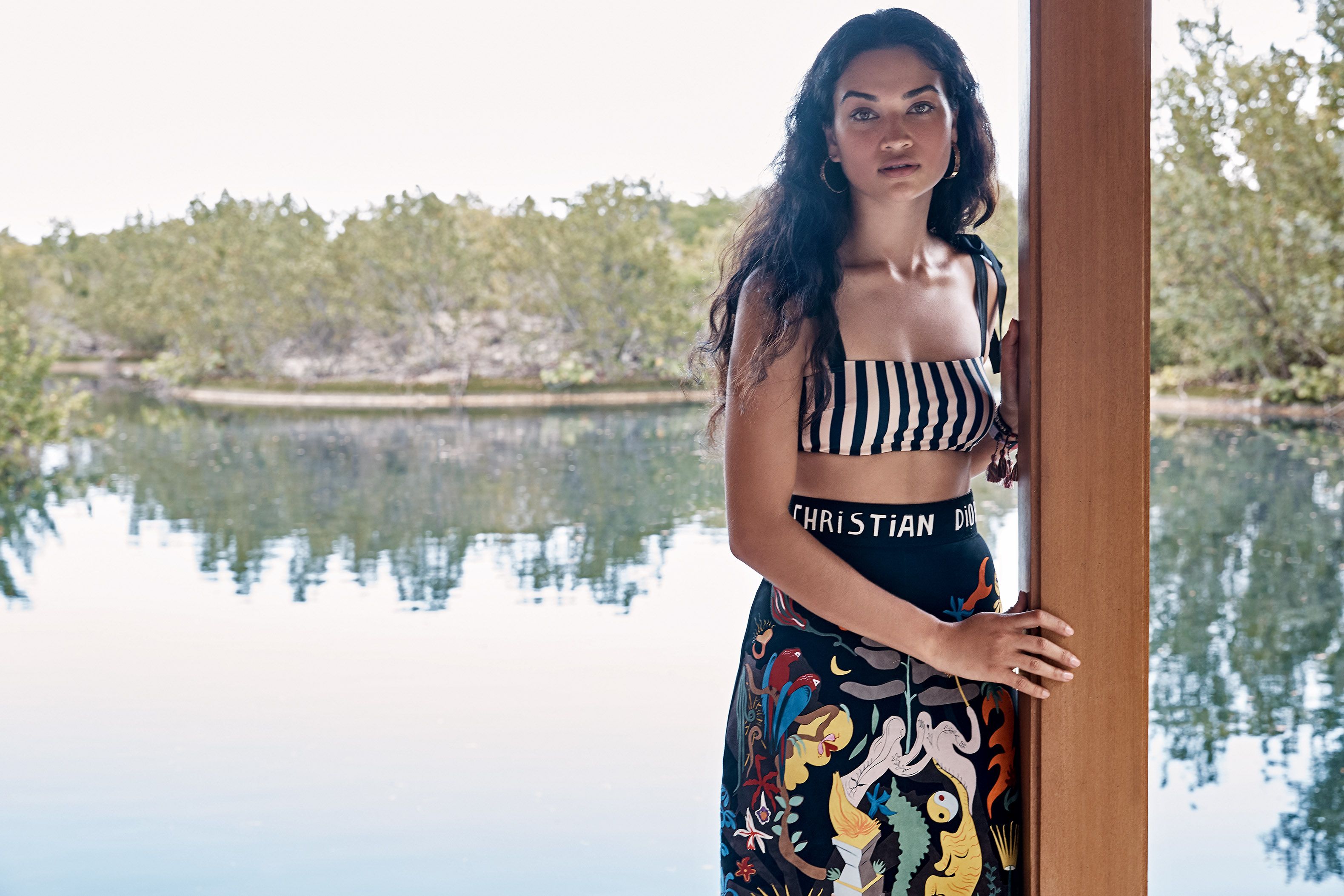 Let your bikini tops work double duty as separates for high-waisted bottoms; trust us, you're going to want to be in a swimsuit at all times.
Zimmermann bikini, $245, SHOP NOW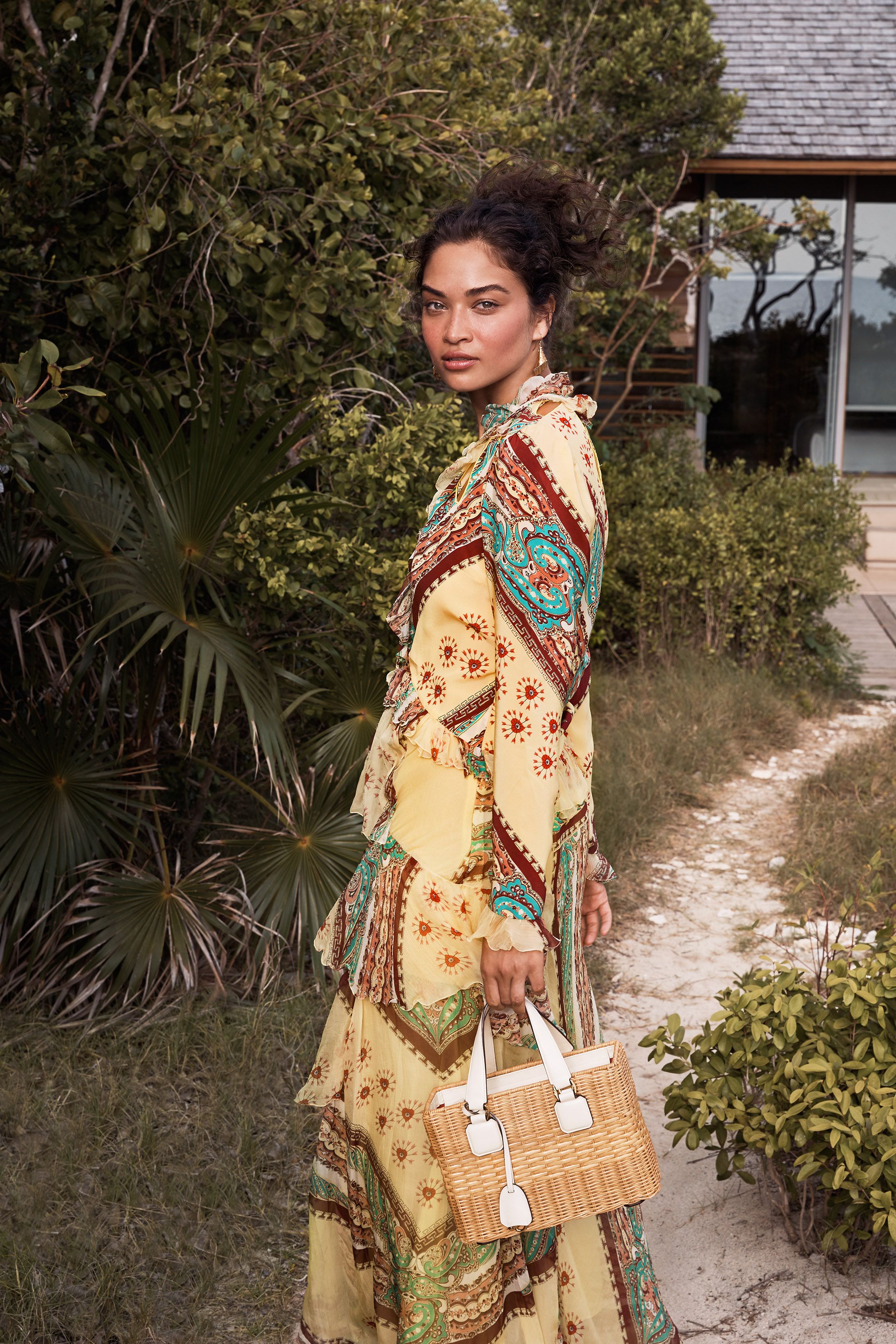 When you're out and about, plan for looks that don't require a day-to-night costume change. Printed dresses with midi lengths and lady bags that fit just enough are your best bets.
Etro dress, $3,870, SHOP NOW; Mark Cross bag, $2,395, SHOP NOW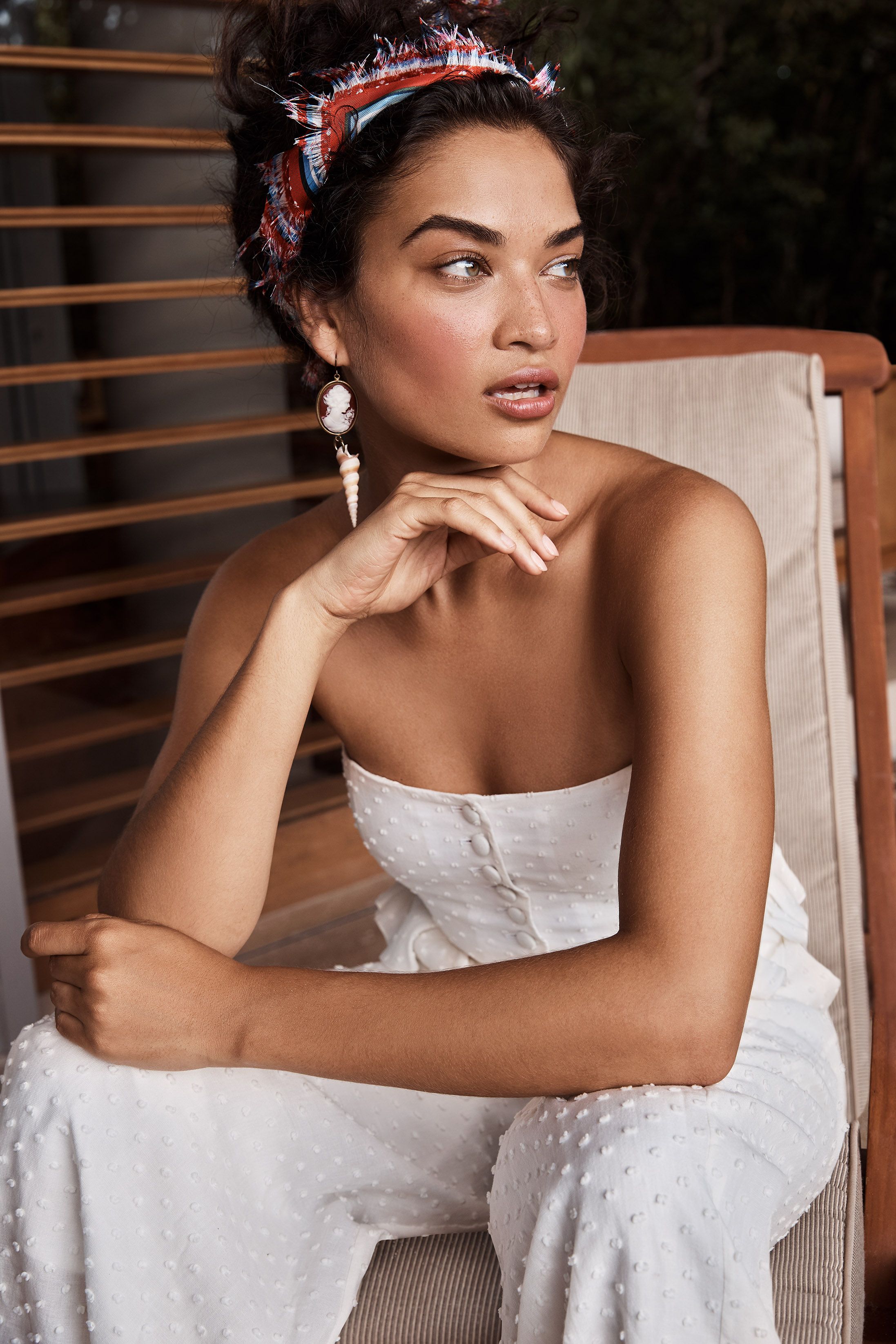 When sticking to your basics, punch up the look with bold accessories. You didn't book the trip of a lifetime (with the love of your life) to play it safe.
LEIN top and pant, from $950, SHOP NOW; Rosie Assoulin shell earrings, price upon request, SHOP NOW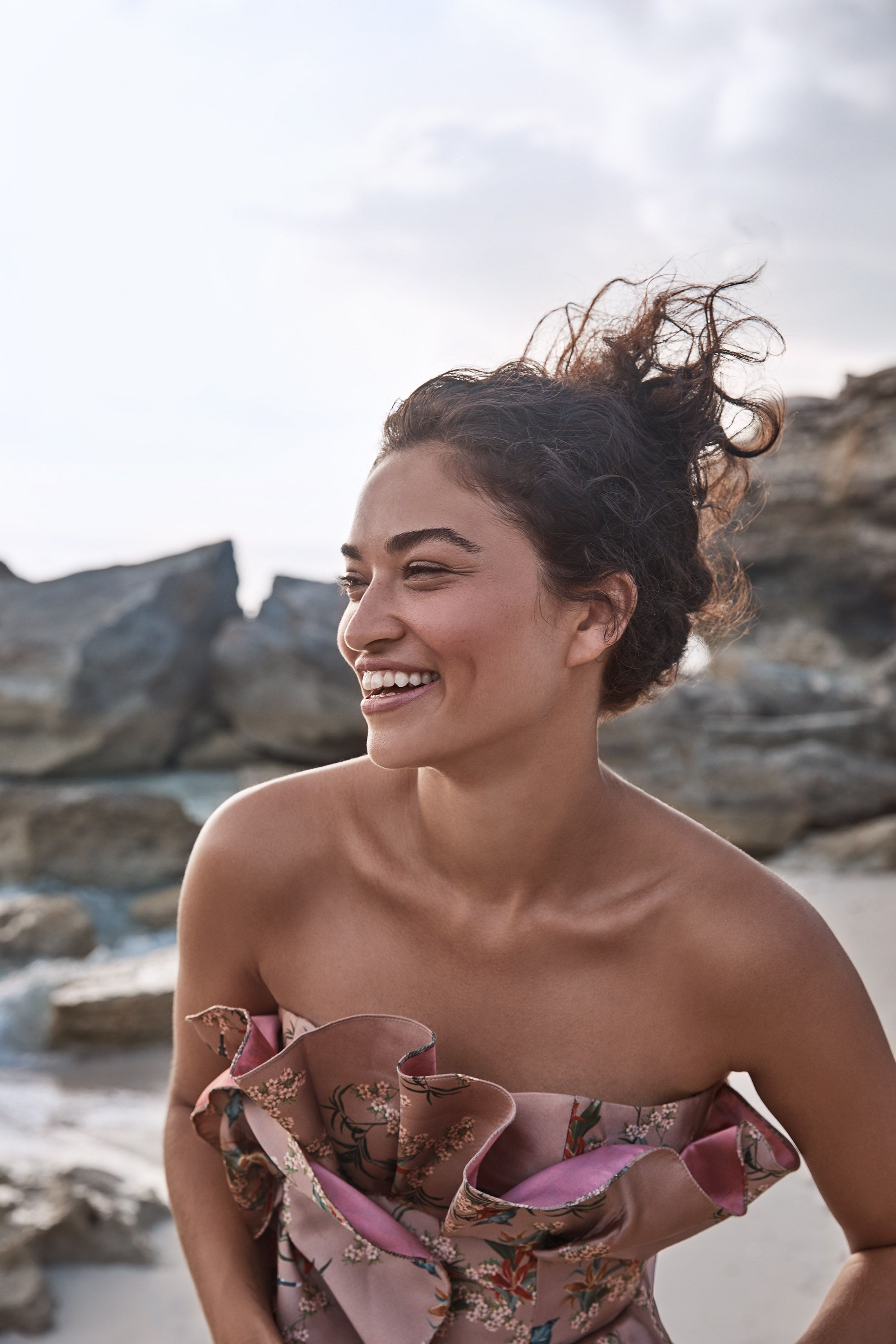 Swap tees and frilly tops for structured bustiers that make anything—from denim cut-offs to a silk pant—feel elevated. Mix up how you wear this statement piece; try wearing these pieces over t-shirts and knits, under structured jackets, or with a midi skirt and heels for evening.
Johanna Ortiz bustier, $1,050, SHOP NOW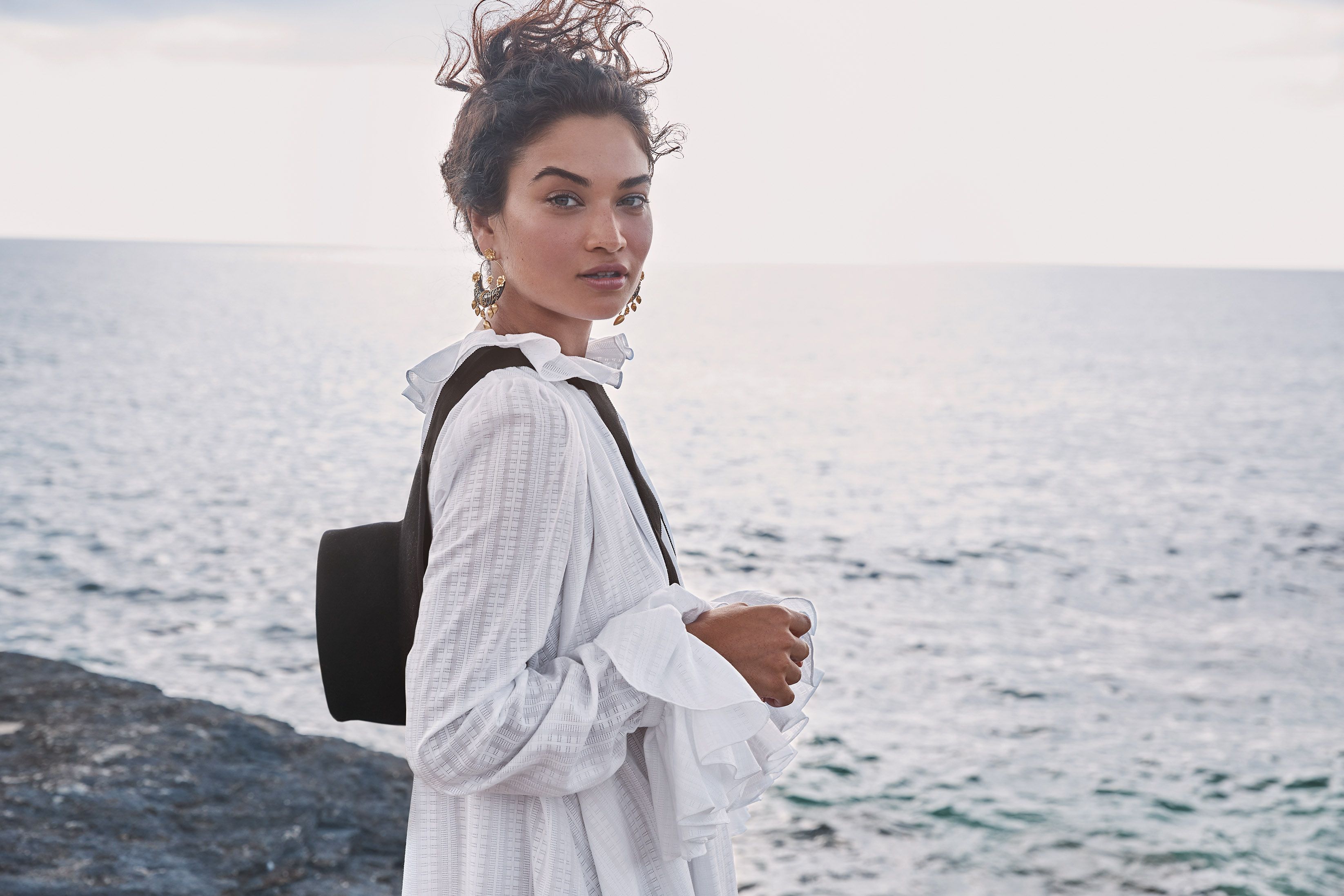 Wide-brimmed straw shapes are the expected choice for a beach getaway, but more versatile toppers block the sun, look chic with casual travel looks, and seem better suited to pair with dresses than your standard sun hat.
Adam Lippes dress, price upon request, SHOP NOW; Zimmermann hat, price upon request, SHOP NOW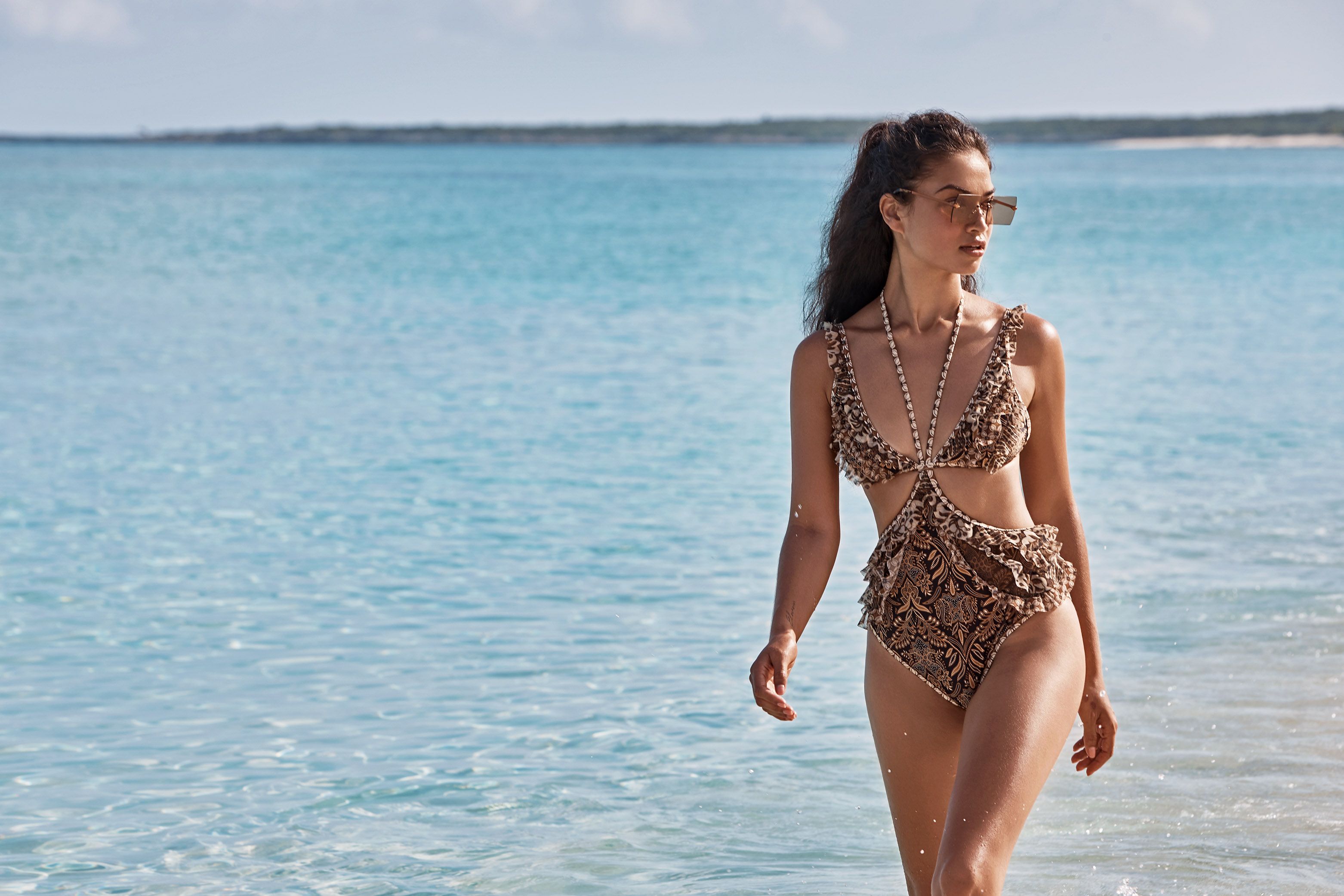 Like your wedding, your honeymoon is the time to invest—this time, in swimwear. Opt for adventurous prints, silhouettes, and textural touches you otherwise wouldn't. For long days spent on a boat, by the pool, or on the shore, consider this your look du jour.
Zimmermann swimsuit, $425, SHOP NOW; Karen Walker sunglasses, $210, SHOP NOW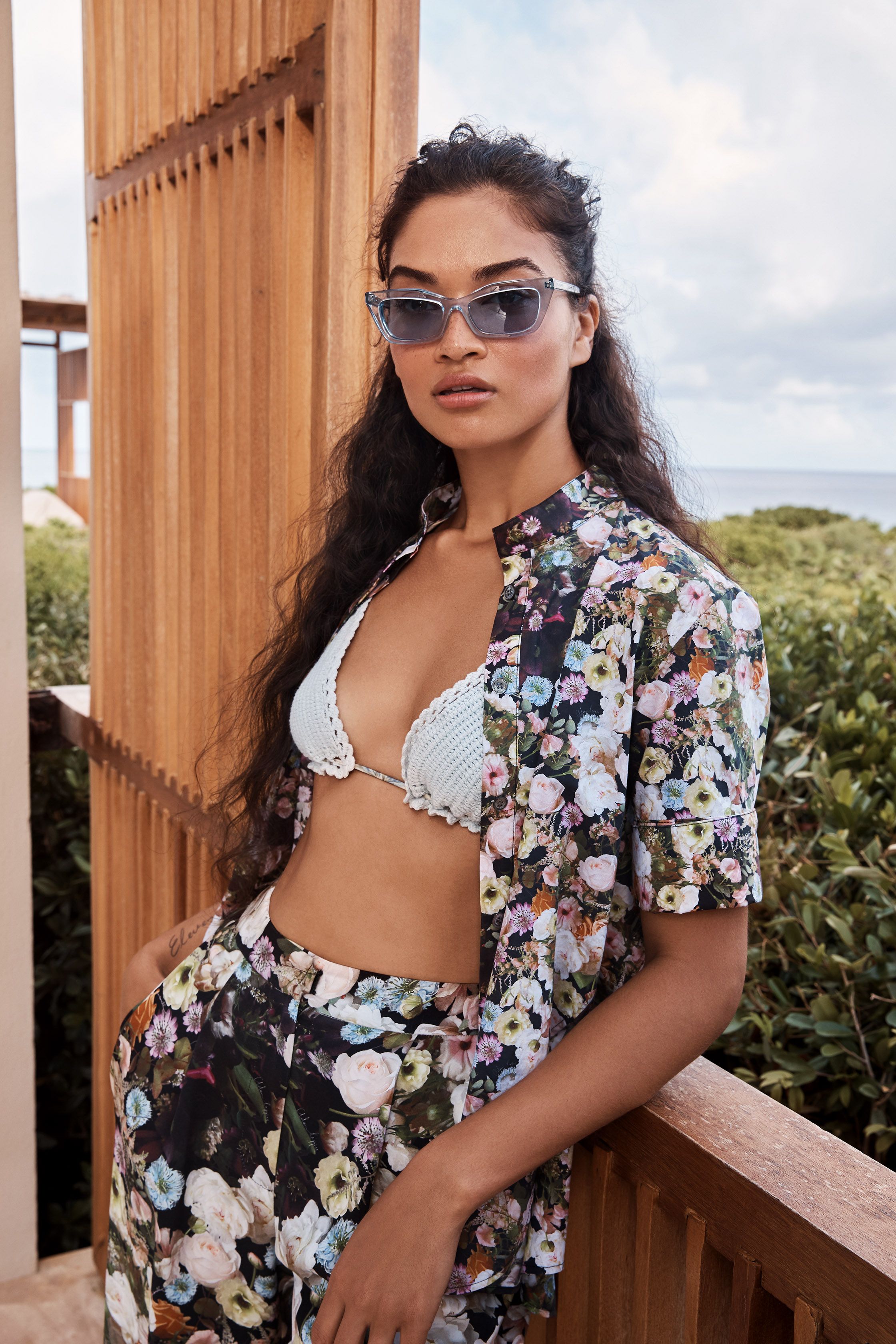 Business casual isn't on the docket for this trip, but matching sets of any kind make getting dressed no-fuss, and incredibly polished. Ready to be as envied as you are comfortable? Trust us, these easy suits are the sister act to pajama dressing.
Adam Lippes x Putnam & Putnam shirt, $690, and pant, $1,190, SHOP NOW; Balenciaga sunglasses, $515, SHOP NOW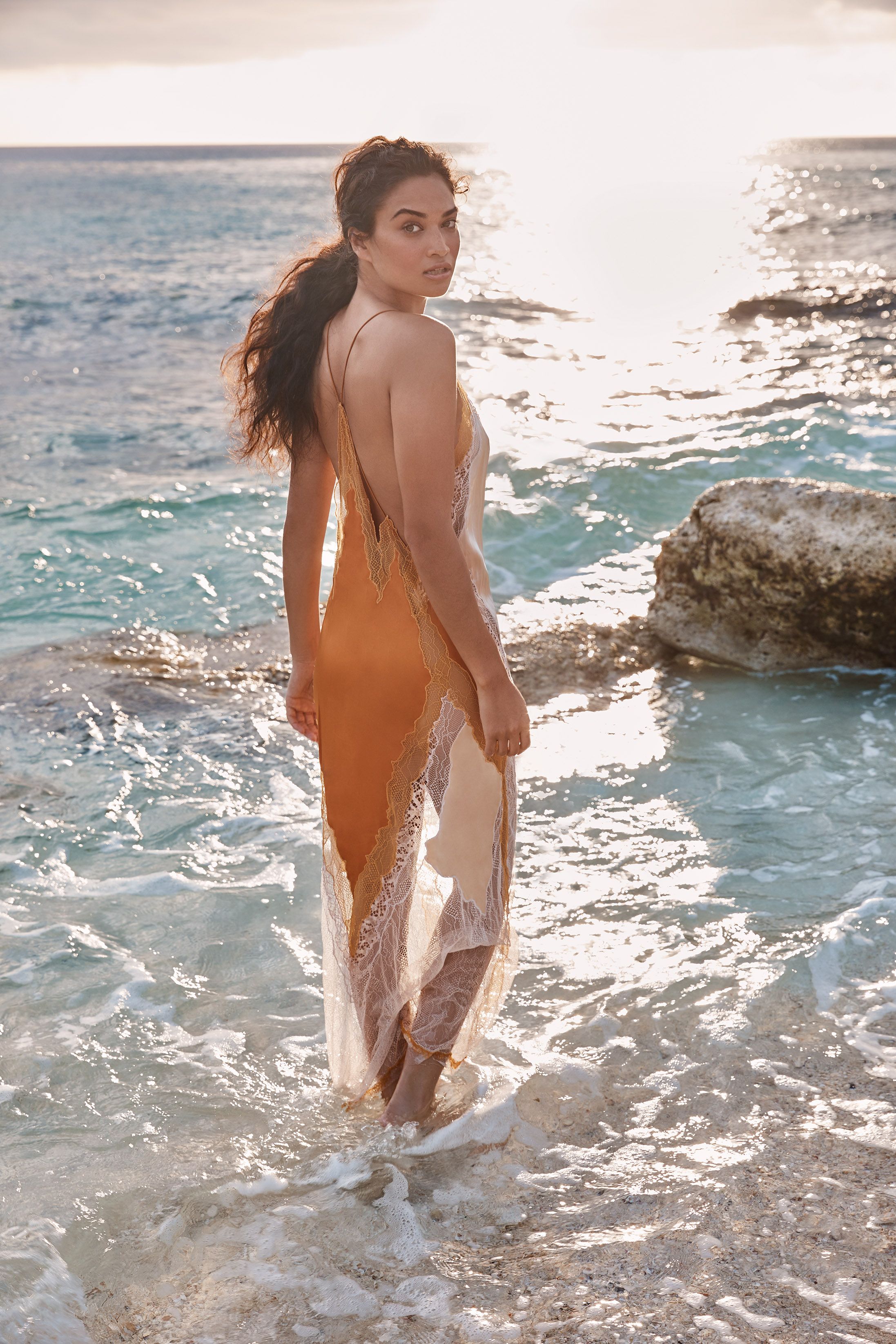 For evening, a simple (or amped up) slip dress is all you need. Choose fits that aren't skin-tight; these low-back, fluid styles feel more sophisticated—and incredibly sexy—when they skim your frame.
Jonathan Simkhai dress, $1,986, SHOP NOW
Photography by Christopher Ferguson; Styled & Written by Carrie Goldberg; Cinematography by Roberto Dumé; Makeup by Victor Henao; Hair by Timothy Aylward using Oribe Hair Care for Atelier Management; Styling Assistant Stephanie Alexandris; Photo Assistant Henry Leung; Model Shanina Shaik for IMG Models. Special Thanks to AMANYARA.
Source: Read Full Article