Correct me if I'm wrong, but in my personal opinion, two of the most quintessential aspects of the holiday season are ugly sweaters and candy. And this year, Target and Walmart are coming in clutch for merrymakers and sugar-lovers alike, by taking the liberty to combine the two. Whether you're looking to get in the holiday spirit, or if you simply want to give the gift of Christmas to your sweet-toothed boo, these Skittles Christmas Ugly Sweater Packages should definitely do the trick. Honestly, I could go for one right about now.
Maybe your Skittle of choice is one of the five Sour candies, or, on the other hand, it might just be one of the five OG flavors. Regardless of your exact Skittle preference, though, both types are available in the Ugly Sweater Holiday Edition packaging nationwide on Target's website, and on Walmart.com, and you'd better believe that they're merry AF. Each a 7.2-ounce bag is decorated in argyle, snowflakes, and S's, with the illusion that it's stitched from yarn. It's super festive, to be completely honest, and coincidentally, it can seamlessly slide into any holiday stocking. It really is the ideal stocking stuffer, the perfect snack, and the little festive pick-me-up that you definitely need on your snack cabinet shelf this holiday season.
I mean, just look at them. How cute are they? It's like a Christmas party in a bag.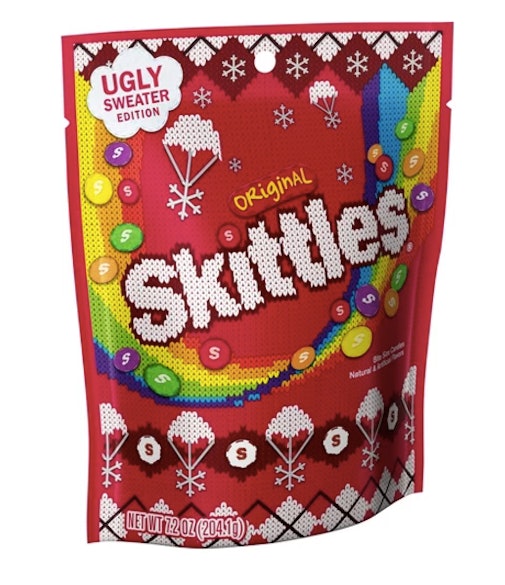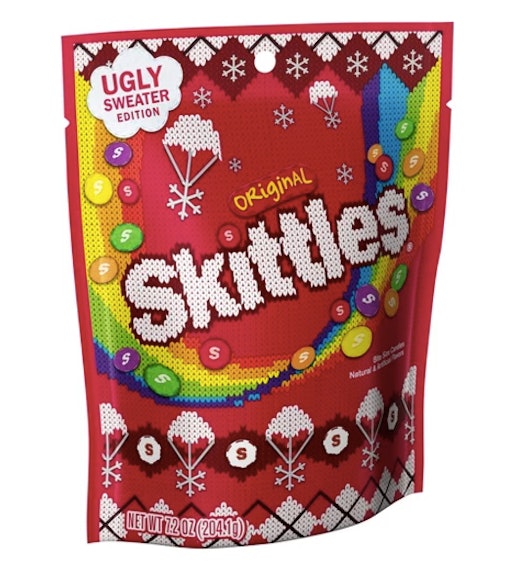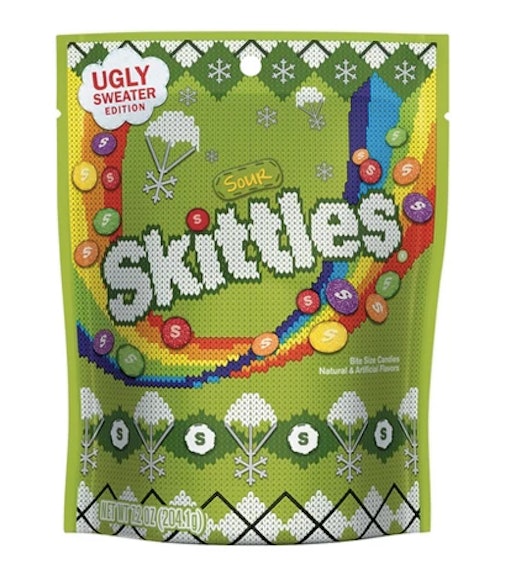 Each Ugly Sweater Skittles bag costs far less than you might think, going for only $2.59 on the Target website. And if you ask me, that's a total steal. The bags are limited edition, and sadly they'll only be around for a limited time. So, make sure to get your hands on some as quickly as you can.
The best part of the Ugly Sweater Skittle Packages, however, is the game on the back, Find Your Elf Name. According to Wrigley, each Skittle color corresponds to a different word or phrase. Then, whichever two colors you pull out first will determine your full elven name. I just took the time to test it out, and apparently, my full elven name is Tinsel Gifty-Pants. How cute is that?
After robbing both Target and Walmart of all their Ugly Sweater Skittle Packages, make sure to get in on Target's delectable selection of Welch's Sparkling Grape Juice, which now come in three super chic Holiday Bottles. Regardless if you're concocting a sparkly cocktail or if you're sipping them on their own, Welch's offers three delectable flavors, in Red Grape, Rosé Cocktail Juice, and White Grape. All of them are absolutely delicious, and plus, they'll make that bar cart of yours look extra festive.
Few things are more festive than ugly sweaters and candy, and it looks like Target and Walmart are both coming in clutch by combining the two. Ugly Sweater Skittle Packages are only here for a little while, though, so get on that ASAP. You won't want to miss out on the most legendary holiday extravaganza of the season.
Source: Read Full Article