Good news: You can have the same feeling of being immersed in nature without actually being surrounded by the rain/sleet/snow that tends to happen this time of year. Get ready to unveil your very own tiny house, the Allwood Solvalla studio cabin, that sits perfectly in your backyard just waiting for the first rays of morning sunlight to enter.
Technically, this Nordic wood tiny house consists of two 86 square foot structures that all in all add up to 172 square feet. The one section of the house, just large enough for a futon and table situation, (or a yoga mat and essential oil diffuser, your pick) is walled off with floor-to-ceiling glass—the right spot for gathering poetry-writing or charcoal sketching inspo from the falling leaves around you.
Or, if you work from home and can't seem to get an ounce of anything done without unloading the dishwasher or throwing in a load of laundry inside your house, this is your escape plan. After all, it is described as the "ideal backyard lounge area, guest house, or even home office." The second section, the open sitting area, shaded by slatted wood so you don't swelter in the sun, could be your go-to chic space for having lunch on warm fall days or summer night grilling.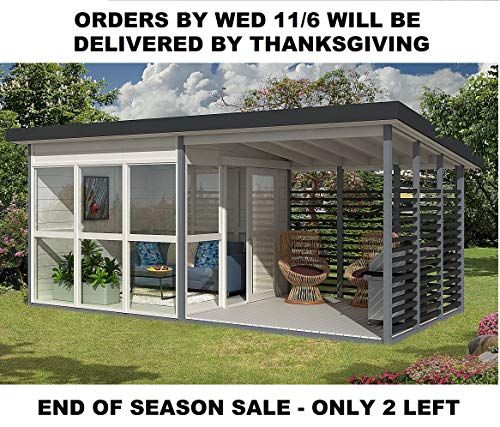 The price is a cool $6,995, which is actually a solid investment if you'd like to add some extra space for frequent visitors without infringing on the privacy of your home. Of course, if you've got friends staying there, you'll want to hook up an HVAC system for the most effective climate control.
Allegedly, two adults can get this thing built in just 8 hours (you may want to check out similar Allwood Bonaire and Allwood Estelle tiny homes as a model before you bust out the power tools though). So grab your BF, GF, or BFF and get constructing.
Source: Read Full Article