World of Dance judge Jennifer Lopez hinted at some past marriage and relationship drama during last night's episode.
After contemporary duo Derion and Madison's performance about toxic relationships, J.Lo let out a huge "ha!" and nodded in agreement.
She then explained to her fellow judges Ne-Yo and Derek Hough about her experiences with those kind of relationships.
Just as the competition continues to heat up on World of Dance, so does the piping hot tea judge Jennifer Lopez may or may not have meant to spill about her past marriages and relationships on last night's episode.
While most fans were focused on which dancers made the Cut, a round that ultimately eliminates half the contestants from each division (yikes), there was one big moment among the judges that you might have missed.
After contemporary duo Derion and Madison's dramatic performance, Jennifer Lopez had a pretty visceral (and tbh, pretty hilarious) reaction. Derion explained that their dance was about the way-too-relatable experience of staying in a toxic relationship that makes you ask yourself "Why do I keep doing this to myself?"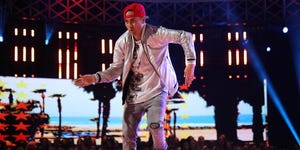 Upon hearing this, J.Lo let out a huge "ha!" and nodded in agreement, while her fellow judges Ne-Yo and Derek Hough laughed and gestured knowingly at her.
After the duo locked in their final score of 94 (which, btw, secured their spot in the Divisional Final), J.Lo explained her comments to Ne-Yo and Derek further, saying, "It reminded me of when you meet a guy and you think you're going to help him, and you don't really like him all that much, but then you end up falling in love with him, and you wind up helping him…that's what it felt like!"
While J.Lo is currently happily engaged to Alex Rodriguez, she's definitely had her fair share of relationship drama with certain famous exes. So it's not surprising she was relating hard to that routine last night. (Remember way back in 1999, when she and P. Diddy got arrested after fleeing a nightclub fight with a gun in their car, per E!? Yeah, that might have been on her mind…)
Jennifer didn't get too specific with her relationship comments, but it's not hard for fans (especially the die-hard ones) to guess who she may have been referring to. Either way, one things for sure: You'll definitely want to stay tuned for more revealing moments as the competition continues.
Source: Read Full Article