By Helen Pitt
Save articles for later
Add articles to your saved list and come back to them any time.
In 1916, when Victorian artist Will Dyson was commissioned as Australia's first war artist, he vowed he would "never draw a line except to show war as the filthy business it is."
The illustrator and cartoonist with Melbourne's Daily Herald, went with Australian soldiers to the Western Front, and was twice wounded but continued producing his compassionate drawings of humanity under fire. He had no interest in portraying dramatic battle scenes, but wanted to paint the "hardships, loneliness, exhaustion and misery" of a soldier's life. A collection of his water-colour wash and crayon drawings, each with Dyson's interpretative text, was published in Australia at War (1918).
War artist Will Dyson sketching troops in World War I.Credit:Australian War Memorial
In the days before television and photographs published in mainstream newspapers, his images were some of the few glimpses Australians got of war in far off Europe.
His commission began the tradition of war artists that began in World War I with artists Arthur Streeton, George Lambert and Frederick McCubbin and continued through World War II when female artists Nora Heysen, Stella Bowen and Sybil Craig joined their ranks.
"You can understand why you needed a drawing to understand what war was like 100 years ago, but given everyone has cameras on their phones you'd have to ask the question why you would need war artists today," said artist Wendy Sharpe, who in 1999 was invited to observe and document the Australian peacekeepers in East Timor. She was the first female war artist commissioned by the Australian War Memorial since World War II.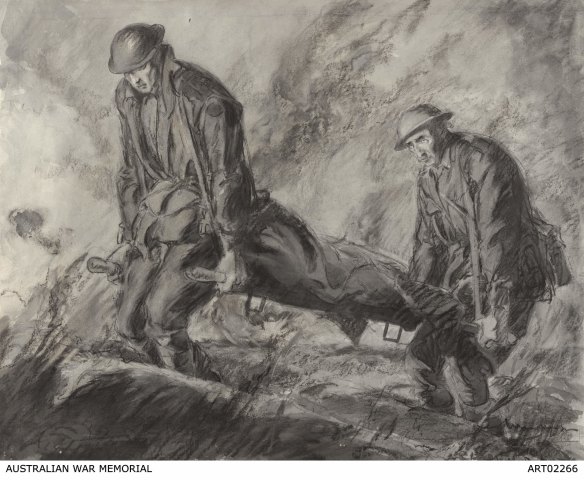 World War I art by Will Dyson.Credit:Australian War Memorial
"The idea is to bring a creative artist's eye … it really made me aware of the professionalism of peacekeepers and their idealism and the humanity of all people involved in wars."
"You have to be invited to become a war artist it is not something you apply for," she explained.
"The Australian War Memorial has the biggest collection of anti-war material in Australia. You are not gagged nor are you expected to be an apologist for the army.
"I grew up in a hippie school on the Northern Beaches the whole idea of the army was so alien to me," she said when she was invited to join the program.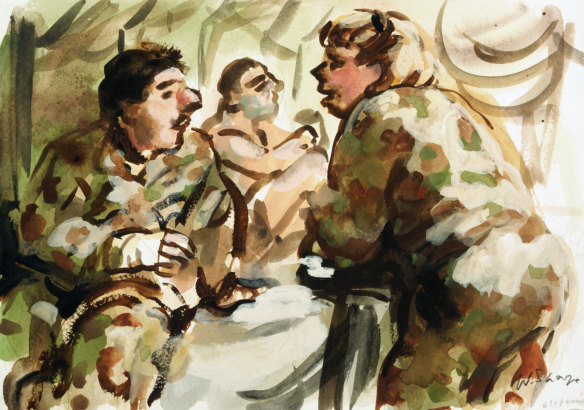 Archibald Prize winner Wendy Sharpe who was the first female official artist to be appointed by the Australian War Memorial since the Second World War and was sent to East Timor – pictured here is Dili Hospital.Credit:Fairfax Media
"The point is not to do an accurate drawing of an aircraft carrier, but to give a subjective viewpoint of what war is like. When I went with the peacekeepers East Timor was still an incredibly volatile place. The soldiers told me war zones always looked the same. War is a place of two extremes, where terrible unspeakable things happen as well as incredible kindnesses," she said.
While she left Australia expecting she'd be like Picasso, creating a huge Guernica-like painting, instead she drew constantly, pictures of people, in much the way Dyson did in the World War I trenches.
"The soldiers were thrilled because they felt valued, I even drew a young soldier whose father had been drawn in the Vietnam War."
Some of Sharpe's sketches of soldiers in East Timor.Credit:Fairfax Media
In 2012, Tony Albert, now a trustee of the Art Gallery of NSW and 2023 Archibald Prize judge, became the first Aboriginal Australian to be appointed as an official war artist.
He was attached to the Army's Regional Surveillance Force North West Mobile Unit (NORFORCE); First Nations peoples make up half of NORFORCE. Albert's grandfather Eddie Albert served in World War II and was a prisoner of war, which had been an inspiration for some of his work.
"I'd declined a few times I was asked because I couldn't see how I'd fit in," he said.
Tony Albert, "Be Deadly – NORFORCE" 2012-2013.
"But then I became interested in increasing the presence of Indigenous art in the War Memorial, rather than just the sculptural faces of Indigenous people depicted as flora and fauna on the building."
As part of his service experience, Albert trained in weapon handling, navigation, first aid, basic drill and signalling. "I clearly was not good at all the orienteering and gun maintenance, but the whole experience changed my perception of what NORFORCE was doing and why, and helped me appreciate the crucial role Aboriginal people have played in the infantry.
"I learnt Aboriginal soldiers are known as 'greenskins', which means your responsibility to the army supersedes your connection to a clan group in an Aboriginal community. I saw such pride in some of the Indigenous cadets it was wonderful," said Albert, who painted many of the "greenskins" as well as a recruitment poster for Indigenous soldiers.
In the same year he won the 2011 Archibald Prize, Ben Quilty was appointed as an official war artist and deployed to Afghanistan for a month to observe the Australians' activities in Kabul, Kandahar and Tarin Kot.
Ben Qulity creating his artwork from Afghanistan where he was an official war artist.Credit:Andrew Quilty
He said at the time he felt as if "he'd landed in some apocalyptic version of Star Wars meets Mad Max Beyond Thunderdome."
"This war-artist gig was way more dangerous than I'd ever anticipated," he said.
Quilty said he was profoundly affected by his tour of Afghanistan. "I'd anticipated a lot of macho Rambos, two-dimensional guys who fit the stereotypical image of soldiers; the sort of macho guys that my work has been about for many years," he told this masthead.
Instead, he spent many hours talking intimately with soldiers and sketched them to create after Afghanistan, a series of portraits that explores the complex emotions for soldiers when they came home.
"I have never met such an impressive bunch of people. The Australia soldiers were intelligent, thoughtful, balanced, fine young men and women, many with university degrees."
Ben Quilty's Captain S, after Afghanistan, 2012.
Although filmmaker George Gittoes has never been an officially sanctioned war artist, he has accompanied Australian forces as a journalist-artist for decades.
In an arrangement with the Australian War Memorial, Gittoes travelled to Cambodia in 1992 and Somalia in 1993 to record the involvement of Australian troops in United Nations peacekeeping operations. In 1995 he accompanied members of the army public relations unit to Rwanda, where he documented the aftermath of that country's civil war. Soundtrack to a war (2006), his film with US forces in Iraq, led to him following US soldiers home to the south side of Chicago, where he lived for 18 months, to make his film about gun violence White Light.
Film maker George Gittoes in Ukraine.
Gittoes has now returned to Ukraine to continue documenting war there. His 2022 film Ukrainistan Artist War about artists waging a war on war in the context of the Russian Invasion, has won best documentary at New York's Oniros Film Awards.
"It is an anti-war film in the tradition of John Lennon and Yoko's 'War is Over'. I was challenged to find the means to, 'scream out' a new anti-war message, for a time when we all know, war should be over," Gittoes said.
A cultural guide to going out and loving your city. Sign up to our Culture Fix newsletter here.
Most Viewed in Culture
Source: Read Full Article