Some things in life seem to last forever. Your new plant? Eh, not so much. Ketchup in your fridge? Oh, yeah, that guy's likely good to use for months.
Also in this category? The world's obsession (fascination? fixation? all appropriate words…) with Theranos founder, Elizabeth Holmes. Since the March 18th release of HBO's Holmes-focused documentary, conversation about the disgraced Silicon Valley exec has continued to be very much alive and very much well. (And I am very much here for it.)
In fact, just yesterday Hulu ordered a limited series about Holmes' rapid rise and equally rapid fall, bringing the list of Holmes-focused projects to a whopping number five. But, a catch: not all of these projects are created equal. Here is a definitive ranking of all the projects about the Theranos scandal from best to worst:
1. The Book—Bad Blood: Secrets and Lies in a Silicon Valley Startup by John Carreyou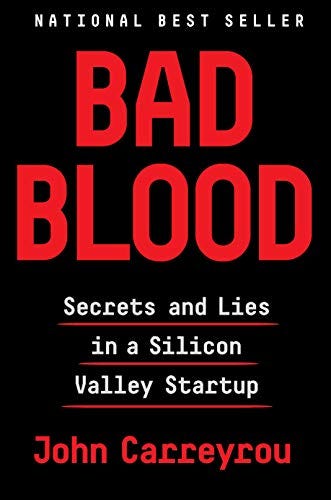 Written by the journalist who was the first to report on (thereby breaking!) the story of the Theranos scam, this book is a treasure trove of information. And that's because, reminder, he broke the story; he was the one who risked his safety to uncover the truth; he was the one who actually saw what was going on behind the scenes before Holmes called in her troop of lawyers to try to hide what, yup, Carreyou saw.
Another pro for the non-fiction novel (which, btw, reads more like a fiction page-turner)? By including himself as a character in this story, Carreyou allows you to feel the burden of knowing these disturbing details. If you want to know the full story—or as Holmes will eventually have to say "the full truth and nothing but the truth" in court—then read. this. book.
2. The Movie—Bad Blood
Slated for 2020, Bad Blood will be based off of Carreyou's book and he, along with Academy-Award winning writer of Shape of Water Vanessa Taylor, will write his pages for the big screen, according to People. But because books > movies any day, this slots in at number two.
TBH, it's pretty hard to suppress excitement for this one, especially with the buzz factor of big Hollywood names like Oscar-winner Jennifer Lawrence (umm, ever heard of her?!) and Oscar-winning director, Adam McKay. Although not much is known about the rest of the cast, People reports that J Law will play Holmes, which kind of feels very right given Holmes' crazy-deep voice and J Law's slightly scratchy tone—in addition to, of course, the actress being a total badass pro so how could the flick fall short of anything but amazing. I see it now: Oscars 2020/2021 (??), Jennifer climbing over seats round two, not one but two wine glasses in hands because this movie is aweeesomeee.
Important to note: obviously this is all speculative because nothing's come out yet—not even a trailer—but just making an educated guess based off the above deets.
3. The Podcast—"The Dropout"
Coming in at numero tres is ABC News/ABC Radio's "The Dropout," which is fitting since it seems like most of the people you talk to feel just medium about it. Simply put: they're not wowed and neither are you (or me). That's because it feels a lot like it's trying to have a "Serial" moment but falls short on intrigue and that true-crime drama. Stop trying to make fetch happen, "The Dropout!"
Even though its claimed a spot as "meh" in this ranking, the project does have some major pros. Just take it from the few but proud Team Podcast WH-ers who brought up a good point: Unlike the others, especially the doc (sorry #5), "The Dropout" paints a better picture of Holmes' whole life by addressing the potentially fake voice and her romantic relationship with former Theranos COO, Ramesh "Sunny" Balwani.
4. The Limited Series—The Dropout

Don't get me wrong, by providing endless access to Brooklyn 99 and The Act, Hulu can do no wrong—that is, except for this limited series.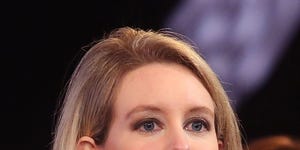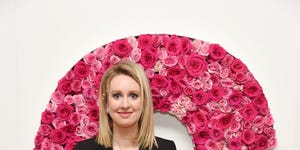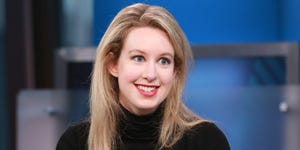 Based off the podcast, the TV series—which, yes, like the movie has the same name as its predecessor to make things super confusing—is expected to be between 6-10 episodes, according to Deadline. Unfortunately, however, limited series tend to be hit or miss: you either are left wanting more or wondering why you just spent weeks watching a story that could've been a documentary.
In addition to being an executive producer, Emmy-award winning SNL standout,Kate McKinnon, will executive produce and play Holmes. Confused? You're not alone. Frankly, it's super hard to imagine Kate staring in anything other than a comedy, so it's not looking up for the show. But, again, this is just speculation from the info out there. Ready and willing to be proven wrong, so TBD if the series will do that.
5. The Documentary—The Inventor: Out for Blood in Silicon Valley
Isn't it ironic? The film that fueled the Internet's hunger for Holmes info—from her voice to eyes to relationship status to potential sentence—is coming in at number 5. The reasons? Well, for starters, it's a bit of a snooze or in one word, boring. The doc also dedicates a lot of screen time to the idea of Holmes-the-inventor. Sure, she technically invented something—or at least tried to—but there are so many Thomas Edison comparisons and metaphors that you begin to think, ummm, are these just fillers for lack of info? And the answer is what solidifies this snoozer in last place: yes, this flick is light on details and heavy on unnecessary references.
Source: Read Full Article