Jake Paul out-jabbed Tyron Woodley in all but two rounds while landing his power punches at a better connection percentage in his split-decision win.
The former UFC champion was edged out on the cards in Cleveland and has already been given an ultimatum by Paul for an immediate rematch.
But a look at the punch stats reveals the key to the fight, with the YouTube star's jab fundamental to persuading the judges combined with his more efficient power shots.
Compubox confirmed that Paul landed 19 more punches in total, while outlanding Woodley at a better percentage – 34.3 per cent to 31.9 per cent. Included in that were 22 body punches, 16 more than Woodley, who was often seen out of range with his conservative approach.
Woodley's best work came in the fourth and eighth rounds when he landed eight more punches combined, including one shot that stunned Paul to send him sprawling into the ropes.
But there was not enough activity to win the rounds, with just 11 total jabs connecting over the course of the fight.
Despite this, Woodley remonstrated with Paul after the decision was announced: "You are the one that got wobbled, almost sent through the ropes.
"If these ropes weren't 7ft 2in, you'd have gone through the ropes. I landed the power punches."
To which Paul replied: "You had your opportunity, you had your chance.
Compubox showed that Paul out-jabbed Woodley in all but two rounds
"I was nothing but respectful to you now. If you get the tattoo, 'I love Jake Paul', let's run it back."
Woodley was quick to accept the terms, snapping back and shaking Paul's hand: "Bet, let's go!"
FOLLOW LIVE: Jake Paul vs Tyron Woodley – Latest reaction
The performance was not up to Paul's expectations, and the YouTube star conceded his legs didn't feel right in the ring.
Paul added: "I don't know what to say, he's a tough opponent, he's been fighting for 20 years, I've been doing it for three, this one's for Cleveland.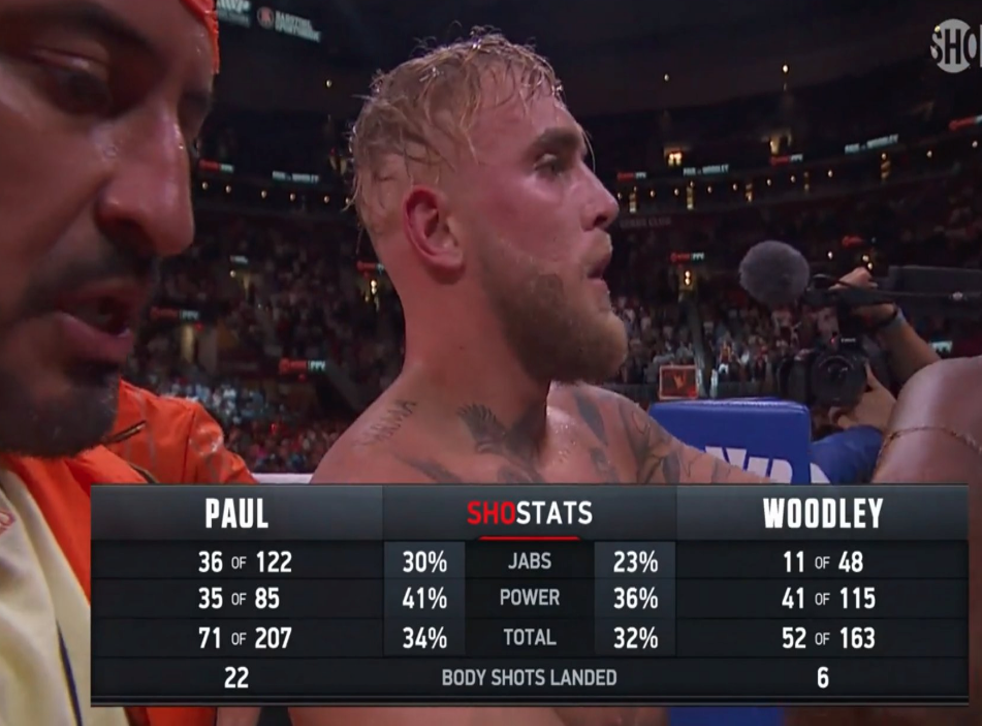 Shostats also showed Paul landed more jabs, while Woodley landed four more power shots at a worse connection percentage
"It was a tougher fight than expected. I don't know what's wrong with me. All respect to Tyron. He's a hall of famer, he's a good fighter.
"There was a lot of s*** talk, there's no hard feelings. I want to cry, but I'm a little tired. To win when all the pressure is on, he's a tough opponent."
"I'm not sure [if Tommy Fury is next]. I haven't stopped, I need to figure who I am. I'm keeping my head on straight, I'll get back in the gym when ready. Let's see."
Source: Read Full Article