Talking points
Cheika hired Larkham as an attack coach in 2015.
The Wallabies scored just 19 points per game in 2018.
Larkham says he and Cheika couldn't agree on attack or game strategy.
The Wallabies had their worst season since 1958 last year.
Wallabies legend Stephen Larkham has fired a shot at Test coach Michael Cheika, saying they couldn't agree on attacking strategies or overall game philosophy after moving into a new role at Rugby Australia.
Rugby Australia announced on Monday Larkham was being "transitioned" into a new role as national high performance coach advisor.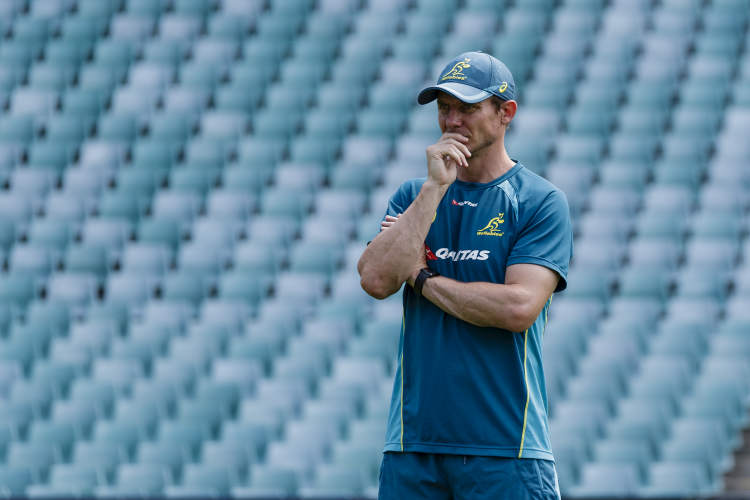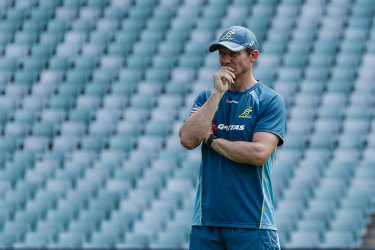 Stephen Larkham will move into a new role after falling out with the Wallabies.Credit:Brook Mitchell
There has been speculation for months that Larkham and Cheika had fallen out and the retired champion playmaker didn't mince words in a Rugby Australia press release.
"Ultimately Michael is responsible for the performance of the team. We have differences in attacking strategy and overall game philosophy," Larkham said.
"We couldn't agree on these key points and it is in the best interest of the team that they receive clear and consistent messages from their coaches.
"I am obviously disappointed with this outcome as I had chosen to pursue the experience of taking the Wallabies through to the World Cup, however I am pleased to be able to continue coaching and contributing to Australian rugby in this new role."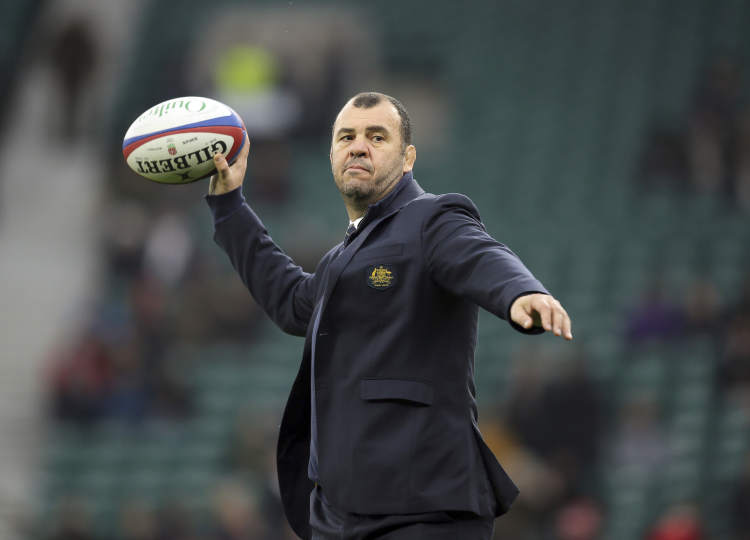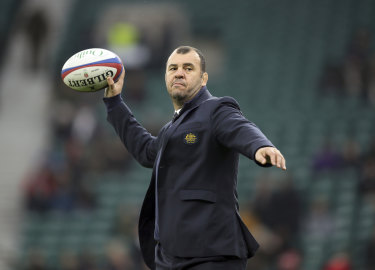 Michael Cheika has survived the axe.Credit:AP
Wallabies head of athletic preparation Haydn Masters has also resigned after four years with the team.
Larkham's new position will focus on coach mentoring, coaching and skills development across the Australian sevens program, junior Wallabies, state under-20s academies and the Wallaroos.
The Wallabies struggled on the field last year and Cheika was under major pressure to keep his job as the head coach.
The Wallabies lost nine of 13 Tests last year, their worst return since 1958 in a disastrous build up to the World Cup.
Rugby Australia moved to appoint Scott Johnson as a director of rugby to help Cheika, but that was only the start of the changes.
The Wallabies coaching set up meant Larkham had little input into the attacking strategies as the Wallabies averaged just 19.15 points per game.
Larkham was offered as a fall guy at a Rugby Australia board meeting at the end of last year despite Cheika's poor record in charge over the past 12 months.
Rugby Australia boss Raelene Castle said the organisation would "look to support Stephen in his transition into another head coach role.
"We are very pleased that Stephen has agreed to take on this role. He was one of our greatest ever Wallabies and has developed a strong depth of experience during his coaching roles with the Brumbies and Wallabies.
"It was very important from Rugby Australia's perspective to retain Stephen's services and to ensure his experience is used to grow and develop coaches and players in our next generation."
More to come.
Source: Read Full Article