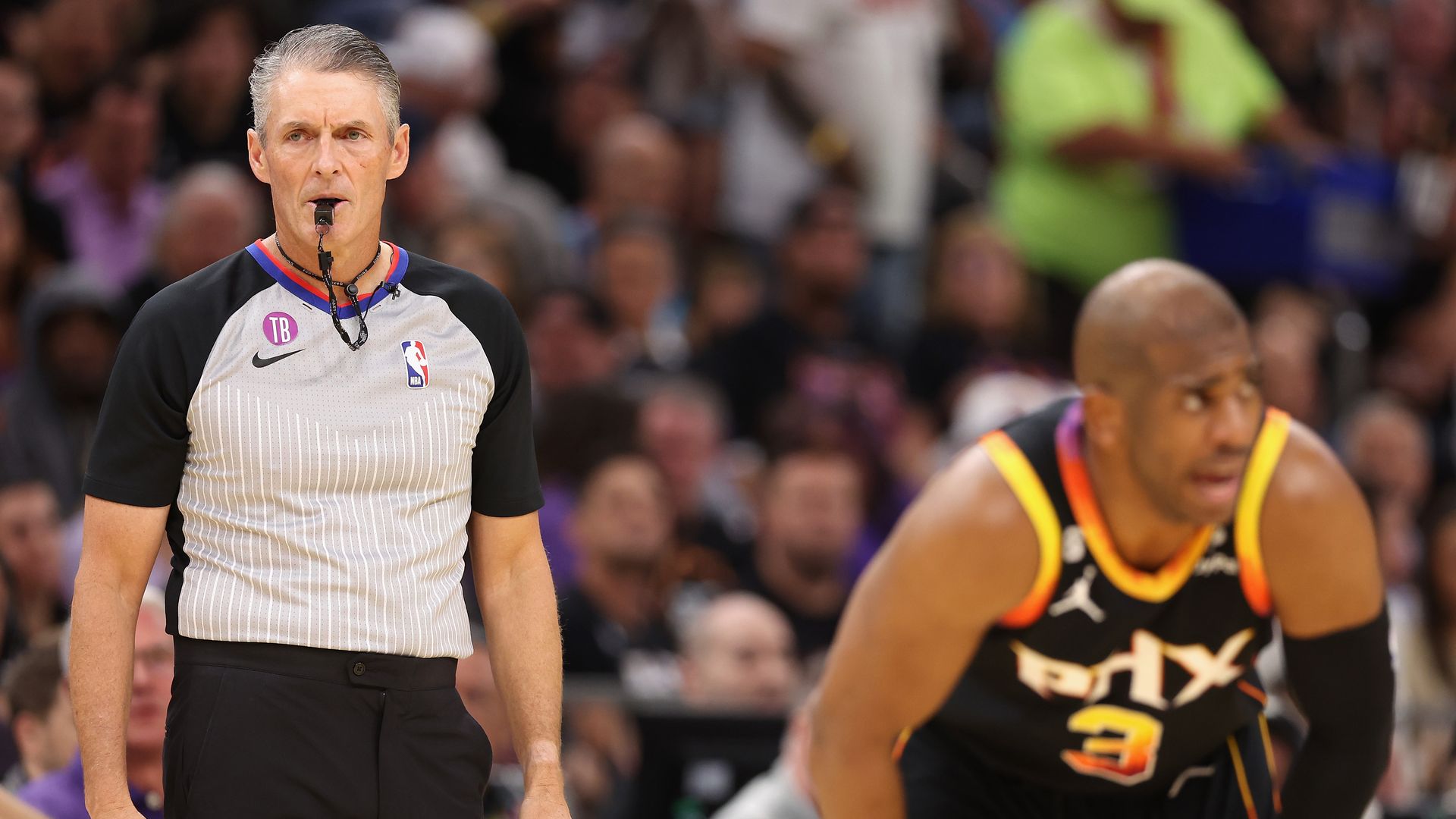 Referee Scott Foster and Chris Paul. Photo: Christian Petersen/Getty Images
After 13 consecutive losses, Chris Paul has finally vanquished his nemesis.
Driving the news: Paul's Phoenix Suns beat the Los Angeles Clippers, 123-109, on Tuesday in a game officiated by Scott Foster. Paul finished with 16 points (8-14 shooting), eight assists and three personal fouls.
Entering the night, Paul's teams — the Clippers, Houston Rockets, Oklahoma Thunder and Suns — had lost 13 straight playoff games when Foster was the crew chief.
The Paul-Foster rivalry has taken on a life on its own in recent years, and Paul has even met with the National Basketball Association to discuss his issues with the 29-year veteran referee.
Between the lines: The NBA considers Foster one of its best referees. But when he has officiated Paul, "the point guard has clearly felt as if he's at a disadvantage," notes ESPN's Brian Windhorst.
After a 2019 loss with the Rockets, Paul said Foster shouldn't be allowed to officiate Rockets games anymore. After a loss in the 2020 bubble with the Thunder, he accused Foster of setting him up to get a delay of game technical foul.
"11 games in a row," Paul said multiple times to reporters after a loss to the Los Angeles Lakers during the 2021 postseason, referencing the infamous streak. Weeks later, Foster was the crew chief when the Suns were eliminated in Game 6 of the NBA Finals.
Of note: Foster is one of the NBA's most experienced refs, having worked well over 1,600 regular-season games and 226 playoff games. But in an anonymous player poll published this week by The Athletic, he got more votes for "Who is the worst ref?" than any other official.
The bottom line: Ladies and gentlemen, it's over.
More NBA playoffs … The Celtics beat the Hawks, 119-106, to take a 2-0 lead. The Cavaliers beat the Knicks, 107-90, to even the series.
Source: Read Full Article