90 Day Fiancé couple Tiffany Franco and Ronald Smith are splitting up again. The on-again-off-again couple have had their fair share of difficulty and fights. Previously they slammed each other on Instagram before getting back together. This time, the same seems to be happening, though it's not clear if the two are over for good or not this time around. Ronald Smith is calling Tiffany Franco emotionally abusive, and Franco isn't having it. 
This isn't the first time the '90 Day Fiancé' couple split up
In February of 2020, 90 Day Fiancé couple Ronald Smith and Tiffany Franco called it quits. Both of the two took to social media to tell their perspective on the matter.
"Unfortunately I have to announce that Ronald and I will be separating. I wanted to be the first to let you know rather than hiding it and putting on a façade for social media," Franco wrote on her Instagram story at the time.
"Thank you guys for following our story we really love each other but some things are just irreparable. We both deserve much better than what we can offer at the moment."
"When a toxic person can no longer manipulate you they will try to manipulate the way others see you. Truer words have never been spoken. I wish nothing but good things for Ronald but I won't waste one more second being taken for granted and being unhappy," she added.
Meanwhile, Ronald Smith wrote a message calling Tiffany Franco controlling.
"She's very controlling bossy didn't really love me. I was a pet to her caged up because if I wanted to go somewhere it ended in [an] argument. If I want to do something I'm not allowed," he wrote in his story.
The two eventually reconciled and got back together.
'90 Day Fiancé' star calls Tiffany Franco an emotional abuser
Now, the 90 Day Fiancé couple is calling it quits once again, and this time, Ronald Smith is calling Tiffany Franco emotionally abusive. He took to his Instagram stories to call out Franco. 90 Day Fiancé blogger John Yates captured the story here. 
"When someone constantly puts you down, leaves you feeling like you can't do anything right, or makes you feel worthless and bad about yourself in general — just know you did nothing wrong and that this isn't love, it's emotional abuse," wrote Smith.
Smith's post follows a recent episode in which he put pressure on Franco's child, Daniel, to try and convince Franco to have them move to South Africa — something that clearly distressed Daniel and turned many fans against Smith. 
Tiffany Franco fires back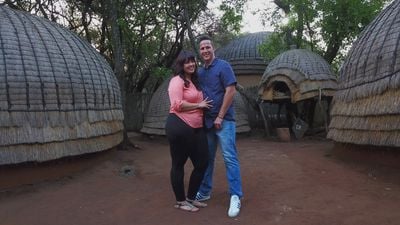 Following Ronald Smith's Instagram story, Tiffany Franco and her 90 Day Fiancé husband are no longer following one another.
"Feel like I can breathe again. No more pretending," wrote Smith on her Instagram story. She also commented on the story's screenshot, taken by John Yates.
"I'm tired of being the idiot honestly Always trying for nothing just to be told I'm playing victim. Maybe he's right and I don't see what a huge asshole I am but I'm a tired of trying asshole at this point [sic]," she commented. 
Franco left another comment on the screenshot Yates took of Smith's story.
"Lol now IM emotionally abusive oh lord okay ronald lmao," she wrote.
Source: Read Full Article