Below Deck crew members have estimated that it costs about $10 million to produce a single season of the show. From production costs and provisions to expenses involved in renting the boat, Below Deck is one of the costlier reality shows on television.
Weekly yacht rentals can average about $200,000 a week or more. Filming for six weeks means producers can easily drop $1 million just to use a vessel. A Below Deck yacht owner recently confirmed the costs to rent his yacht. "[Producers] paid me a million dollars, they fixed the damage that [they caused], my crew got the opportunity to have time off, and it made sense for me," Bobby Genovese who owns BG (Valor featured on Below Deck seasons 4,5, and 7) told Boat International in a story featured on Dockwalk.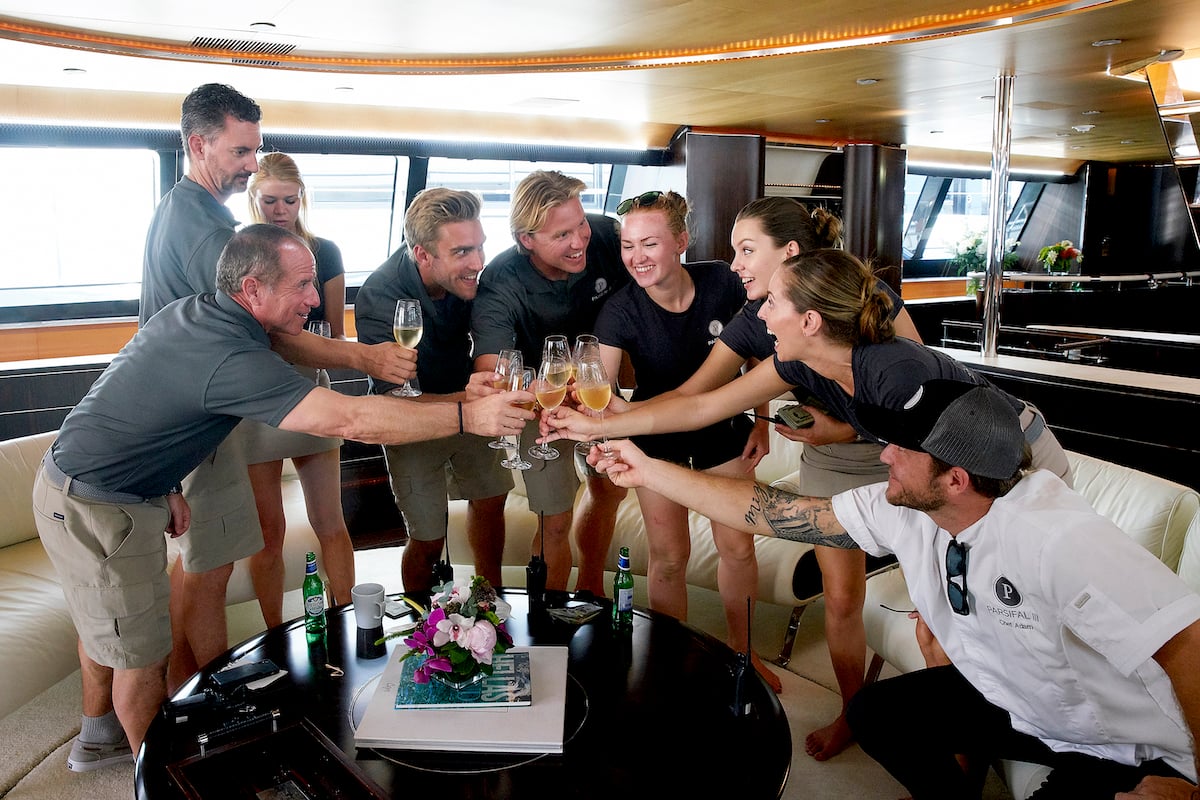 Renting to 'Below Deck' producers is a no-brainer, yacht owner says
Jim Glidewell, who owns Rhino (featured as Ohana on Below Deck Season 2) said renting his yacht to production company 51 Minds was a no-brainer.
"Bravo has this down to a science. It doesn't go rough at all. It's very well done," Glidewell said. "[TV] Captain Lee handled it great, but I had a first mate and an engineer on board for backup [who were not shown on television]." Adding. "I think if people don't take that charter money, they're wrong."
The yacht rental is only the tip of the iceberg when it comes to expenses associated with the show. Colin Macy-O'Toole from Below Deck Mediterranean told Showbiz Cheat Sheet other expenses include production costs that viewers may not consider.
 For instance, "You have to pay for the hotels where all the production crew stays," he explained. "[Production] also rent out a water taxi for six straight weeks when there's someone who needs to go back to land or they change shifts. The water taxi drives out to wherever we are and they switch out the crew."
…about those 'Below Deck' parties on their boats?
Kim Vibe-Petersen, owner of Parsifal III on Below Deck Sailing Yacht didn't want to rent his yacht to producers. He held back for a while but finally relented. He now likely watches the show between his fingers as the crew frolic in the hot tub and spill drinks all over the teak.
"It's not totally like it is in reality," Vibe-Petersen said. "The crew is jumping around in our Jacuzzi and all over the boat. That part of it is maybe a little overdone." Vibe-Peterson did not comment on seeing his sailing yacht collide with the dock. But he had positive remarks about the series. "We were a little nervous that the series would be too extreme, but it turned out to be pretty good," he said.
And while Genovese likes the money he makes from renting his yacht, he's never watched a single episode of the show. In fact, he changed the yacht's name because he didn't want it associated with the series. And if someone brings up the show, he changes the subject.
Source: Read Full Article