Erika Jayne is a longtime cast member on "The Real Housewives of Beverly Hills," but there's a lot more to her than that. The fashionista is best known for her no-holds-barred banter with her co-stars and her over-the-top interview looks. Erika joined the cast for Season 6 in 2015, so she was a Housewife during the "Munchausen" drama and the Puppy Gate scandal, the latter of which resulted in the exit of "RHOBH" veteran Lisa Vanderpump. She also showed off her lavish lifestyle, including her California mansion that features its own chapel.
Six seasons in, Erika is starring in her own storyline that fans never saw coming. The "RHOBH" star is currently facing serious legal drama amid her messy divorce with her estranged ex, attorney Tom Girardi — and it's all playing out as she opens up to her co-stars on reality TV. But fans may be surprised to know that decades before that, the future "Pretty Mess" singer made another TV cameo,  this time as an actor, in a top legal drama series.
Long before she was a Real Housewife, Erika Jayne appeared in the very first episode of 'Law & Order'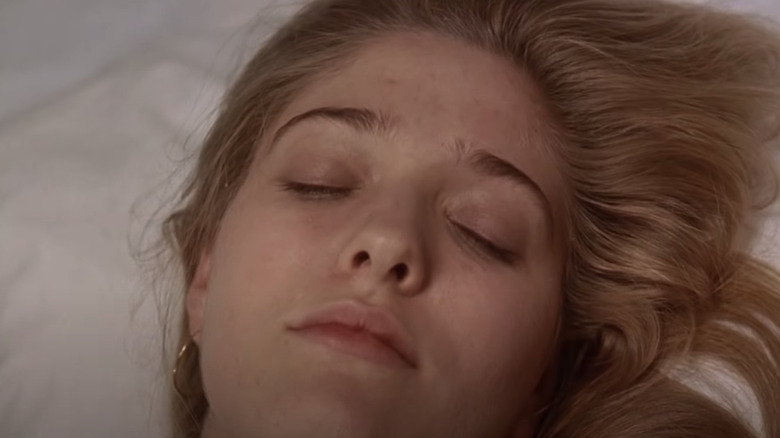 Erika Jayne may be facing real legal drama now, but back in 1990, it was all made for TV. According to IMDb, Erika appeared in the very first episode of what would become one of the longest-running police and legal procedurals in television history, "Law & Order." The series aired for 20 seasons, from 1990 to 2010, on NBC.
The debut "Law & Order" episode was titled "Prescription for Death," and Erika, then about 19 years old, played a character named Suzanne Morton in an uncredited role. Per TV Tropes, Erika's character dies in the emergency room at the beginning of the episode — later found out to be due to a doctor's negligence while he was under the influence. Bravo noted that Erika appeared as "the first person to ever die" on the long-running NBC drama series. Later on in the first season, Erika had a second stint on "Law & Order." This time, it was in the episode "The Violence of Summer," where she played the girlfriend of an accused rapist.
In 2019, Erika acknowledged her "Law & Order" past when a fan on Twitter shared a screenshot from "The Violence of Summer," and wrote "Pretty sure this is @erikajayne in this episode of Law & Order that I've somehow never seen." "Yes," Erika replied with a smiley face emoji.
Erika Jayne has several other acting credits and even starred on Broadway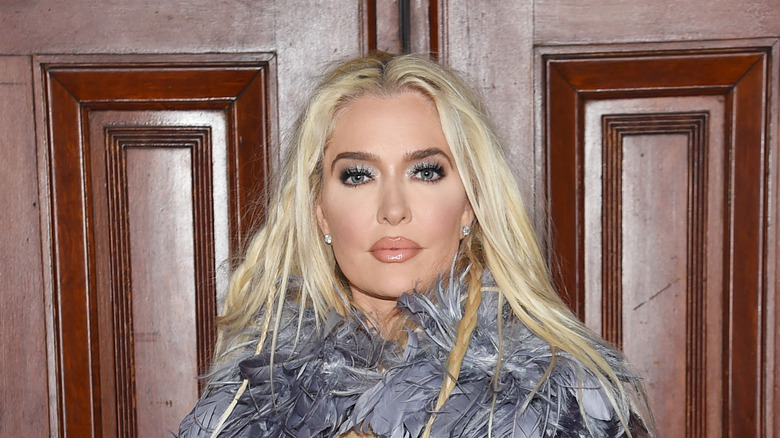 "Real Housewives of Beverly Hills" fans best know Erika Jayne as a singer. She has appeared on stage in scenes filmed for the show with her castmates in the audience. But she actually has several other acting credits listed on her IMDb page, like when she appeared in the TV movie "Alchemy" and the 1996 film "Lowball." 
While she put her acting career on hold to focus on her music in the later 1990s and 2000s, from 2016 to 2018, Erika made several cameos on the CBS soap "The Young & the Restless," playing Farrah Dubose. A few years later, she had the chance to combine her love for acting and music when she landed a starring role as Roxie Hart in the Broadway musical "Chicago: The Musical," per People.
Erika was even accused of "acting" during some of her scenes on "The Real Housewives of Beverly Hills" after she broke down while talking about her divorce. "That whole scene — and I watched it — did she take acting classes?" Tom Girardi's former employee Kim Archie claimed on the "Juicy Scoop" podcast in July. "She needs to get her money back from any classes because nobody was buying any of that. I mean, that was terrible acting. It was horrible."
Source: Read Full Article