Harry Styles is heading back to the big screen.
The "Watermelon Sugar" singer has nabbed a role in the Olivia Wilde–helmed Don't Worry Darling, alongside Florence Pugh and Chris Pine, Deadline reported. The former One Direction member replaces Shia LaBeouf, who had to exit the project due to scheduling conflicts. Wilde herself has a supporting role, according to The Hollywood Reporter.
Details of the plot are still under wraps, but the film "is set in an isolated, utopian community in the 1950s California desert," per Deadline. Screenwriter Katie Silberman, who penned Booksmart (Wilde's directorial debut) and the Netflix rom-com Set It Up, wrote the screenplay, based on an original script by the Van Dyke brothers. Production has already begun, but hit a temporary shutdown due to the coronavirus. Here's everything else we know about the film.
The official trailer has a lot to unpack.
In the first official trailer for Don't Worry Darling, the three-minute clip focuses heavily on Florence Pugh's character, Alice, and her growing skepticism of her husband and his career. The first look clip is equal parts dazzling, dramatic, and sexy — yes, those specific scenes between Styles and Pugh that have been rumored to be in the film are indeed in the trailer. See for yourself, above.
Styles and Pugh get cozy in a first look of the film.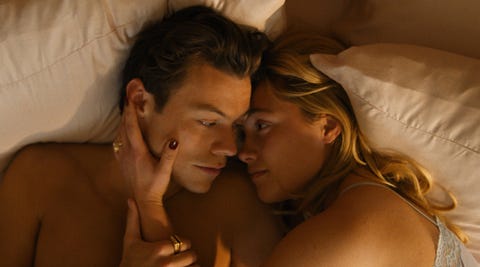 Olivia Wilde shared a first look at the film's trailer at CinemaCon 2022 where she described the concept of the thriller as "a love letter to movies that push the boundaries of imagination", per Variety. In the first official image shared from the upcoming film, Harry Styles and Florence Pugh are in bed, gazing at each other — providing an intimate first glimpse of what's to come for the psychological drama.
The film is coming to theaters in 2022.
Alongside releasing the first teaser trailer for Don't Worry Darling, Wilde also announced the official release date for the anticipated film. Fans will be able to see Harry Styles and Florence Pugh together on the silver screen September 23, 2022.
Chris Pine has only praise for his costar Harry Styles.
While promoting Wonder Woman 1984, Chris Pine told Entertainment Tonight, "The aesthetic of the movie is beautiful. The story is so compelling and so fun and so dark and twisted … Shooting was wonderful. Olivia is very clear about what she wants."
He was also quick to sing Harry Styles's praises. Pine said, "Harry Styles is an absolute delight. He's one of the most professional people I've ever met. Couldn't be kinder, more gracious, I mean, really, I was stunned by this kid. He's off-the-charts cool." He continued, "It's a great cast. You know, life is short, so hopefully you get a chance to make good art with people you really enjoy, and I've been really, really lucky in that regard."
Olivia Wilde did a "victory dance" when Harry Styles joined the film.
According to People, Wilde was overjoyed when she learned that Styles would be joining her movie. In a recent interview, the House star revealed, "I did a little victory dance when we heard that we officially had Harry in the film, because we knew that he has a real appreciation for fashion and style." Wilde continued, "And this movie is incredibly stylistic. It's very heightened and opulent, and I'm really grateful that he is so enthusiastic about that element of the process—some actors just don't care."
Harry Styles and Florence Pugh play a couple in a mysterious community.
According to Collider, Pugh plays an unhappy housewife who questions her sanity when strange things start happening in her community. Styles plays her doting husband who's hiding a "dark secret." Pine plays the revered leader of a mysterious, cult-like worksite. Johnson plays Pugh's neighbor who exhibits "strange, paranoid behavior and tries to warn Pugh that everything in their community is not what it seems."
KiKi Layne (The Old Guard, If Beale Street Could Talk) joins the cast for role previously held by Dakota Johnson, who exited due to scheduling conflicts, according to Deadline. Gemma Chan (Crazy Rich Asians, Captain Marvel) were also added to the cast.
Production paused after someone tested positive for COVID-19.
Don't Worry Darling was on hold after a member of the production tested positive for coronavirus, Deadline reported on November 4. The studio, New Line, confirmed the news and said the diagnosis became an occupational hazard, so filming was shut down immediately. Everyone on set isolated right away.
The person who contracted the virus "is not a member of the principal cast but someone who was in close enough proximity to them that the shutdown was deemed necessary to find out if anyone else on the production has been exposed," Deadline added.
So far, no one else on the film has tested positive. Production will be paused for 14 weeks, which is the recommended length of quarantine, per safety guidelines. The film was already a couple weeks into production when the temporary shutdown was put in place.
This isn't Styles's first movie.
Styles made his onscreen acting debut in Christopher Nolan's war film Dunkirk in 2017. Styles, who starred as a young soldier, recalled being "nervous" for the gig, because it was "completely different" from performing in front of a stadium full of fans. "It was a lot of fun," he told Today of the filmmaking experience. "It was one of the best experiences I think I've had."
Aside from Don't Worry Darling, the singer is also in talks to star in the film adaptation of My Policeman.
This is just one of Wilde's upcoming films.
In addition to Don't Worry Darling, Wilde has another major directing project ahead: helming a Marvel film. Last month, she confirmed she's working with Sony to develop a film in the famous superhero universe with a lead female character. The story is rumored to center around Spider-Woman.
Filming has wrapped.
Actor and comedian Asif Ali shared photos from the set of Don't Worry Darling in mid-February, revealing that shooting had wrapped. In the pictures, Harry Styles and Olivia Wilde can be seen standing next to one another.
https://www.instagram.com/p/CLUtFsEgDwz/?utm_source=ig_embed&utm_campaign=loading
A post shared by 🦜 Asif Ali 🦜 (@alicomedy)
Florence Pugh also shared photos from the set and revealed that filming had wrapped. "It's official, it's a wrap! Yesterday was our final day on the set of Don't Worry Darling and I wanted to give you all some insight on who this movie is—these are some of the people who made this movie happen," she wrote on Instagram. "This is our talented crew."
She continued, "We were very aware what it meant when we all agreed to this job. It was a COVID movie. One that could get shut down at any moment and of course, we did. However, despite these new shooting restrictions and guidelines, I can't tell you how energised these people in my photos have been. How inspired, how hard working no matter what the circumstances. We've had people leave and people join and each time we've been met by beautiful, crazy talented beings."
https://www.instagram.com/p/CLSE6F9F_vv/?utm_source=ig_embed&utm_campaign=loading
A post shared by Florence Pugh (@florencepugh)
Director Olivia Wilde also took the opportunity to celebrate the end of filming by praising Harry Styles, who she just so happens to be dating. "Little known fact: most male actors don't want to play supporting roles in female-led films. The industry has raised them to believe it lessens their power (i.e financial value) to accept these roles, which is one of the reasons it's so hard to get financing for movies focusing on female stories. No joke, it is harrrrrd to find actors who recognize why it might be worth it to allow for a woman to hold the spotlight," Wilde wrote on Instagram.
https://www.instagram.com/p/CLUy-huHjLK/?utm_source=ig_embed&utm_campaign=loading
A post shared by Olivia Wilde (@oliviawilde)
She continued, "Enter: @harrystyles, our 'Jack' . Not only did he relish the opportunity to allow for the brilliant @florencepugh to hold center stage as our 'Alice', but he infused every scene with a nuanced sense of humanity. He didn't have to join our circus, but he jumped on board with humility and grace, and blew us away every day with his talent, warmth, and ability to drive backwards. 👊 #dontworrydarling."
The first official teaser shows Styles and Pugh ferociously making out.
Source: Read Full Article