After a seven-year absence, former Fringe showrunner J.H. Wyman is finally returning to TV. His new series Debris premieres Monday, March 1 on NBC. Like the late, lamented Fringe, Debris is a sci-fi drama that mixes a case-of-the-week investigation with an overarching mythology. But don't tune in expecting Fringe, Part 2. Debris — which stars Riann Steele and Jonathan Tucker — stands on its own.
What is 'Debris' about? 
Debris follows a pair of Mulder and Scully-esque agents investigating the wreckage of a destroyed alien spacecraft that's been scattered around the world. The debris has mysterious — and sometimes dangerous — properties. It bends the laws of physics and can change people's lives in strange ways. 
Finola Jones (Steele) is from the U.K.'s MI-6 agency, and believes there's a chance the debris, which she sees as a "gift," could change the world in a positive way. She also has a more personal connection to the debris through her physicist father. Bryan Beneventi (Tucker) is with the CIA and has a less-sanguine attitude about the debris and its disturbing power. 
'Debris' is leading up to 'something big'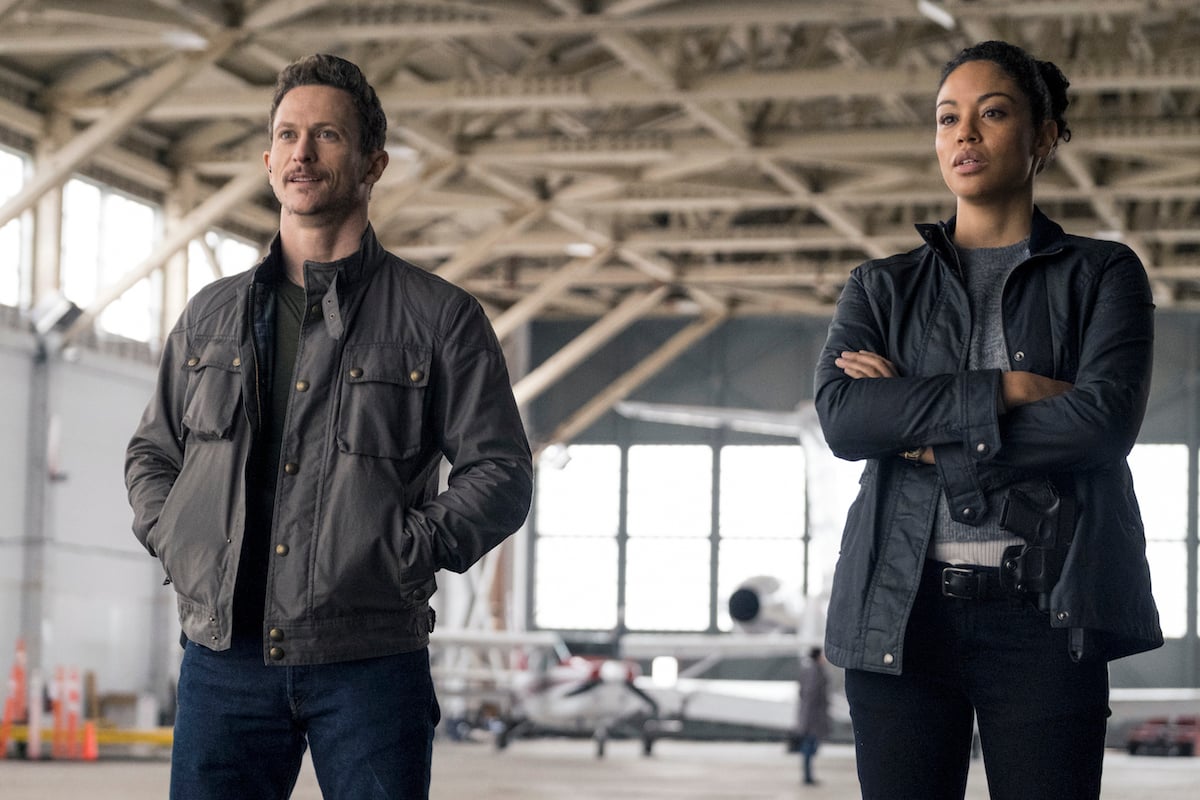 The show's core mystery seems like it might be taken straight from an episode of Fringe. But despite some similarities, Debris is "definitely its own thing,"  Wyman said during a TCA panel for the show on Jan. 26. 
Still, Wyman — who is also a writer and executive producer on the series — hopes the show appeals to Fringe fans. He also shared that he drew on lessons learned from Fringe when creating Debris. That includes the importance of offering something for both serious sci-fi fans and more casual viewers. 
"That's the biggest lesson I learned — to sort of have a week-to-week show that people can come back to, but for the real hardcore fans they understand that they're getting answers and they understand that there's a plan," he said. "There's a feeling like there's this unseen narrator sort of pushing you silently down this road that's going to amount to something, and something big."
At the same time, Debris will dig deep into Steele and Tucker's characters. "You're meeting two characters who are very flawed and very broken when you meet them," Steele said. "We get to see, along the season, them kind of understand each other through the debris."  
'Debris' is 'cable-level sci-fi,' Jonathan Tucker says 
Debris will air on NBC, but those who tune in can expect the kind of rich storytelling that would feel at home on cable, Tucker told reporters. 
"Week to week a new piece of debris is discovered, and it allows us as partners and the audience to discover the capabilities the unique capabilities that this debris has to offer, how it affects people, how it affects the world, and ultimately how it affects ourselves and our own relationship and the people who discover it," he said.
"I think it'll be fun for audiences to see, and speaks to the kind of cable-level sci-fi that we've become accustomed to, that you can have a bit of both," Tucker added. "You can have a case of the week but you can also have meaningful character development, and mythological roll out over the course of at least this first season."
NBC was supportive of Wyman's ambitious vision for the show from the start, he said. "When we went in there, they said, 'We're looking for things that break boundaries. We're looking for things that are artist‑driven and really allow your vision to come through,'" he said.
Debris premieres Monday, March 1 at 10 p.m. ET on NBC. 
Check out Showbiz Cheat Sheet on Facebook!
Source: Read Full Article