To say that Grey's Anatomy producer, Krista Vernoff has had a good 2019 so far would be an understatement. The Emmy-nominated screenwriter, who has been a part of the Grey's family on and off since the beginning has recently inked a deal with ABC to create and develop shows for the network over a multi-year contract. But it's not just her professional life that is thriving right now, 2019 has been pretty good to her personal life too.
Who is Krista Vernoff?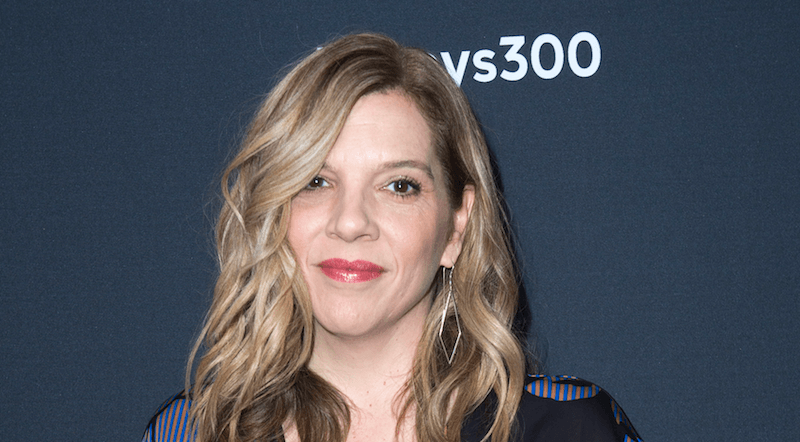 Vernoff is a screenwriter and producer who is best known for her work on the ABC drama, Grey's Anatomy. Vernoff wrote and produced the series for it's first eight years. In the show's fourteenth season, Vernoff returned to the show as its head showrunner when Shonda Rhimes signed a deal with Netflix.
Vernoff made her directorial debut in November, with the episode, "Anybody Have a Map?" Vernoff says that the episode was designed as a "study of a family in crisis." Though she had over 20 years experience in the business, Vernoff was initially afraid to direct, she was afraid to let women down. Vernoff finally directed a short film on her own and after some pushing from Grey's star, Debbie Allen finally agreed to direct the emotional episode.
Vernoff started off the year as a newlywed
Vernoff still had the newlywed glow as she rang in 2019. The screenwriter and producer tied the knot with assistant director Alexandre Schmitt on December 30, 2018, in Princeville, Hawaii. The couple made a grand affair of their wedding. The festivities began on December 28 with a welcome dinner, included a beach wedding, and ended on December 31 with a New Year's Eve dance-off.
The couple will work together on upcoming projects
Schmitt and Vernoff have come together to form Trip the Light Productions. Together they will work to develop and create new content for ABC. The Hollywood Reporter shared the news in January. Vernoff will serve as president of the production company and Schmitt will be the president of production and development.
Vernoff signed with ABC Studios for a multi-year contract. Along with her new role, she will continue to be the showrunner at Grey's Anatomy. Vernoff said in a statement, "Showrunning Grey's Anatomy has been a career high for me, and the support from the studio has been unparalleled. I look forward to continuing in my role at Grey's, while also creating new content across all platforms with Trip the Light, where we aim to illuminate and elevate the human condition through storytelling with humor, heart, and a healthy dose of rabble rousing."
'Hamilton' tickets the cherry on top
As if the Grey's showrunner didn't have enough to celebrate, her year just kept getting better. In an effort to raise money for Hurricane Maria relief, Hamilton creator, Lin-Manuel Miranda organized a giveaway for the final performance of the show's stay in San Juan, Puerto Rico.
50 VIP packages were awarded and on January 18, Vernoff found out that she was one of the lucky winners. Vernoff shared tears of joy as she shared the news on Twitter. Vernoff told The Hollywood Reporter that winning the contest was "pure joy." She said, "We have been supporting the Hispanic Federation through the Prizeo contests for years. We give money — my 11-year-old daughter and I — and I explain to her that we give from our hearts because people need our help, and if we were to ever win the contest, that would be icing on the cake. And we just got the icing! It's crazy."
2019 has started out with a bang for Krista Vernoff. We can only imagine what the rest of the year has in store.
Source: Read Full Article