For millennials who grew up glued to the Disney channel, Hilary Duff has been a presence for over 20 years, with career-defining roles as the free-spirited, camouflage-wearing titular character in Cadet Kelly, and, of course, self-conscious teenager Lizzie McGuire. (If the line, "I. Want. A bra. Okay? A BRA!" plays in your head every time you sort through your underwear drawer, same.) But unlike a lot of the people who were fixtures of our TV sets circa 2003, she's still consistently turning out solid performances, most recently as the bubbly and ambitious editor-turned-publisher Kelsey Peters on Younger.
After wrapping Younger just seven months ago, Duff is set to take on a new role in the highly-anticipated How I Met Your Mother sequel How I Met Your Father, portraying hopeless romantic/protagonist Sophie.
Cosmopolitan caught up with Hilary over Zoom from her house in Los Angeles to talk about all of the above. And yes, we did ask her about the possibility of new music, the lost Lizzie McGuire reboot, and the status of that Younger spin-off.
Cosmo: What drew you to the role of Sophie initially?
Hilary: Sophie finds the positive. She's very much not a whole person yet. That's why she hasn't found her person because she's got some figuring out to do. But she just keeps trying, and I love that. It's hard to keep trying, especially in the world of love. She very much doesn't have her life sorted out, but she has self-worth, and she wouldn't settle for something bad.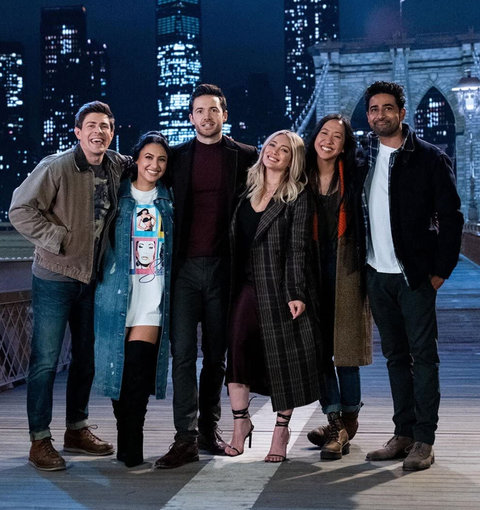 Before being cast as Sophie did you watch How I Met Your Mother?
I didn't watch it like the diehard fans that can quote it, but I'm really familiar with the characters. I made a conscious choice to not rewatch it, to not have the pressure of trying to emulate anything because it's very much its own show. I think the writers of our show did such a good job of putting in little gems that are going to excite the fans that love the original but send us on our own journey.
Sophie's comfort song is Train's "Drops of Jupiter," and you sing it on the show. Did you choose that song, or do you have any plans to release a full-length version?
I did not, that was in the first draft of the script. I haven't recorded a full version. We haven't even talked about it. I wouldn't not do it, but it didn't come up. I love "Drops of Jupiter." I feel like it's everyone's comfort song.
Definitely. Did Lizzie McGuire inspire the outfit in the second episode?
No, but did you find that very Lizzie-esque? Now I see that. Maybe it's the space-buns. Not trying to take all the credit for Lizzie McGuire, but I am very much Lizzie McGuire, and she is very much me. My idea for having those space buns was like, she doesn't really look hot. I don't know who goes out to a club in space buns, but she's hung up on Ian, who's not going to be there. Her outfit looks cute, but it's a girl-serving outfit, not "I'm trying to get a guy tonight."
After Younger finished its run, there was talk about you doing a spin-off for Kelsey. Is that something that's still in the works?
It's on hold for now. I think I'd be more excited to do a movie for Younger. I think Darren Star, the creator of Younger, is really busy with Emily in Paris, but I know we hold a special place.
You released your last album Breathe In. Breathe Out seven years ago. I still love the "Sparks" music video.
I can't get away from it because someone exposed my three-year-old to it. We get in the car, and I have to listen to my own music because my daughter's screaming, "I want 'parks, I want 'parks." I'm rolling up to her preschool, and every time I turn it way down she's like, "Why do you turn it off? Why you turn it off?" Like, girl. I'm not rolling up to your preschool blasting my own shit. So embarrassing.
That's hilarious. Do you have any plans to make an album in the future?
I'm not working on music right now but I have been talking to my husband about getting into the studio and starting to stretch the muscles a little bit. I really want to, but I need time to figure out what I'm saying, what kind of record I'm making, and who it's for. But, yes, I want to. You know how annoying it is to go to a concert, and they don't play the hits? I want to serve people what they want, but I also want it to be authentic to who I am now, and that's very complicated.
There was obviously supposed to be a Lizzie McGuire revival that got the whole internet excited.
The one that we were actively filming? Yeah, that's the one.
Have you thought about figuring out a way to leak the episodes? Or, is there any chance you might be able to revive it again?
I like the way you think. I would be lying if I didn't say I didn't have those thoughts a few times. But I wouldn't, because in my 34 years I've realized that everything does happen for a reason. There's a time and a place for everything. It just wasn't her moment. I'm constantly asked about it still. All it does is breathe life into the fact that people still want it, and that's really sweet. It's not dead, and it's not alive.
Are you able to reveal anything about what your character was supposed to be doing?
My character was moving back home with her parents because she caught her soon-to-be fiancé cheating on her, and she was falling flat on her face at the moment and being like, "I need to pivot because everything that I thought was wasn't, and I'm turning 30. What the fuck?"
There's been a lot of talk over the years about your movie Cadet Kelly being queer-coded. Have you considered that?
I have to watch the movie again. No one has brought that to my attention except for Tien Tran on our show who plays Ellen. She was like, "Oh my God. It is a moment in the queer community. All that close-talking with Jennifer." I didn't know that. But if it helped anybody, I hope so.
If you could do it all over, would you want to be a child star?
Yeah. I wouldn't do it all exactly the same, but I can't look at my life and be like, "I wish this was different," because I don't know if it would get me to where I am right now. I wish I had a little bit of a better education. I wish I had a little bit of a college experience. But what would that look like? The thing that I crave out of it wouldn't look the way I pictured it because of who I am and how I came up.
It's weird to say "who I am to others," but it would be hard to erase that element to have a normal experience. I feel smart, but there's certain things that people talk about where it literally isn't in my brain because I didn't experience it. I learned other things that people don't have a clue about. But I don't sit and harp on that.
What about Sophie as a character? Is she someone you were able to identify with in some ways, even though she's lived such a different life from your own?
Like Sophie, I just keep trying, and that's all you can do. I love really hard. Sophie loves really hard, but I'm not sure she loves herself yet. I think that's what part of the journey is going to be—is her figuring herself out. She wholeheartedly believes in love, and I didn't think that I believed in that until Matt Koma, my husband, and I got serious. I feel settled and peaceful, and I feel like the fact that Sophie's not quite there, but she believes in that with her whole heart is this nice connection between the two of us.
Source: Read Full Article