Actress Catherine Zeta-Jones keeps relatively quiet about her private life with actor husband Michael Douglas. The couple has been together a long time and appears to be stronger than ever. Here's what you need to know about their marriage, their children, and their net worth.
How did Catherine Zeta-Jones and Michael Douglas meet?

Michael Douglas, son of legendary actor Kirk Douglas, was married previously. He met and began dating Zeta-Jones in 1998, and they married in 2000. The couple met at the Deauville Film Festival in France.
The couple went through a rough patch several years back. Douglas was diagnosed with tongue cancer and Zeta-Jones spent a period of time in a hospital for her mental health, revealing her bipolar II diagnosis. They lived separately in 2013 but were back together by the next year.
How many kids do they have?

From his first marriage, Douglas has a son, Cameron. Zeta-Jones and Douglas have two children together. Son Dylan Michael was born in 2000, and daughter Carys Zeta followed in 2003. Now that they're teenagers, both have a steady social media presence, so it's easy to see what they've been up to.
Dylan began attending Brown University in Rhode Island in Fall 2018. Carys has an interest in fashion and has been spotted with her parents at Michael Kors and Dolce & Gabbana shows during Fall 2019 fashion week.
Zeta-Jones took her kids out to a major event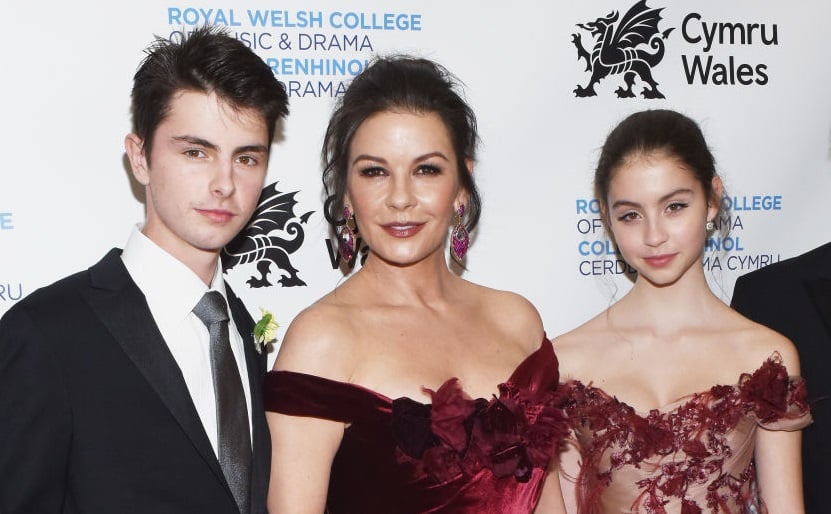 On March 1, 2019, Zeta-Jones took Carys and Dylan with her to the Royal Welsh College of Music & Drama 2019 Gala in New York City. The Welsh actress was there to receive an honorary award.
It's hard not to marvel at how grown up her kids are. Dylan wore a nice black suit, while Carys matched her mom's burgundy gown with the floral accents of her own beautiful dress.
Will Carys and Dylan join the family business?

When both your parents are actors, it's hard to imagine that the question wouldn't arise for kids like Carys and Dylan, especially considering their grandfather's legacy. In an interview with Town & Country, Carys talked about becoming an actor, and what it would mean to do so under her very unique circumstances.
"When I was younger I didn't like the idea of having this name attached to me, this kind of 'Douglas dynasty' stuff," she said. "I think what bothers me the most is that people think I don't work hard for it, that I don't need to work hard for it. That anything I do gets handed to me. When, honestly, I feel like it's the opposite. I feel I need to constantly prove myself to people—that I am not just my parents' daughter."
Their net worth

Zeta-Jones is reportedly worth $45 million, according to Celebrity Net Worth. Meanwhile, with his family wealth and a significantly longer career, Douglas is estimated to have a net worth of $300 million.
However, their extraordinary wealth doesn't affect their parenting. In the Town & Country interview, while Zeta-Jones said that she is "sick of being humble" when it comes to her status, she expressed how important it was to her to make sure her children grew up with manners.
"There's nothing worse than a privileged kid without manners. I drilled it into them like boot camp," said Zeta-Jones. "[Carys] knows she cannot roll her eyes at me, or huff and puff around me. I never did it to my mother, and she's not doing it to me."
Check out the Cheat Sheet on Facebook!
Source: Read Full Article