Unlike her cousin Prince Harry's wife Meghan Markle, Princess Eugenie didn't grow up in Hollywood and never pursued a career in front of the cameras. Instead, and as a member of the British Royal Family, she grew up attending royal engagements and making appearances with her family members, including her sister, Princess Beatrice, and her parents, Prince Andrew and Sarah Ferguson. But because of her royal status, she's become a household name and has often been targeted by the ruthless tabloid press and the gossip blogs, just like so many other celebrities on both sides of the pond, says Express. Some would say that's the toll one takes when in the spotlight.
It wasn't until Eugenie married her husband Jack Brooksbank, however, that she managed to solidify a connection to Hollywood, just like her Harry did when he wed Meghan. That's because Jack is someone who reports to one of the biggest A-listers in the entertainment industry: George Clooney. While it might seem strange to some that Jack has George's phone number in his contact list, there's a good reason for it. Here's what you need to know.
Jack Brooksbank calls George Clooney one of his "Malibu bosses"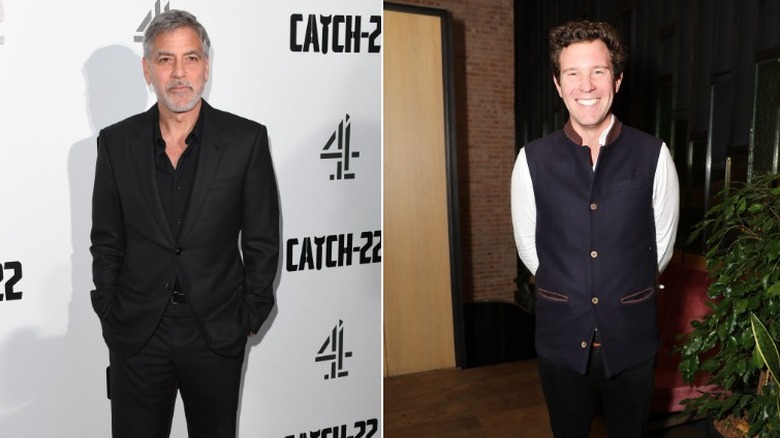 Princess Eugenie met and fell in love with Jack Brooksbank at a ski resort in Verbier, Switzerland in 2010. He worked at celebrity hotspot Mahiki for a few years and dreamed of a career in hospitality. In 2013, he said, "I want to create a chain of pubs. It has been my dream since I was 18," he said in 2013, per the Daily Mail. "I have fond memories of Sunday roasts in pubs with log fires, and it's something I want to recreate. I love pubs and often go to my local for a pint."
According to Hello!, Jack took his skills to the next level when he was hired as a Brand Ambassador of Casamigos Tequila, which was founded by none other than George Clooney and his business partner, Rande Gerber (who happens to be Cindy Crawford's husband, too). His job is to promote the brand and as a former bartender, Jack was often seen hobnobbing with London's social elite at bars and nightclubs and during the summer of 2021, he was spotted at a Casamigos-sponsored charity bash onboard a yacht in Capri, reported the Daily Mail.
It wasn't Jack's royal connection that helped him land the job with the Hollywood actor, though — He told the Evening Standard that he got the job in the most traditional sense. "I conventionally applied, then there were endless Skype calls with the Malibu bosses," he said. So, what does Eugenie think of those "Malibu bosses?"
For Jack Brooksbank, it's all in a day's work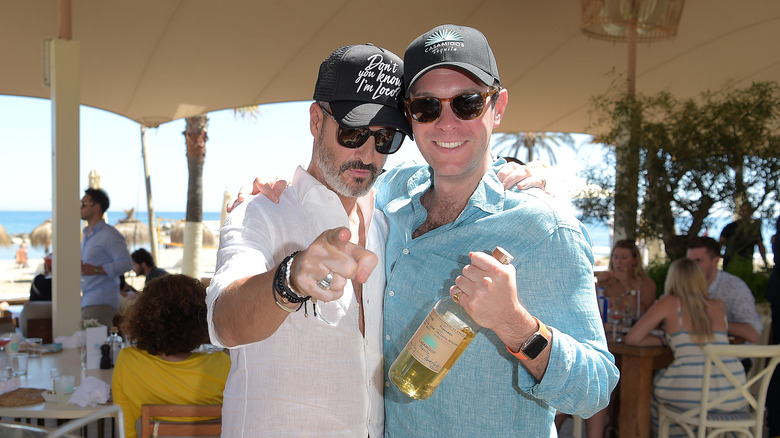 While it was reported that George Clooney and his wife Amal Clooney did not attend Princess Eugenie and Jack Brooksbank's wedding in 2018 because of work commitments (but did show up for Prince Harry and Meghan Markle's nuptials that same year), the actor did make sure that there was enough Casamigos Tequila for everyone at the reception, per the Business Insider. Regardless of who shows up at her life events, the celebrity world and all that comes with it doesn't seem to phase Eugenie at all. 
Despite her royal status and her husband's connection to an A-list star, Eugenie told Vogue in 2018 that she and her sister Beatrice have their feet firmly on the ground. In other words, they don't get star-struck by Hollywood flashing lights and prefer to focus on their own interests. "Growing up in the media, it's… interesting," she said. "We've had some serious grounding from our parents. They've had their fair share of terrible media interest and it makes us stronger. We believe very strongly in who we are, and the support system of our friends and our family is pretty incredible. There's no point being angry with anyone … we just need to shine light and love in the world. " Now that's something everyone can drink to.
Source: Read Full Article