Viewers of Jersey Shore: Family Vacation were stunned at how negatively Nicole "Snooki" Polizzi reacted to Angelina Pivarnick during the latest episode of the MTV series. After over one year where the reality stars did not communicate, Polizzi and Pivarnick met, hashed out their differences with one another, and promised to move forward in their friendship.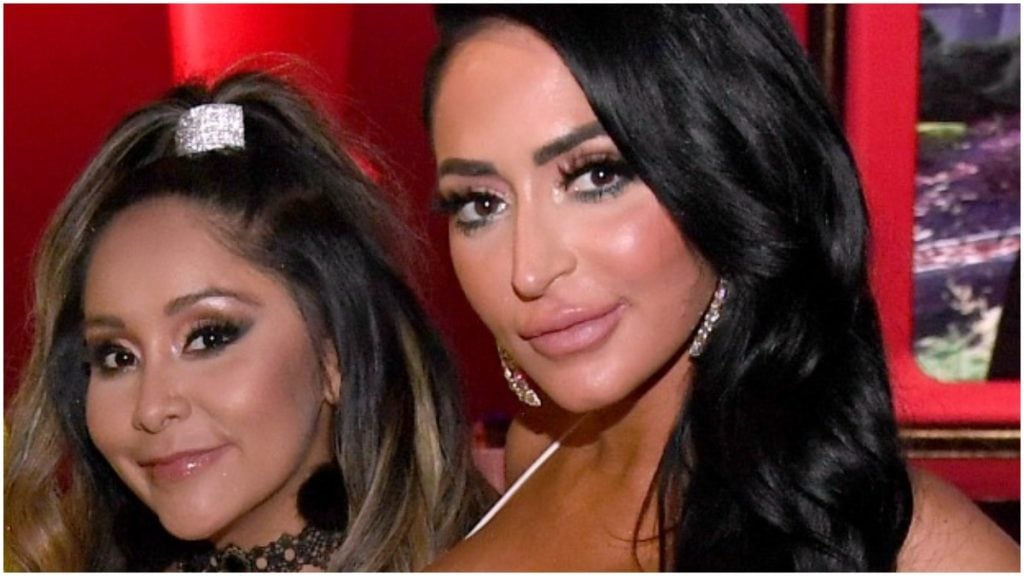 Nicole Polizzi and Angelina Pivarnick's unsteady friendship
Nicole "Snooki" Polizzi and Angelina Pivarnick have had an unsteady friendship since Season 1 of the original Jersey Shore series. The women have experienced many ups and downs in their relationship as they are both headstrong and set in their ways.
Polizzi initially had issues with the way she believed Pivarnick acted disrespectfully toward their Shore Store boss, Danny Merk, and the other castmates in their shared home. The women's issues came to a head in Season 2 of the original series when they physically fought as the other roommates attempted to break them up. Polizzi wanted an apology for Pivarnick's actions, and she refused to give one.
The women later had a dispute during Season 2 of Jersey Shore: Family Vacation, which caused Polizzi to leave filming for 24 hours. They would reconcile, but that was not the end of their difficulties with one another. During filming of Pivarnick's wedding to Chris Larangeira in November 2019, after Polizzi, Jenni Farley, and Deena Cortese gave a speech that the bride found disrespectful, the women's issues exploded. This caused Polizzi to state she wanted to leave the show, and she would for over one year.
Nicole Polizzi and Angelina Pivarnick made amends
Before Polizzi's return for the second half of Season 4, she and Pivarnick made amends to their relationship. After sharing a meal and several drinks, the women chose to put the past behind them and move forward.
With surprise and shock, Pivarnick reacted to Polizzi's drunken outburst against her during the show's latest episode, where she made disparaging remarks against both her castmate and Larangeira.
Polizzi taunted Pivarnick with some unsettling comments about her marriage, which almost sent her over the edge,
Angelina Pivarnick appeared to have finally settled in with her castmates
For years Pivarnick appeared to not be on good terms with fellow castmates Mike "The Situation" Sorrentino, Paul "Pauly D" DelVecchio, Vinny Guadagnino, and Ronnie Ortiz-Magro. Currently, she seemed to have settled into a comfortable place.
Pivarnick, although still opinionated, was seen as someone who brought a real element to the series and honesty many of the other castmates would not attempt to reveal about certain situations.
What set Nicole Polizzi off against Angelina Pivarnick?
Polizzi came into her 24-hour vacation with her roommates, who had already been at a resort in the Poconos, Pennsylvania, ahead of her arrival, ready to party. She began drinking the moment she arrived for best pal Farley's birthday shenanigans. This binge drinking continued until and through the festivities, including a great meal, boardwalk games, and lots of laughs.
Polizzi began to turn against Pivarnick when she told the OG star of the series that she "just got here" and should not have opinions about personal matters such as her marriage to Larangeira.
This set a drunk Polizzi off even more as she continued to make comments about Pivarnick, even going so far as to throw crabcakes at her from across the table.
Fans reacted to Nicole Polizzi's actions towards Angelina Pivarnick
Viewers of the series appeared to take Pivarnick's side in the confrontation.
"Snooki gets sloppy. I got 2nd hand embarrassment watching this. Wife n mother of 3 on national tv bullying Angelina and acting like she's in HS. Her husband was probably cringing harder than we all were," wrote one Instagram user.
"Why did Snooki come in with all that negativity when everyone was getting along?" questioned a second follower.
"Snooki, come on, your a sweet girl and mom. But this is out of line. You NEED to grow up!!!" noted a third viewer.
Source: Read Full Article