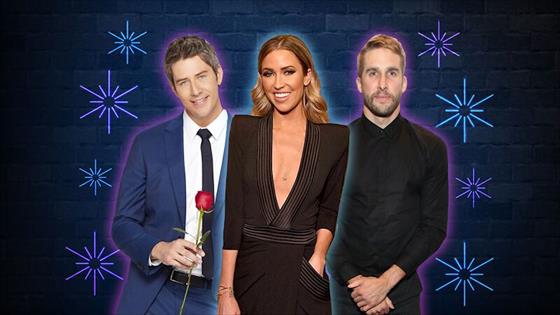 Ain't no rest for the wicked…or fans of The Bachelor.
In 2018, there was no such thing as an off-season for the ABC reality hit franchise, with four seasons airing during the calendar year: Arie Luyendyk Jr. 's season of The Bachelor, The Bachelor: Winter Games debut outing, Becca Kufrin's season of The Bachelorette, and Bachelor in Paradise. There was even a point during the winter where we had six hours of new Bachelor content to watch per week. The devil works hard, but Chris Harrison works harder.
But it doesn't exactly feel like a chore to watch when the show is still delivering so many firsts all these years later. Just think about Arie and Becca's blindside of a break-up. Or the fact that we now have contestants from the international versions of the show joining the mix, thanks to Winter Games. Bachelor Nation has officially become Bachelor World.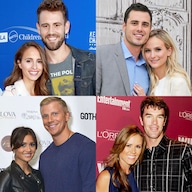 Photos
Bachelor & Bachelorette Status Check: Find Out Who's Still Together!
Plus, the drama is no longer limited to on-screen shenanigans, as social media has become an integral and undeniable aspect of the franchise After their time on the shows, contestants often turn to Instagram and Twitter to keep providing updates and insights into the weird, sometimes incestuous world that is The Bachelor family.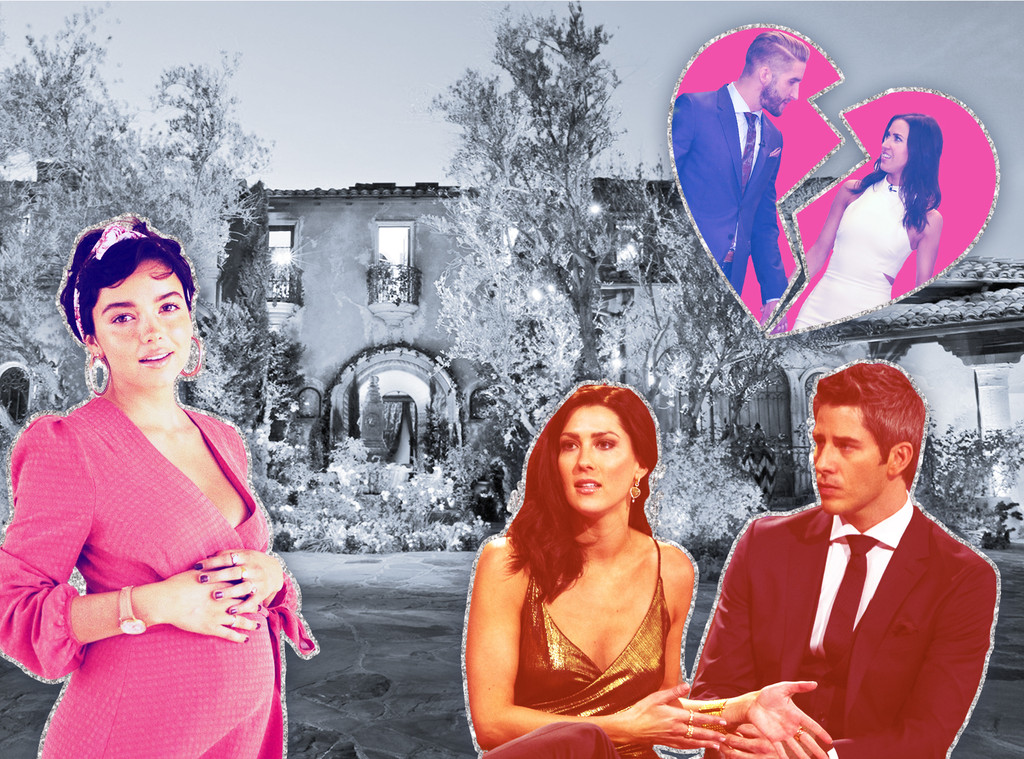 ABC; Instagram/E! Illustration
And this year saw more than one social media controversy, especially after a frontrunner's double taps were scrutinized. Oh, and one cheating scandal was exposed thanks to Instagram, while another was exposed via (alleged) screen shots.
The calendar year also saw the end of some of the franchise's couples, including one of its most beloved pairs in recent history. But we also got a fairy tale ending for one of the most infamous examples of friend-zoning ever. See, The Bachelor taketh, but it also giveth.
To help you properly remember all of the drama that went down in Bachelor Nation in 2018, we've compiled all of its biggest scandals (on-screen and off)…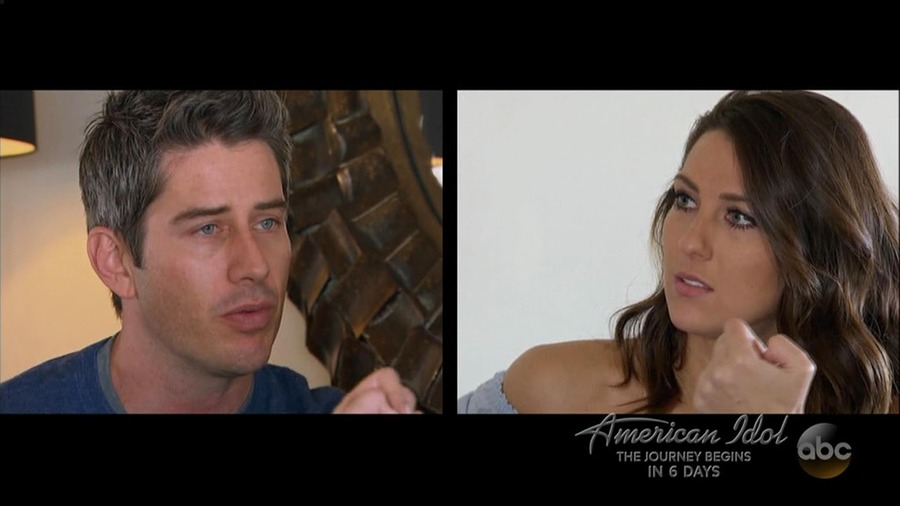 ABC
The Infamous Switch

After a somewhat lackluster season, including the franchise's lowest rated premiere ever, Arie Luyendyk Jr. definitely brought the drama with his finale.
Originally, he decided to propose to Becca Kufrin, sending a devastated Lauren Burnham home…but soon after filming ended, Arie realized he made a mistake and wanted to be with Lauren. So how did he decide to rectify this sticky situation? He chose to break up with an unsuspecting Becca in front of cameras during a planned Happy Couple meet-up. And the show decided to air the footage unedited in split-screen, giving us every angle of the awkward and painful conversation.
Viewers were not pleased, criticizing Arie for the move, including then proposing to Lauren during the live After the Rose finale, and the producers for blindsiding Becca in order to perfectly set her up as the next Bachelorette (announced on the same night as the proposal, of course). Arie later claimed he only filmed the break-up so Becca because "I wanted her that opportunity to be the potential Bachelorette."
Sure, OK! Still, regardless of how people felt about the switcheroo, they watched it, as the finale was the highest rated episode of the season.
Randy Holmes/ABC
MIA on a Weed Farm?

One of Arie's breakout contestants Bekah Martinez made headlines during the season when it was revealed she had ended up on a missing person's list in November 2017, with the Humboldt County Sheriff's Office saying the then 22-year-old nanny hadn't contact her her mother for a week after going to work on a marijuana farm. Of course, it was just a mix-up, but it made national news, with Bekah finally setting the record straight on Jimmy Kimmel Live.
"First of all, a lot of people thought I lied to my mother saying that I was on a farm when I was actually on The Bachelor," she said. "But no, I had already been eliminated from the show and I just decided to go up to the mountains with some friends for a couple of weeks, and I was there for six or seven days without phone service, which I thought I was going to have phone service and I told my mother that I would."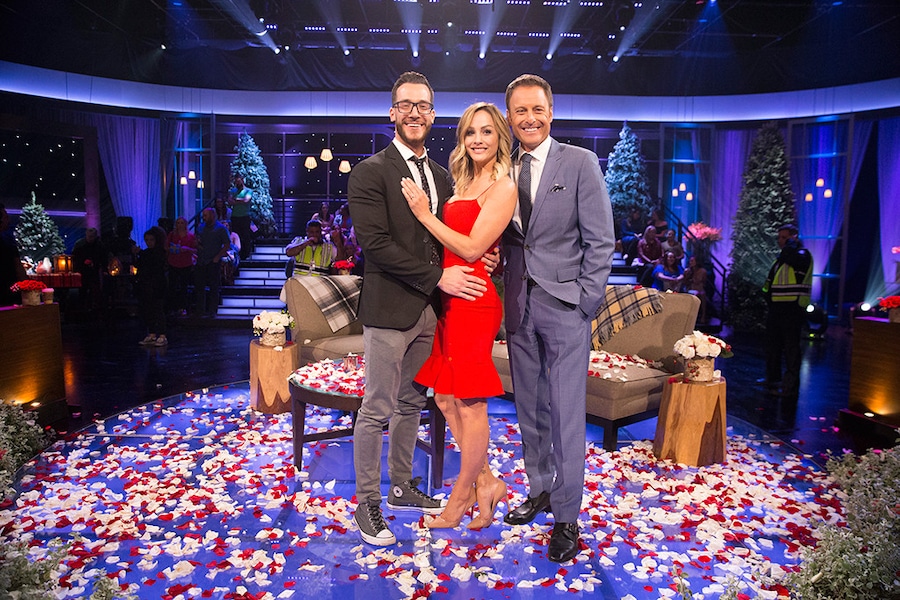 Paul Hebert/ABC
Au Revoir, Engagement!

In March, The Bachelor Winter Games' biggest success story and biggest surprise Clare Crawley and Benoit Beauséjour-Savard ended their engagement after less than two months.
Winter Games was Clare's fourth appearance in the franchise, and ended with a shock, as she and Benoit, a contestant from the Canadian version of The Bachelorette, actually started dating after they both went home from the spinoff. Their international romance culminated with Benoit getting down on one knee during the reunion special.
"We think the world of each other, and we were both hoping we could make this work. I'm sorry that this may not be what you want to hear, but it's our truth," they said in a joint statement. "Just know there are no negative feelings here, we are simply two people who believed in love, and were open enough to give it a chance. We still care for each other very deeply (That is why no hate or disrespectful comments will be tolerated about the other.)"
Article continues below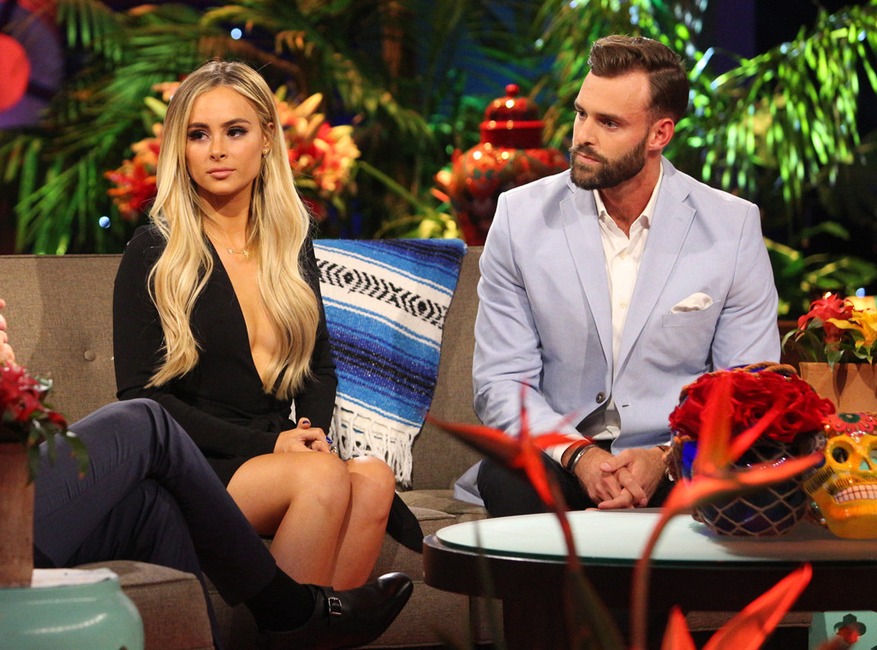 Paul Hebert via Getty Images
Don't Text Your Ex

Even though they split over the summer, Bachelor in Paradise exes/social media influencers Robby Hayes and Amanda Stanton's private feud over payment of Disneyland annual passes went public after he decided to post private emails and texts from Amanda on his social media after she made reference to it on Twitter (but did not name him). Robby drew criticism for the move, especially when his final message was revealed to be: "BTW…nice new tits."
After the exchange made headlines, Amanda told E! News, "I was surprised by the email when I read it this morning! We haven't spoke since the reunion show. I tweeted it before I heard his response email because I did think it was a little funny he was contacting me about his Disneyland pass…but I never said who it was about or even hinted at it being about him or had any intention to."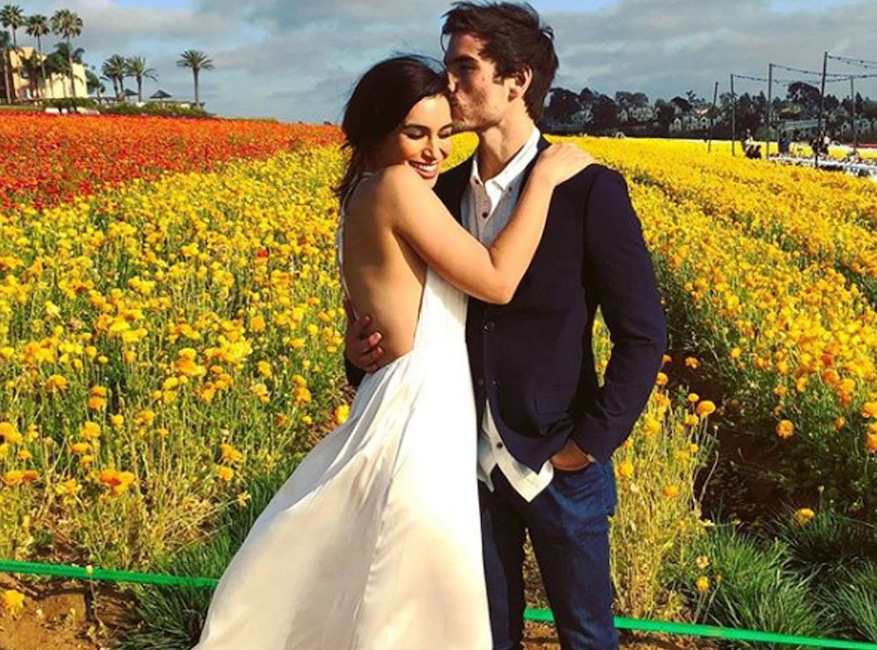 Instagram
A Real-Life Rom Com Ending

Shocking fans that have followed their friendship since she cried over him on Bachelor in Paradise for two seasons and through Jade Roper and Tanner Tolbert's televised wedding special, Ashley I. and Jared reveal they are dating in a 44-minute episode of her webseries, The Story of Us.
"Bachelor Nation has seen two chapters of our story. Not the entire thing. We filmed The Story of Us so that we didn't have to condense our story when asked about how we went from being friends to being in love," Ashley and Jared told E! News exclusively. "I'm too emotional to be brief, and apparently so is Jared."
Following her split from her The Bachelor Winter Games Canadian beau Kevin Wendt, the couple waited a few months before sharing the happy news publicly.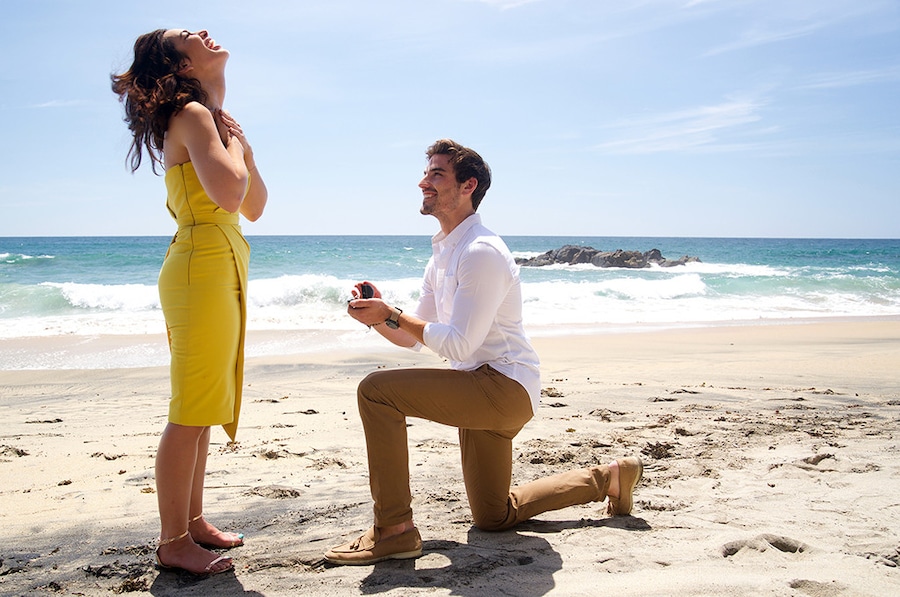 ABC/Paul Hebert
Surprise Paradise Proposal

Just one month after going public with their romance, Ashley I. and Jared get engaged during filming of Bachelor in Paradise (in front of her Winter Games beau Kevin.)
"[Ashley and Jared] already know they're meant to be," an insider told us. "Jared [is] the sweetest and the greatest. He's really her counterpart. They're like their own little rom-com!"
The couple has already started planning their big day, which will take place in 2019 in his home state of Rhode Island, with Tanner officiating the (currently untelevised) ceremony.
Article continues below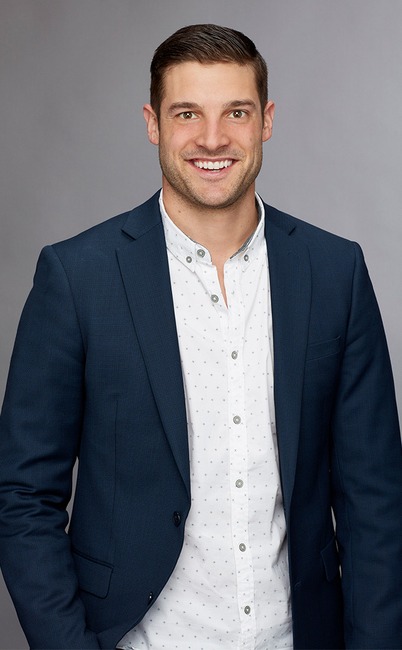 ABC
Be Careful What You Double Tap

Hours before receiving the first impression rose from Becca in The Bachelorette's season 14 premiere, frontrunner (and her eventual winner/now fiancée) Garrett Yrigoyen received major backlash over his Instagram activity.
Screenshots shared by Bachelor contestant Ashely Spivey show that he liked several offensive posts, including posts that mock Parkland shooting survivor David Hogg and the trans community.
Days later, Garrett issued an apology on a newly created account, saying, "To those who I have hurt and offended: This is all new to me. I went on The Bachelorette for the adventure and possibility of falling in love, not fame. I did not know what to expect once the show aired."
He continued, "I am sorry to those who I offended, and I also take full responsibility for my "likes" on Instagram that were hurtful and offensive."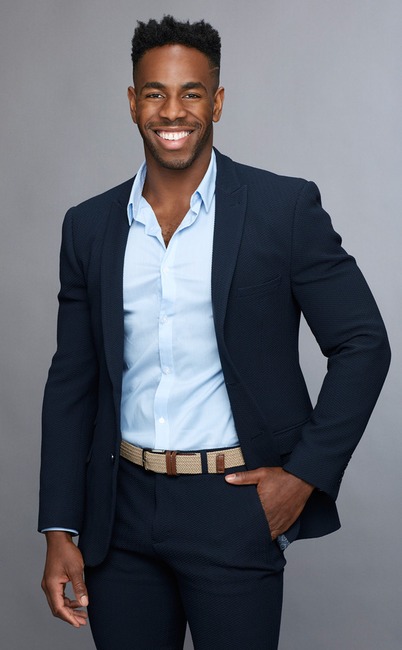 ABC/Craig Sjodin
Lincoln Adim's History Exposed

Just one week before the show premiered in May, Lincoln was was found guilty of groping and assaulting a woman on a harbor cruise ship in 2016, the Suffolk County District Attorney's office in Massachusetts confirmed to E! News.
The show was criticized for not finding this information during their background check, with Lincoln even being selected as one of the five contestants to meet Becca early on Arie's After the Final Rose special.
"We employ a well-respected and highly experienced third party who has done thousands of background checks consistent with industry standards to do a nationwide background check in this case," Warner Bros. said in a statement. " The report we received did not reference any incident or charge relating to the recent conviction – or any other charges relating to sexual misconduct. We are currently investigating why the report did not contain this information, which we will share when we have it."
Lincoln was not invited to attend the Men Tell All special taping and his absence was not addressed by Chris Harrison.
"We wanted ["Men Tell All"] to remain about Becca, about the guys, and about this journey. And going there…this wasn't the time or place," Harrison explained to Glamour. "There really isn't much to explain about Lincoln other than he lied, he deceived, he committed a crime, he's not here, and he's removed from the show and the franchise."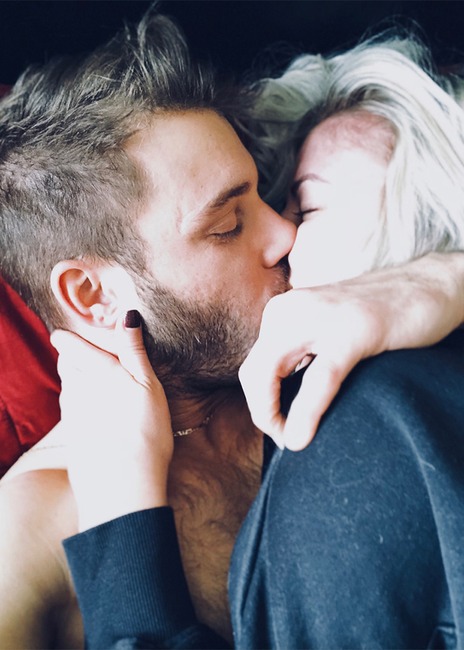 Danielle Maltby/Instagram
Reality TV Love Triangle Implodes

What happens when The Bachelor, MTV's The Challenge and CBS' Big Brother comes together? Drama, duh!
After unsuccessfully finding love on The Bachelor or Bachelor in Paradise, Danielle Maltby seemed to find her Prince Charming in Paul Calafiore, a polarizing Big Brother figure, and they seemed pretty happy. Until he decided to join The Challenge, where he immediately connected with star Cara Maria Sorbello. Cheating rumors surfaced in June and they were pretty convincing, with Danielle being "completely blindsided." (And when the show started airing…well, yeah.)
Paulie issued a statement, seemingly confessing, saying, "I am not proud of my actions these past weeks. I know they speak louder than these words. I have destroyed the one person that has believed in and brought out the best in me."
Now, Paulie and Cara Maria are casually dating, and often post photos of each other on social media. "It's not just like, we're not seeing other people – we haven't had that talk," Cara Maria told E! News over the summer. "We just kind of enjoy what we have when we have it."
Article continues below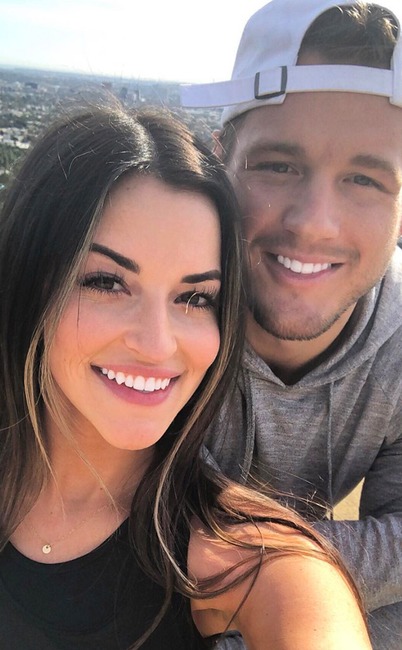 Instagram
When One Door Finally Closes…

Ahead of Bachelor in Paradise's debut, all everyone seems to be talking about is the complicated dynamic between Colton Underwood and Tia Booth, given their much-discussed and analyzed pre-show dating history. (They were talking before he went on her BFF Becca's season, only for Tia to return when he made the Final Four to let Becca know it made her "sick" to think of them together. Drama!)
Even Chris Harrison had no idea what to expect. "They haven't talked, there's so much tension," he told E! News when we went down to Mexico ahead of the first day of filming. "I feel like that's going to melt down or it's so hot they're just going to make babies."
So what ended up happening? A lot of tears as they gave a proper romance a start, but Colton just couldn't do it as Tia wasn't the one…and perfectly setting himself up as the Bachelor in the process.
But there's no hard feelings, as Tia now has a new boyfriend, Cory Cooper, and said she wishes Colton "the best."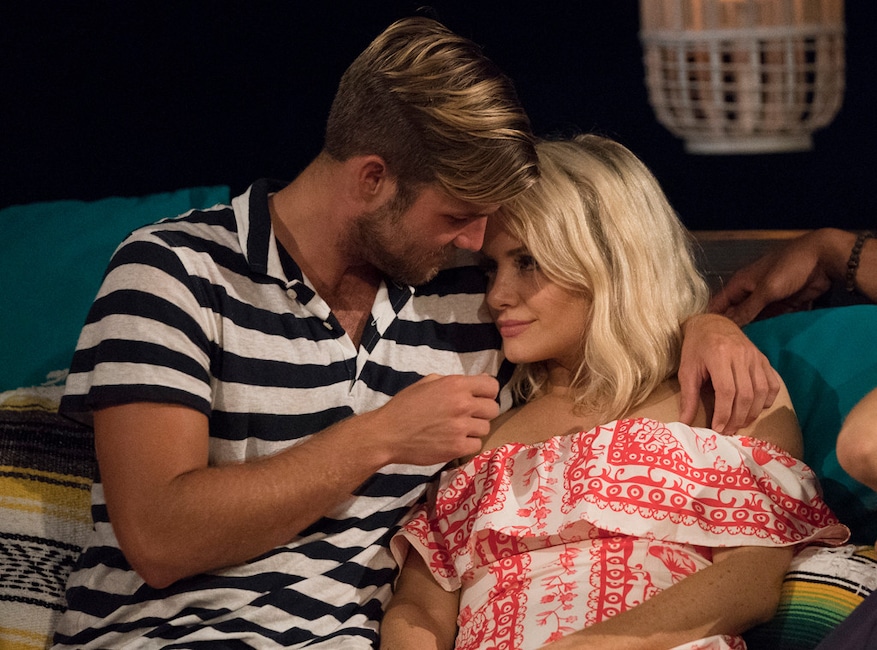 Paul Hebert/ABC
Paradise Lost

What should've been the happiest time of their lives turned out to be a PR nightmare for Jordan Kimball and Jenna Cooper following the Bachelor in Paradise season five finale.
Just before their engagement aired, news broke that Jenna had reportedly been cheating on Jordan, allegations she denied. But Jordan, the male model who became a breakout contestant during Becca's season, wasn't convinced, and ended the relationship after Reality Steve posted alleged screen shots of a conversation between Jenna and an unidentified man, which included his fiancée saying she didn't "even like him."
"I'm removing myself from the relationship with intentions to take care of myself and find my happiness," Jordan told Entertainment Weekly. "I will not lash out, I will not try to convince people that she is a bad person. You will not see me pursue any kind of vengeance on her."
Jenna claimed the texts were fabricated and decided to pursue legal action, writing on Instagram, "Please stand by as I prepare to provide the true facts that will demonstrate the fraud perpetrated by terrible individuals."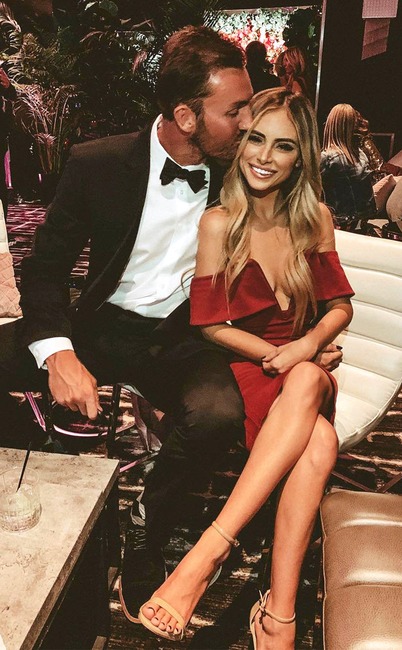 Amanda Stanton/Instagram
What Happens In Vegas

Fans were shocked when it was revealed Amanda Stanton, the single mom from Ben Higgins' season and two BIP seasons, had been arrested and officially charged with one count of misdemeanor domestic battery in Las Vegas.
In September, Las Vegas Metropolitan Police Department responded to a battery domestic violence call. A physical altercation allegedly took place in a hotel room where it is alleged that Amanda battered her boyfriend Bobby Jacobs.
"Amanda is embarrassed and ashamed this happened and sincerely apologizes to hotel security and the Las Vegas Police Department. Amanda is a gentle, respectful person who has never gotten physical with anyone under any circumstance," Amanda's rep explained. "That evening she had a few drinks at a bachelorette party and when hotel security asked her and Bobby to quiet down, she got a bit rambunctious. Amanda gave Bobby what she thought was a playful shove; hotel security did their job and reported the incident to the police, who in turn did their job. Despite Bobby explaining this was not an ill-intended shove, the police still had to do their job which Amanda completely respects and understands."
Amanda and Bobby are still together.
Article continues below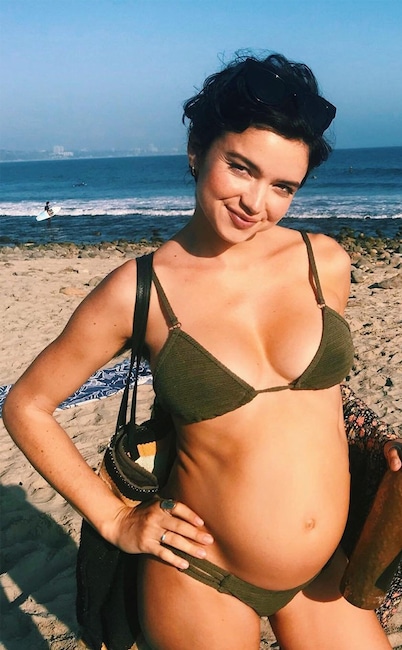 Instagram
Baby Bekah Is Having a Baby

Bekah M. was one of the most talked-about contestants from Arie's season, thanks to her young age (22 at the time of filming, earning her the nickname Baby Bekah) and pixie cut, announced she was expecting her first child with her boyfriend of several months, Grayston Leonard.
"I was in disbelief and thought, 'Is this really happening?'" Martinez told Pure Wow. "I immediately called Grayston and then went across the street to the Dollar Tree and bought two more pregnancy tests. They, of course, were both positive."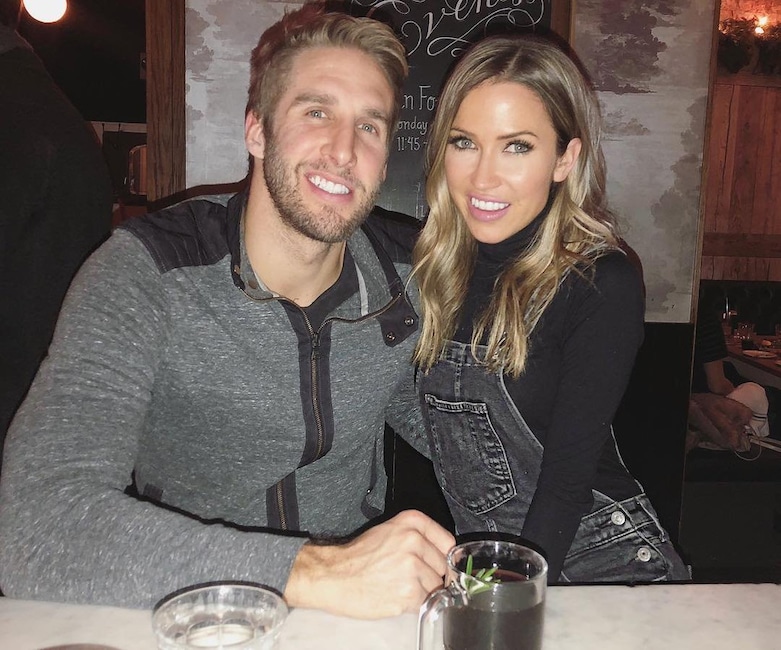 Instagram
Shawn and Kaitlyn Split

After months of rumors and speculation, Kaitlyn Bristowe and Shawn Booth announce they are ending their engagement after three years together, citing their careers and schedules, as Shawn recently opened his own gym, Boothcamp.
"It's been a really hard few months now," the reality star admitted on her Off the Vine podcast. "I really did think we'd get through it."
Bristowe said she and Booth realized "there were some important fundamental values that weren't lining up," as well as "some things we'd probably never see eye-to-eye on."
Fans, of course, were devastated over the end of Boothstowe, and their Snapchat alter-egos, Rick and Donna.
"I just want to thank everyone who has been so supportive of my relationship with Kaitlyn over the years," Shawn wrote on Instagram after the split. "You've made me feel incredibly special, supported, and very loved. So from the bottom of my heart, thank you. It truly means a lot. And thank you to everyone who has sent their love & support during this painful time.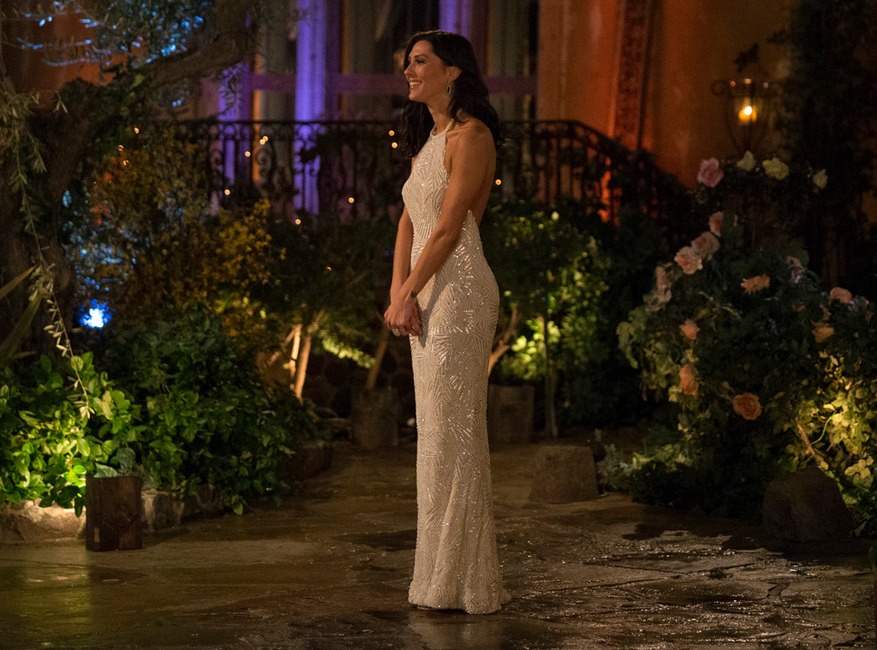 ABC/Paul Hebert
The Mansion Lives On

The iconic mansion in Agoura Hills where each season of The Bachelor and The Bachelorette is filmed was in "grave danger" during the deadly wildfires scorching California, resulting in mass evacuations and the loss of many homes in Malibu and Southern California. (Marshall Haraden and his family actually live in the home when the show is not in production.)
Mike Fleiss, the creator of the series, tweeted about the impending disaster at the time, telling his followers, "Pray for Malibu— and #TheBachelor Mansion…" ABC exec Robert Mills also confirmed the "Villa de la Vina" property was in "grave danger" in a tweet.
Fortunately, the mansion managed to make it through the disaster "unscathed," according to a tweet from USA Today writer Chris Woodyard. \
Article continues below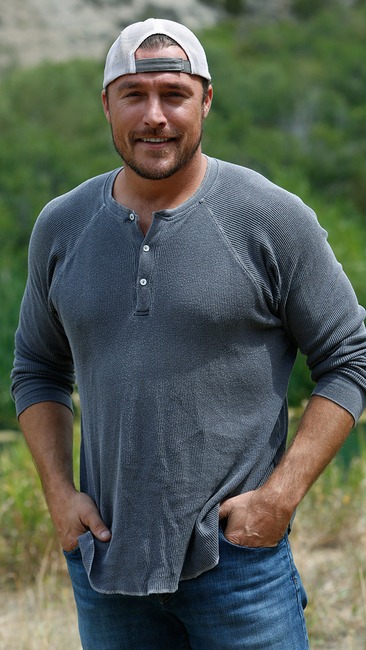 Adam Larkey/Freeform
Chris Soules Pleads Guilty

The former Bachelor, dubbed "Prince Farming" during his time in the franchise, entered a written guilty plea to leaving the scene of a personal injury accident after his April 2017 arrest.
Chris faces up to two years in prison following the fatal car crash in his native Iowa, with Patrol confirmed to E! News at the time that the former reality star was driving a pickup truck that rear-ended 66-year-old Kenneth Mosher's tractor trailer.
According to authorities, Chris left the scene prior to law enforcement's arrival and was later arrested 15 miles away at his Arlington home in the early morning. Mosher was taken to a nearby hospital, where he was pronounced dead.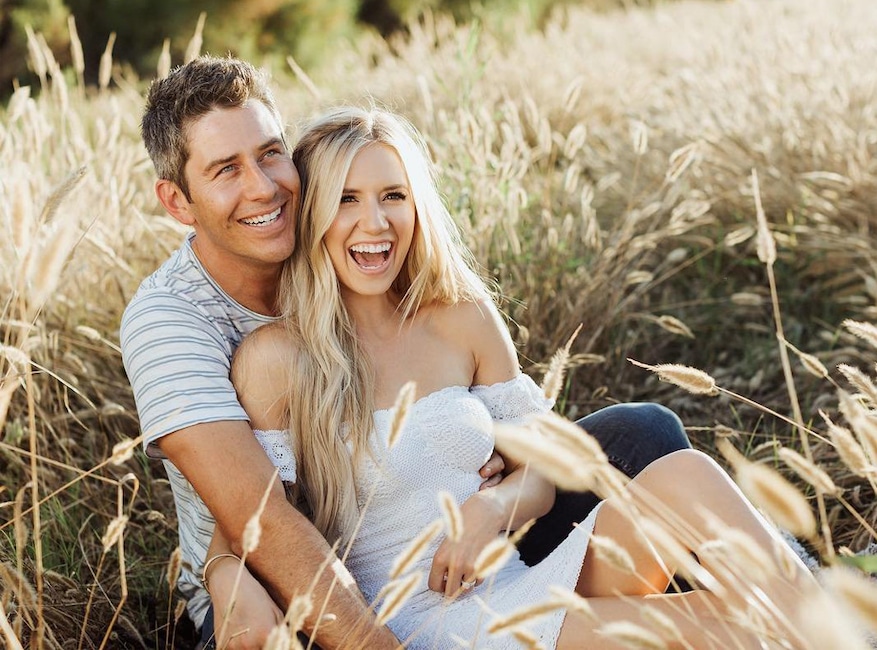 Jennifer Griffith/@griffithimaging
Arie and Lauren Are Expecting

Just two months before their January wedding, the couple announced they are expecting their first child (and have already set up an Instagram account for the baby).
"The first thing we thought of was, 'Oh, my gosh. Our wedding!' Obviously we're not married yet, but this is the way it happened," Lauren told Us Weekly. "And this is probably the way it was meant to happen!"
Arie wrote on Instagram, "Nothing compares, absolutely nothing compares to the moment you find out you're going to be a dad! We cried, we laughed and it really was such a special moment for us. We're so freakin' happy!"
The couple knows the sex of their child, but are choosing not to publicly announce it just yet.
Don't miss E! News every weeknight at 7, only on E!
Source: Read Full Article