What girl doesn't love Louisa May Alcott? And, we are so looking forward to this 2019 adaptation of her most notorious work, Little Women. The producers, Denise Di Novi, Amy Pascal, Robin Swicord, and Arnon Milchan could not have come up with a more stellar cast including Meryl Streep, Emma Watson, Saoirse Ronan, Timothée Chalamet, Florence Pugh, Laura Dern, and Eliza Scanlen.
The story of 'Little Women'
View this post on Instagram
…for love casts out fear, and gratitude can conquer pride. Louisa May Alcott, Little Women I immensely adore this quote because so much is said in just a few words. Happy Friday and hooray for the last weekend before Christmas! Are we all ready to bring on the festivities?
A post shared by Jude's Books (@mybookbath) on
In case you don't know the story, it explores the lives of four sisters, Meg, Jo, Beth, and Amy growing up in Massachusetts after the Civil War. As teenagers, they are now living in genteel poverty, as their father had lost all the family's money. The elder, Meg, works as a teacher for a nearby family, and Jo works assisting the girl's very wealthy Aunt March. Timid Beth is too shy for school, staying at home helping with housework, and Amy is still in school.
Little Women, which tells of life through the girls' teenage years, is told through the eyes of Jo, who, it is said to be fashioned after Alcott herself. The girls in the story represent her sisters and their lives growing up.
Meryl Streep as Aunt (Carroll) March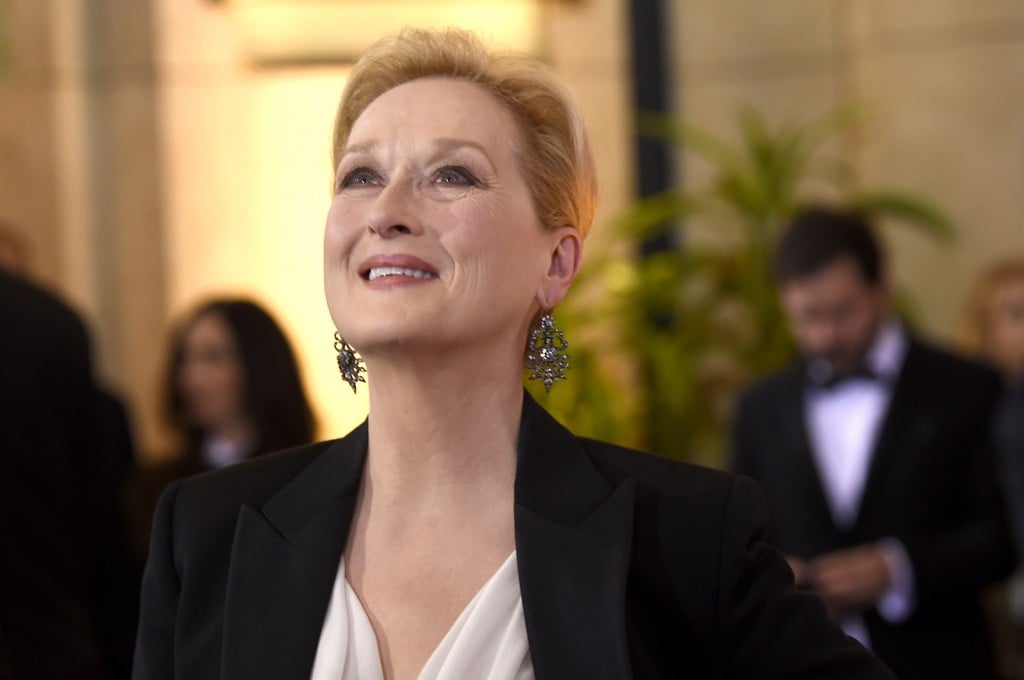 Meryl Streep | Frazer Harrison/Getty Images
Three-time Academy Award-winning Streep is aptly cast as the girl's rich Aunt Carroll. The 69-year-old Streep won Best Actress in 2012 for The Iron Lady and in 1983 for Sophie's Choice. She earned Best Supporting Actress in 1980 for Kramer vs. Kramer.
Her list of total awards and nominations, far too vast to cover here, total 156 wins and 389 nominations. Most recently she was nominated for the Academy's Best Actress in 2018 for The Post, for her portrayal of nation's first female newspaper publisher. In 2017, she also received the same nomination for Florence Foster Jenkins, playing the lead as a somewhat delusional New York heiress who, despite having a terrible voice, dreamed of becoming an opera singer.
Emma Watson as Meg
Harry Potter fans know Watson as Hermione Granger. It is, no doubt, difficult for her audience to allow her to break out of that role, but as the eldest sister in Little Women, Meg, fans will have to be more accepting.
Since the Harry Potter and the Deathly Hallows, Part 2, was released in July 2011, Watson continued with her education earning her degree in British Literature from Brown University. She has been modeling including for Lancôme cosmetics and Burberry fashion. She most recently played Belle in the 2017 live-action Disney adaptation of Beauty and the Beast opposite Dan Stevens as the Beast.
Saoirse Ronan as Jo
Star of Lady Bird, Ronan is a quickly-rising star, having earned the Best Actress in a Motion Picture, Musical or Comedy Golden Globe for her leading role as Christine "Lady Bird" McPherson. She also netted Academy Award and SAG nominations for her performance.
It should be noted that Lady Bird's author, Greta Gerwig, is also the screenwriter for Little Women. Ronan has racked up 211 total award nominations and received 78 wins. Quite a fête for a 22-year-old.
Timothée Chalamet as Theodore 'Laurie' Laurence
Chalamet has acted with Ronan before, having played a supporting role in Gerwig's Lady Bird. He is one of the youngest to ever be nominated for an Academy Award Best Actor award for his work in Call Me by Your Name in 2017. A year later, Chalamet received a Golden Globe Award nomination for Best Supporting Actor in a Motion Picture for his work portraying a drug-addicted son opposite Steve Carell in Beautiful Boy.
More on the cast
View this post on Instagram
: @EmmaWatson // "I could never love anyone as I love my sisters." – Louisa May Alcott, @littlewomenofficial ⠀⠀⠀⠀⠀⠀⠀⠀⠀ From left: Meg March, Greta Gerwig (director), Jo March, Amy March, Beth March and Laurie (Theodore Laurence).
A post shared by Little Women (@littlewomenofficial) on
There is little doubt this cast is packed full of some of Hollywood's greatest rising stars, and most accomplished favorites. Actors Florence Pugh, Eliza Scanlen, and Laura Dern add depth to the cast, portraying Amy, Beth, and Marmee March, respectively.
While there have been no official trailers shared as of yet, a photo of the sisters and more of the cast has shown up on Instagram.
Source: Read Full Article