When the Today Show airs early on weekday mornings, viewers of the show – as well as its hosts Savannah Guthrie, Hoda Kotb, Al Roker, and others – tend to see fans excitedly waiting outside NBC's offices, at 30 Rockefeller Plaza, hoping for a chance to meet them.
However, on Thursday morning, they were instead met with protesters, their own NBC colleagues, who planned a strike on behalf of the NBC Digital News Guild.
Hundreds of union journalists from across NBC News, including those working for MSNBC and Today, organized a 24-hour walkout from their jobs, protesting the company's decision to lay off seven union-covered journalists last month.
WATCH: Al Roker receives emotional surprise from Today Show colleages
MORE: Kelly Ripa reacts to Live! co-star's long-awaited baby news
The union representing NBC Digital employees – approximately 300 are union members – has not been able to successfully come to an agreement concerning contract negotiations with NBC since its founding in 2019.
An Instagram post from The News Guild of New York added that they are also protesting "repeated illegal actions and bad faith bargaining," including cutting union salaries and layoffs "without cause and without notifying the union."
MORE: Carrie Underwood displays slender physique in bikini selfie from day off tour
The Washington Post reported that a letter was delivered to NBC management on Wednesday on behalf of those protesting, detailing the reasons for their walkout, which also includes claims that "some digital staffers for MSNBC were told by management that they were no longer part of the union."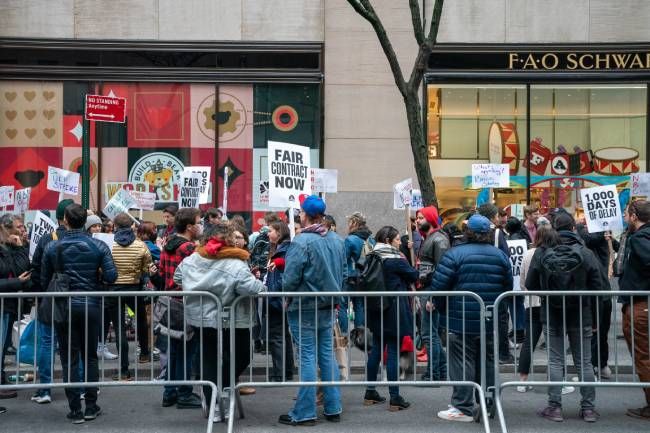 NBC employees gathered outisde their offices and won't return to work for 24 hours
An NBC News spokesperson told WaPo on Wednesday: "We are disappointed by the NewsGuild's continued attempts to misrepresent the facts while we work in good faith with them to reach an agreement."
MORE: Vanessa Lachey pays heartfelt tribute to NCIS: Hawai'i colleague
MORE: Salma Hayek wows in low-cut dress despite battling fever
The outlet stated the union already filed an unfair labor charge with the National Labor Relations Board over the layoffs, which they described as "abrupt and illegal." Members are halting their work for the network and media company for 24 hours, and by 11am, a large crowd had already gathered outside its studios.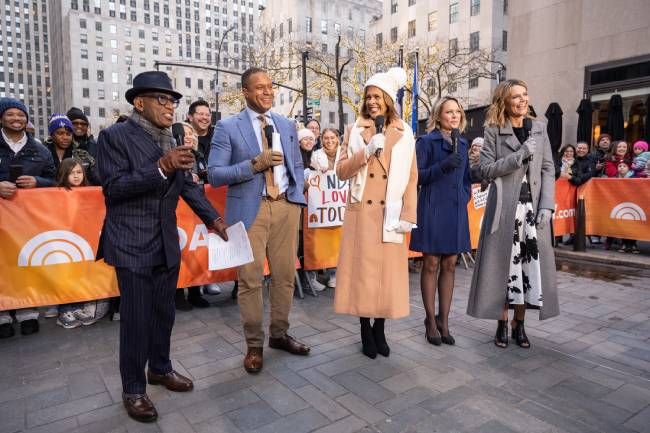 The Today hosts typically gather on the Today Plaza outside Studio 1A
Protesters outside of the entrance to the Rainbow Room's Observation Deck were seen in various social media videos holding signs with different protest messages, including: "NBC – follow the law!" and: "Two years too long," as well as: "Fair contract now,"
Several Today employees were seen using the show's own name for their signs, writing on posters: "TODAY is a great day for a fair contract," and: "TODAY is on strike," next to the signature orange rainbow logo.
Read more HELLO! US stories here
Like this story? Sign up to our newsletter to get other stories like this delivered straight to your inbox.
Source: Read Full Article