NCIS — the highest-rated drama on network TV — is back for season 19. But there are doubts that the long-running procedural will be able to hold on to its millions of viewers. CBS Entertainment president Kelly Kahl admits they've taken a huge gamble by making a major move with their popular franchise.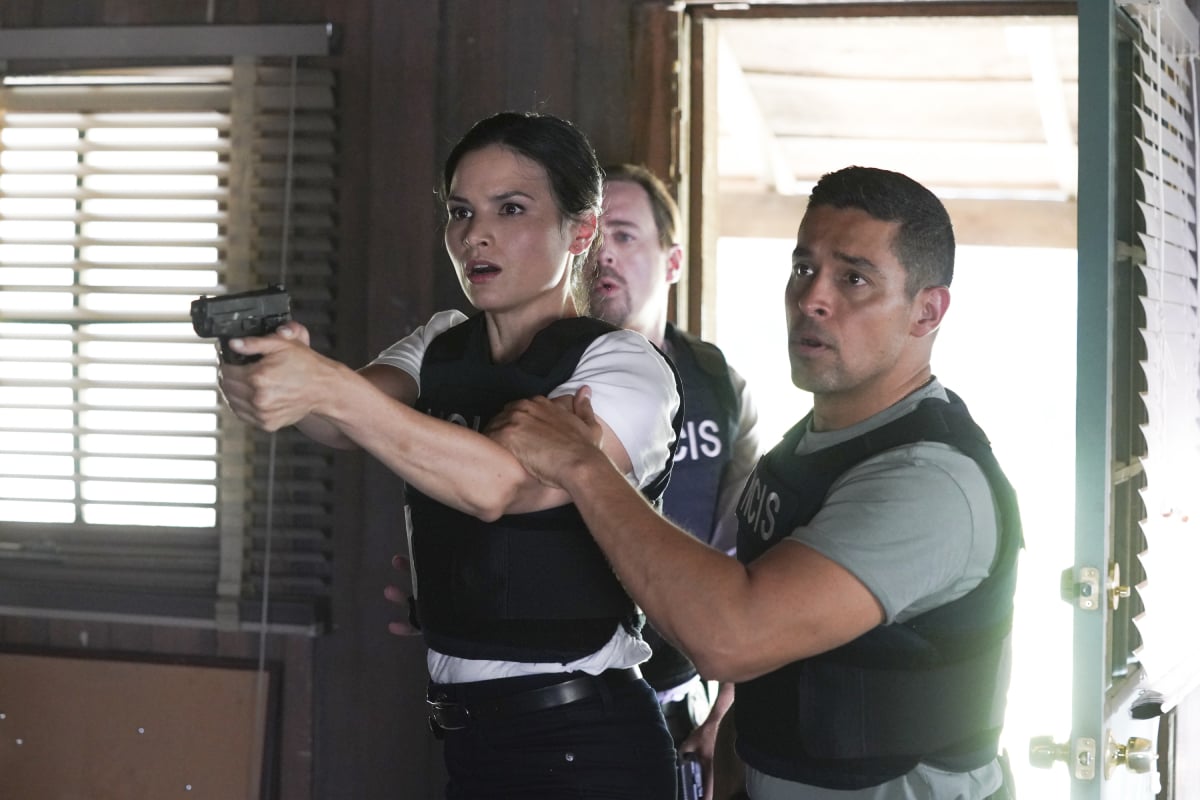 CBS gives 'NCIS' fans their first look at the season 19 premiere
CBS started their promotional push for NCIS season 19 with a 30-second teaser that gave fans their first look at the premiere episode. Titled "Blood in the Water," the season 19 premiere will pick up exactly where the season 18 finale ended — after Gibbs' (Mark Harmon) boat exploded.
As the promo begins, Gibbs' team arrives at the scene, with Torres (Wilmer Valderrama) asking investigators: "you found any survivors?" The answer is "no," and the NCIS squad fears the worst. "What took so long?" McGee (Sean Murray) asks an officer, before declaring that their boss is "family."
Is Pam Dawber back as Marcie Warren?
The episode's official description reads, "As the NCIS team searches for Gibbs after wreckage from his boat is discovered, they find out he was tracking a serial killer with journalist Marcie Warren (Pam Dawber), who wrote an exposé on him."
The promo doesn't show Dawber returning as Warren. But it does give a quick montage of Gibbs' team racing against time to find their boss. And with his fate unknown, his team is struggling. Cassie Hines (Diona Reasonover) hugs McGee and Vance (Rocky Carroll) looks concerned. While medical examiner Jimmy Palmer (Brian Dietzen) says "this isn't how it ends."
Then, at the very end of the clip, NCIS confirms that Gibbs is alive. They show the former Marine sniper bloodied and gasping for air as he emerges from the water among his boat's wreckage.
CBS is taking a huge gamble with 'NCIS' in season 19
NCIS has been TV's most-watched drama for a decade (the only exception being three years ago, when This Is Us swooped in and took the title for one season). The series has been on the air since 2003. And during that entire time, it has been in the Tuesday night 8pm (Eastern) time slot.
But for season 19, CBS has moved NCIS to Monday nights at 9 pm (Eastern). Instead of kicking off the network's Tuesday night lineup, the drama will bridge a block of sitcoms (The Neighborhood and Bob Hearts Abishola) and the newest series in the NCIS universe, NCIS: Hawai'i, on Monday nights. Kahl knows this is a major gamble for the network.
"We hope to improve the [Monday] time period significantly, and we hope that it can be a strong lead-in to help launch NCIS: Hawai'i. [Also] we realize that we can't take [the time slot change] for granted," Kahl told TVLine at the Television Critics Association summer press tour. "We have to help educate people and let them know where it's moving to."
The network is using their NFL programming to spread the word
Die-hard NCIS fans may already be fully aware of the schedule change. But, there are many who have yet to hear the news. So, CBS is using their NFL programming to help spread the word.
In addition to airing their new season 19 NCIS promos during each of the NFL games the network is broadcasting in September, they've also added numerous broadcaster mentions. Viewers are getting repeated alerts about the NCIS schedule change, while seeing the words on the screen to get that message across.
'NCIS' fans are a 'die-hard bunch'
With the switch to Monday night, NCIS will now air opposite The Voice, Dancing With the Stars, and Monday Night Football. Kahl says it's possible the series will lose it's "most-watched drama" status. But as of right now, NCIS still holds that title.
"Well, we haven't lost it yet," Kahl said with a chuckle. "So we'll hang onto it as long as we can. I will say that fans of that show are a diehard bunch, so I don't foresee losing a lot of them with the time period change."
If fans don't want to change up their routine — and have their hearts set on watching NCIS on Tuesday nights at 8 pm — all they have to do is subscribe to Paramount+. CBS drops new episodes of their primetime shows onto their streamer the morning after they air. Another option for Tuesday night viewing would be to set the DVR.
Season 19 of NCIS premieres Monday, Sept. 20 at 9 pm (eastern) on CBS.
Source: Read Full Article