Now that NCIS: New Orleans Supervisory Agent Dwayne Pride (Scott Bakula), is finally getting the help he needs, his subconscious has unlocked a plethora of issues that go back to his childhood. One woman who may have the answers he needs is his mom, Mena. However, her mental health has remained on the decline since her first appearance in season 5. Who plays Mena and how can she help Pride once and for all?
[Spoiler alert for NCIS: New Orleans Season 6, Episode 14 below]
Mena and Dwayne Pride have a complicated relationship on 'NCIS: New Orleans'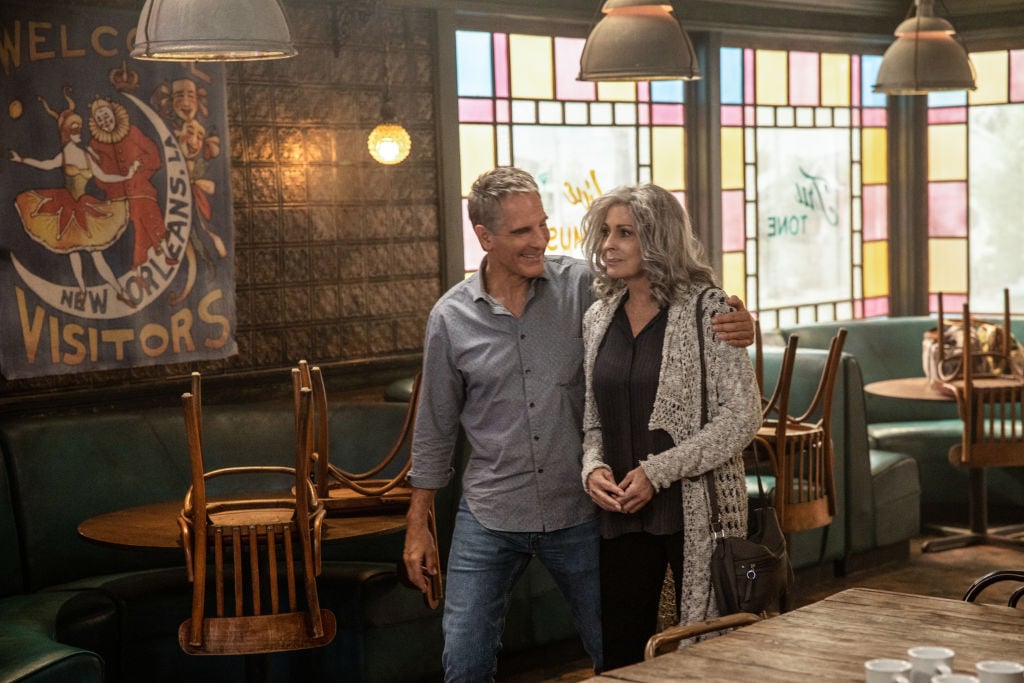 Dwayne Pride (Bakula) may lead his NCIS: New Orleans team to solve the toughest Navy and Marine-related crimes in and around Jefferson Parish, Louisiana, but he'll always be a momma's boy.
In just three episodes so far, Mena Pride's existence and effects on who Pride is, has only touched the surface. Viewers first met Mena in "The River Styx, Part II." Pride had his hands full tracking the deadly underground spy network, Apollyon.
With all the stress the NCIS lead was under, he began hallucinating (again). During the season 5 finale, his visions were of Mena. By the season 6 premiere, Mena returned to the screen. Pride's love interest (on the show and in real life), Rita Devereaux (Chelsea Field), had a visit with Pride and Mena to talk some things through. However, it wasn't enough to fix all that'd broken inside of Pride.
"[His mother is] kind of the missing link for Pride in terms of his heart and his heartbreak," Bakula previously told TV Insider."Hopefully, there'll be more after this season with her and again, the road to finding his mother really opened up when he lost his dad."
Who plays Pride's mom on 'NCIS: New Orleans'?
Actress Joanna Cassidy plays the role of Pride's mother, Mena, on the show. Her role began as a guest appearance for the season 5 finale, with a pickup for season 6. So far, her IMDb credits list her appearing in just three episodes.
Cassidy is most known for playing Zhora in the 1982 film, Blade Runner. She's also appeared in numerous projects that stem back to 1968. Other notable projects include The Cool Kids, Odd Mom Out, Body of Proof, Boston Legal, Six Feet Under, Diagnosis  Murder, Melrose Place, Buffalo Bill (where she earned a Golden Globe and an Emmy nomination), and the title role in the 1985 movie, Code Name: Foxfire.
The most interesting piece of Cassidy's casting is that her age in real life is not much older than her TV son, Bakula. Cassidy us 74 years young, while Bakula is a crisp 65. They could play siblings, as opposed to mother and son, but that's the magic of TV.
Why might Cassidy's character hold the answers Pride is searching for?
In the most recent episode of NCIS: New Orleans, Pride began controversial LSD therapy to confront his ongoing hallucinations about "The Man in the Red Suit." Through a lucid dream, Pride remembered he witnessed the murder of a man named "Red" — the man he'd been hallucinating since Special Agent Christopher LaSalle's (Lucas Black) death.
The man who murdered "Red", he discovered, was his father, Cassius. The reason is because "Red" was having an affair with Mena. The next episode, "Judgement Call," airs March 15, and has Cassidy set to return.
It's unclear if Mena will have the right state of mind to answer any questions Pride may have about Red — such as whether he is Pride's biological father — or if he'll have to find the answers another way. Regardless, Pride will find a way to get to the truth of it all; he always does.
Catch a double dose of new NCIS: New Orleans on Sun., March 15 at 10 p.m. on CBS.
Source: Read Full Article