Uh…I just realized that I have been watching Teen Mom for a whole decade, and I am NOT okay. Seriously, I have been watching this show longer than I've had any hair color, owned any car, or been in any long term relationship. Casual! Anyway, the show is heading into its 10th year, and whether you've been following along the whole time or are coming back because you haven't watched since the first season…there's a lot to catch up on. Here's everything you need to know about the new season of Teen Mom.
First of all…let's talk about who is NOT in the 'Teen Mom OG' cast.
MTV has introduced us to tons of cast members throughout the history of 16 and Pregnant, Teen Mom, and all of its various spinoffs. But the OGs (original girls) have always been Farrah Abraham, Maci Bookout McKinney, Catelynn Baltierra, and Amber Portwood. Along the way, Cheyenne Floyd from The Challenge and Bristol Palin joined the cast.
Out of the OGs, Farrah Abraham and Bristol Palin will not be in this season. Both have had their fair shares of drama with MTV, but basically, Farrah was forced to quit and Bristol made the decision on her own.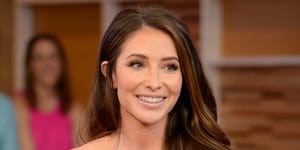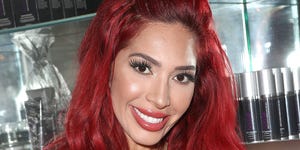 So, who does that leave us with for the new season?
The 10 year anniversary season will follow the lives of Amber, Catelynn, Maci, and Cheyenne.
Guys!! #TeenMomOG is TONIGHT at 9/8c on @mtv it's a TWO HOUR premiere!! Huge thank you to all of our supporters we love you all and are so blessed to continue sharing our lives with you!!! Don't miss it TONIGHT!!!
A post shared by Catelynn Baltierra (@catelynnmtv) on
Here's a quick refresher on who's who.
If you don't follow the lives of these women religiously, but still want to tune into the new season, don't sweat it. Here's a run down of our four OG cast members.
Amber Portwood
Amber was one of the original moms on 16 and Pregnant, where she gave birth to her now 10-year-old daughter, Leah. Now, she's in a relationship with a man named Andrew Glennon.
https://www.instagram.com/p/Bxeb4DzJ2yt/
This one isn't as blurry🤗❤
A post shared by Amber Leann Portwood (@realamberlportwood1__) on
The pair welcomed a cute li'l baby named James last year, and he's basically the spitting image of his older sister, Leah.
My beautiful babies! Happy momma🤗
A post shared by Amber Leann Portwood (@realamberlportwood1__) on
Maci Bookout McKinney
Maci's the redheaded southern belle who made you obsessed with the name Bentley when she had her son on 16 and Pregnant in 2009. She also has a 4-year-old daughter, Jayde, and a 3-year-old son, Maverick. After all of the drama with Bentley's dad, Ryan, Maci finally got the happy ending she deserves when she married her husband (and Jayde and Maverick's father), Taylor McKinney in 2016. Their family is like…ridiculously adorable.
Happy Halloween from the Scooby-Doo Crew! #halloween #thingsthatmatter #scoobydoobydoo 🕸🎃
A post shared by Maci Bookout McKinney (@macideshanebookout) on
Catelynn Baltierra
Obviously, every Teen Mom storyline is an emotional rollercoaster…but if there's one cast member who's come the furthest, it's Catelynn. As a teen on 16 and Pregnant, she gave her first baby, Carly, up for adoption in 2009. Since then, she's had two more daughters, Novalee, 4, and tiny little 3-month-old Vaeda. Despite SO many ups and downs, she's still married to her middle school sweetheart, Tyler. TBH, it breaks my brain to try to figure out which parent Carly, Novalee, and Vaeda look the most like.
This is my inspiration for everything! I love my family so much & there's nothing I wouldn't do for all of my girls! After this past year with our miscarriage, Cate's mental health struggle, my dad & sister's recovery, & my own mental health journey…I thought this pregnancy couldn't have came at a more emotionally sensitive time for us. But life isn't about convenient timing & destiny works in mysterious ways. I'm just so blessed that Vaeda's destiny was to be right here in her mother's arms, next to her big sister, who's wrapped in her daddy's arms…it's a feeling that's unexplainable! 🥰😭 #DaddysGirls 📸: @four13photo & @brittnimariephotography
A post shared by Tyler Baltierra (@tylerbaltierramtv) on
Cheyenne Floyd
Cheyenne is not technically an OG Teen Mom cast member because she didn't start out on 16 and Pregnant. But, she did start her MTV career on The Challenge, so she's not a stranger, either. She and her 2-year-old daughter, Ryder, joined the cast last season. Ryder's dad is Cory Wharton from The Challenge…but Cheyenne didn't confirm that until Ryder was six months old. Cheyenne and Cory aren't together, so they're coparenting Ryder.
@fashionnova jeans || One day Ryder will be able to look back and see that she always came first.. that's all that matters ❤️
A post shared by CHEYENNE (@cheynotshy) on
The cast actually seems to get along really well?
Through all of the of Teen Mom cast members we've seen come and go, there's been plenty of beef between the stars. But, it seems like the OGs are closer than ever after 10 years together.
Girls! Can you believe that it's ten years going on eleven?!? Our new season is tomorrow night on @MTV and I'm so blessed that this series brought you two into my life @MaciBookout @AmberLPortwood I love you both so much! #TeenMomOG
And even newcomer Cheyenne isn't stirring the pot. She recently took to Twitter to congratulate Maci, Amber, and Catelynn on their decade of Teen Mom.
Congratulations @MaciBookout @CatelynnLowell @AmberLPortwood on ten years!! I have so much respect for you guys for sharing your stories and allowing us to be apart of your lives. You guys should be so proud of yourselves ! 🥳🥳🥳🎉 #TeenMomOG
The four of them actually seem to enjoy spending time with one another. Like…has a reality cast ever done this before?! It's basically unprecedented.
So much fun!!! #badmoms #memories #friends @realamberlportwood1__ @cheynotshy @macideshanebookout
A post shared by Catelynn Baltierra (@catelynnmtv) on
The trailer will hit you right in the feelings.
I mean…Amber said it best. You truly do need to be strong to be on Teen Mom for 10 years. This season will reflect on everything that the cast has been through over the past decade, from adoptions, to legal problems, to relationship drama. I bet you can't make it through this trailer without ugly crying.
It looks like it's going to be the same old drama, but way more emotional, because we're all super invested in these stories.
Will Maci take Ryan up on his offer to talk things out on tomorrow night's 2-hour #TeenMomOG premiere?
A post shared by Teen Mom (@teenmom) on
The season premieres on June 10.
The 10 year anniversary is kicking off with a two hour premiere. You can catch the rest of the episodes on Monday nights on MTV…and you can catch ME crying while they air.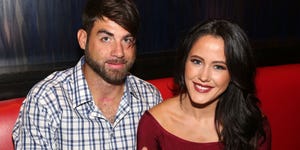 Source: Read Full Article