One of the biggest storylines in Season 4 of Riverdale was Jughead's (Cole Sprouse) death. KJ Apa, who plays Archie in the Archie-inspired series, said he and his fellow cast mates failed to hide the plot twist surrounding Jughead in Season 4.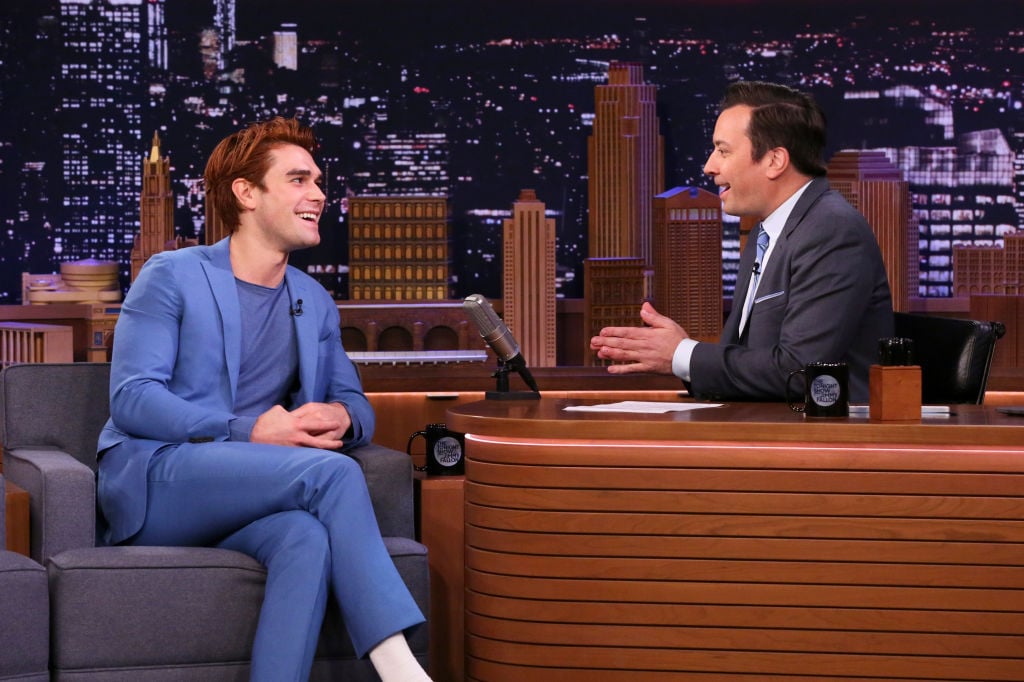 Jughead's 'death' on 'Riverdale'
In "Chapter Seventy: The Ides of March," Jughead arrived at Stonewall's Ides of March party looking for a fight. Aggravated by the way he had been treated by the "Stonies" thus far, Jughead poetically removed his crown beanie and replaced it with a bunny mask to coax his enemy Bret (Sean Depner) into a fight. The two entered into the woods, but only one came out. 
When Betty (Lili Reinhart) arrived at the party, she found another Stonie, Donna (Sarah Desjardins), slinking off into the woods. It's there that Donna put Betty into a fugue state and made it look like Betty was the one responsible for Jughead's death. 
In the weeks following, Riverdale fans were kept wondering whether or not Jughead was genuinely dead. 
Fans didn't believe Jughead was gone
After "Chapter Seventy," Riverdale fans refused to believe that Jughead Jones was truly dead. As a fan-favorite character and vital role to the series, it wouldn't have made sense for creator Roberto Aguirre-Sacasa to kill off Sprouse's character.
"So I'm watching Riverdale [and] Jughead is supposed to be dead but isn't it weird that Betty or the others didn't feel sad and I think it's because it's not true, it's just from the story that Jughead is writing," one fan tweeted.
Another fan thought Jughead's "death" had a larger purpose for the brooding writer. "I have a theory that Jughead isn't dead because I believe It's part of a new book he's writing," they shared on Twitter.
"Clearly the big twist of this season isn't 'Who killed Jughead?' it's 'He's not actually dead!!!' Either way it's the best storyline they've had in like 3 seasons," a pleased fan shared.
Regardless of how confused audiences were to learn of Jughead's death, the way the rest of the cast was acting on and off set convinced many fans that Jughead's death was a hoax. 
KJ Apa admitted the 'Riverdale' cast can't keep a secret
"We did a terrible job of keeping [Jughead's death] under wraps," Apa told Jimmy Fallon on The Tonight Show. "He was meant to be dead but clearly he wasn't dead. He was on set every day with us." After the episode aired, photos circulated the internet of Sprouse with his cast mates and crew, reassuring fans that Jughead would make a return to the series. 
During his Fallon interview, Apa also hinted at the major shift in the storyline for Season 5. In discussing how open-ended the plot of Riverdale is, Apa said that's what will make next season so compelling. "We can go anywhere," he explained, adding: "The only spoiler I can give people is it's not your typical graduate high school. It's going to surprise a lot of people, I think."
According to Apa and Skeet Ulrich, who plays the role of F.P. Jones, Riverdale will jump ahead five years into the future for Season 5. Will fans get a glimpse of the future in the Season 4 finale? Tune in to find out Wednesday, May 6.
Up Next: 'Riverdale' Season 5 Will Jump 5 Years Into the Future
Source: Read Full Article