Fans of Netflix's Squid Game can't get enough of the Korean survival thriller. Now, fans want to know if Squid Game Season 2 is in the works. Here's what director Hwang Dong-hyuk said about possible storylines for a future season — and which minor character may get a huge central plot.
Will there be a 'Squid Game' Season 2? Director Hwang Dong-hyuk has some ideas for storylines
While director Hwang Dong-hyuk initially didn't consider Squid Game Season 2, he later considered the idea. Not only did the first season leave Gi-hun's storyline wide open, but there are a number of other mysteries fans want to know more about.
The frontman shoots his brother, Hwang Jun-ho, the undercover cop who infiltrated the games. But Jun-ho gets shot in the shoulder and may have survived the fall off the cliff, as his death isn't confirmed.
Additionally, fans have questions about player 001, Oh Il-nam. Il-nam was in on the game the whole time, as he created the concept. While he died at the end of the season, fans would love his backstory.
Hwang talked about potential storylines that could come up in a future Squid Game season as well. "I'm getting a lot of pressure on season 2," he told IndieWire. "I still have the story about the frontman and his relationship with his brother, the policeman. And people are also curious about where Gi-hun is headed in the finale because he turns away from the plane. I think I do have the obligation to explain it to the fans and I'm thinking about season 2, but at the time, I was so tired after finishing season 1, I couldn't really think of season 2."
Hwang also mentioned people would "hate" him if he didn't tie up the loose ends presented in season 1, so he feels obligated. "The big success of season 1 is a big reward to me, but at the same time, it's given me a lot of pressure," he added.
Actor Gong Yoo's character who recruits Gi-hun in the subway may receive a central plot point
During an interview with The Hollywood Reporter, director Hwang Dong-hyuk mentioned a possible Squid Game Season 2 may delve more into the game's recruiter who played ddakji with Gi-hun. "And then I could also go into the story of that recruiter in the suit who plays the game of ddakji with Gi-hun and gives him the card in the first episode," Hwang said.
Gong Yoo plays the recruiter, and he only made a cameo in two of the episodes. According to KDrama Stars, Hwang has a close friendship with the actor in real life, which helped secure his cameo in the Netflix series. And when Hwang was still in the pre-planning stages for the show, he noted he thought of Gong Yoo early on — and he knew he wanted to give him a villainous role.
It's unclear whether Gong Yoo wants to return for a second season of Squid Game. But given the success of the first season and his alleged friendship with the director, we imagine he'd come back to give more backstory to the character.
Some 'Squid Game' cast members are on board to film the show again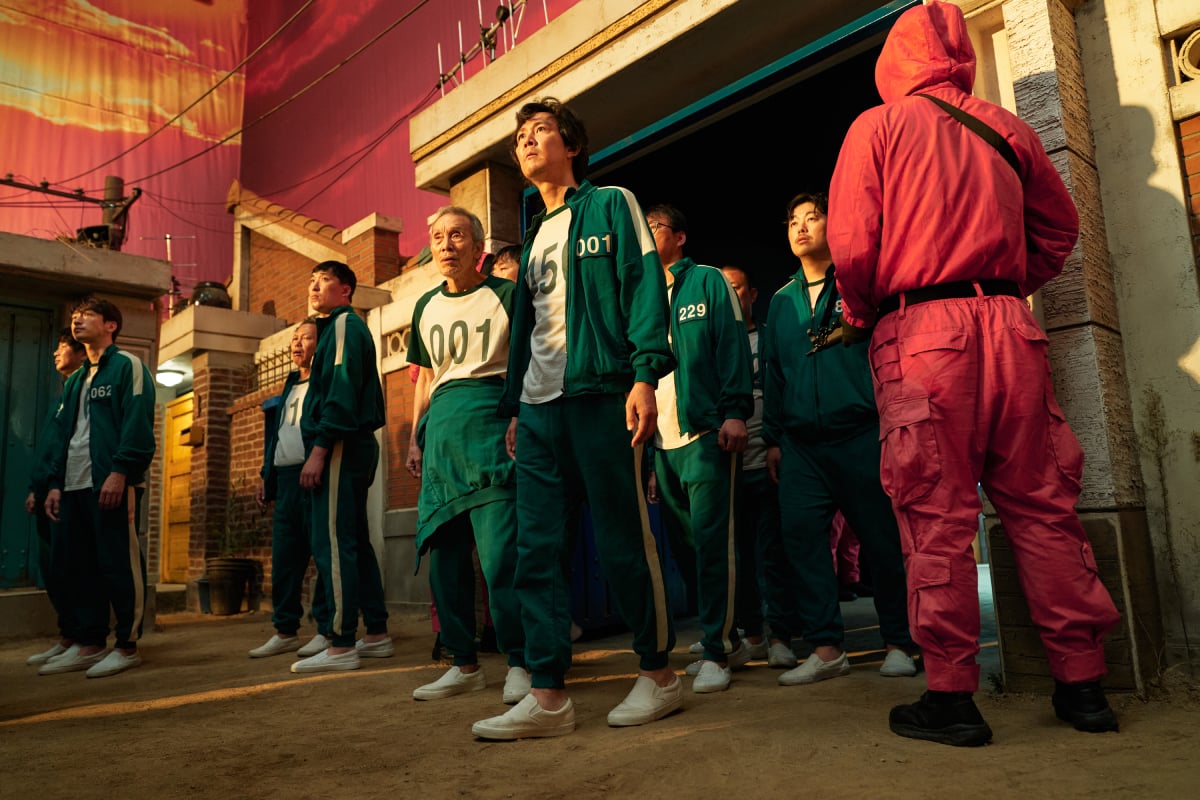 If Squid Game Season 2 happens, will the same actors return? Many of the characters fans know and love died in the first season. But Gi-hun actor Lee Jung-jae told The Korea Herald he's game to come back to the show. He also hopes to connect with international fans.
"I am not sure if I can work in Hollywood or overseas entertainment business with my insufficient English skills …," he told the publication. "But I hope to meet the international fans with the works that I am currently shooting."
Additionally, Jo Sang-woo actor Park Hae-soo said he would like to return in some capacity, according to Soompi.
"He was a character who had to die, which is a shame," Park said. "Who knows, the director could make a prequel. I hope I could at least appear in Seong Gi-hun's dream."
So far, nothing's confirmed for another season. We'll have to wait and see what happens.
Check out Showbiz Cheat Sheet on Facebook!
Source: Read Full Article