Another day, another storm on Twitter with The Apprentice's Lord Sugar at the centre of it.
It all started when a woman tweeted a Photoshopped image of the businessman's face on a box of Sugar Puffs (do you see what they did there?).
He shared the image and wrote: "hah…… I have enough puffs who come through my boardroom."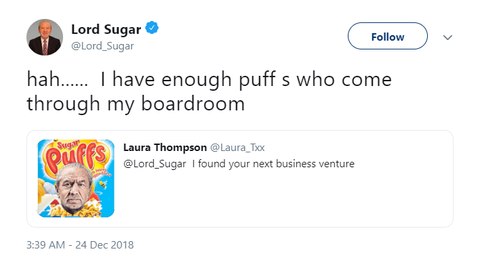 Some people interpreted the word 'puffs' as 'poofs', which is a derogatory term for gay men.
Lord Sugar has strongly denied any accusations of homophobia, writing in a follow-up tweet: "A lady posted a funny picture of me on a Sugar Puffs cereal packet. I replied Hah.. I have enough puffs coming through my board room. Meaning PEOPLE FULL OF HOT AIR."
Earlier this year, Lord Sugar was forced to publicly apologise amid a backlash calling for the BBC to sack him, after he compared the Senegal football team to "the guys from the beach in Marbella".
He said his tweet had been an "attempt at humour" that had backfired, and insisted that he'd in "no way intended to cause offence" with the joke that was widely condemned.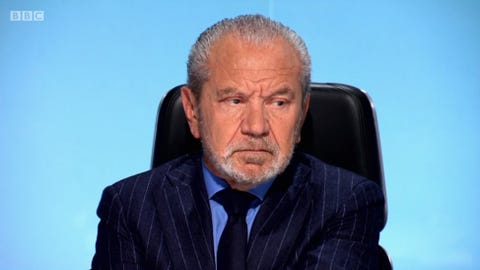 A BBC spokesperson also said: "Lord Sugar has acknowledged this was a seriously misjudged tweet, and he's in no doubt about our view on this. It's right he's apologised unreservedly."
Later on, he seemed to mock the surnames of the Croatian team, and told people criticising him to 'pi… off'.
Source: Read Full Article