Tammy, we were rooting for you! We were all rooting for you! One of the season's (formerly) most likable girls, Tammy tried to bring down the most tearful woman we've seen since, um, me? I'm not here for the emotion-shaming.
THIS POST CONTAINS SPOILERS FOR LAST NIGHT'S (2/3/20) EPISODE OF THE BACHELOR.
It all started by the pool in Costa Rica, where Kelsey was crying about Peter being out on a date. It was particularly hard to think of him being on a one-on-one with someone else after she had her own solo date with him. She was venting to Tammy, and at one point she even vented to her Champagnegate enemy Hannah Ann. (Seems like they've moved on from the Champagne-stealing.) Based on some weird edits, I believe she was also speaking with a producer.
It's one thing to say something like, "Holy shit, that girl cries a lot," behind Kelsey's back. Maybe you're not used to criers, or don't often cry yourself. But for Tammy to bring up Kelsey's crying to Peter at the group date AND describe it to him as an "emotional breakdown" is a total exaggeration, and totally out of line. Even worse, Tammy got the other girls to back her on this take-down until late in the episode. They were considering Kelsey's crying as unnecessary drama. BUT SHE WASN'T COMING AT ANYONE! She was not initiating conflict with anyone! She was not affecting anyone else's relationship with Peter!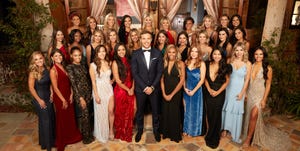 Like she said, she was sad, and that's how she processes that feeling, which I and so many other people can relate to. I was annoyed to hear Natasha (who I normally think is fun to watch) suggest that the way that she deals with sadness (by retreating to her room and writing in her diary) to be a healthier method than crying in the presence of others. Don't even get me started with Victoria F. insinuating that Kelsey isn't a strong woman for being emotional. Bravo for Kelsey for standing up for herself, like she says she always will, and saying she's proud of being emotionally expressive. I was so disappointed in the womens' reactions to this, however, I know all too well how unrelated facial expressions can be easily edited into an episode for dramatic effect.
Let's get something things straight: Being emotional doesn't mean you're insecure. Crying, even a lot, and even for long periods, doesn't mean you're emotionally unstable or that you're having an emotional breakdown. Strong women cry.
It feels like there aren't many genuine friendships blossoming within this group of women. While the famous line may go, "I'm not here to make friends," a lot of people do make lifelong friendships during their time on The Bachelor. It's one of the best outcomes of the process. Most of the women this season don't seem sensitive towards the others. It feels like a cold group to be part of through such a vulnerable process far from their homes, families, and friends. I hope I'm wrong and we're just not seeing it.
Tammy belittles Kelsey again for her "emotional instability" in a scene following the group date. This time Tammy claims Kelsey's emotions are getting in the way of her forming a closer bond with Peter. So wait a sec, Tam, you're too consumed by Kelsey's tears, which up until this point have had nothing to do with you, to fully open up your head and your heart to Peter? Yeah, girl, no. Kelsey's doing nothing to infringe upon your relationship with Peter, but talking about Kelsey with Peter probably is. As if Tammy could dig her hole any deeper, she accuses Kelsey of having alcoholic tendencies based on one tipsy night. Wow!

When Kelsey goes to Peter's room to discuss all of this absurdity, it comes out that Tammy also accused her of pill-popping. (Later we find out Victoria P., another undercover shady character, was the one to start this rumor.) Peter feels so badly about Kelsey being emotion-shamed. He loves how emotionally invested and open she is, so much so that he sends her back to the hotel with an early rose. Again, this is Peter's naiveté coming into play. Sure, this way Kelsey won't have to suffer through the nerves of a rose ceremony. But ya know what's worse than that? Painting the target on her back a little bit bigger.
Chris Harrison announces that the evening's cocktail party has been canceled. The girls blame Kelsey for this, until word gets out that Tammy accused her of popping pills and helped to spread this rumor around the house. The only thing that helps Tammy in this moment is that during the subsequent fight between her and Sydney, Sydney doesn't come across very well. She keeps calling Tammy crazy and psycho, and at this point, Sydney has a rep for having other girl's names in her mouth.
Somehow, after all of this, Tammy gets a rose. The worst thing she can do in the coming episode is to be stubborn and refuse to let her feud with Kelsey die.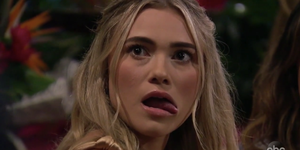 Source: Read Full Article