It's hard to remember a time when "Criminal Minds" wasn't on the air. The Jeff Davis-produced crime procedural has been critically and commercially acclaimed since it first debuted in 2005. And even though the show concluded in 2020, it's still in constant syndication and easy to access on Netflix and Hulu, and Paramount+ has just announced that there will be a reality-based spinoff called "The Real Criminal Minds" in the works, per Deadline. 
But better still, Paramount+ also announced in February 2021 that a revival of the show is also in the works, according to Deadline. It's confirmed that a 10-episode run has been ordered. "A creative team for the scripted revival is being assembled and is expected to be led by longtime Criminal Minds executive producer/showrunner Erica Messer. Talks are underway with most — if not all — cast members from the show's final season on CBS about returning for the Paramount+ revival. ABC Signature and CBS Studio are producing the scripted revival and the docuseries," reports Deadline. 
But we need to talk about the time Joe Mantegna — who played Agent David Rossi on "Criminal Minds" — appeared on "Frasier"! Keep reading for all the details.
Joe Mantegna played Derek Mann on Frasier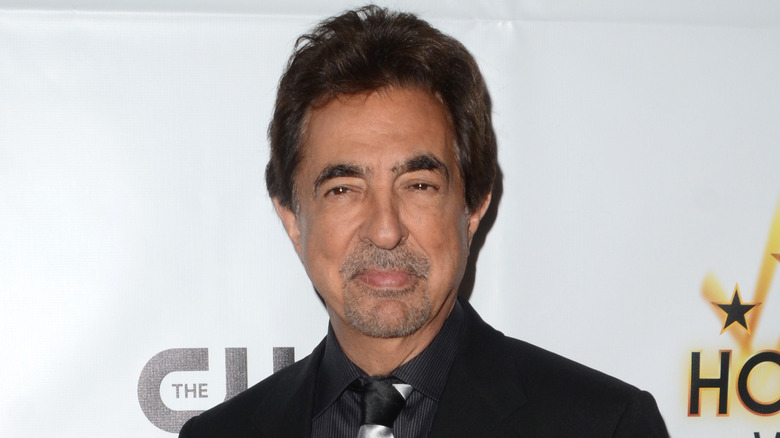 Joe Mantegna is an Italian-American actor and producer who has a long and storied career in the entertainment industry. In addition to "Criminal Minds," Mantegna is known for his work on "The Godfather Part III," "Joan of Arcadia," and his breakthrough role in "Glengarry Glen Ross." He's also an award-winning stage actor who has appeared in several on- and off-Broadway productions, per his IMDb. 
But perhaps his forgotten role was in "Frasier," where he played Derek Mann. Mann's whole schtick is that he's a vocal critic of Dr. Frasier Crane, to the point that it nearly came to fisticuffs. He wrote a column in the newspaper called "I Hate Frasier Crane" — how much more obvious can his hatred get? But you know how "Frasier" goes — it's all about callers, which means Derek wasn't actually on screen, so we never got to see Mantegna.
But Frasier, played by Kelsey Grammer, diffused the situation perfectly. When Mann called into the show to set up a fight with the good doctor, his response was, "I just don't think that civilized people behave that way. You know, Roz, perhaps our listeners have an opinion about that subject?" Well done!
Source: Read Full Article