If anyone knows how to ace the celebratory family photo, it's the Kennedys. Not a selfie stick was in sight as the huge family publicly shared their annual Fourth of July aerial shot taken at their estate in the exclusive Hyannis Port, Mass., per People. Kerry Kennedy, who is the daughter of the former United States Attorney General Robert F. Kennedy, uploaded the photo to her Instagram and simply captioned it, "Happy Fourth of July from our family ( and friends) to yours!" The gleeful mass picture sees the various Kennedy's fist-pumping and laughing — but some of its most notable members appear to be missing.
Despite some possible absences, this latest family image highlighted at least one new face, Conor Kennedy's new girlfriend Ava Dash. Robert F. Kennedy's grandson met the model through mutual friends back in 2019, but it wasn't until Conor's birthday of last year that they "really got to connect," an insider told People. The couple has since been dating for several months, having made their first public appearance at an LGBTQ fundraiser in the Hamptons in June. But safe to say, since sliding into the family's all-important Independence Day photo, Dash has gotten the Kennedy tick of approval. Conor's previous girlfriend, Taylor Swift, sadly didn't get the opportunity when she dated him over the summer of 2012, per E! News.
And as one new Kennedy couple presents itself, it becomes more palpable that another prominent one is absent, with publications questioning where Chris Pratt and Katherine Schwarzenegger are.
Chris Pratt and Katherine Schwarznegger appear to be missing from the Kennedy family reunion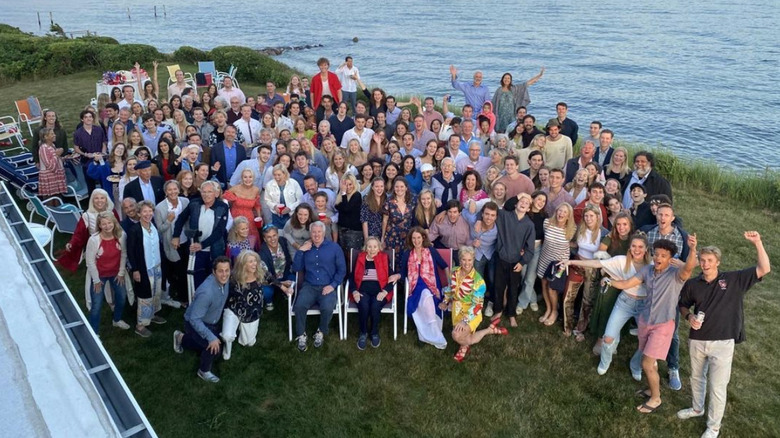 Like a game of "Where's Waldo?", people have been trying to point out Chris Pratt and Katherine Schwarzenegger in this year's Kennedy family photo. But to be fair, with so many faces in the crowd it is hard to distinguish each person. The Hollywood heavyweight first appeared in the Fourth of July shot in 2019, just a month after marrying the daughter of Arnold Schwarzenegger and Maria Shriver, per Daily Mail. In the Instagram image, also uploaded by Kerry Kennedy, Pratt can be seen beaming on the far left next to his wife, whose great-uncle was John. F Kennedy.
The pair began dating in the summer of 2018 and tied the knot the following year in an intimate ceremony in Montecito, Calif. (per People). They then welcomed their first child, Lyla Marie, in August 2020, per Daily Mail. As a picture says a thousand words, if Pratt and Katherine are indeed missing from this year's picture, it certainly puts a lot of question marks as to their whereabouts.
However, on July 3, Katherine posted her own family photo to Instagram with her mom and sister Christina Schwarzenegger safely soaking up the sun for a "melasma free summer." While it's unclear whether she's in Massachusetts or at home in California, it's good to see her taking skin cancer seriously. Pratt, on the other hand, has been extraordinarily busy, having filmed the latest "Thor" in Australia earlier this year and promoting his newly released Amazon Prime film, "The Tomorrow War."
Source: Read Full Article