With Hollywood's tight-knit structure and the potential horrors of dragging a regular person into unwanted spotlight, it's no surprise that quite a few celebs tend to share one — if not a few — exes. After all, between filming and red carpet events, cast and crews often end up spending an extensive amount of time together. 
Even the 2021 HBO Max "Friends" reunion revealed that the iconic duo behind Ross and Rachel (David Schwimmer and Jennifer Aniston, respectively) shared a harmless crush on each other during the early seasons of the show. However, it was on-screen, off-screen best friends Aniston and Courteney Cox who actually shared a celebrity ex back-to-back during the rise of the show's success. While Monica and Rachel certainly had their fair share of relationship ups and downs on "Friends," they never had an ex-swap quite like Aniston and Cox did in the '90s.
Keep reading to find out the mutual star in both ill-fated romances.
Adam Duritz was more than friends with both stars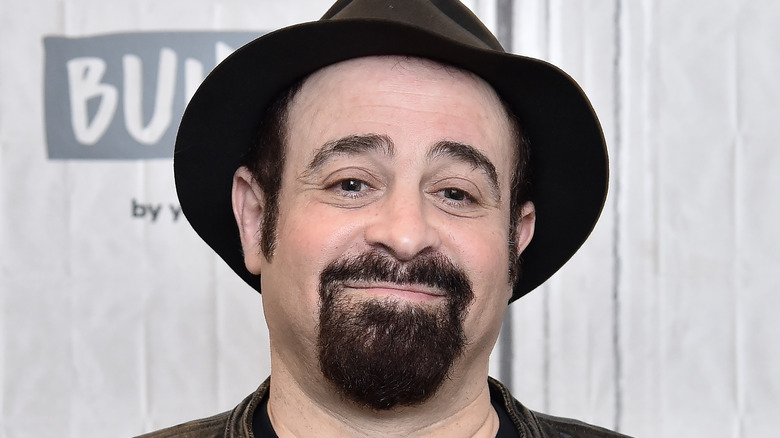 If this was an episode of "Friends," it would be called "The One Where They Both Date Adam Duritz." The Counting Crows frontman dated Jennifer Aniston and Courteney Cox in the late '90s. Per VICE TV (via Entertainment Tonight), Aniston and Duritz met at the infamous '90s nightclub The Viper Room. "A bunch of my friends lied to me and told me she had a crush on me," he told VICE TV. "Those same friends lied to her and told her I had a crush on her."
Per InStyle, the pair hit it off and became something of a power couple before the concept actually took shape in popular culture and before Brad Pitt had time to enter Aniston's life. When they met in 1995, Aniston and Duritz were both just starting to make it big in Hollywood ("Friends" had only started airing the year before). Duritz admitted that Aniston was a fresh face to him. "I honestly had no idea who she was, I had been on the road during all of 'Friends,'" he said. "I had never seen it, I don't think." The rockstar-starlet duo only dated briefly in 1995, and per, InStyle, by early 1996, Aniston was seen out with actor Tate Donovan.
Their seemingly amicable breakup didn't stop Duritz from stirring up some controversy by going after Aniston's co-star Cox in 1997, per US Weekly. Cox had previously starred as Duritz's love interest in the Counting Crows' somber yet moody music video for "A Long December" the year before. The relationship didn't last long, and in a 2014 Men's Health interview, Duritz confirmed his past romances with the two stars. "They were nice girls and I went out with them and that was that."
Source: Read Full Article