Kathy Griffin is known for her quick wit and stand-up comedy. The outspoken star has had a lengthy career in the business, appearing in a few films and her hit show, "My Life on the D-List." That's actually where we came to know and love her late mother, Maggie, and her love of wine.
Griffin has had a long list of relationships in her life, including one with Quentin Tarantino. In January of 2020, she wed Randy Bick in a (quite literally) short but sweet ceremony. "The entire ceremony was just under 14 minutes, but I have to give you guys the uncut first 75 seconds. LOVE IT!" she tweeted. "We promised you atypical. We are in love, and we cannot stop laughing. Thank you @LilyTomlin and Jane Wagner!" Griffin accompanied the post with a short video clip of Lily Tomlin's hilarious antics as she served as officiant. "What was supposed to be a shallow, 'toot it and boot it' one-night stand has grown and flourished into something far more meaningful," she began. "They stayed together. Then they couldn't stay away from one another."
The same day, Griffin shared another tweet that showed she and Bick on their first date in September 2011. She raved, "We are in the back of a limo provided by the one only @GloriaEstefan because her team arranged for me to surprise her as a backup 'dancer' when she performed at the Alma awards!" So, who's the man by Griffin's side? Keep scrolling for deets.
Randy Bick isn't in showbiz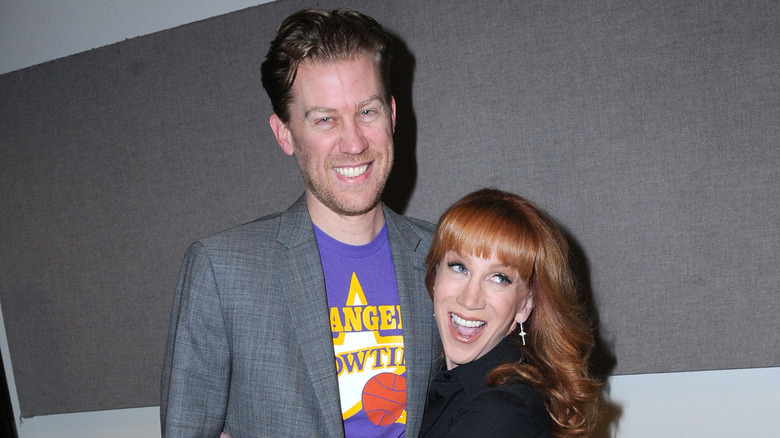 Unlike some of Kathy Griffin's famous exes, Randy Bick wasn't in the spotlight before he wed the fiery redhead. According to The-Sun, Bick is a marketing executive, which is a far cry from Hollywood. The pair dated for eight years before they tied the knot in the 14 minute-ceremony. In 2013, Griffin spilled some of the deets on her then-boyfriend to Larry King, including how they met. She also reminded King to make no judgments on their 18-year difference. 
Griffin first laid eyes on Bick at the Los Angeles Food and Wine Festival, and she thought it would just be a one-night stand. "I was like, 'Oh, you want to, like, date-date? Okay.' And then we had to rethink the whole thing, 'cause I thought he was just a man-w***e, if you will," she said. Leave it to Griffin to be unapologetically honest. She then shared more about her man, including his chill personality. "We have a great time, and he's very sweet and very mellow. He's like a regular guy … he's not like a Hollywood guy," she told King. Man, he sounds like the kind of guy that we'd want to hang with, too! 
Griffin also shares plenty of snapshots on Instagram, and he not only seems to love long walks on the beach, but he also happens to love Cheetos and dogs. We can only imagine that Bick is holding strong amid Griffin's most recent health issues.
Kathy Griffin is likely leaning on her husband during this tough time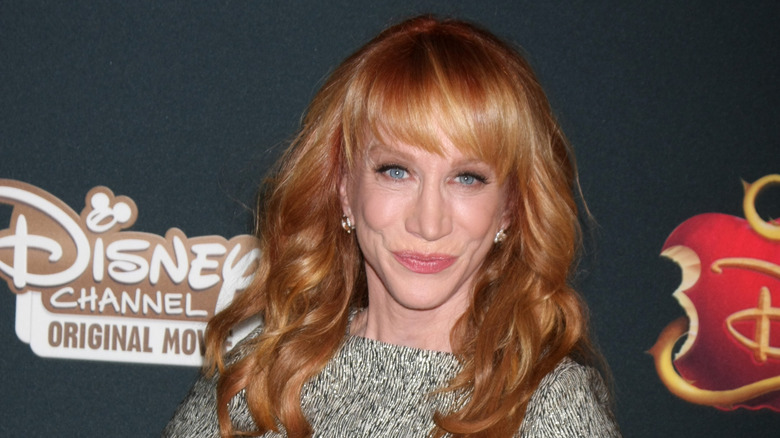 Kathy Griffin is following in the footsteps of the late Alex Trebek and opening up about her cancer. Luckily, Griffin's cancer comes with a less grim prognosis than Trebek's, as doctors diagnosed him with stage 4 pancreatic cancer. She took to Instagram to share the news, using a typewriter-like font on a plain background. "I've got to tell you guys something," Griffin shared. "I'm about to go into surgery to have half of my left lung removed. Yes, I have lung cancer even though I've never smoked!" She continued to explain, "The doctors are very optimistic as it is stage one and contained to my left lung. Hopefully no chemo or radiation after this and I should have normal function with my breathing." 
In addition, the star said that she would be up and running in no time. Griffin also reminded her fans to stay on top of medical checkups because it could save a life. Fans flocked to the comments section with well-wishes, and even some of her more famous followers left notes. "​​Wow So brave," Andie MacDowell wrote. "My heart is wide-open for you. Thank God you found it early and a safe recovery." Amy Schumer also left a comment for the comedian, proving that funny girls always stick together! "Love you Kathy!!!! You got this!" she said.
Seems like Griffin has a great man and plenty of fans on her side!
Source: Read Full Article