It's not uncommon for Kathy Griffin's name to pop up in the headlines. One of the most highly-publicized incidents involving the comedian came when she shared a photo of herself holding the severed head of then-President Donald Trump In 2017. (Sidenote— it was a fake head). Griffin received a lot of backlash, and CNN even dropped her from her yearly New Year's gig with Anderson Cooper. Initially, Griffin felt remorse. "I sincerely apologize … I'm a comic, I cross the line. I move the line; then I cross it. I went way too far. The image is too disturbing; I understand how it offends people. It wasn't funny. I get it. … I beg for your forgiveness," she said in May 2017 in a since-deleted Instagram post (via NPR).
By August, Griffin retracted her apology, stating that didn't feel bad for her actions. "I am no longer sorry. The whole outrage was B.S.," she told Australian show "Sunrise." "The whole thing got so blown out of proportion, and I lost everybody. Like, I had Chelsea Clinton tweeting against me. I had friends, Debra Messing from 'Will and Grace,' tweeting against me. I mean, I lost everybody." 
Griffin also noted that she had been "through the mill," and her entire tour got canceled within 24 hours of the photo going live. The fallout also caused Griffin to make some tough decisions that nearly cost her her life.
Kathy Griffin contemplated suicide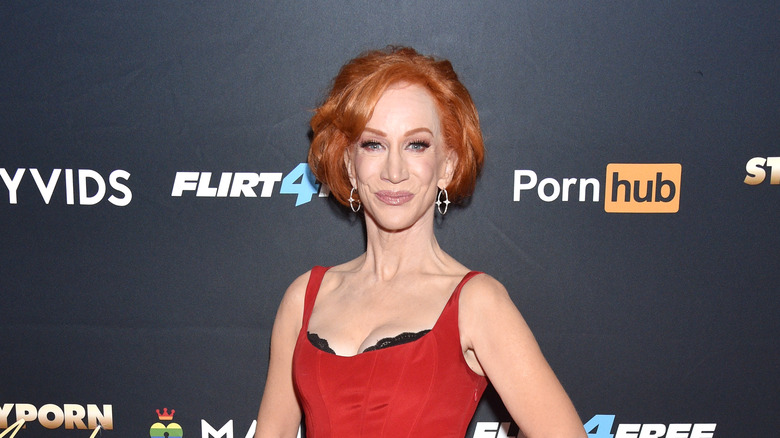 Kathy Griffin has not been shy about sharing how much the viral Trump photo has affected her. The comedian sat down with ABC to reveal that she was receiving lots of death threats and people were making her life miserable. Griffin revealed that she began taking pills but didn't initially see a big problem with it. "Also, my age was a big part of it. I mean, who bottoms out and tries to take their life at 59? It's almost a joke, right, and by the way, someday, this will all be a comedy," she said. "Trust me … I was laughing to stay alive. And what I found is I felt like if I can't make others laugh, then there's no purpose for me to live. There's no reason for me to live."
And her pill addiction caused even more issues for her. "I started thinking about suicide more and more as I got into the pill addiction, and it became almost an obsessive thought. I started really convincing myself it was a good decision," she shared. "I got my living revocable trust in order. I had all my ducks in a row. I wrote the note — the whole thing."
Luckily, the comedian chose to get help instead, but it didn't come easy. She said she experienced tremors, and doctors would request urine samples daily to make sure she wasn't taking pills. And when one battle ended, so began another one. 
Kathy Griffin is struggling with other medical issues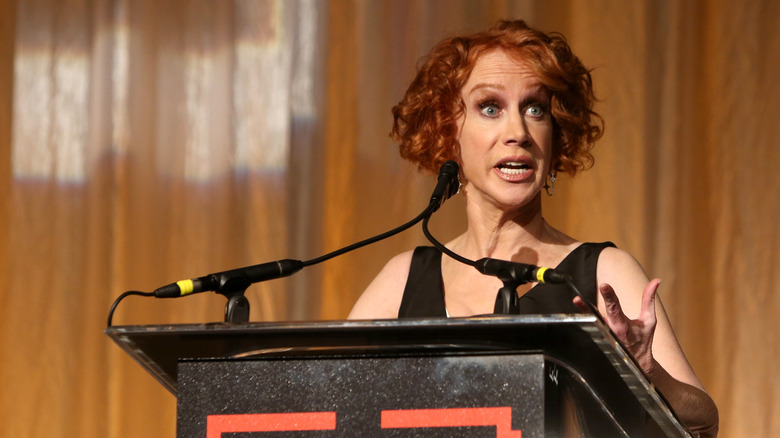 Kathy Griffin may be living a sober lifestyle now, but that doesn't mean that her medical issues are behind her. In a gut-wrenching Instagram post on August 2, the outspoken comedian revealed to fans that doctors diagnosed her with cancer. "I've got to tell you guys something. I have cancer. I'm about to go into surgery to have half of my left lung removed. Yes, I have lung cancer even though I've never smoked!" she shared in a post with typewriter-like font. 
The comedian continued, "The doctors are very optimistic as it is stage one and contained to my left lung. Hopefully no chemo or radiation after this, and I should have normal function with my breathing," she said before noting that she should be up-and-running in a month or less. "It's been a helluva 4 years, trying to get back to work, making you guys laugh and entertaining you, but I'm gonna be just fine." Griffin also shared with fans that she has received the COVID-19 vaccine while urging followers to keep up with medical appointments because it could save their lives. 
Fans were not shy about offering the comedian well-wishes amid the diagnosis. Many famous friends made sure to let the star know that they're thinking of her. "Sending love, prayers and good thoughts for your complete recovery, girl! If anyone can do this, YOU can!! " Gloria Estefan wrote. Hopefully, now more than ever, Griffin is feeling the love.
If you or someone you know is having suicidal thoughts, please call the National Suicide Prevention Lifeline at 1-800-273-TALK (8255) or text HOME to the Crisis Text Line at 741741.
Source: Read Full Article