Season 6 of "RuPaul's Drag Race: All-Stars" premieres on June 24 and it seems like it's going to be one of the best — and perhaps more dramatic seasons — yet!
Guest judges include Tia Mowry, Emma Roberts, Charli XCX, and Tina Knowles-Lawson, among others (via TV Line). And stars like Angela Bassett and Miss Piggy will also make an appearance this season, and if that's not a reason to tune in, we don't know what is. But lest we forget the crop of amazing returning queens, including Scarlet Envy, who was eliminated during Season 11. The performer is in good company with other Season 11 sisters like Silky Nutmeg Ganache — though (spoiler alert!) Scarlet didn't make it as far, and will definitely be coming in hot. According to TV Line, RuPaul said "All-Stars" features the "mother of all twists that will leave viewers gagged," so either way, it's serving drama. 
Scarlet opened up about her surprising early elimination from "RuPaul's Drag Race" in April 2019, telling Entertainment Weekly that although it was "one of your worst fears come true, "it's honestly not so bad." She didn't necessarily "agree" with the outcome, but came to terms with it. "This happens to be my path. I've never been very good with directions," she added. Ha! 
Have you ever wondered about Scarlet Envy's life before the cameras started rolling? Keep reading for more details.
Scarlet Envy's drag journey began in Brooklyn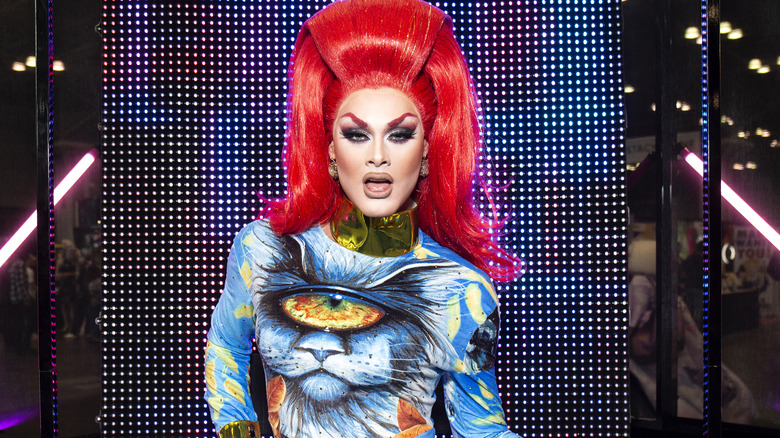 Born Jacob James in Kentucky, per Drag Race Fandom, Scarlet Envy can trace her drag journey back to Brooklyn nightclubs, according to a 2013 interview with Huffington Post. Back then, Scarlet hosted a weekly drag variety show called "This n' That" and climbed the drag ladder as a result. "I entered my college drag pageant a couple of years ago and learned that I am not a natural-born dancing queen, nor do I enjoy pageants, but that I loved this insane drag world," she told the outlet. "One day I woke up realizing that a majority of my friends were drag queens and continued to fall deeper into the scene from there," she said. 
Scarlet describes herself as the "cheapest lady with the highest price tag." As for why she found herself loving the Brooklyn scene, she told the outlet, "There are rotten apples in every family tree, but the family I have in Brooklyn nightlife are some of the best people I could ever imagine sharing life with. Manhattan is fabulous, I have plenty of family and gigs there too, but sometimes I find mindsets a little closed comparatively." Well, Scarlet is in good company, as competitors like Aja and Sasha Velour were also Brooklyn girls. Scarlet added that while "RuPaul's Drag Race" is a competition show, drag in Brooklyn is more of a "celebration." 
We'll see if she celebrates … an "All-Stars 6" win!
Source: Read Full Article