"Trump must be so jealous," the host adds
Host Sara Haines asserted that swift action hasn't been taken because it would affect the company's profits and bottom line.
"I think the reason it's not being handled is because not everyone understands the technology," Haines said.
Moderator Whoopi Goldberg agreed with Haugen's initial concerns though, about Zuckerberg being the controlling voice of the company.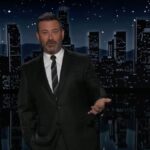 "The scariest thing I heard her say, is that he's the only voice," Whoopi said. "And so. for me, if that's the only voice and he's making all the decisions, that is not a good thing."
Behar later doubled down on her anger with Facebook.
"They allow a lot of false information about the vaccine, for example, to go out there," Behar said. "They're really, you know, a lot of this is like very serious stuff here. We're talking about death and dying. People are dying. And they just keep spewing out these lies all over the place."
You can watch the full discussion from "The View" in the video above.
Source: Read Full Article