Comedic misunderstandings are a key pillar in the world of TV sitcoms. And perhaps no show applied this approach has consistently as Three's Company. The series — which ran on ABC from 1977 to 1984 — became famous for how its characters would interpret situations differently. Ironically, a similar situation occurred behind the scenes on the TV show, leading to a rift among its cast members.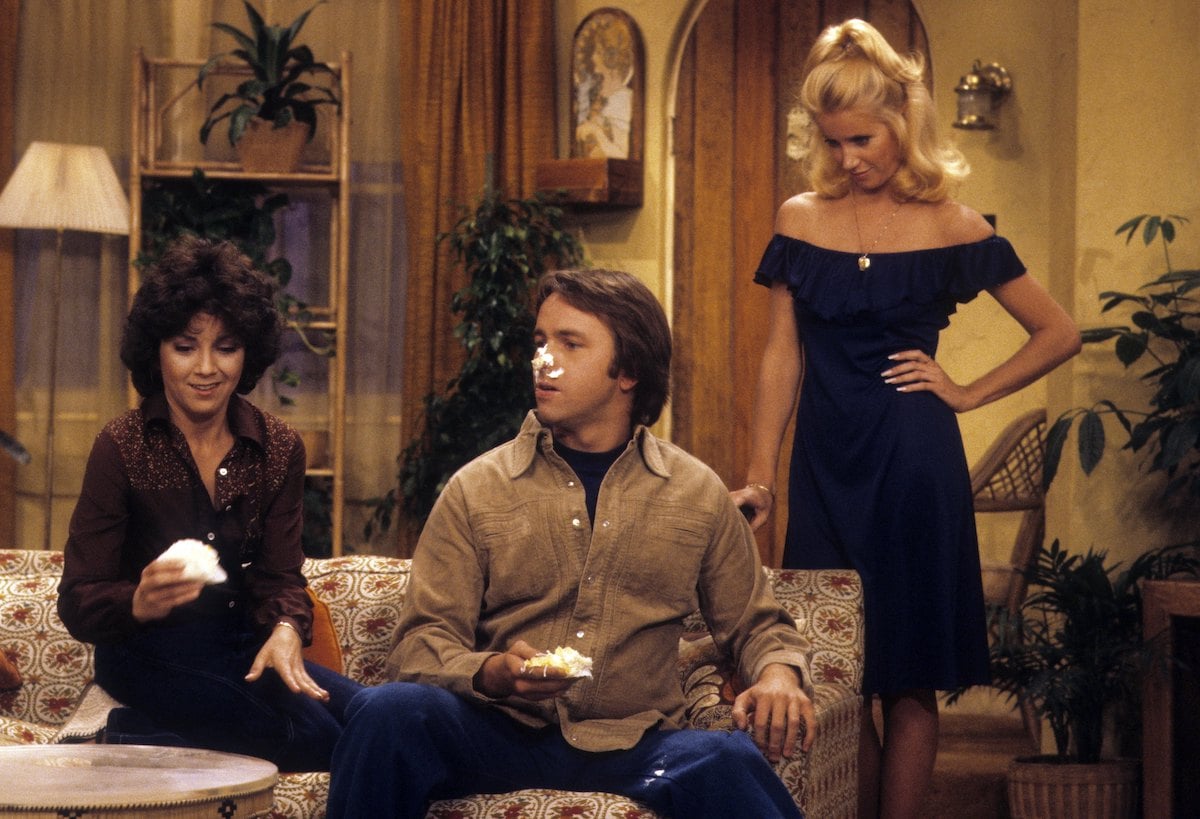 'Three's Company' became a controversial hit in the late 1970s
As hilarious as Three's Company was, the show also attracted quite a bit of controversy during its initial run. The central premise hinged on Jack Tripper (John Ritter) and his living arrangement with roommates Janet Wood (Joyce DeWitt) and Chrissy Snow (Suzanne Somers). Because of their apartment building's conservative owners, Jack pretends to be gay.
Mainstream pop culture still didn't tackle sexuality so overtly back in those days. In addition to its LGBTQ+ themes, the vast majority of the show's humor comes from sex. Whether it's the flirty banter among the three platonic roommates or the sexually frustrated Mrs. Roper (Audra Lindley), the show often toed the line of what was appropriate for prime time television.
Tensions among the cast came to a head during a magazine photo shoot
Amid the show's success, trouble was brewing among the cast. And midway through its run, even the main trio of Three's Company was heading toward a shift. Chris Mann, author of the 1998 book Come and Knock on Our Door: A Hers and Hers and His Guide to Three's Company, recently told Closer Weekly the tension reached a high point during a magazine photoshoot.
"Joyce wanted to be known as an actor and not a celebrity. And a lot of that feeling grew out of a Newsweek cover story. Suzanne had her own photoshoot before or after the shoot of the trio, which John and Joyce were very uncomfortable with, having Suzanne being featured. She had other shots of her in front of the pink or blue screen in a nightie. Apparently, one of those shots was super-imposed over the image that Newsweek had of the three of them, and that created a lot of tension behind the scenes. It also further conflicted Joyce about doing publicity, because she felt lied to."
Soon thereafter, the show fired Somers after season 5. Reportedly, negotiations fell apart when Somers' management asked for too much money. And though the initial trio changed, Three's Company managed to soldier on, remaining a popular series.
'Three's Company' still made it to a total of 8 seasons before it ended
After Somers' departure, Jenilee Harrison and Priscilla Barnes both subsequently joined the show as new characters to fill out the main trio. Harrison — who played Chrissy's cousin Cindy — first appeared in season 5. And Barnes' Terri came on to the show in season 6, remaining until Three's Company ended its successful eight-season run in 1984.
The series proved to be more resilient than many other sitcoms. In addition to Somers' replacements, the show brought in Don Knotts after Lindley and Norman Fell left for their spinoff. Only Ritter and DeWitt remained main cast members from the series premiere until its finale.
Source: Read Full Article