This article contains references to sexual assault and mental health issues.
It's something that fans of the actor have repeatedly had their hearts broken reading about: All the tragic details about Brendan Fraser that have been in some way related to his apparent disappearance. The actor was one of the most beloved and bankable stars of the '90s — the "Blast From the Past" star was charismatic and versatile, as gorgeous as he was goofy. And though he had solid comedic timing, his dramatic roles packed an emotional punch like few others (if you remember his "Scrubs" plotline, then you're likely still recovering from that particular heartache). 
Within just a few short years, however, it went from feeling like Fraser was everywhere to discovering he was nowhere. In fact, it happened so quickly that most people barely noticed — until he started to make a return. With critically acclaimed performances in shows like "Doom Patrol," "The Affair," and "Trust" and newfound approval from big-league directors like Martin Scorsese and Darren Aronofsky (who both cast him in their films, via Indiewire), Fraser's long-overdue comeback kicked in some time from 2016 onwards. 
And as his star has continued to climb back up, fans have also been made privy of some of the tragic circumstances surrounding Fraser's life and career. One of Hollywood's seemingly nicest guys had a really rough run of it, and here's why.
Being a Hollywood himbo destroyed his body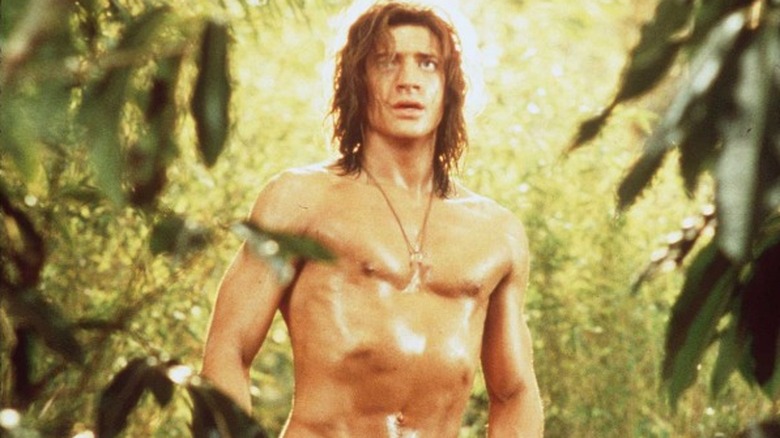 If you've seen Brendan Fraser's 90's work in films like "George of the Jungle," "Encino Man," and "Airheads," then you'll know that there was something he was very, very good at: Acting stupid and looking beautiful. Tragically, maintaining such a look for himself took an extreme toll on his body. Speaking to GQ, Fraser expressed how his 'Himbo' phase made him "[try] too hard, in a way that's destructive." He pushed himself to deliver terrific physical performances in his films, doing stunts and taking injuries "for the good of everyone" -– except, clearly, himself.
His body was in such bad shape that by 2008 he was having to build "an exoskeleton" for himself daily out of tape, ice, and "downhill-mountain-biking pads" which could fit under his clothes. He subsequently spent seven years "in and out of [the] hospital," receiving surgeries to undo the damage inflicted from his career. This included "a partial knee replacement," some spinal procedures, and even surgery to repair his vocal cords.
Reflecting on this part of his career with GQ, Fraser compared himself to the horse from George Orwell's "Animal Farm" who would "work and work and work … for the good of the whole" and did so "until it killed him." Fraser had been sent to Hollywood's glue factory –– but thankfully for everyone, he managed to make his way back out. But not without some needless criticism. 
Ridiculed and body shamed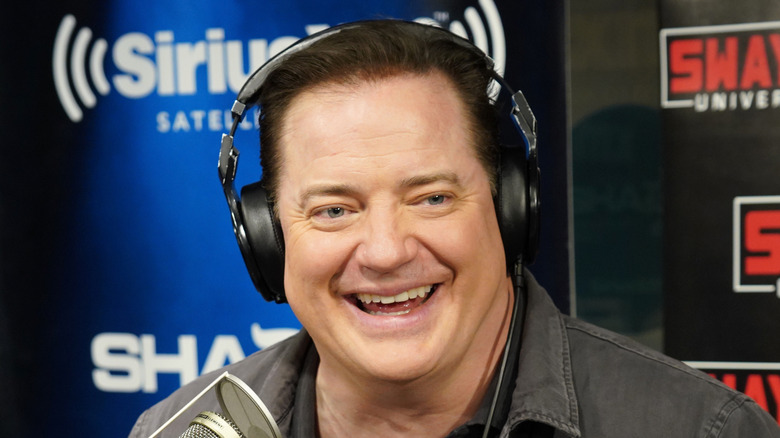 In the midst of his physical turmoil, tabloids and gossip blogs grew increasingly cruel about Fraser's changing appearance. Critics were horrified to discover that the once hunky star had succumbed to (shock!) the everyday processes of aging and had inexplicably lost his signature abs and luscious long hair. Various publications gleefully published images of Fraser "looking so bald his head fell somewhere between hard-boiled egg and Don Rickles" and then later ran similarly critical articles positing that he'd had hair plugs installed (via E!).
Meanwhile, the Daily Mail ran an entire news item about the star's figure, and poked fun at Fraser looking "substantially larger." The infantile jibe they led the piece with? "Who ate all the pies?" Whether they realized it or not, they were truly kicking a man when he was down. After all, working out for rock-hard abs was likely (and correctly) low on Fraser's priority list as a man undergoing several surgeries.
Fraser took the jibes in his stride during an interview with Parade -– but it's hard to know whether he was speaking honestly or defensively on the topic. Claiming he consciously gained some extra pounds for the movie "Furry Vengeance," to help him with "physical comedy," Fraser suggested kids and adults alike got a kick out of it. "They're like, 'Ha-ha, look! …the guy who was really buff in all those action movies has gotten fat.'" Does anyone else's heart just obliterate reading that?
Brendan Fraser struggled to be taken seriously as an actor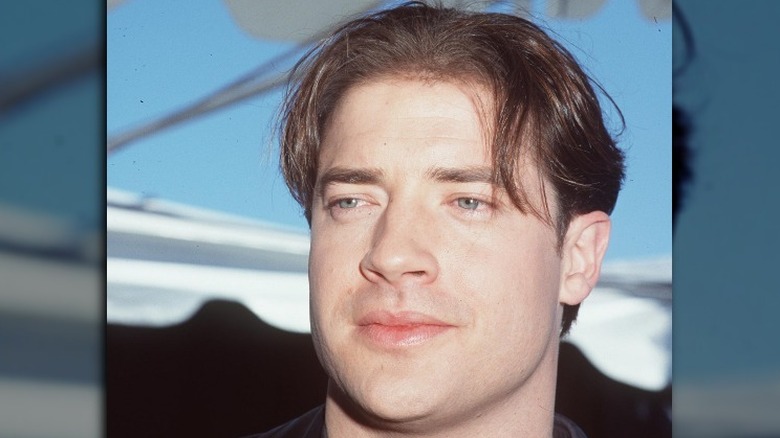 Though every fan of the actor can pinpoint Brendan Fraser's incredible star power -– a charismatic man who can deftly skip between the divides of dramas and blockbusters — for much of his career it was precisely these qualities that caused Hollywood executives to be "unsure of what to do with him." In an Entertainment Weekly feature that suggested Fraser "deserves some respect," an anonymous studio executive sharply mused, "His name on the marquee is a guarantee of mediocrity."
This was an actor who was one of the main bankable leads of the 2004 Oscar-winning movie "Crash" and who confirmed his acting skills opposite legit thespian Ian McKellen in the critically-acclaimed indie hit "Gods and Monsters." However, Fraser's decision to choose well-paid, popular gigs like "The Mummy" trilogy, "George of the Jungle," and "Journey to the Center of the Earth," hurt his career and his ability to maintain any true acting kudos within the industry. Fraser's reason for choosing such films? Money. "I was looking to start a family," he told the magazine.
The non-consensual encounter which ruined his self-worth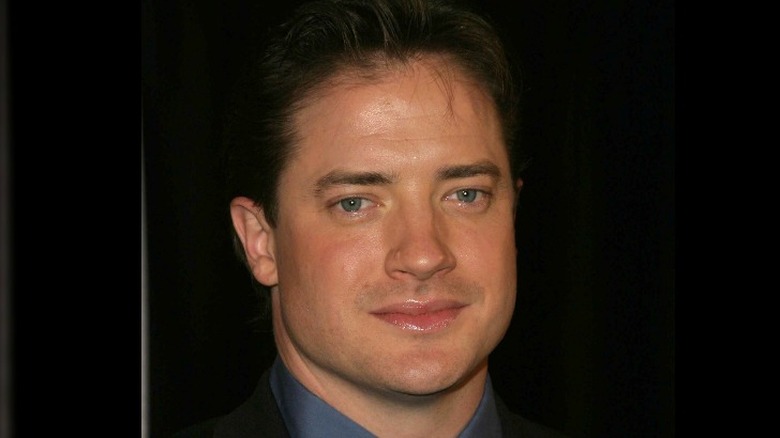 In 2003, an incident took place that would play a strong hand in derailing Brendan Fraser's career. Speaking to GQ in 2018, the actor opened up about how Philip Berk, a former president of the Hollywood Foreign Press Association touched Fraser inappropriately at a luncheon. Berk himself copped to the incident in his 2014 memoir but depicted it as a playful butt pinch, which he thought was "a joke" until Fraser's publicist threatened legal action against him for the episode (via The Hollywood Reporter).
Fraser remembered it differently, and recounted to GQ how he was "overcome with panic and fear" as Berk grabbed an "a** cheek" and used a finger to touch the actor "in the taint." Fraser described how his version of the incident -– which Berk disputed to the magazine as being "a total fabrication" –- made the star "[feel] ill" and like he was "going to cry." He further alleged that the HFPA said it would "never allow Berk in a room with Fraser again" –- something which Berk denied, and which the HFPA declined to comment on.
The star felt moved by the "wonderful" #MeToo movement — seeing women he considered his friends (like Ashley Judd and Mira Sorvino) having "the courage" to speak out about something which he "didn't have the courage to say." Stating that he is "still frightened," he added, "Maybe I am over-reacting … I just know what my truth is." 
If you or anyone you know has been a victim of sexual assault, help is available. Visit the Rape, Abuse & Incest National Network website or contact RAINN's National Helpline at 1-800-656-HOPE (4673).
Did speaking out about his encounter with Philip Berk damage his career?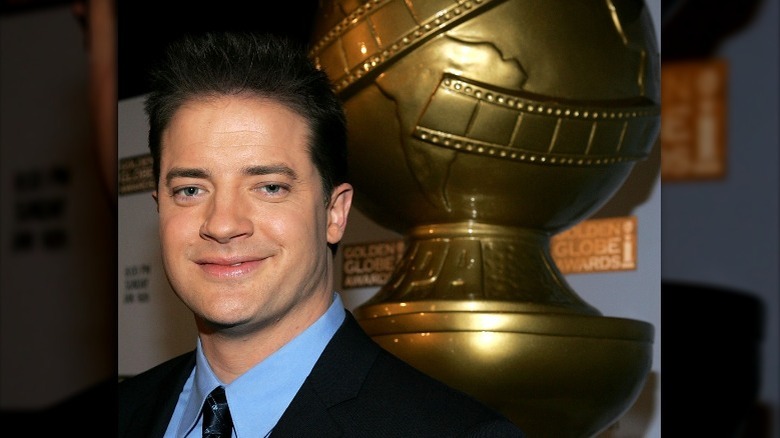 Like all too many #MeToo stories, his experience with former president of the Hollywood Foreign Press Association, Philip Berk, had huge consequences for Brendan Fraser's personal wellbeing and subsequently, his career too. He told GQ that he "became depressed" and felt "reclusive," as he started to believe that he deserved what had happened. In the aftermath, Fraser said he struggled with maintaining his sense of self –- "Who I was and what I was doing," and he felt like his career had "withered on the vine." The experience left him with a sense of loss, or that "something had been taken away from [him]."
Adding to Fraser's fragility were his concerns that the altercation may have caused the HFPA to blacklist him. The actor suggested to the magazine that he was "rarely invited back" to the Golden Globe Awards beyond 2003. "I don't know if this curried disfavor with the group," he said, adding, "But the silence was deafening." Philip Berk denied that the group had retaliated and suggested that Fraser's "career declined through no fault of ours."
Regardless of what the truth of the matter was, there's no denying that 2003 marked the beginning of Fraser's steadily worsening career slump. "The phone does stop ringing in your career, and you start asking yourself why," he told GQ, "There's many reasons, but was this one of them? I think it was."
If you or someone you know is struggling with mental health, please contact the Crisis Text Line by texting HOME to 741741, call the National Alliance on Mental Illness helpline at 1-800-950-NAMI (6264), or visit the National Institute of Mental Health website.
Grappling with failure in the shadow of Superman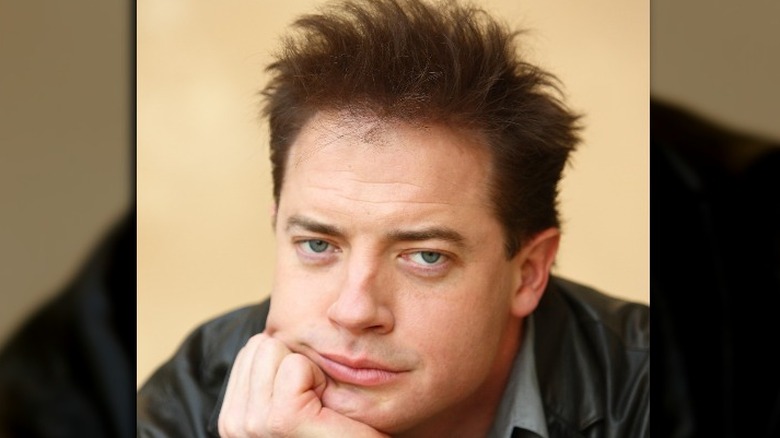 Between 2002 and 2004, J.J. Abrams was developing the DC superhero movie "Superman: Flyby" (via Gizmodo), and Fraser was being strongly considered for the role. It was an exciting opportunity for the actor, particularly so at a time when his career and self-esteem felt so delicate. Fraser has repeatedly praised Abrams' script as being "awesome," and full of the sort of scope and drama that made it like "Shakespeare in space!" (via Entertainment Weekly). In short: It had the potential to be a film that took Fraser's career to new heights.
As the star told Voices From Krypton, however, "the big monster studio machine and all the machinations behind it" intervened (via Gizmodo). Suddenly, a role that had once been expressed to him as being a sure thing was now "subject to a screen test" and then "subject to approval" before the film fell through entirely. He wasn't just devastated, as Fraser told GQ the experience "pretty much broke his heart."
He felt "ashamed" when the film, and the role, didn't transpire for him and he took the decision personally. "You feel like: 'I didn't measure up. Oh, I failed.'" Over time, he was able to counter these feelings and to address himself and the experience with a little more kindness, "The truth is, you didn't. That's erroneous … you didn't fail."
He took pleasure in punching himself in Looney Tunes: Back in Action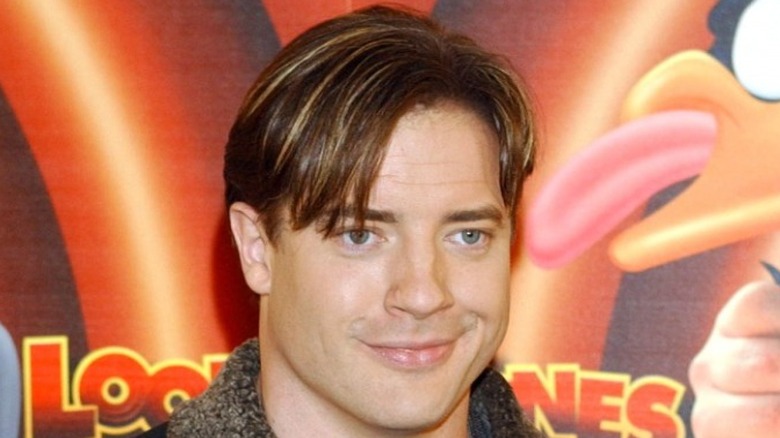 He may have found some perspective a little later in life, but consecutive negative experiences hammered away at Brendan Fraser's sense of worth. As GQ wrote, he felt he "wasn't worthy of being Superman," and worse still, he felt he "wasn't even worthy of being Brendan Fraser." This feeling came to a head when Fraser starred in the animated movie "Looney Tunes: Back in Action" where he got to depict the seemingly fun meta role of Fraser's stuntman.
At the film's conclusion, the character meets the Hollywood star – dressed in "ostentatious clothes" to depict "the worst version" of himself – and punches him out. What should have been a playful scene to film took on dark dimensions for the actor at a time when Fraser felt like he was also living as the worst version of himself, too.
In fact, this scene was a major part of what made Fraser "adamant" to do the animated movie role, though he didn't realize it at the time. "I think I wanted to knock myself out," he told the magazine, "I wanted to take the p*ss out of myself before someone else would, 'cause I had it in my head that I had it coming." In the coming years, Fraser would continue to struggle with these issues and feelings which would ironically only come to damage his career further.
If you or someone you know is struggling with mental health, please contact the Crisis Text Line by texting HOME to 741741, call the National Alliance on Mental Illness helpline at 1-800-950-NAMI (6264), or visit the National Institute of Mental Health website.
The collapse of Brendan Fraser's marriage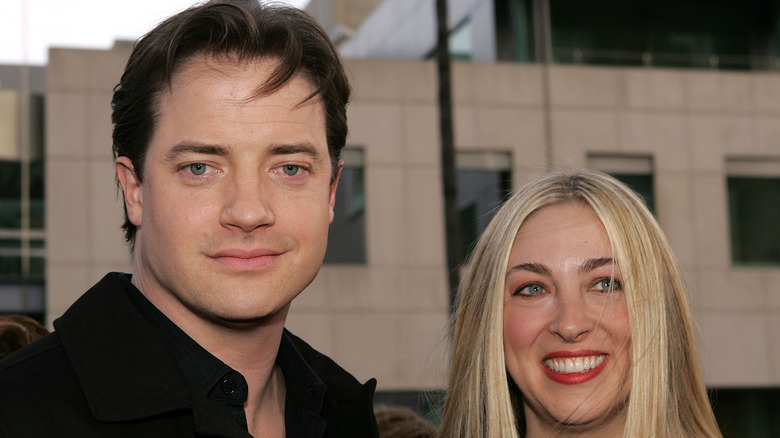 In 2007, Brendan Fraser and his wife Afton Smith announced the end of their nine-year marriage and shared a public statement that "They continue to maintain a close and caring friendship" (via Fox News). According to The Sun, the two had met at an Independent's Day barbecue hosted by Winona Ryder in 1993, where they likely (and adorably) discovered they shared the same birthday. They raised three children together, who were all under the age of seven at the time of the separation.
Understandably, the former couple maintained their privacy about the dissolution of their marriage, but that didn't stop tabloids from digging their claws in. Star Magazine ran a piece speculating that Fraser had "grown closer to Maria Bello, his co-star on 'The Mummy: Tomb of the Dragon Emperor'"(via Celebitchy). As ever, the rumor was unsubstantiated and there was no actual proof to indicate Fraser had cheated.
Sadly, the couple's dirty laundry would be aired in 2013 – at least financially. Reports began to circulate that Fraser was "broke" and had asked that his annual $900,000 child support payment to his ex-wife be reduced, per HuffPost. Smith then retaliated by accusing Fraser of "fraud" and of hiding "$9 million in new film contracts" when their divorce settlement was agreed (via New York Post). Fraser stood firm: The uncertain future of his career coupled with his medical issues meant he wasn't rolling in money anymore. 
His Broadway debut ended after just one week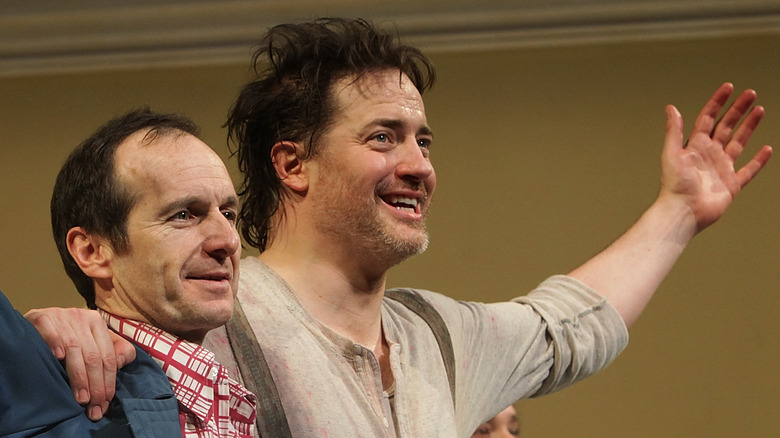 Reportedly "broke" and struggling to score a hit, Fraser swapped out a career on screen for one on stage -– and still couldn't catch a break. In 2010, the actor made his Broadway debut in Simon Bent's comedy "Elling." Starring opposite a phenomenal cast of distinguished actors like Denis O'Hare and Jennifer Coolidge (the woman who helped deliver "bend and snap" to the masses), Fraser seemed to be on the up.
Sadly, production ended "abruptly" after just one week, having enjoyed "22 previews and nine regular performances." According to Daily News, the play was considered to be "too intimate … for a big Broadway theater" and it fell "well short" of its potential box office. Reviews were also not altogether positive for "Elling," though Fraser was generally well-received for his performance. Daily News suggested the play "has charming moments" but "the best word to describe it is 'weird,'" though they praised the actor for letting "his demented side show in his vanity-free turn."
Meanwhile, The Hollywood Reporter observed that "Fraser's paunchy, loose-limbed goofiness is endearing" but suggested that "the choice to bellow every line wears thin" even if it was an obvious part of his characterization in the "strained" comedy. He'd have to wait a little while longer, but Fraser's comeback was coming –- and people would come to respect him as an actor. But would they finally understand him as a person?
His 2016 AOL Build interview saw him looking incredibly sad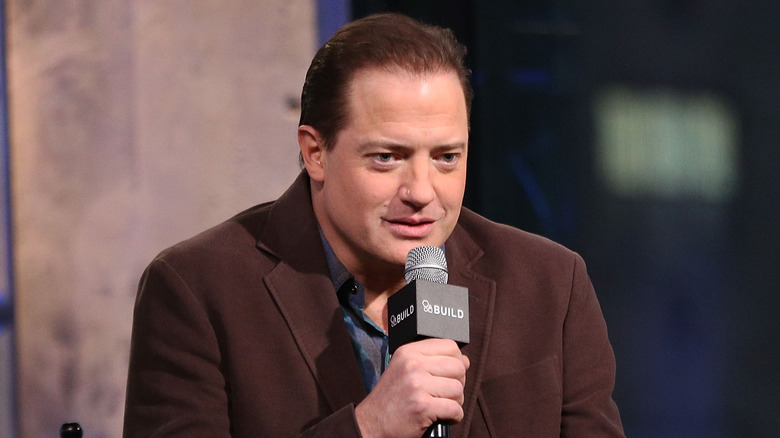 By 2016, Fraser had finally scored a win with his critically acclaimed performance in the Showtime drama "The Affair." It was a role that reminded the world of Fraser's immense talents, with "Trust" director Danny Boyle telling GQ that he "utterly believed" the actor in the role, and was moved by how Fraser looked "so changed by time and by experience" that "it's both so sad and wonderful."
The whole world appeared to take notice of these very same qualities in an interview Fraser did with "AOL Build" to promote his role in the show. Fans noticed that Fraser looked deeply uncomfortable throughout the clip and that he even looked devastatingly sad during it. Something was wrong and publications like The Blemish found themselves listing off the actor's decade-long struggles in a bid to figure out why. Thankfully most people came to the same conclusion: Fraser seemed like a nice guy who'd been done badly by.
The truth was more tragic than anyone could have imagined, however. Fraser told GQ that his mom had died of cancer just days earlier and that he was "in mourning" but "didn't know what that meant." He was also out of practice with interviews, and certainly wasn't ready to do one in front of a studio audience, "I wasn't quite sure what the format was," he said, "And I felt like: 'Man, I got fu**ing old. Damn, this is the way it's done now?'"
Source: Read Full Article