Queen Elizabeth II might eat close to the same thing every day, but the rest of her family are a bunch of foodies. And while Kate Middleton and Meghan Markle tend to stick to healthy diets, the same can't be said for their other halves, Prince William and Prince Harry. The princes allegedly have quite the sweet tooth. What are Prince William and Harry's favorite desserts? Find out, ahead.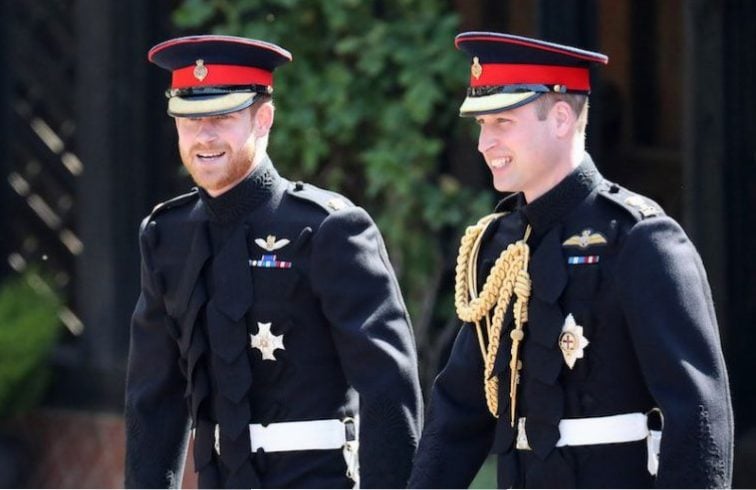 Both Prince Harry and Prince William take after their grandmother when it comes to dessert. | Jane Barlow-WPA Pool/Getty Images
Prince William and Harry's favorite desserts
The Duke of Cambridge and his brother, the Duke of Sussex love a sweet treat from time-to-time. And, like their grandmother, Queen Elizabeth II — who allegedly never leaves home without a slice of cake in her purse — they have a bit of a sweet tooth. And, Prince William and Harry's favorite desserts typically fall under the cake category and they are allegedly major fans of Caramel Banana Cake. Find out how to make the recipe, plus other desserts Prince William and Harry love, ahead.
Caramel Banana Cake
According to former palace chef, Darren McGrady, the princes love to indulge on a slide of Caramel Banana Cake (fun fact: Banana is one of Prince Harry's favorite dessert flavors). Here's how to make a Buckingham Palace-approved version:
Ingredients
Cake:
¾ cups of light brown sugar
½ cup of butter (plus 2 tsp for greasing)
2 eggs
1 tbsp milk
3 small mashed bananas (about 1 cup)
1 ½ self-rising flour
1 tsp vanilla extract
¾ cup of sour cream
1 tsp of baking soda
Frosting:
1 cup of light brown sugar
¾ cup unsalted butter
3 cups powdered sugar
1 teaspoon vanilla extract
¼ cup sour cream
Directions
1. Start by preheating the oven to 350ºF and greasing a 9 ½ x 13 sheet pan
2. Cream the bugger and sugar with an electric mixer until it reaches a light and fluffy texture. Then, add in the banana mash and eggs and beat together.
3. Pour in the flour, baking soda, milk, sour cream, and vanilla extract and continue mixing until there are no lumps and the batter reaches a nice, smooth consistency.
4. Add the mixture to the sheet pan and bake on the center rack for 40 minutes (or until cooked all the way through).
5. Let the cake cool while you prepare the frosting.
6. To make the frosting, simply melt the butter and sugar in a pan and stir (make sure it doesn't boil) for around 2 minutes. Add in the sour cream and bring to a boil.
7. Remove the mixture from heat and mix in the powdered sugar and vanilla extract.
8. Let the frosting cool and thicken before frosting the cake.
9. Cut into 24 slices and serve.
Sticky Toffee Pudding
In addition to the caramel banana cake, Prince William is a big fan of Sticky Toffee Pudding. Traditionally served during the holidays, the Duke of Cambridge (and his wife, Kate Middleton) has a hard time saying no when faced with the must-try dessert.
Chocolate Biscuit Cake
While Prince Harry seemingly has one favorite dessert (the caramel banana cake), Prince William apparently loves ALL of the desserts. In addition to the banana cake and Sticky Toffee Pudding, the Duke of Cambridge also allegedly loves his grandmother's favorite dessert, Chocolate Biscuit Cake. According to reports, he chose this family recipe as his groom's cake at his royal wedding in 2011.
Banana Flan and Banana Ice Cream
Today, Prince Harry typically sticks to his beloved Caramel Banana Cake. But, when he was young, McGrady says he would eat banana flavored anything. Two of Prince Harry's favorite desserts to indulge in as a young boy were banana flan and banana ice cream.
Check out The Cheat Sheet on Facebook!
Source: Read Full Article