Toronto-born Stephen Amell launched his acting career in the early 2000s. As his IMDb credits demonstrate, Amell first found work in his home country, appearing in such Canadian-made series as "Degrassi: The Next Generation," "Rent-a-Goalie," and "Heartland." He then headed to Los Angeles, where he booked roles in several TV series, including "CSI: Miami," "NCIS: Los Angeles," "90210," and "New Girl." Those led to recurring roles in HBO comedy "Hung," and then "Grey's Anatomy" spinoff "Private Practice." 
In 2012, Amell's career hit new heights when he landed his first leading role, playing billionaire superhero Oliver Queen, a.k.a. Arrow, in The CW's "Arrow." The show proved to be a major hit, propelling Amell to a level of stardom he hadn't previously experienced. Suddenly, the once-anonymous actor was a main attraction at fan conventions such as Comic-Con while placed in the center of the network's ever-expanding array of DC Comics-inspired superhero series.
Despite his popularity with TV viewers, there's a lot about the "Arrow" star that may not be familiar to his fans. To find out more, keep reading and discover what you don't know about Stephen Amell.
Why Stephen Amell was almost ousted from Jimmy Kimmel Live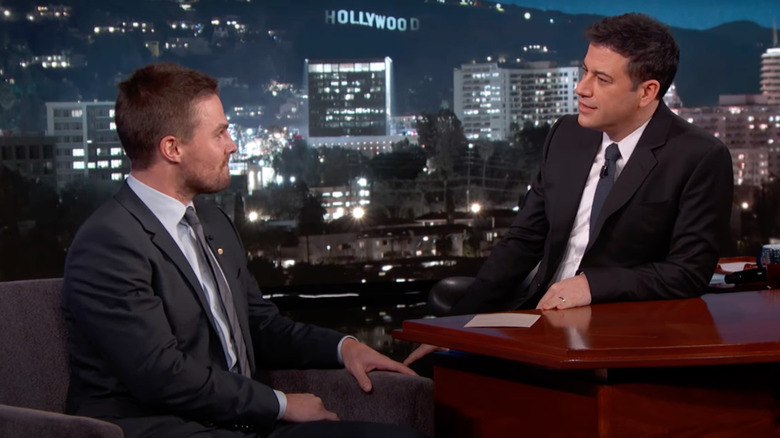 Back in January 2015, Stephen Amell made his first appearance as a guest on "Jimmy Kimmel Live!" It was not, however, the first time he'd set foot in the "Kimmel" studios. "Being here is a dream come true," Amell told host Jimmy Kimmel. And then, he hit the host with a bit of a twist. "'Arrow' was my 10th American job; I got my first American job sitting in that audience," he revealed, pointing into the crowd. 
As Amell recalled, he was expecting a call from his agent about a recent audition while attending a taping of Kimmel's show. Unfortunately, phones must be turned off by audience members during TV tapings, and when Amell pulled his buzzing phone out of his pocket he was immediately reprimanded by a security guard. Amell sheepishly put the phone back; later, he ducked out of the audience during the performance by that episode's musical guest, Flo Rida, to check his messages. That was when he learned he'd been cast as "the killer in an episode of 'CSI: Miami.'"
"Wow, that's kinda weird," quipped Kimmel. "Maybe there's a future superhero here in our audience right now."
When life mirrored art for Stephen Amell
Prior to landing that crucial role in "CSI: Miami," Stephen Amell had built a roster of screen credits in his native Canada. His very first, in fact, was on Showtime drama "Queer as Folk," which was filmed in Vancouver. Amell played a spin instructor.
Interestingly enough, Amell's onscreen role mirrored his actual side-gig, teaching spin classes in Vancouver to make ends meet while launching his acting career. "When I first broke into the acting industry, I taught spinning classes to support myself," Amell told Us Weekly. "It's funny; I have a Facebook page and I have a Twitter account and I'm starting to get messages like, 'We took your spin class way back when!' or 'We miss you as a spin instructor.'"
Amell looked back at his very first role — a three-episode arc — in an interview with now-defunct website AfterElton (via GayStarNews). "I had been acting for four months," Amell recalled. "I had never gotten a job yet, and I said to my agent, because I was a spinning instructor at the time, I said, 'If I don't get this job, I quit,' figuring that me being a spinning instructor would be totally important. It wasn't important at all, but I did get the job."
Stephen Amell's cousin has also been a CW superhero
Stephen Amell isn't the only successful actor in his family. His cousin Robbie Amell is also an actor, and the two have had remarkably similar career paths. In 2013, the year after the premiere of "Arrow," Robbie landed the lead role in The CW's  "The Tomorrow People," playing an "evolved" human with superhuman abilities, on the run from a shadowy quasi-governmental agency. Following the series' cancellation after a single season, Robbie returned to The CW fold, but this time as part of the Arrowverse. As fans will remember, he played Ronnie Raymond (a.k.a. Firestorm) on "Arrow" companion series "The Flash" (the character was killed off in the series' second season). 
In a joint 2013 interview with Entertainment Weekly, Robbie shared what he'd learned by watching his cousin's rise to fame. "I kinda got to sit shotgun while he went through being number one on a massive TV show with huge stunts and a lot of action, and pretty much as heavy a workload as you can get in this industry," he said.
In addition to appearing together in the Arrowverse, the cousins also starred together in "Code 8," a 2019 sci-fi film that they financed themselves through a crowdfunding effort.
Wrestling is a huge part of Stephen Amell's life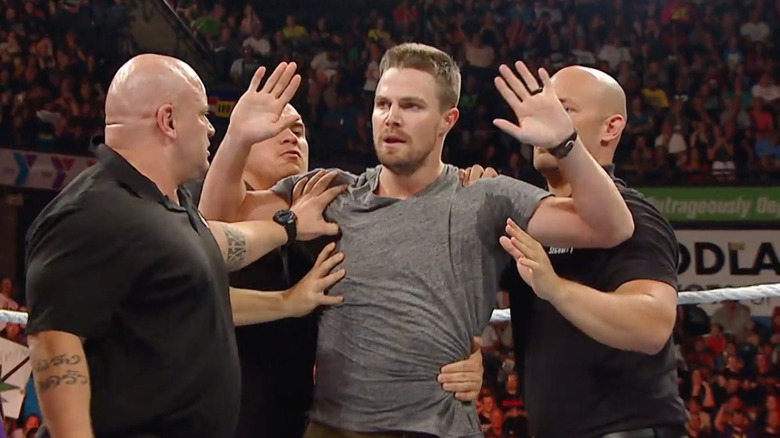 Stephen Amell has not been shy about his love of professional wrestling, and he's also had the opportunity to participate in the ring. As ET Canada detailed, he made his first WWE appearance at 2015's SummerSlam, where he showed off some impressive ring skills by jumping off the top rope to take down an opponent outside the ring. He also appeared in the WWE's 2018 All In event, where he performed a similarly spectacular aerial stunt. And he happens to be good pals with AEW's Cody Rhodes.
Amell's interest in wrestling combined with his professional world following the end of "Arrow," when he was cast alongside fellow Canadian actor Alexander Ludwig ("Vikings") in the Starz wrestling drama "Heels" (in wrestling parlance, a "heel" is a bad-guy wrestler that fans love to hate).
Unfortunately, Amell's passion for doing his own wrestling stunts took a toll. As TVLine reported, he suffered a back injury while performing a stunt, forcing him to take some time off to heal up. "Following a medical evaluation, he is now resting and recovering at home in anticipation of his return to set," a rep for Starz told the outlet. "Production continues as Stephen recuperates."
Stephen Amell was the first actor to audition for Arrow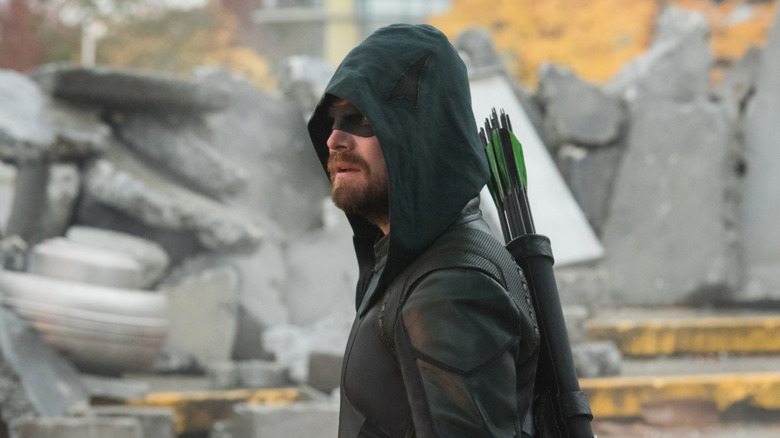 When it came time to find the lead actor for "Arrow," Stephen Amell was the first person called in to audition. "They said to me, 'We want someone that looks like a superhero and can act,'" "Arrow" casting director David Rapaport recalled in an interview with Entertainment Weekly. "I had just cast Stephen [Amell] in a guest spot on '90210,' and it was a pretty dramatic role. He had the muscles and that kind of dark mysterious look behind his eyes, so he was the first person I thought of when I read the 'Arrow' script." 
Interestingly, an older version of Amell's "Arrow" character was almost played by another actor in a futuristic episode of "DC's Legends of Tomorrow," set in 2046 and featuring an older Oliver Queen. "We had casting sessions with all these strapping silver studs," series showrunner Phil Klemmer told Nerdist (via ScreenCrush). "It would have been totally fine if we had the 'Avatar' actor, who played the villain [Stephen Lang], that guy would have been a great 60-something Oliver Queen. But it all ended up working out so we could get Stephen and all the resources to make him legitimately look like a 60-year-old guy."
Stephen Amell invented a new word for charity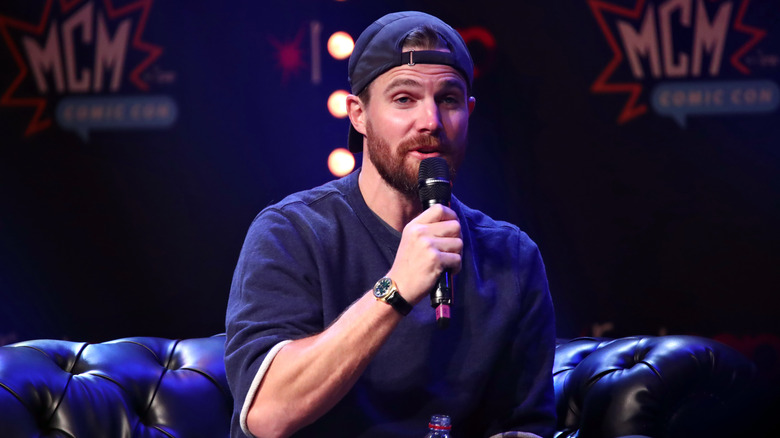 In 2015, Stephen Amell cast about on social media asking fans to suggest some charities he could get behind. The two he wound up choosing, reported Tech Times, were anti-bullying organization Stand for the Silent and Paw & Stripes, which provides trained animal companions for military veterans suffering from PTSD and other ailments.
To raise money for the charities, Amell launched an array of merchandise branded with a word he'd invented just for the occasion: sinceriously. "It's a campaign to get people talking," Amell told Tech Times. "And what better way to get people talking than by creating a new word." That word, according to the merch logo, is an adverb defined as "the ability to speak freely, openly and honestly about anything; if you're going to say something, say it sinceriously." Another definition read, "to initiate any action while spreading as much good karma as possible."
The initiative proved to be so successful that Amell shared a video on YouTube to announce its relaunch; according to the video, the initial launch resulted in the sale of 30,000 t-shirts — which, at $26 a pop, brought in more than $800,000 for the charities.
Aiming for Saturday Night Live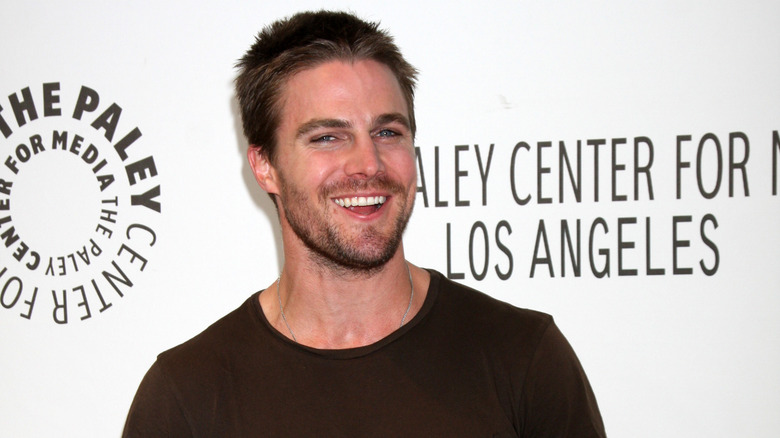 Stephen Amell has achieved many of the showbiz goals he set out for himself, yet there was one that had always eluded him. During an appearance on "Late Night with Seth Meyers," Amell recalled meeting host Seth Meyers at the Golden Globes. "So it's right before the show, and it's the first year that Tina [Fey] and Amy [Poehler] hosted, and you helped them with some of the writing, correct?" Amell told Meyers. "So I saw you and I immediately went up to you, because you were still on 'SNL' at the time, to tell you that my dream is to one day host 'Saturday Night Live.'"
During his trip to 30 Rockefeller Center — from which both "Saturday Night Live" and "Late Night with Seth Meyers" are broadcast — Amell managed to make his way to Studio 8H in order to pose for a photo on the famed "SNL" stage, which he then shared on Facebook. "There are signs everywhere saying 'NO Photography'… I didn't care. 'SNL' stage. One day baby!!" Amell wrote in the caption.
As of 2021, Amell's dream of hosting an episode of "SNL" has yet to come to fruition.
Stephen Amell's an oenophile with his own wine brand and docuseries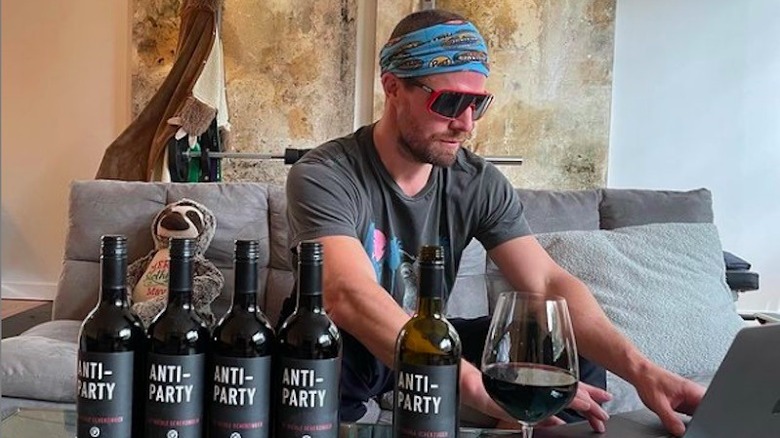 Stephen Amell is the kind of guy who appreciates a fine glass of wine — so much so that he actually has his own wine label. Based in Walla Walla, Washington, Nocking Point Wines was founded in 2012 by Amell and partner Andrew Harding, producing "exclusive, ultra-premium wines with incredibly unique stories and people behind each one," which are then delivered to customers. 
"The two guys honestly didn't know if anyone would care about a TV superhero and his good buddy making great wines out of a smaller wine region in the Northwest," notes the winery's website. "Well, it turns out they do and for that they couldn't be more proud or more appreciative of everyone who has supported them from day one."
In addition to Nocking Point (which is defined by the Merriam-Webster dictionary as "the commonly reinforced point on a bowstring where an arrow is nocked"), Amell and Harding also host their own wine-themed documentary-style web series, "Dudes Being Dudes in Wine Country." As Amell deadpans in a teaser, "We plan on it being the greatest show ever about two dudes being dudes in wine country."
The CW's rebrand of the Arrowverse didn't land with Stephen Amell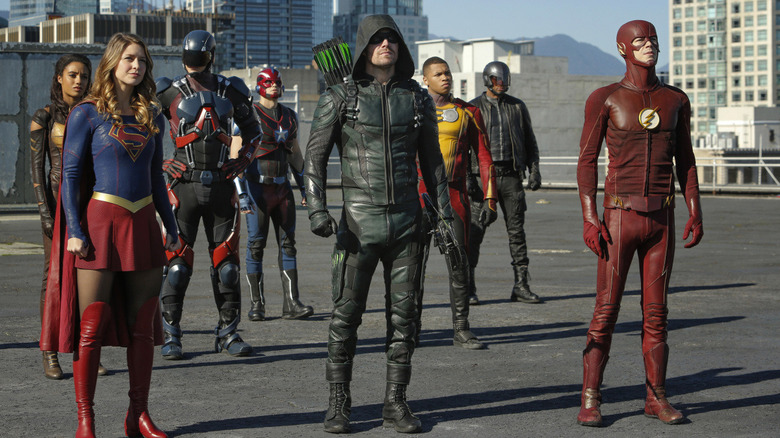 The success of "Arrow" led The CW to use the show as a launching pad for other TV series inspired by characters from the DC Comics world. As a result, "Arrow" spawned several other superhero series, including "The Flash," "Supergirl," "DC's Legends of Tomorrow" and others. With all the various series existing within the same "multiverse," and all filmed in Vancouver, The CW was able to mount increasingly ambitious crossovers in which the characters mingled together, which came to be known as the Arrowverse.
After "Arrow" ended its run in 2020, reported ScreenRant, The CW was ready to move on by keeping the multiverse but changing its name to The CWverse. Amell was not a fan of the new moniker. "They may be trying to call it The CWverse. That f**king pissed me off," Amell said in an interview with the "Inside of You" podcast. "Honestly, I think that's probably a marketing department, frankly, trying to come up with content when they don't have any."
Stephen Amell recovered from COVID-19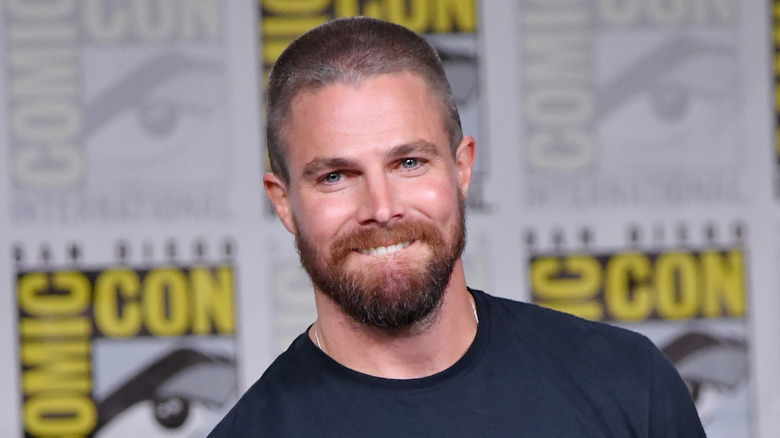 Following the series finale of "Arrow," Stephen Amell was in the midst of filming his followup series, "Heels," when he tested positive for COVID-19. 
"When it happened, when I got the positive test, for me it became, 'Holy f**k! I just destroyed this show because I'm No. 1 on the call sheet and I work every day, more or less," Amell said on the "Inside of You" podcast. "I'm in my head going, 'S**t! They're going to have to shut down the production. We're not yet done with the first block of two episodes. Did I just ruin this?'" Luckily, the production was able to shoot around him, but his experience with the coronavirus did not leave him unscathed. 
"For two nights, I was up every couple of hours vacillating between freezing cold and boiling hot," he recounted. "And I would be freezing cold because I sweat through all my stuff. So, I get up, dry off, change my clothes, get back into bed, warm up, and then start sweating again, and the cycle would just repeat." He shared that his loss of appetite led to a 15-pound weight loss over the course of three weeks.
Stephen Amell had a panic attack on a podcast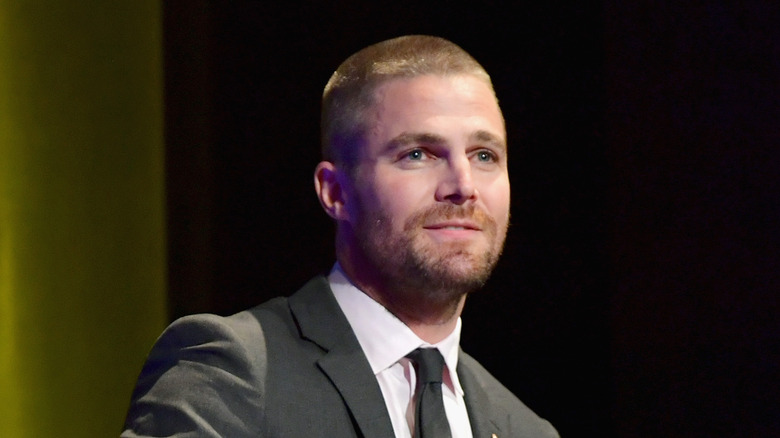 Stephen Amell has been a repeat guest on the "Inside of You" podcast, hosted by actor Michael Rosenbaum (best known for playing Lex Luthor on "Arrow" predecessor "Smallville").
One appearance, in early 2020, remains particularly memorable, but not for a good reason. In fact, that particular podcast episode made headlines when Amell suffered a full-blown panic attack right in the middle of the interview, cutting the interview short when he began to feel hot and nauseous while sharing his feelings about the end of "Arrow," reported eTalk. 
Amell later returned to resume the interview a couple of weeks later, revealing that in the interim he consulted with a doctor due to what took place. After a medical examination, the doctor told Amell that he could detect no physical problems whatsoever. "Realizing nothing was f**king wrong with me and that's when you have the moment of realization like, 'Oh my god, it's in my head'," Amell said.
Why was Stephen Amell booted from a flight?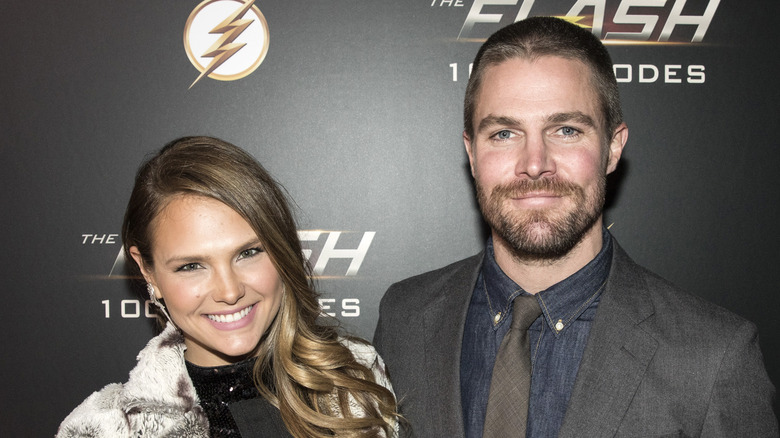 Stephen Amell made some unfortunate headlines in June 2021 when he was ejected from a commercial airline flight after a loud argument with his wife, Cassandra Jean Amell. 
According to USA Today, the incident led to a "brief, eight minute departure delay," which the "Arrow' star was described as "an unruly customer" who "was deplaned from the aircraft prior to departure in Austin." A report in Page Six added even more detail, claiming that Stephen Amell was walked off the plane by three flight attendants and an air marshal.
"My wife and I got into an argument Monday afternoon on a Delta flight," Stephen explained in a subsequent tweet. "I was asked to lower my voice and I did. Approximately 10 minutes later I was asked to leave the flight. And I did so immediately. I was not forcibly removed." In a followup tweet, he noted that he'd rebooked his flight and made it back "without further issue." He also complained that the reason the whole unfortunate incident was so widely reported was because of "a slow news cycle."
Those Arrow archery skills have come in handy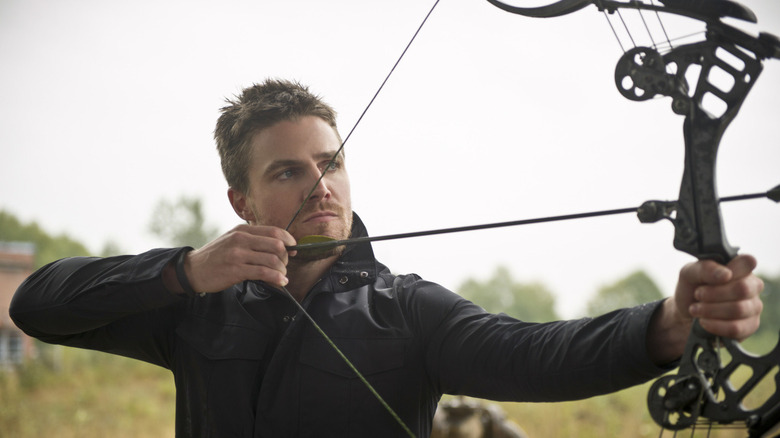 Stephen Amell made a serious commitment to practice archery for his "Arrow" role and came to become quite good at it. In fact, Amell has become such a talented archer that he's been able to use the skills he learned for the screen in his actual life. 
In an appearance on "Live with Kelly and Ryan," Amell recalled taking his daughter to a Vancouver carnival and taking a crack at an archery game. "And I won. I got the biggest possible stuffed animal," he said. "And then I went back later in the day to try to win another one for my friend, and they refused me … I was blackballed."  
Amell elaborated in an interview with Red Carpet News TV, revealing that after he took his first shot at the carnival game he realized "the sight was off" in order to make it more difficult for a player to win. Adjusting for the sight, his second shot hit the bullseye; however, he was told it didn't qualify for the prize because it wasn't quite within the lines, so he took a third and this time hit a perfect bullseye. "They couldn't say s**t about the third shot," Amell joked.
At first, Stephen Amell made less than some of his Arrow co-stars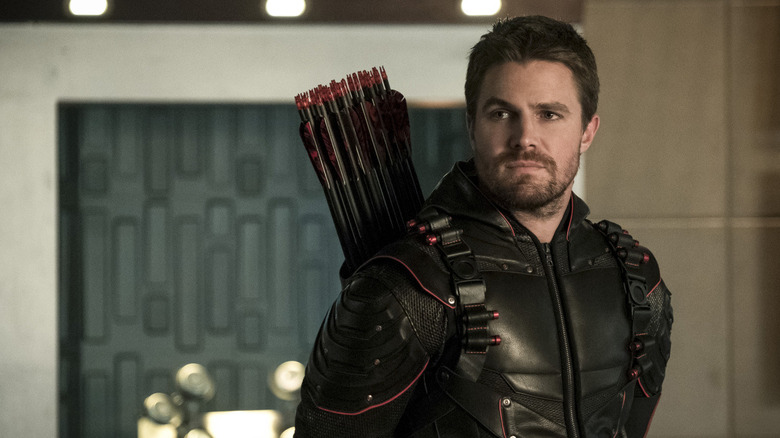 After eight seasons as Oliver Queen on The CW's "Arrow," Celebrity Net Worth estimates Stephen Amell's net worth to be $7 million. If that seems low for someone who starred in a hugely popular TV series for nearly a decade, Amell has an explanation: in his early years on "Arrow," he wasn't paid the kind of big bucks one would expect to earn as star of a hit TV series. "I didn't really care what the deal was," Amell said of his original salary, in an appearance on the "Inside of You" podcast. Because he'd never been a series regular on a TV show before, he explained, "I had no quote." 
It was due to that lack of quote, Amell explained, that "up until the end of the second season I was the fourth- or fifth-highest paid cast member" — even though he was the series' star, and was onscreen far more than any other actor. However, he admitted that he tried to remain circumspect. "The entity of Arrow is bigger than me," he recalled thinking. "I am replaceable."
According to TV Guide, he earned $30,000 an episode during his first season of "Arrow." In 2018, Variety reported that he was bringing in $125,000 per ep. How's that for a bow-nus.
Source: Read Full Article